February, 6, 2011
2/06/11
11:53
PM ET
Some AFC East-oriented thoughts after the
Green Bay Packers
defeated the
Pittsburgh Steelers
31-25 in the Super Bowl:
[+] Enlarge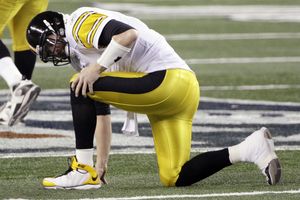 AP Photo/Patrick SemanskySteelers quarterback Ben Roethlisberger had a mediocre game in Super Bowl XLV.
Ben Roethlisberger is not in Tom Brady's league yet.
There had been some talk over the past two weeks that
if Roethlisberger won the Super Bowl he would stand next to Brady
and
Peyton Manning
in the pantheon of uber-elite NFL quarterbacks.
Roethlisberger has been sensational in the postseason, but not
this
postseason. Aside from a couple clutch throws, he was below average in beating the
New York Jets
in the AFC Championship Game. He had another pedestrian outing Sunday.
He threw two interceptions, one that
Nick Collins
returned for a touchdown. Roethlisberger overthrew
Mike Wallace
twice in key situations in the third quarter: a would-be touchdown after Wallace got behind the Packers secondary and a third-and-2 play right before the fourth quarter. Roethlisberger also failed to take advantage of a defensive backfield missing its best player,
Charles Woodson
, the entire second half.
Roethlisberger is 10-3 in the postseason and has been to three Super Bowls in his seven NFL seasons. Brady won his first three Super Bowls and his first 10 postseason games before a defeat. Plus, Brady has appeared in a fourth Super Bowl.
I understand Brady has lost three straight postseason games, but he still has more championship rings and conference titles.
The New England Patriots were the Packers' springboard.
The Packers have won every game since losing 31-27 at Gillette Stadium in Week 15. Super Bowl MVP
Aaron Rodgers
was hurt and couldn't play, but the Packers still gave the scalding-hot Patriots a scare with backup quarterback
Matt Flynn
.
"The New England game was a big game for us," Rodgers said on ESPN's Super Bowl set Sunday night. "We lost that game, a game we were double-digit underdogs. I was out. Matt played great, and our defense played pretty well also.
"That was the game where, I think, [we said] 'We got a good team. Let's not lose this opportunity.'"
Howard Green quietly made one of the game's biggest plays.
The former Jets defensive lineman didn't register a tackle. But he bull rushed Steelers guard
Chris Kemoeatu
and, in a great individual effort, harassed Roethlisberger into a bad throw that turned into Collins' pick six. Green started only six games in the regular season and playoffs.
It wasn't quite Thurman Thomas losing his helmet at the start of Super Bowl XXVI
, but Steelers left tackle
Jonathan Scott
-- not good enough to remain with the
Buffalo Bills
despite starting eight games in 2009 -- had to come off the field with the game on the line because his shoe came off.
Scott missed the Steelers' third-and-5 play with 62 seconds remaining and their fateful fourth-and-5 with 56 seconds left.
Trai Essex
replaced him as Roethlisberger's blindside protector and did OK while on his heels, but the switch was one more thing for Roethlisberger to worry about.
Roethlisberger threw incompletions on both plays.
A Lombardi Trophy would've completed a tremendous turnaround tale for Steelers offensive line coach Sean Kugler.
He was dismissed from Buffalo's staff at the end of last season. The native of nearby Lockport, N.Y., was living a dream by coaching his hometown team. He was on Dick Jauron's staff and served under interim coach Perry Fewell through an ugly campaign. But new Bills general manager
Buddy Nix cleared out the coaches' offices when he took over
, and Kugler was snatched up by the Steelers.
February, 3, 2011
2/03/11
12:35
PM ET
New York Jets
Buffalo Bills
Miami Dolphins
New England Patriots

January, 14, 2010
1/14/10
9:11
PM ET
The
Buffalo Bills
have had two months to interview candidates and hire a new head coach.
In that span -- unless they held some more stealth meetings -- the Bills have formally interviewed one candidate who's still available.
Getting antsy, Bills fans?
The
New York Giants
announced Thursday that Perry Fewell will be their defensive coordinator. Fewell was the Bills' interim head coach and interviewed for their permanent job last week.
Fewell wasn't going to return to the Bills anyway, but the fact he and other
members of their fired staff
are finding work within two weeks (special teams coordinator Bobby April joined the
Philadelphia Eagles
, and
offensive line coach Sean Kugler
joined the
Pittsburgh Steelers
) while the Bills are spinning their wheels doesn't look good.
Since the regular season ended, two NFL clubs have fired their head coaches and hired replacements.
With Fewell off the market, that leaves
Minnesota Vikings
defensive coordinator Leslie Frazier the lone applicant to have interviewed that we know about. The Bills met with Frazier on Thursday.
Since then, we've learned
New York Jets
offensive coordinator Brian Schottenheimer and
San Diego Chargers
defensive coordinator Ron Rivera have rejected overtures from the Bills.
Arizona Cardinals
assistant head coach Russ Grimm reportedly has agreed to a Bills interview request, but he isn't expected to sit down with them until after the playoffs.
The Bills
interviewed Mike Shanahan in November
. He accepted the
Washington Redskins
' gig. ESPN's Chris Mortensen reported the
Bills held a "stealth meeting" with Bill Cowher
two weeks ago. The Bills reportedly
approached former Notre Dame coach Charlie Weis
, who took a job as
Kansas City Chiefs
offensive coordinator.
Maybe this process is going exactly the way the Bills envisioned, but somehow I doubt it.
January, 13, 2010
1/13/10
11:39
PM ET
Getting fired might turn out to be the best thing that ever happened to Sean Kugler.
The
Buffalo Bills
essentially
dismissed their entire coaching staff
two weeks ago, and that included Kugler, the offensive line coach who had to laugh to keep from crying amid a
tragicomical series of events throughout the season
.
The
Pittsburgh Steelers
hired Kugler to be their offensive line coach. Kugler goes from a mess of a franchise that hasn't gone to the playoffs in a decade to one of the NFL's classiest organizations one year removed from a Super Bowl victory.
"There's absolutely no question that he's the best football coach I've ever been around," Boise State head coach Chris Petersen told me last month. Kugler was Boise State's assistant head coach in 2006, when it was the NCAA's lone undefeated Division I-A team.
"He's unbelievable, and I think the work that he's doing right now speaks louder than anything else he's ever done."
The Bills' offensive-line woes weren't Kugler's fault. They traded his best player, Pro Bowl left tackle
Jason Peters
, and didn't replace him. They cut his most experienced lineman, tackle
Langston Walker
, a week before the season began. His opening-night lineup had a combined 56 NFL starts among them.
Injuries hit Buffalo hard
. By Week 6, Kugler's lineup shared 47 NFL starts. At the end of the year, six offensive linemen were on injured reserve. Five of them started at least one game. Only center
Geoff Hangartner
started all 16 games at his position.
Kugler, a Buffalo-area native, was hired by Dick Jauron. Buffalo fired Jauron in mid-November.
"This has been extreme," Kugler told me a week before Christmas. "I tell these guys, 'You're going to look back on it one year and laugh. That's all you can do. You just can't sit there and dwell on it. You have to keep grinding.' "
January, 4, 2010
1/04/10
12:24
PM ET
Buffalo Bills general manager Buddy Nix said at his introductory news conference Thursday he wanted a coach who could build a staff, and the new hire apparently will have to do it from scratch.
The Bills resumed heavy internal renovations Monday by firing their entire coaching staff a day after completing a 6-10 season, their 10th straight without the playoffs.
The story was broken by Jay Glazer of Fox Sports and confirmed by Buffalo News reporter Mark Gaughan, who noted
all of the coaches had one year remaining
on their contracts.
The Bills fired offensive coordinator Turk Schonert 10 days before the season opener and head coach Dick Jauron after a Week 10 loss. They named defensive coordinator Perry Fewell interim head coach.
Nix on Thursday said Fewell would be interviewed for the head-coaching vacancy. Other assistants could be re-hired.
Here is a rundown of the coaches who finished the year with the Bills:
Bobby April, assistant head coach/special teams coordinator
Alex Van Pelt, offensive coordinator
Eric Studesville, running game coordinator/running backs
Ray Brown, assistant offensive line
George Catavolos, defensive backs
Charlie Coiner, tight ends
DeMontie Cross assistant linebackers/special teams
Nathaniel Hackett, offensive quality control
Sean Kugler, offensive line
Chuck Lester, assistant to the head coach/special projects
Bob Sanders, defensive line
Matt Sheldon, linebackers
Tyke Tolbert, wide receivers
Adrian White, defensive quality control
John Allaire, strength and conditioning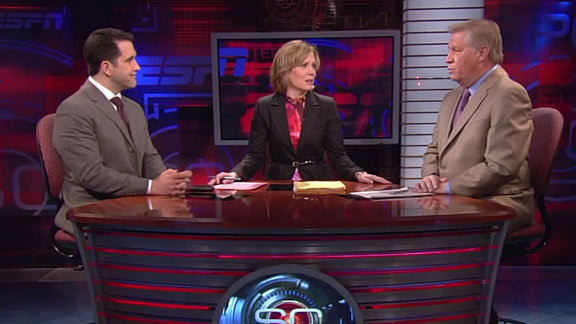 December, 18, 2009
12/18/09
3:45
PM ET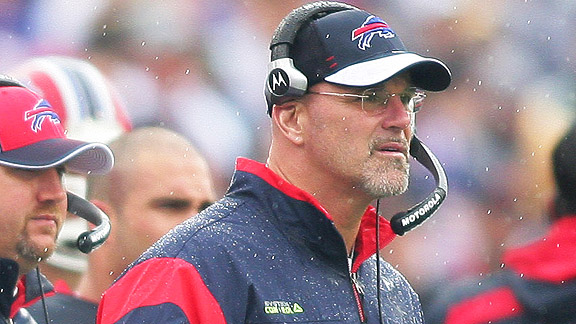 Luc Leclerc/US PresswireCoach Sean Kugler has struggled all season to field a healthy offensive line.
ORCHARD PARK, N.Y. -- The past few months, Boise State coach Chris Petersen has been on the phone with Sean Kugler frequently, much more than with other former assistants.
The pace gets too hectic for chitchat once training camp begins in July, morphs into the preseason and hurtles headlong into four months of incessant tension.
Yet Kugler, the
Buffalo Bills
offensive line coach, and Petersen keep finding the time to check in. The conversations are a necessary catharsis.
Every call, it seems, Kugler has another horror to share.
"A couple times," Petersen said, "I'm like, 'You've got to be making this up.' All the guys that he's lost ... It seems one thing just leads to another."
What has transpired on the Bills' beleaguered offensive line has been symbolic of the team's woebegone season. As receiver
Terrell Owens
has repeatedly pointed out, the line's problems are the reason the offense hasn't been what everyone hoped.
Buffalo's football operations department left the line woefully inexperienced at the start of the year, and it deteriorated from there. It's the NFL's most-penalized unit. One of the five has started all 13 games at his position. Four who've started are on injured reserve. Kugler has patched together seven different starting combinations and could assemble an eighth Sunday against the
New England Patriots
in Ralph Wilson Stadium.
On top of that, the Bills fired the man who brought Kugler back to the NFL. In mid-November, the club dismissed Dick Jauron, a man Kugler had become close with while assistants with the
Detroit Lions
.
"This has been extreme," Kugler said, mustering a slight, weary smile. "I tell these guys, 'You're going to look back on it one year and laugh. That's all you can do. You just can't sit there and dwell on it. You have to keep grinding.' "
Center
Geoff Hangartner
doesn't see the humor.
"I'm not laughing right now," said Hangartner, who signed with the Bills as a free agent in the offseason. "It's not funny. It might be a little while before you can kind of see the comedy in what's going on.
"I wouldn't wish this on anybody."
Hangartner is the only member of the offensive line who can put the season in proper context. He's the one who has been in the same spot every game. The rest is a collection of rookies, reserves, street free agents and, with Wednesday's acquisition of
Richie Incognito
, a waiver-wire pickup.
"I walked into the training room one day," Hangartner said, "and there were four offensive linemen, lying on the tables all next to each other. All starters at some point in the season.
"For lack of a better phrase 'Holy [expletive]! Look at that right there! That's a starting offensive line, just lying on a table!' I feel like a survivor. Crazy."
That the Bills have won five games, including two of their past four games, is amazing given their offensive line's travails. A unit that
committed eight false starts in Week 5
actually has curtailed its penalties while chaos has intensified.
Kugler must get some credit for that.
"I've never even heard of anything like this," Hangartner said. "Koogs has done a good job of keeping us together."
The Bills traded away two-time Pro Bowl left tackle
Jason Peters
and failed to replace him. They went into camp with not a single lineman in the same spot as he was in last year. They moved veteran right tackle
Langston Walker
from right tackle to left tackle, and then cut him days before the season began.
Kugler opened the season with a
combined 56 NFL starts across his line
. Then the injuries, one after another, started coming. By Week 6, their starting lineup was
down to 47 starts among them
.
"It's hard enough when you have to lose one guy," Petersen said. "You lose all those guys and their backups, it makes you feel like 'This isn't fair.' It's hard enough to win games when you've got all your troops in line.
"I know Sean's frustrated. Those are hard things to go through in terms of your professional career, not only what's happened on the line, but with Coach Jauron, who he loves and respects so much. ... I just think it says it all about him as a coach and a person to fight as hard as he's been fighting. They're still winning games."
Kugler was a tackle at Texas-El Paso during some bleak years. In a 1988 USA Today article, with the Miners at an astonishing 8-1, Kugler recalled how humiliating it'd been in El Paso.
"You used to go into a restaurant and people would ask you if you played football,'' Kugler told USA Today. "You'd say, 'Naaah. I'm a construction worker.' "
He can't get away with that in Western New York now.
"No," Kugler said Wednesday at the Bills' field house. "I'm a fireman now."
The ability to laugh, Petersen said, is what's keeping Kugler sane.
Kugler spent one season as the assistant head coach at Boise State, and it was a ripsnorter. The Broncos were the lone undefeated Division I-A team in 2006. They finished 13-0
with a victory
over the Oklahoma Sooners in the Fiesta Bowl, one of the most scintillating finishes in college football history. Despite being BCS outsiders, the Broncos finished No. 5 in the country.
Boise State was building something special, but when Jauron called, Kugler couldn't refuse the offer.
The reason Kugler can't pass himself off as a construction worker or fireman around these parts is because he's from here. A native of nearby Lockport, N.Y., he grew up a passionate Bills fan. His grandmother's house was close enough to the stadium that he could park there and walk to the games. His wife is from the area. His two sons play at Orchard Park High.
That has made the season more trying for Kugler. He left a rising Boise State program to come home and achieve greatness alongside a treasured colleague. Nothing resembling that has occurred.
"It stings even more when you lose," Kugler said. "You understand the mentality of the people around here and how much it means to them when the Bills win. So you want to win."
Whether Kugler sticks around next year is uncertain. The Bills haven't made a permanent hire to replace Jauron. The next head coach might bring an offensive coordinator with him or simply want to clean house of an organization that hasn't reached the playoffs in a decade.
Whatever transpires, Kugler will look back on the season and laugh -- if only to keep from crying.
"I'm proud of those guys," Kugler said. "It's been difficult. You feel bad because as an offensive line you want to do more for the team. I know those guys are giving everything they've got. As a coach, I can't ask for more."
October, 23, 2008
10/23/08
1:10
PM ET
Posted by ESPN.com's Tim Graham
New York Jets
Buffalo Bills
Miami Dolphins
New England Patritos
September, 16, 2008
9/16/08
1:30
PM ET
| | |
| --- | --- |
| | |
| | Doug Benc/Getty Images |
| | The Buffalo Bills earned a hard-fought victory in Jacksonville on Sunday. |
Posted by ESPN.com's Tim Graham
The Buffalo Bills, drenched in sweat and drained from a brutally oppressive afternoon, slogged off the Jacksonville Municipal Stadium field Sunday afternoon.
They were exhausted. Safety Donte Whitner was wiped out, and that's no figure of speech. He required five bags of intravenous fluids to recover. Left tackle Jason Peters, who missed every offseason workout because of a contract dispute, was paying the price.
Fans back in Western New York had a tough time catching their breath, too. They'd just watched their team stage its biggest character performance in recent memory.
The Bills pulled out a victory that might be remembered as their coming-of-age moment. They scored 10 fourth-quarter points in a strangling Florida heat to defeat the Jacksonville Jaguars, 20-16.
Sometimes significance takes a few days, maybe even weeks or months, to be understood. The Bills knew the meaning of this victory immediately -- and it went beyond being 2-0.
"When we came off the field," said Bills defensive end Chris Kelsay, "I saw [Bills chief operating officer] Russ Brandon, and I told him 'Last year we don't win that game.'
"Really the last couple years we don't win those close games that come down the last five minutes."
If you're a Bills fan, the beauty of Sunday's victory is that it further established them as genuinely formidable and was untethered to anything else going on around the AFC East.