AFC East:

Serena Williams
June, 30, 2011
6/30/11
1:00
PM ET
»
Best of NFC
:
East
|
West
|
North
|
South
»
AFC
:
East
|
West
|
North
|
South
As part of Best of the NFL Week on ESPN.com, here are five bests for the AFC East:
Best tailgating, Ralph Wilson Stadium:
The crowd outside Sun Life Stadium provides the best scenery for male fans, but that's not what we're breaking down here. I know people who have no intention of walking through the turnstile for
Buffalo Bills
games but show up to tailgate with their friends in the same lot spaces they've occupied for years. The festivities start early and last all day.
[+] Enlarge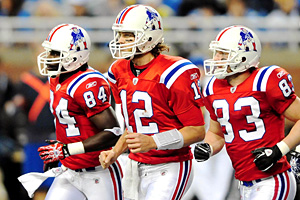 Andrew Weber/US PRESSWIREWith the Bills out of the picture this season, the Patriots have the division's top throwback.
Best mascot, Pat Patriot:
Slim pickings here. The
Miami Dolphins
have T.D. the Dolphin. The Bills have Billy Buffalo. The
New York Jets
have, uh, Fireman Ed, I guess? None of them is inspiring. But at least Pat Patriot is the team's classic helmet character come to life. And that leads us to ...
Best throwback uniforms, New England Patriots:
In past years, I would select the Bills and their standing red buffalo on the white helmet -- such a clean and classic look. But the Bills announced last week that they wouldn't use throwbacks in 2011 because they want to wear their new uniforms every game. The Patriots' retro duds are a close second in my book anyway. So they leapfrog to the front. I would appreciate seeing the green Jets' helmets for a game or two, though.
Best celebrity fans, Dolphins limited partners:
The Dolphins have a star-studded board room: Marc Anthony, Venus and Serena Williams, Fergie and Gloria Estefan. Jimmy Buffett couldn't get as involved because he has casinos in his business portfolio, but he was behind Land Shark Lager sponsoring the stadium in 2009. Other teams might have more famous fans, but none of them has a piece of the club.
Best team facility, New York Jets:
The Jets spent $75 million for their headquarters in Florham Park, N.J. It's by far the nicest stand-alone facility in the division and stacks up favorably around the league. The Patriots are the only AFC East club that makes its home within its home stadium. So I guess I could've subtracted points from the Jets for not having 69,000 seats. But their facility is stand-alone remarkable.
September, 30, 2010
9/30/10
1:01
PM ET
Bill Parcells has been a media hermit since he took over the
Miami Dolphins
in December 2007.
He sat down for an introductory news conference and reluctantly met with reporters at an endorsement obligation for Gatorade. That was all we've heard aside from an extemporaneous comment here or there about his love for horse racing or some historical football perspective.
[+] Enlarge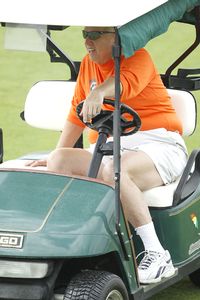 Joel Auerbach/Getty ImagesBill Parcells' contract with the Dolphins runs through 2011, but a clause in that contract allows him to leave at any time.
So it was pretty big news that
Parcells was on a conference call Thursday
with
New York Giants
reporters to talk about being inducted in their Ring of Honor at the new Meadowlands stadium.
For the first time, reporters had the chance to ask him about his future. The Dolphins announced a few days before their season opener
Parcells had stepped down as executive vice president
and turned over football operations to general manager Jeff Ireland.
Parcells has stayed on as a consultant. But what's next?
"Well, that is a good question," Parcells replied. "I am not a sit-around-the-fireplace guy. I don't know. I am not certain about it. We will see what happens when the time comes.
"I know I want to do something even if it is not day-to-day or something like that, I know I want to do something. I don't like sitting around. I like to get up and go do something. We will figure it out when the time comes."
Parcells' comments are ominous given his history as a restless football soul and the fact he can walk away from his Dolphins contract with full pay whenever the mood strikes him.
His contract with the Dolphins runs through 2011. When new owner Stephen Ross bought the team from Wayne Huizenga, Parcells negotiated a clause that will allow him to leave at any time, collect every last cent and not be prevented from working for another team.
Under Ross, the Dolphins have turned into a glitzy operation that embraces celebrity and the South Florida lifestyle as much as it does touchdowns. Ross has sold pieces of the team to Fergie, Gloria Estefan, Marc Anthony and Serena and Venus Williams. Jimmy Buffet got involved in a deal with the Dolphins last year that included stadium naming rights.
For Sunday night's home opener, the Dolphins rolled out an orange carpet for a slew of celebrities to walk past the paparazzi: Jennifer Lopez (Anthony's wife), Kim Kardashian, Enrique Iglesias, T-Pain, Anna Kournikova, Tara Reid and Helio Castroneves among them. attendees who avoided the orange carpet included Tiger Woods, Dwyane Wade and LeBron James, who, coincidentally, was the
subject of a story for which Parcells once actually called me back
.
As much as Parcells isn't a fan of the media, I'm sure even he rolled his eyes when he learned the Dolphins converted their press box into a nightclub-style suite.
Parcells is a football man. I'm sure he'd love to work for an organization that makes football the only priority and doesn't still consider Tara Reid a star.
March, 31, 2010
3/31/10
11:17
PM ET
New England Patriots
tight end
Alge Crumpler
has retained outside help to keep his weight from approaching 300 pounds.
Mike Reiss of ESPNBoston.com caught up with
Crumpler's new personal trainer, Mackie Shilstone,
who's client list includes tennis star Serena Williams and former boxing champions Roy Jones, Bernard Hopkins, Michael Spinks and Riddick Bowe.
Crumpler, a four-time Pro Bowler mostly because he was such a dangerous receiver, has evolved more into a blocking tight end. His weight has much to do with that.
He recently began a six-week regimen with Shilstone in Louisiana. Shilstone's program includes boxing, martial arts and a personally designed diet in addition to more traditional football methods.
"Alge is investing in himself to be better for his team," Shilstone told Reiss. "He's compliant, and he's now doing three-a-days. He's truly gotten into this."
Reiss notes that Crumpler, 32, signed a two-year, $5.2 million contract that includes weight stipulations worth $250,000.
October, 21, 2009
10/21/09
3:06
PM ET
Posted by ESPN.com's Tim Graham
Gloria Estefan, Marc Anthony and Jennifer Lopez, Jimmy Buffett, Venus and Serena Williams and Fergie from the Black Eyed Peas all have a piece of the
Miami Dolphins
.
How did they get past the board room's velvet rope?
Kurt Snibbe from ESPN'2 Page 2 has
obtained a Dolphins ownership application
.
The form solicits some curious information such as opinions of swimsuit calendars, the number of people in the applicant's entourage and what his or her autograph goes for on eBay.
September, 21, 2009
9/21/09
6:49
PM ET

Posted by ESPN.com's Tim Graham
MIAMI -- The stars and the humidity will be out at Land Shark Stadium.
Temperatures will be in the sticky mid-80s for the
Miami Dolphins
' home opener against the
Indianapolis Colts
on "Monday Night Football."
Dolphins owner Stephen Ross doesn't dare infringe on Bill Parcells' work in football operations, so Ross has concentrated on trying to gussy up the Dolphins' image with celebrity partnerships.
He has sold pieces of the team to singer Marc Anthony and wife Jennifer Lopez, singer Gloria Estefan and tennis stars Venus and Serena Williams (I wonder if Serena will give the pregame locker room speech?). They struck a deal with Jimmy Buffett's company for stadium naming rights.
The stars will arrive at the game and walk down an orange carpet along with famous Dolphins alums such as Dan Marino and Bob Griese.
We'll see if it helps energize the atmosphere for the Dolphins, who would be thrilled to knock off the Colts.
The Dolphins are coming off an uninspired season-opening loss to the
Atlanta Falcons
in the Georgia Dome. They committed four turnovers, gave up sacks and scored a late, meaningless touchdown.
The significance of a Dolphins victory would be greater than the disappointment of a loss. True, Tony Sparano's boys would begin their season an unappealing 0-2, but they did the same last year. That can be coped with.
But a victory over
Peyton Manning
and
Dwight Freeney
would do wonders for the Dolphins and kick start their season much more than any half-baked ideas to glitz up the front office.