March, 4, 2010
3/04/10
8:24
AM ET

Buffalo Bills
Potential unrestricted free agents:
DE
Ryan Denney
, LB
Chris Draft
, DB
Todd Johnson
, G
Seth McKinney
, WR
Terrell Owens
, WR
Josh Reed
, S
Bryan Scott
, G
Kendall Simmons
, LB
Josh Stamer
.
Potential restricted free agents:
LB
Keith Ellison
, QB
Gibran Hamdan
, G
Richie Incognito
, TE
Joe Klopfenstein
, TE
Derek Schouman
, T
Jonathan Scott
, S
George Wilson
, CB
Ashton Youboty
.
Franchise player:
None.
What to expect:
The Bills are in a rebuilding mode and shouldn't be in too much of a hurry to sign their free agents. In fact, they took the unusual step of publicly announcing they wouldn't offer Owens, Reed or Denney contracts. The most attractive players are Incognito and Wilson. Most of the rest were bit players and injury replacements.

Miami Dolphins
Potential unrestricted free agents:
NT
Jason Ferguson
, CB
Nate Jones
, QB
Chad Pennington
, OLB
Jason Taylor
.
Potential restricted free agents:
RB
Ronnie Brown
, TE
Anthony Fasano
, OLB
Quentin Moses
.
Franchise player:
None.
What to expect:
The Dolphins have a tough decision to make on Ferguson. He'll turn 36 during the 2010 season and is coming off a serious quadriceps injury. Without him, however, the Dolphins have a massive void in their 3-4 defense at a position that's difficult to replace. Pennington, Jones and Taylor all could be gone.

New England Patriots
Potential unrestricted free agents:
OLB
Tully Banta-Cain
, CB
Leigh Bodden
, OLB
Derrick Burgess
, RB
Kevin Faulk
, DE
Jarvis Green
, P
Chris Hanson
, G
Stephen Neal
, ILB
Junior Seau
, TE
Benjamin Watson
.
Potential restricted free agents:
K
Stephen Gostkowski
, G
Logan Mankins
, OLB
Pierre Woods
.
Franchise player:
NT
Vince Wilfork
.
What to expect:
Several starters are about to go up for bids, and the Patriots can't keep them all. Expect Faulk to be re-signed without much fuss. Neal, Bodden and Banta-Cain comprise a group they'd have trouble replacing. All three could fetch offers the Patriots would rather not match. Don't count on Watson coming back.

New York Jets
Potential unrestricted free agents:
LS
James Dearth
, DE
Marques Douglas
, K
Jay Feely
, LB
Ryan Fowler
, TE
Ben Hartsock
, LB
Larry Izzo
, FB
Tony Richardson
.
Potential restricted free agents:
QB
Kellen Clemens
, CB
Drew Coleman
, WR
Braylon Edwards
, DT
Howard Green
, T
Wayne Hunter
, WR
Brad Smith
, S
Eric Smith
, RB
Leon Washington
.
Franchise player:
None.
What to expect:
As a "final eight" team, the Jets have to window shop until one of their UFAs sign elsewhere. General manager Mike Tannenbaum is creative. Don't be surprised if the Jets use trades to upgrade. The key restricted free agent to monitor will be Washington, who received a second-round tender. His agent has been tweeting alarms the Pro Bowler could sign an offer sheet and dare the Jets to match.
February, 27, 2010
2/27/10
7:43
PM ET
INDIANAPOLIS -- Teams usually don't disseminate news releases to announce they
won't
re-sign a free agent, yet the
Buffalo Bills
want you to know they won't offer contracts to receivers
Terrell Owens
and
Josh Reed
and defensive end
Ryan Denney
.
[+] Enlarge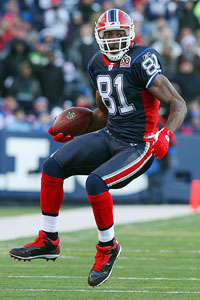 Luc Leclerc/US PresswireTerrell Owens caught 55 passes for 829 yards and five TDs for the Bills in 2009.
"We wanted to inform all three players ahead of the start of the free agency period so they could begin making their plans," Bills general manager Buddy Nix said in a statement. "We just felt that was the right thing to do. All three have represented our organization with class and we thank them for their dedication and hard work."
There was no mention of Buffalo's other unrestricted free agents: guards
Seth McKinney
and
Kendall Simmons
, linebacker
Chris Draft
and safety
Bryan Scott
.
Owens played one season with the Bills. He had a team-high 55 receptions for 829 yards and five touchdowns.
Baltimore Ravens
coach John Harbaugh suggested he would be interested in bringing Owens aboard.
"I've always said I've got a lot of respect for T.O., and I know Ozzie [Ravens GM Ozzie Newsome] does, too," Harbaugh said at the NFL scouting combine. "He had a good year last year, we watched him on tape and he was very effective."
When pressed on his interest in Owens, Harbaugh added "You cornered me. You got me. We're interested in T.O. We're interested in all the guys that can make our team better."
Reed spent eight seasons with the Bills. The slot receiver caught 27 passes for 291 yards and one touchdown last year. He had his best season in 2008, when he made 56 catches for a career-high 597 yards and a touchdown despite missing three games.
Denney also played eight years in Buffalo, collecting 23.5 sacks mostly as a backup. Of his 31 career starts, 24 of them came in two seasons -- 2003 and 2008.
January, 2, 2010
1/02/10
12:51
AM ET
Make it a full score for the
Buffalo Bills
.
They have sent 20 players to injured reserve, adding linebacker
Nic Harris
to the list Friday.
To illustrate how badly the Bills have been ravaged by injuries, I've put together a complete catalog. The rundown includes one player, receiver C.J. Hawthorne, who's on the practice squad IR.
The rest, however, are on the standard list.
Thirteen of them have started at least one game, as designated by an asterisk.
What you'll see here are players from the opening night starting lineup: both tackles, the right guard, a tight end, two linebackers and both cornerbacks. You'll also see am NFL defensive rookie of the year candidate.
You won't see quarterback
Trent Edwards
, who probably should be on the list. When he suffered a high ankle sprain two weeks ago, interim coach Perry Fewell said Edwards wouldn't play again. But the Bills have chosen to keep Edwards on the active roster rather than add an extra body.
December, 16, 2009
12/16/09
6:16
PM ET
ORCHARD PARK, N.Y. -- The
Buffalo Bills
are trying to ride out the rest of the regular season with any bodies that can help them.

Incognito
On Wednesday, they claimed nasty guard
Richie Incognito
off waivers from the
St. Louis Rams
.
Incognito is known as one of the NFL's dirtiest players. He has committed 11 personal fouls since 2006. His time in St. Louis ran its course Sunday, when he was flagged for two personal fouls, including a head butt, and had a sideline confrontation with head coach Steve Spagnuolo.
Maybe Incognito and
New England Patriots
nose tackle
Vince Wilfork
will sit down for tea and crumpets Sunday.
Incognito might just be passing through Buffalo. His contract expires after the season.
But the Bills are desperate. They have four offensive linemen on injured reserve: right tackle
Brad Butler
, left tackle
Demetrius Bell
, right guard
Eric Wood
and guard
Seth McKinney
. All of them started at one point.
The Bills signed guard
Kendall Simmons
three weeks ago, but he was unable to practice Wednesday because of a shoulder injury.
November, 24, 2009
11/24/09
11:00
AM ET
»
NFC Stock Watch
:
East
|
West
|
North
|
South
»
AFC
:
East
|
West
|
North
|
South
Falling

Sanchez
1. Mark Sanchez, Jets quarterback:
The struggling rookie threw four more interceptions and lost a fumble in Sunday's loss. The Patriots converted Sanchez's turnovers into 17 points, the differential on the scoreboard. In the Jets' 1-6 stretch, Sanchez has thrown 14 interceptions and lost two fumbles.
2. Buffalo Bills offensive line:
Two more Bills O-linemen suffered season-ending injuries in Sunday's loss at Jacksonville. Rookie right guard
Eric Wood
broke his leg. Reserve
Seth McKinney
hurt his knee. That means the Bills will use their eighth line combo Sunday against the Dolphins.
3. Randy Moss, Patriots receiver:
Maybe this entry should be for Jets cornerback
Darrelle Revis
under "Rising."
Tom Brady
targeted Moss 11 times, but the Hall of Famers connected only five times for 34 yards and a 4-yard touchdown. On one of those catches,
Drew Coleman
was covering. Revis kept Moss to four receptions and 24 yards in Week 2.
Rising

Welker
1. Wes Welker, Patriots receiver:
The Jets beat the Patriots the first time they played. Not coincidentally, Welker missed that game. In Sunday's rematch, Welker turned in one of the greatest individual performances in the Patriots' 50-year history. He set the club record for receptions in a regulation game with 15 and amassed 192 yards, third-most by a Patriot.
2. Ricky Williams, Dolphins running back:
The 32-year-old sidekick-turned-workhorse recorded two 100-yard games in a five-day span. Williams ran for 119 yards and two touchdowns and caught two passes for 19 yards and a touchdown against the Panthers -- his first game with rushing and receiving touchdowns.
3. Terrell Owens, Bills receiver:
T.O. finally had the type of day Bills fans have been frothing about since March. He had nine catches for 197 yards, including a team-record 98-yard touchdown. Perhaps this is a sign the Bills will open up their previously inept passing game over their final few games.
November, 23, 2009
11/23/09
7:47
AM ET
The
Buffalo Bills
are falling apart.
But this post isn't about their fired head coach, bad quarterbacking or personnel blunders.
Their latest bad news is wicked happenstance.

Wood
Rookie guard
Eric Wood
, drafted with the 28th overall pick acquired from the
Philadelphia Eagles
for Pro Bowl left tackle
Jason Peters
, suffered a broken left leg in the fourth quarter of Sunday's loss to the
Jacksonville Jaguars
.
Wood's gruesome compound fracture was reminiscent of how Lawrence Taylor ended Joe Theismann's career.
Wood was focused on trying to block Jaguars defensive end
Derrick Harvey
from tackling Bills quarterback
Ryan Fitzpatrick
. Jaguars defensive tackle
Montavious Stanley
was charging from Fitzpatrick's left. Stanley tried to wrap up Fitzpatrick, but his momentum sent him crashing into the unsuspecting Wood.
The impact buckled Wood's lower leg in a place that doesn't bend. He underwent surgery in a Jacksonville hospital and didn't return to Buffalo with the team.
Buffalo's offensive line opened the season inexperienced and loaded with question marks. The tackle positions have been decimated by injuries, but the interior trio -- center
Geoff Hangartner
and guards
Andy Levitre
and Wood -- had started every game.
Levitre started Sunday's game at left tackle for the injured
Demetrius Bell
, with reserve
Seth McKinney
playing in Levitre's usual left guard spot. McKinney suffered a torn meniscus Sunday. That forced Levitre back to guard and jumbled the line even more.
For the second time this year, they finished the game with no O-line backups.
November, 21, 2009
11/21/09
12:15
PM ET
When it comes to false starts, the
Buffalo Bills
have been finger-choppin' bad.
At his first practice Wednesday, interim head coach Perry Fewell gave an indication of how much tolerance he'll have for false starts. The Bills lead the NFL by far with 23 false starts, about twice the league average.
When an unnamed offensive player jumped, Fewell flipped.
"I started to cut the guy's finger off when he jumped offsides, but [trainer] Bud [Carpenter] told me I shouldn't do that," Fewell joked. "So I kind of got up in their face a little bit and just made my presence felt and just told them, 'Hey men, now it's first-and-15. We've got 5 more yards to hold instead of being first-and-10.'
"It's not acceptable. We've got to focus and we have to concentrate. That's the way we're going to get better."
I wonder what Fewell would have done had he been within range of bird-flipping
Tennessee Titans
owner Bud Adams on Sunday.
If Fewell actually did cut off a finger for every false start, Buffalo's offensive line wouldn't be able to get into a three-point stance.
The Bills are way ahead of the rest of the league. They have committed 44 percent more false starts than the next-worst offenders. The
Oakland Raiders
and
Detroit Lions
are tied for second with 16 false starts apiece. The league average is 11.8.
Bills left tackle
Demetrius Bell
and
San Francisco 49ers
tight end
Vernon Davis
are tied for the NFL lead with six false starts each, but Bell has played in one fewer game because of an injury.
Right tackle
Jonathan Scott
and rookie right guard
Andy Levitre
are next on the Bills' list with three each, a total that would rank first for 17 other teams. Scott has played only four games.
Every member of the Bills' offensive line has jumped at least once. Center
Geoff Hangartner
and reserve
Seth McKinney
are the only ones who haven't done it multiple times.
Around the rest of the AFC East, the
Miami Dolphins
(counting Thursday's game) and
New England Patriots
have committed 12 false starts. The
New York Jets
have jumped 14 times.
August, 21, 2009
8/21/09
10:51
AM ET
July, 25, 2009
7/25/09
8:00
AM ET
Posted by ESPN.com's Tim Graham
PITTSFORD, N.Y. -- Greetings from Buffalo Bills training camp at quaint St. John Fisher College, where Terrell Owens is about to make his on-field debut in front of fans, but their top four draft picks might not.
The Bills are in a weird position with their draft choices because they've opened camp first, at least a week before 13 other clubs. The Bills are doing so because they're playing in the Hall of Fame Game on Aug. 9. But their opponent in the kickoff classic, the Tennessee Titans, open camp Friday.
Regardless, the Bills' early camp has bound their hands. Agents are reluctant to hammer out contracts for top rookies unless the players selected in their immediate vicinity have been signed, too.
For instance, defensive end Aaron Maybin, the 11th overall selection, might take a while because the 10th pick (receiver Michael Crabtree) and the 12th pick (running back Knowshon Moreno) haven't signed yet. As key offensive players, Crabtree and Moreno are looking for big bucks.
Also unsigned for the Bills are No. 28 guard Eric Wood, No. 42 defensive back Jairus Byrd and No. 51 guard Andy Levitre.
Although it seemed highly unlikely, Bills chief operating officer Russ Brandon said Friday he hoped to have all of them signed before drills begin at 8:30 a.m.
"We want to get these done, but we're going to get them done within the framework of what we feel is right in terms of negotiating with these guys," Brandon said. "We've been pretty solid at that for many years and we will continue to be. Obviously we want them here, but it's going to be a fair deal on both sides."
Wood and Levitre are expected to be Buffalo's starting guards on a boggled line that could use every practice snap it can muster.
"The sooner they are [on the field] the better," Bills quarterback Trent Edwards said Friday. "We're reporting a week earlier, so there is no rush to get them here, but there is a rush in terms of them being rookies and they need to get here.
"They need to get their feet wet and they need to start jelling together, and they need to start working together and playing together as a five-some."
Geoff Hangartner, a free agent brought in to play center, certainly would like to get a feel for the guys who'll be playing on either side of him.
"We need them to be here so we can spend as much time working together," Hangartner said. "But at the same time, they have to do what's best for them. They've got to take care of their situation, and they'll be here as soon as possible."
In the meantime, journeymen Seth McKinney and Kirk Chambers should be the first-team guards.
June, 9, 2009
6/09/09
12:29
PM ET
Posted by ESPN.com's Tim Graham

ORCHARD PARK, N.Y. -- The first day of Buffalo Bills minicamp just wrapped up, but we haven't had a chance to talk to the players just yet. Only receiver Terrell Owens has faced reporters so far because the team had its annual NFL-mandated media training at 12:20 p.m. We'll get access to the rest of the team in a bit.
For now, here are a few observations from the field house.