June, 20, 2011
6/20/11
10:12
AM ET
One at a time each weekday over the next month, I'll share my list of the top 25 AFC East players.
The rundown is based on where players are before free agency commences. The lockout might end and players on expiring contracts possibly could join other teams before they're revealed on the countdown. If that happens, the rankings will march on. We can't swap in a new No. 10 in mid-July.
Here we go ...
No. 25 Rob Gronkowski, Patriots tight end
About the choice:
The rookie from the University of Arizona was an instrumental component to the Patriots' reconstituted offense. He was a big target for
Tom Brady
on third downs and in the red zone. Gronkowski tied
Antonio Gates
and
Marcedes Lewis
for the touchdown lead among NFL tight ends. Gronkowski shared touches with fellow rookie
Aaron Hernandez
and scored his 10 touchdowns on just 42 catches. Gronkowski is a better in-line blocker than Hernandez and should be a dangerous tight end for years to come if he can avoid injuries.
Key fact:
Gronkowski became only the fourth player to score double-digit receiving touchdowns in Patriots history, joining
Randy Moss
, Stanley Morgan and Jim Colclough.
Hint about No. 24:
A Google search of his name will turn up more hits about something that happened in practice than anything he has done in a game.
February, 24, 2010
2/24/10
1:19
PM ET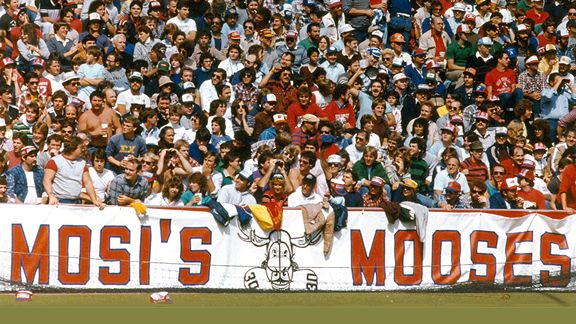 New England PatriotsMosi Tatupu had his own cheering section, "Mosi's Mooses," in Sullivan Stadium.
The
New England Patriots
are mourning the loss of a fan favorite.
Fullback and special-teams ace Mosi Tatupu died Tuesday in Attleboro, Mass. He was 54.
Tatupu, a gritty eighth-round draft choice in 1978, played 13 seasons with the Patriots. He was the lead blocker for Craig James when the Patriots went to their first Super Bowl and was selected to the Pro Bowl for 1986.
[+] Enlarge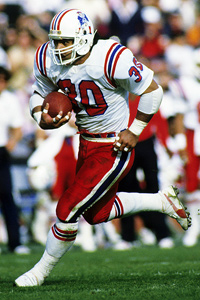 Rob Brown/Getty ImagesMosi Tatupu spent 13 seasons with the Patriots.
Tatupu had his own cheering section called "Mosi's Mooses" in Sullivan Stadium. He was named to the Patriots' 50th anniversary team.
He briefly played for the
St. Louis Rams
before retiring in 1991. He coached his son,
Seattle Seahawks
linebacker
Lofa Tatupu
, at King Philip Regional High in Wrentham, Mass.
The Patriots have released statements from the organization and some of Tatupu's teammates.
Patriots owner Robert Kraft
"I know that I share a heavy heart today with Patriots fans everywhere who have learned of Mosi Tatupu's passing. I was shocked by the news this morning. My sons and I loved to watch Mosi. He was one of our favorite players for more than a decade. I don't think you could watch a Patriots game in the '80s without becoming a fan of his. He was a dominant special-teams player and a punishing rusher who loved the Patriots as much as the fans did. He gave everything that he had on every play. ... He was an iconic player and will be remembered for all of his contributions as a Patriot, both on and off the field."
Former Patriots receiver Stanley Morgan
"There was only one Mosi. I first met Mosi the year after I came to the Patriots, when he got here in 1978, and it was love at first sight, I guess you could say. He got along great with everybody. He had that air about him that you were comfortable around him all the time, and nobody was a stranger around him. People were attracted to that."
Hall of Fame linebacker Andre Tippett
"You probably couldn't ask for a better teammate than Mosi. It was the way he approached the game. He worked hard. He practiced hard. He had a way about him. He always had an upbeat attitude. He was happy all the time and just pleasant to be around. He had a special connection with the fans and his teammates. Everybody loved him."
Former Patriots quarterback Steve Grogan
"As a teammate, he was one of the best. He was one of those guys that made life fun, whether it was in the locker room or on the practice fields. He had a smile that radiated. The fans appreciated him because he was a lunch-pail kind of guy and did whatever was asked of him, whether it was on special teams, on the goal line, in blocking or catching situations. I think Patriots fans really appreciated that."
Former Patriots center Pete Brock
"The thing about Mosi was that he did everything. He wasn't the glamour guy out in front, getting all the carries. He just played football and he played hard. A lot of people remember the 'Snow Plow Game' and, of course, John Smith's kick won it. But it was Mosi, who ran for more than 100 yards that day, that really won that game.
"It's really a shock, and it's so much tougher because we played before the era of free agency. So you really got to know everybody. We were a community. We raised our children together. Because of that it's just like losing a family member."
October, 23, 2008
10/23/08
8:20
AM ET
Posted by ESPN.com's Tim Graham
FOXBOROUGH, Mass. -- I've seen enough halls of fame to know what a great one looks like.
The better ones I always return to. In the past two years I've visited the Pro Football Hall of Fame, National Baseball Hall of Fame, Hockey Hall of Fame and International Boxing Hall of Fame. I've attended induction ceremonies at most.
But the best I've seen belongs to the New England Patriots.
Before Monday night's game in Gillette Stadium, I had the chance to tour The Hall at Patriot Place, a dazzling collection of exhibits, multimedia presentations and high-tech interactive displays on 36,000-square feet.
The Hall at Patriot Place opened last month at a cost of roughly $24 million.
I took the tour with Pro Football Hall of Fame executive director Stephen A. Perry and vice president of communications and exhibits Joe Horrigan. Both were seeing The Hall at Patriot Place for the first time.
"This is first-class, on par with anything we've seen and better than most," Horrigan said. "It's a really remarkable use of space, really creative. Everyone in the industry is going towards a lot of these elements, from the traditional display to the interactive motif. This is what a visitor looks for when he goes to a museum.
"I'm stealing ideas as I go through here. They've scored a touchdown."
Bryan Morry, The Hall at Patriot Place's executive director, explained the vision wasn't a graveyard for artifacts. Patriots president Jonathan Kraft wanted to establish a destination that allowed fans and alumni to embrace the team's tradition.
As I passed through, I found guard John Hannah playing with one of the interactive kiosks. Hannah, in his gold Pro Football Hall of Fame blazer, was at the game for a halftime ceremony to honor linebacker Andre Tippett, who was enshrined in Canton this summer.
Hannah praised the Krafts for building a monument that celebrates the Patriots legacy.
There's plenty to look at: multimedia stations that can engage you for as long as your curiosity of Patriots history can handle, a 150-seat theater and all the standard displays of uniforms and hardware. Hanging from the rafters is the John Deere tractor convict Mark Henderson used to clear a spot for John Smith's infamous field goal to beat the Miami Dolphins in 1982
The Hall at Patriot Place also strives to be a New England football archive, including preps and colleges.
But the most impressive elements are interactive. Educated football fans will leave smarter than when they walked in. A presentation by Bill Belichick insightfully breaks down actual plays from the Patriots' playbook. You pick the play, and Belichick tells you why it works in detail.
Visitors also can listen to offensive coordinator Josh McDaniels relay plays into a quarterback's helmet, step inside an actual-sized Patriots huddle to hear how plays are called and pick up sideline phones to hear how the coordinators communicate with players during the game.
"Museums are no longer a place where you go to view dinosaur bones," Horrigan said. "They expect the dinosaur to move, breathe and shoot fire. That's what happens here."
The Patriots do not have a ring of fame. The Hall at Patriot Place is the ultimate team honor a Patriot can receive.
There are 13 members: tackle Bruce Armstrong, linebacker Nick Buoniconti, kicker Gino Cappelletti, tight end Ben Coates, defensive lineman Bob Dee, quarterback Steve Grogan, Hannah, cornerback Mike Haynes, tackle Jim Lee Hunt, receiver Stanley Morgan, linebacker Steve Nelson, quarterback Babe Parilli and Tippett.