January, 30, 2012
1/30/12
10:00
AM ET
INDIANAPOLIS -- The big injury news during Super Bowl week is the left ankle of
New England Patriots
Pro Bowl tight end
Rob Gronkowski
.
The extent of the injury hasn't been revealed by the Patriots, who would only say Gronkowski is day-to-day. But Gronkowski's father, Gordy Gronkowski, said his son has
a high ankle sprain
, which is one of the worst forms to the ankle joint.
Assuming Rob Gronkowski's dad is accurate, the AFC East blog caught up with ESPN injury expert Stephania Bell to examine the issues of the injury. Bell provided insight into the challenges Rob Gronkowski potentially faces.
Stephania, besides the location, what are some differences with a regular ankle sprain and a high ankle sprain?
Stephania Bell:
Standard ankle sprains tend to be what we call lateral ankle sprains. Many people refer to them as basketball sprains, because it's what you see a lot in basketball when a guy goes up for a shot and maybe lands on another player's foot. His ankle rolls and turns in, which sprains and injures the ligaments on the front and lateral side of the ankle. In a high ankle sprain, the injury is usually a little bit different. The foot is typically pointed outward and is a rotational injury most of the time. If you go back and look at the view of when Gronkowski sprained his ankle, you can actually see some of that when he got caught from behind. It kind of forced his foot to twist so his toes were pointing outward. So that rotational component injures the ligament that basically attaches to the top of the ankle, which is called the "high ankle." It attaches the two lower leg bones where the roof of the ankle is formed.
Players often complain that the injury is very painful. Where does the pain come from?
SB:
What makes it difficult functionally is every time you step on your foot, it creates a force that wants to spread those two lower leg bones apart. Every time you take a normal step and your shin bone, if you will, advances over your ankle, which is what normally happens when you step forward, those ligaments are under stress. They are attached there to help prevent those two bones from spreading. When there's injury there, because of the stress on those ligaments, that's why it's so painful. That's why when you saw
Ben Roethlisberger
's high ankle sprain, he couldn't step into his throws. Why couldn't he step into them? He couldn't put that full weight over the ankle because he couldn't advance the leg bone over the ankle joint without recreating that severe pain. And [Steelers center]
Maurkice Pouncey
, the reason he couldn't play in the Super Bowl with it is because of the stance he has to get in. That really stresses full weight bearing over that ankle joint.
You mentioned Roethlisberger and Pouncey, who play quarterback and center, respectively. Does Rob Gronkowski have any advantage or disadvantage over those two playing tight end?
SB:
I think it's tough for him. Every time he takes a step it's hard to have your normal mechanics. Part of what Gronkowski does is he moves down the field. So everything mobility wise will be compromised. It's going to be harder for him to run. I'm not saying he won't be able to. One thing that's important to emphasize is we don't know the degree of his injury. So it's hard to know what kind of problem it will be. But the bonus the Patriots have is two weeks. Last week I wasn't surprised at all that he didn't practice. The idea is to keep him non-weight bearing, keep him in a boot, protect that area and accomplish as much healing in that area as you can. Really the key is to ensure he has as much maneuverability as possible by the time he gets to the game.
January, 21, 2011
1/21/11
8:45
AM ET
The stress fracture
Tom Brady
had screwed together in his right foot Thursday was no minor injury.
ESPN injury analyst Stephania Bell surmised Thursday night that the
New England Patriots
' quarterback played much of the 2010 season in agony.
Bell is familiar with the procedure Brady underwent -- a screw inserted in the navicular bone of his right arch -- and said it was the same operation Boston Red Sox second baseman Dustin Pedroia is recovering from.
[+] Enlarge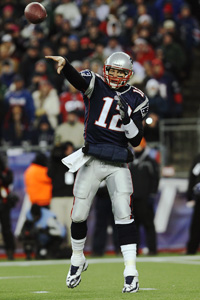 Elsa/Getty ImagesTom Brady had a stress fracture is his foot during most of his record-setting run of games with at least two TD passes and no INTs.
The surgery was done to avoid a more complicated procedure that could have cost him practice time and perhaps games in 2011 if not treated quickly.
Medical experts expect Brady to participate in the first training camp session and could be back earlier.
Bell, a physical therapist who specializes in athletes and performance artists, said Brady must have been in considerable pain. The Patriots first listed him as having a foot injury on Nov. 10. The Patriots played nine games afterward.
"The concern with a stress fracture in that navicular bone is a lot of stress with weight transfer," Bell said. "That's Brady's plant foot, so it really does make his season that much more impressive. Every time he has to plant and throw, you're transferring weight through that foot, transferring weight through a fracture.
"There's no doubt he was playing through pain. Yet he still was remarkably effective."
Brady set an NFL record by throwing at least two touchdown passes and zero interceptions in nine straight games. Eight of those games came after Nov. 10.
"There's not a lot to rehabbing this injury," Bell said. "The main thing is rest. The presence of the screw will stabilize the foot. Then you just wait.
"You just need to make sure the bone is adequately healed before you start testing it. That's usually about in six weeks. So he won't be able to do any heavy weight-bearing activity in that time."
That could be a concern for Brady. Shortly after his left knee was reconstructed in 2008, a staph infection required follow-up surgery that delayed his rehabilitation. Brady claimed the infection developed because he tried to push himself by carrying his son around on his shoulders two days after the initial operation. Brady said he wanted to prove he was better than his doctor advised.
Medical analyst Dr. Michael Kaplan told ESPNBoston.com reporter Mike Reiss "You can't stress this area until it's done healing or prematurely load it because you don't want the screw to break.
If you break the screw, it would be horrific
."
In an interview last month with the Boston Globe,
Pedroia sounded like his recovery was more taxing
on his mind than his foot.
"Some days are great; some days I think too much and I think something is wrong," Pedroia said. "I'm doing so much to try and get my strength back in my left leg that some days are pretty tough."
June, 8, 2010
6/08/10
2:30
PM ET
By
ESPN.com staff
| ESPN.com
Over on her blog, ESPN's injury expert Stephania Bell wonders
if
New England Patriots
fans should be shocked about what they saw from receiver
Wes Welker
at organized team activities earlier this month and if a return for the regular season opener is possible.
Writes Bell:
According to Dr. Neal ElAttrache, Director of Sports Medicine at the Kerlan-Jobe Orthopaedic Clinic in Los Angeles, "It's a great sign that he can do the things that he's doing. He's obviously recovering very well from his injury and surgery." ElAttrache, who performed Brady's knee reconstruction surgery in 2008, said at this point Welker has met the biggest benchmarks following this type of procedure: full motion of the knee, no swelling and the ability to tolerate exercise.
We should not be shocked by what Welker was able to do just four months after undergoing surgery (and five months after the noncontact injury to his left knee, which also resulted in a medial collateral ligament sprain). Advances in surgical technique and rehabilitation, combined with hard work and the absence of any setbacks, have shortened the timetable for return to activity.
Bell says it's understandable fans are comparing quarterback
Tom Brady
's knee injury in 2008 with Welker's, but points out Welker's injury was non-contact. She says Welker's injury is more common among running backs (for example, the
Miami Dolphins
'
Ronnie Brown
in 2007) and receivers (the
Seattle Seahawks
'
Deion Branch
in 2008).
So will Welker be back for Week 1?
"The fact that he's already running, doing light agility drills and other early football activities puts him
in a better position
to return sooner rather than later," Bell writes. "But there is still a long way to go."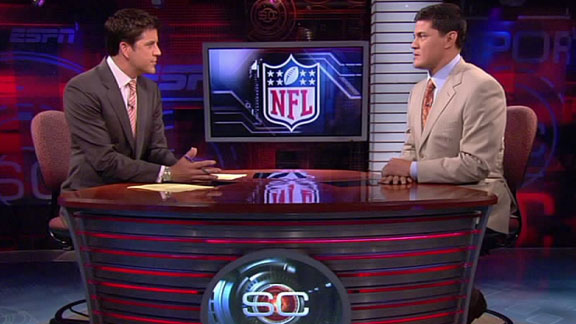 January, 6, 2010
1/06/10
7:13
PM ET
There's a chance
Wes Welker
's unhinged left knee will be ready for the start of the 2010 season.
Just don't count it.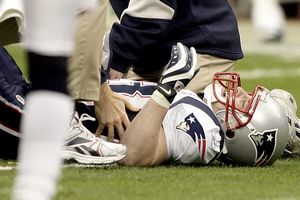 Otto Greule Jr./Getty ImagesPatriots wide receiver Wes Welker's injury will probably keep him off the field through the summer.
"If people are expecting him to get back on the field and be Wes Welker, you've got to cut him some slack," ESPN injury expert Stephania Bell said. "It's going to take him a while."
While it would take possession of Welker's medical chart to give a convincing forecast for his return, Bell believes we have enough information to hazard a guess.
She estimated the
New England Patriots
slot receiver could be practicing by September and looking Welkerish by October.
Bell based her prognosis on the report Welker tore his anterior cruciate and medial collateral ligaments and is assuming no other significant tissue damage because of the non-contact nature of the injury.
In particular, she is going on the supposition Welker didn't suffer the so-called "terrible triad," which includes a meniscus tear in addition to the ACL and MCL. That would prolong the process considerably.
Bell, a physical therapist who specializes in athletes and performance artists, noted most MCL injuries can heal on their own with a leg brace for four to six weeks. After the knee regains its range of motion, then the ACL can be surgically repaired, in Welker's case by about the end of February.
How Welker plays the game will make his recovery more difficult. The last stages of recovery involve lateral movement, deceleration and the ability to cut.
"It's conceivable he could be practicing in August, but it's still a stretch," Bell said. "But because of the type of player Welker is, his strength has been the quick burst of speed and ability to change of direction.
"Unfortunately, those are the toughest things to get back after this kind of injury. Those movements are the most stressful on an ACL/MCL injury."
June, 10, 2009
6/10/09
2:43
PM ET
Posted by ESPN.com's Tim Graham
FOXBOROUGH, Mass. -- I felt like I'd smuggled a spy into the New England Patriots' compound.
But we both were wearing club-issued media credentials, just a couple reporters watching Wednesday's minicamp session.
The major difference, though, was that she's a lot smarter than I am. ESPN's injury expert, Stephania Bell, sat with me in the metal bleachers above the Patriots' upper practice fields and provided running commentary of how Tom Brady looked through her trained eyes.
Bell got her first glimpse since Brady's left knee crumpled last year on opening day. What she saw exceeded her already high expectations.
"The thing that's most impressive to me is how fluid he looks, that three-step drop, his motion, transitioning from the drop to throwing across his body," said Bell, a physical therapist who specializes in athletes and performing artists. "There's no hitch. There's no halting. It's all very smooth."
While Brady and his receivers drilled in front of us, she explained why throwing to his left was significant. She pointed out that when he planted his left leg, he put significant torque and weight on his rebuilt knee.
"There's a lot of rotation going through that lower extremity," Bell said. "Your knee bears a lot of stress when you put that kind of rotation on the leg because the hip rotates easily, the ankle rotates easily, but the knee as a structure isn't meant to rotate a lot. Therefore, it's going to be placed under a lot stress.
"He didn't exhibit any ill effects from that at all. He looked very, very smooth. He's throwing in a normal way. He's throwing across his body, stepping into it, planting his leg."
If you didn't know Brady had his ACL and MCL reattached eight months ago, you wouldn't have any clue he'd been injured. Although you could tell he was wearing a knee brace under his blue sweatpants.
"I knew by reports that he was doing all these things, and the clips I saw were positive," Bell said, "but to see him in person, moving as easily as he is, throwing the ball with as little effort as he is, he's not looking any different than any other guy on the field.
"The fact that he doesn't stand out, that he's just blending in with his routine is probably the most notable thing. They're not backing away from him. Granted, he's not facing any contact, but it all looks very easy and effortless."
May, 27, 2009
5/27/09
9:00
AM ET
Posted by ESPN.com's Tim Graham
Instead of a stop-sign-red quarterback jersey, the New England Patriots might be tempted to dress him in a fluorescent construction vest just to be sure.
| | |
| --- | --- |
| | |
| | AP Photo/Michael Dwyer |
| | On Thursday, Tom Brady will make his first on-field public appearance since suffering two torn knee ligaments in the 2008 opener. |
And assign a pair of armed bodyguards to line up on either side of him before the snap. And fit all the defensive players with invisible-fence shock collars in case they get too far behind the line of scrimmage.
Tom Brady is back on the field with his teammates at organized team activities this week in Foxborough, Mass. No contact is allowed, but when your franchise quarterback is coming back from a shredded knee, heightened anxiety would be understandable.
By all accounts, however, nothing appears out of the ordinary these days for Tom Terrific.
Brady looks perfectly normal to the naked eye. He doesn't have a limp. He doesn't grimace when he walks. He doesn't need to spray WD-40 on his left knee before he breaks into a trot.
We'll get a chance to see for ourselves Thursday, when Brady makes his first on-field public appearance since suffering two torn knee ligaments in the Sept. 7 season opener.
Aside from 10 seconds of surprise footage that captured Brady in a sweat-soaked T-shirt and sweatpants, tossing the ball around before the NCAA lacrosse championships Monday at Gillette Stadium, we haven't had the chance to see how Brady is progressing.
But what we observe and the cameras record Thursday probably won't suggest anything at all is amiss.
"You're going to see a solid-looking quarterback," ESPN injury expert Stephania Bell said confidently.
Rank 'Em: Best Jobs

Tom Brady enjoys what he does, no shock there. But just how awesome is Brady's job? We've listed some other pretty sweet professions and now want SportsNation to rank them against being Brady. Knock yourself out, Nation. RANK 'EM
Sources close to Brady insist he has nailed the major rehab target points throughout his recovery from torn anterior-cruciate and medial-collateral ligaments, that because of concentrated therapy he was testing stronger in February than at any point before the injury.
"Right now, I'm doing everything. Literally everything," Brady told writer Peter King for this week's Sports Illustrated cover story. "There's nothing I can't do."