August, 9, 2012
8/09/12
12:00
PM ET
FOXBOROUGH, Mass. -- You would think there was a playoff game at Gillette Stadium this week.

In front of a packed house, the
New England Patriots
hosted the
New Orleans Saints
for a pair of high-quality joint practices. Even famous musician Jon Bon Jovi and supermodel (and
Tom Brady's
wife) Gisele Bundchen showed up for a glimpse of the action.
The talent on the practice field was immense. You had future Hall of Famers Brady and
Drew Brees
at quarterback, Pro Bowl tight ends
Rob Gronkowski
and
Jimmy Graham
and two hungry defenses eager to improve. The tempo was fast and intense.
The Patriots could have easily practiced against themselves this week like the rest of the league. But there is a method to Bill Belichick's madness. It's Super Bowl or bust for New England. And even in August, the Patriots want to test themselves as much as possible against another playoff contender.
"We know that there are a lot of other great organizations and teams and players and coaches out there," Belichick explained. "It's a good challenge every week, and certainly the Saints are one of the top teams in professional football. As I said, they're well-coached, they have great talent, good players, good scheme [and] they win a lot of games. We played against them two years ago, practiced against them two years ago in their championship season. There isn't any team we have more respect for than the Saints from top to bottom."
The reigning AFC champions are loaded. Their roster is deeper and more talented than last year's team that finished 13-3. With the easiest strength of schedule in the NFL, the Patriots are expected to match or surpass last season's win total. Some pundits even believe a 16-0 regular season is within reach. But let's not get too ahead of ourselves.
THREE HOT ISSUES
1. How much better is the defense?
The Patriots' defense has improved. New England was ranked 31st in total defense and 31st against the pass in 2011. So the Patriots cannot get much worse.
The Patriots invested all their draft picks except a seventh-rounder in defense. The biggest coups were first-round picks
Dont'a Hightower
at linebacker and defensive end
Chandler Jones
. Both rookies received a lot of reps with the first team this week and appear to be learning fast. They also provide athleticism and aggressiveness to New England's front seven.
Second-round pick and defensive back
Tavon Wilson
also has looked better than advertised. Belichick received a lot of criticism for drafting Wilson that high when most projected him to be a fifth- or sixth-round pick. Free agent
Steve Gregory
also is New England's starting safety and is an upgrade over the rotating door New England had at the position last year.
With a high-powered offense, the Patriots don't need a top-10 defense. But if the defensive-minded Belichick can get this group in the top 20, New England will be very hard to beat.
"We're just trying to be aggressive and be competitive in everything out there," Patriots cornerback
Devin McCourty
said of improving. "From the front all the way throughout the secondary, guys are just trying to develop an attitude. Defense has a lot to do with attitude and how you approach the game, so we're trying to keep attitude and trying to do it day in and day out."
[+] Enlarge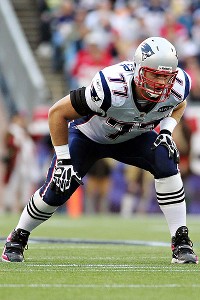 Stew Milne/US PresswireSecond-year left tackle Nate Solder has shined early in Patriots training camp.
2. Who will man the offensive line?
It is difficult to gauge the performance of the offensive line in training camp. About half of training camp practices are in shorts, and that significantly reduces contact in the trenches. But replacements need to be ready because four of New England's starters from last year are injured, retired or contemplating retirement.
New England's offensive line is a M.A.S.H. unit. Starting guards
Logan Mankins
(knee) and
Brian Waters
(personal reasons) have yet to practice with the team, and starting right tackle
Sebastian Vollmer
has a back injury. Longtime starting left tackle
Matt Light
retired, and so did free-agent signee
Robert Gallery
.
The Patriots are trying to find the right combination up front in training camp in preparation for Week 1 of the regular season. So far, the
best lineman in camp
has been second-year left tackle
Nate Solder
, who gained some starting experience last year in his rookie season.
Holdovers such as guard
Dan Koppen
,
Dan Connolly
,
Ryan Wendell
and
Marcus Cannon
are all trying to carve out roles -- at least until starters Mankins, Vollmer and (maybe) Waters return. Brady and the Patriots will pass the football a lot this year, so development of the offensive line is important.
"We're going to play whoever is here, and whatever happens, we're going to be here working hard," Solder said this week.
3. Who will run the football?
Dependable tailback
BenJarvus Green-Ellis
bolted to the
Cincinnati Bengals
in free agency. That leaves second-year tailbacks
Stevan Ridley
and
Shane Vereen
trying to pick up the slack in 2012. Neither player has much experience. Ridley did pretty well in limited playing time his rookie year, amassing 441 yards and a touchdown. Vereen was injured most of his rookie season and wasn't a factor.
Ridley
has the inside track
and has looked impressive. He has good vision and burst. Ball security has been the only question. But Ridley believes he made rookie mistakes that he will fix in Year 2.
"This year I'm going to go and do the best that I can to keep the ball high and tight," Ridley said. "I know that if I can keep the ball in my hands, I'm going to be on the field. So my work is cut out for me."
Backup running back
Danny Woodhead
also will assist Ridley and Vereen, particularly on third downs.
Reason for optimism
This is the best collection of talented skill players Brady has ever had. If everyone stays healthy, I do not see any reason the Patriots cannot be near the top of the league in scoring and passing offense. New England should average at least 30 points per game.
Brady has a Pro Bowl tight end in Gronkowski, a Pro Bowl receiver in
Wes Welker
, a top-five tight end in
Aaron Hernandez
and a much-needed deep threat in
Brandon Lloyd
. The Patriots' passing game should be able to do it all. Brady can go underneath to Welker and Gronkowski or deep to Lloyd and Hernandez. It will be very difficult for opponents to game plan.
"We're not taking anything for granted," Brady said. "We're trying to come out and string practices together."
Reason for pessimism
I'm still not confident in New England's secondary. This was the weakest part of the Patriots last year, and 2012 could be a repeat.
Cornerbacks McCourty,
Kyle Arrington
,
Sterling Moore
and
Ras-I Dowling
all have question marks. The Saints' offense had their way with New England's corners during this week's joint practices. No one among the Patriots' corners made enough plays to really stand out.
Perhaps the biggest problem is New England's corners are not shutdown, man-to-man defenders. That forces New England to play a lot of zone to try to get stops. That leads to a bend-but-don't-break mentality we saw last year.
Expect many opponents to attack New England's cornerbacks until this group proves it can cover and shut down receivers consistently.
OBSERVATION DECK
[+] Enlarge

AP Photo/Robert E. KleinNot many tight ends have the athletic ability to be a punt returner. The Patriots' Aaron Hernandez does.

Speaking of McCourty, he is playing exclusively at corner in training camp. It shows the coaching staff is comfortable that McCourty will bounce back from a shoulder injury and poor play that led to a position change to safety late last season. McCourty is competing hard and trying to get back to his rookie form, when he made the Pro Bowl in 2010.

How athletic is Hernandez? New England is experimenting with its No. 2 tight end at punt return and running back. Hernandez did a good job running the football in the Patriots' playoff win over the Denver Broncos. It was a nice wrinkle added by Belichick. Hernandez is elusive in the open field and has good hands, so returning punts could make sense as another way to get the ball into Hernandez's hands.

I'm not sure why more teams do not have joint practices in training camp. Both the Patriots and Saints gave rave reviews of how well things went this week. It was well organized; both teams got a lot of work done; and there were no injuries. Most importantly, it is a change of pace from hitting your teammates the entire summer. In talking with players, they got a kick out of practicing against an unfamiliar opponent.

The Brady-to-Lloyd combination is still a work in progress. Brady missed Lloyd on several opportunities this week, as the first-time teammates continue to work on their chemistry. Lloyd is the best deep threat Brady has had since Randy Moss. Brady and Moss got on the same page quickly in their first season together. Brady hopes for the same results with Lloyd.

Keep an eye out for undrafted rookie defensive end Justin Francis. I wasn't familiar with the Rutgers product before my training camp visit, but after a few practices, I noticed Francis stood out. Francis has a good motor and athleticism for a defensive end. Francis is a sleeper pick to make New England's 53-man roster, but he must show that he can translate his play on the practice field to the preseason games.

The No. 2 quarterback race between Brian Hoyer and Ryan Mallett favors Hoyer at this stage of camp. Hoyer had a solid week of practice leading into Thursday's preseason opener. Hoyer was more accurate and made some nice throws. Mallett has a lot of physical ability but has a lot to work on. He had trouble with taking some of the velocity off his passes when needed. The preseason games will matter most, but Hoyer has the lead so far.

Linebacker Bobby Carpenter has been a pleasant surprise for New England. The former first-round pick has underachieved at his previous stops in Dallas, Miami and Detroit. But Carpenter has fit in well as a backup linebacker for the Patriots in training camp and is in good shape to make the team. Carpenter even got a little work with the first team this week because of injuries.
January, 23, 2012
1/23/12
12:00
PM ET
FOXBOROUGH, Mass. -- One of the biggest heroes in the
New England Patriots
' locker room following their 23-20 victory against the
Baltimore Ravens
in the AFC Championship Game was backup cornerback
Sterling Moore
.
[+] Enlarge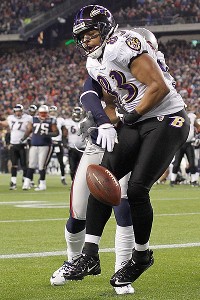 AP Photo/Winslow TownsonThe Ravens' Lee Evans is stripped of the ball by the Patriots' Sterling Moore during the final minute of Sunday's AFC Championship Game.
With time running out in regulation, Moore made the biggest defensive play of the game when he stripped the ball out of Baltimore receiver
Lee Evans
' hands at the last second to negate a potential game-winning touchdown. The Ravens subsequently missed a 32-yard field goal that could have forced overtime.
"It was just a split-second decision and I'm glad it worked out," Moore said. "We do that drill everyday in practice, but it was the first time I had to use it in a game, and I just took what I learned from practice into the game."
Here is some reaction to Moore's ... ahem ... "sterling" play:
Patriots LB Brandon Spikes:
"You have to play through the whole play. His technique was [good]. I'm not in the secondary, but throughout the whole week the coaches put a big emphasis on playing all the way through. [Evans] had the ball, but [Moore] knocked it out. That was big."
Patriots safety James Ihedigbo:
"That is why you have to play through the whistle. Like I said, Sterling made an amazing play. He didn't see the ball coming and his back was turned. And as the receiver caught it, and before he could put two feet down, he slapped it out of his hand. That's just a split second. That is just great thinking, an amazing play there."
Patriots coach Bill Belichick:
"[Moore] made some plays. Not perfect out there, but he competes hard and he's a tough kid. He's got good ball skills. He gets around the ball."
The Patriots and Ravens were the two best teams in the AFC all season. There was a very thin line that separated them in the AFC Championship Game. The Patriots executed better than the Ravens in the final minute.