April, 19, 2013
Apr 19
1:30
PM ET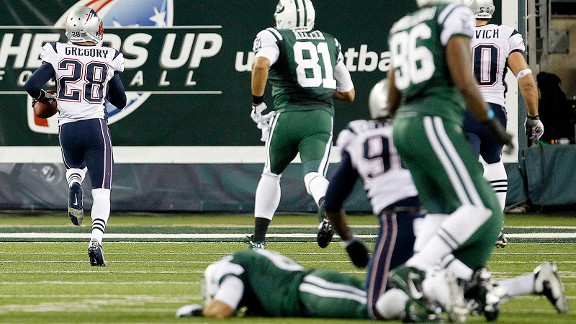 William Perlman/US PresswireMark Sanchez hopes to put a miserable 2012 season behind him this coming fall.
New York Jets
quarterback
Mark Sanchez
's lowest moment happened on Thanksgiving night last season against the rival
New England Patriots
.
In a nationally televised game, Sanchez attempted to hand off the ball to a running back who wasn't there and panicked. Instead of sliding or taking a knee, Sanchez made it worse by deciding to become the running back. He ran directly into the large backside of starting guard
Brandon Moore
and fumbled the football, which was returned for a touchdown by Patriots safety
Steve Gregory
.
The play is infamously known as the "butt fumble." But it also serves as a watershed mark in Sanchez's NFL career.
This is the play that will define Sanchez if he's unable to revive his career, which many believe is already over. But he has a guaranteed salary of $8.25 million, so Sanchez is getting one final chance to silence the critics and start for the Jets in 2013.
"As far as the emotional side, my heart and soul is into this, and I was just excited to see a bunch of guys on the team again and get ready to get going," Sanchez said on a conference call this week to kick off New York's offseason program. "That's really where my head is at. I'm fired up about this year, and I hope it's a good one."
Few quarterbacks have received more opportunities the past few years than Sanchez. His NFL career has been a roller-coaster ride.
Sanchez struggled as a rookie in 2009 and threw more interceptions (20) than touchdowns (12). But the Jets stuck with Sanchez, and he got better during the playoffs, leading the Jets to his first AFC title game. Sanchez maintained that momentum in 2010 and led New York to another AFC title game. But Sanchez hit rock bottom in 2012 when he recorded the league's lowest Total Quarterback Rating (23.4) and was eventually benched for third-string backup
Greg McElroy
.
As a result, this is the first summer since Sanchez's rookie year when he will not be handed the starting job. Sanchez must earn it by beating out veteran free agent
David Garrard
.
Sanchez will be playing for his third offensive coordinator in three years. He's struggled under former offensive coordinators Brian Schottenheimer and Tony Sparano. Now, it's the job of new Jets offensive coordinator Marty Mornhinweg to get Sanchez's career headed in the right direction.
"I'm not sure that [Sanchez] needs to be 'fixed,'" Mornhinweg recently said to reporters. "Mark has a lot of strengths, and he's played at a high level. It's our job to get him to play at a high level on a consistent basis. We would certainly like competition at all spots and certainly [the quarterback] spot, the competition just makes everybody better."
One of Sanchez's biggest strengths is his boundless optimism. Even when much has gone wrong around him, Sanchez has always accepted blame and seen the best in every situation.
Sanchez, who is the favorite, is approaching this summer's quarterback battle with Garrard the same way.
"I know Mr. [John] Idzik and Rex [Ryan] are big on competition, and that was really the theme heading into this year. I completely understand that," Sanchez said. "I think it will bring out the best in everybody on the team, and everybody has to compete for their spot, so I totally respect that. I'm just concerned with preparing to play well for this team and doing everything that I possibly can, everything in my control to be the best quarterback on the roster and go play well."
New York went 6-10 in 2012 and cut many veterans to get under the salary cap. The Jets made a few bargain-basement signings in free agency and aim to get younger in the draft with first-year general manager John Idzik calling the shots. But this is a rebuilding team that looks at least a year or two away from contending for the playoffs again.
But you can't tell that to Sanchez. This fifth season with the Jets is the most important of his career. Sanchez will prove, once and for all, whether he's a capable NFL starter or a career backup who never could match the hype of being a top-five pick.
This year Sanchez is not looking back on all his mistakes, such as the "butt fumble." He is only looking forward.
"Once you watch all that film, there's nothing else to do except try and improve and trying to understand how you got in that position and what led to that, how to avoid some of those pitfalls if possible," Sanchez said. "Go back and really get after the fundamentals like you do every offseason. ... It's a whole new year and I'm excited to see the kind of team that we have when it's all said and done and we line up on opening day."
March, 15, 2013
Mar 15
8:53
PM ET
The
New England Patriots
finally landed the playmaking safety they were looking for to help fix their 29th-ranked pass defense. The Patriots reached an agreement with five-time Pro Bowler
Adrian Wilson
, his
agent confirmed on Twitter
on Friday evening.
Wilson
Wilson brings a much-needed intimidating force to the back end of the Patriots' defense. He has 27 career interceptions. Wilson also is one of the top safeties at playing in the box, as evident by his 25.5 career sacks.
Age could be an issue for Wilson, who is 33 and entering his 13th season. However, Wilson has been durable, missing only two games the past five seasons. He will be a Week 1 starter for the Patriots' secondary, which also has safeties
Devin McCourty
,
Steve Gregory
and
Tavon Wilson
on the roster.
Wilson still has quality football left in him. He made four consecutive Pro Bowls from 2008 to 2011. New England hopes Wilson can quickly get back to his form of two years ago.
January, 19, 2013
Jan 19
3:30
PM ET

The AFC East blog concludes its series this week on ranking team needs.
We finally take a look at the reigning division champion
New England Patriots
, who play in Sunday's AFC Championship Game.
No. 1 need: Safety
Analysis:
The Patriots were 29th against the pass this season and 31st against the pass in 2011. New England needs better safeties to prevent big passing plays over the top. Players like
Steve Gregory
and
Patrick Chung
are not the long-term solutions. That has forced
Devin McCourty
, a converted corner, to become a full-time safety. New England's pass defense has made some strides. But a legit, playmaking safety would go a long way in New England. There is speculation that pending free agent Ed Reed of the Baltimore Ravens could be an offseason possibility. Patriots second-round pick
Tavon Wilson
also has shown flashes but still have a lot to prove.
No. 2 need: Cornerback
Analysis:
It also takes corners to play good pass defense, and New England struggled at times in that area as well. A lot depends on what happens with No. 1 corner
Aqib Talib
, who is a pending free agent. The Patriots made a midseason trade with the
Tampa Bay Buccaneers
that is paying dividends. Talib has been the athletic, cover corner New England expected. But Talib's had off-the-field concerns in the past, and the Patriots will consider that when thinking about a long-term extension. Without Talib, New England has a thin group of corners. Rookie seventh-round pick
Alfonzo Dennard
has been a nice find, but he's inexperienced.
Kyle Arrington
is too up and down. The Patriots will have to explore this position in the draft or free agency.
No. 3 need: Wide receiver
Analysis:
Much of this depends on what happens with Pro Bowl receiver and pending free agent
Wes Welker
. But the Patriots need to add some youth and depth at wide receiver. The Patriots don't have much behind starters Welker and
Brandon Lloyd
. Julian Eldelman showed flashes but suffered a season-ending foot injury. The Patriots will have to pay Welker a heavy price tag to keep him long-term. If Welker walks, that leaves a big hole in the offense. It won't be easy to replace Welker's immense production.
January, 13, 2013
Jan 13
11:59
PM ET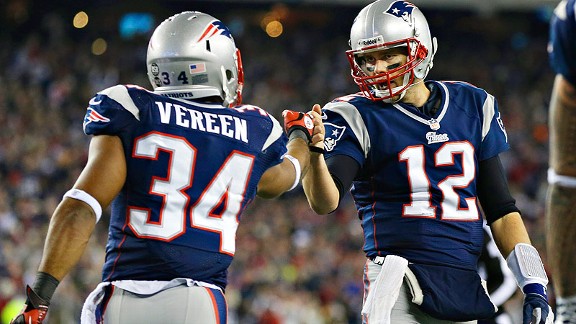 AP Photo/Elise AmendolaTom Brady threw for 344 yards and three scores as New England beat Houston in the divisional round.
FOXBOROUGH, Mass. –
Joe Flacco
. …
Matt Ryan
. …
Colin Kaepernick
.
Tom Brady.
If you're looking for a clear-cut favorite among the NFL's final four teams, look no further than the quarterbacks. The disparity between Brady and his counterparts makes the
New England Patriots
the hands-down favorite to win Super Bowl XLVII in New Orleans.
Brady was once again masterful in the Patriots'
41-28 divisional playoff victory
Sunday over the
Houston Texans
. Brady threw for 344 yards, three touchdowns and had a 115.0 passer rating.
Brady has a way of consistently making good defenses look ordinary. Houston's seventh-ranked group allowed 83 points in two games against Brady this season.
Sorry,
Baltimore Ravens
,
Atlanta Falcons
and
San Francisco 49ers
, but there is only one elite quarterback left in the NFL playoffs -- and he resides in New England. No one is going to stop a focused and determined Brady from capturing his fourth Super Bowl title, which would tie an NFL record with Hall of Fame quarterbacks
Joe Montana
and Terry Bradshaw.
The Ravens are up first for the Patriots in the conference title game, and Brady vividly remembers the controversial loss earlier this season.
Let's just say Brady doesn't plan on going the
Peyton Manning
route next week.
"I think the two best teams are in the finals," Brady said. "Baltimore certainly deserves to be here, and so do we. It's very fitting. We played them earlier in the year and they got us. We blew a pretty good lead there at the end, and we're going to have to play our best game this week."
Baltimore, Atlanta and San Francisco all deserve to be in the conference finals. But are Flacco, Ryan and Kaepernick ready for this big stage? That is the bigger question.
Brady is one game away from his sixth Super Bowl appearance and fourth championship. Flacco, Ryan and Kaepernick have zero combined Super Bowl appearances and zero combined championships. In a one-game scenario, you have to like Brady's chances. Brady's 17 career playoff wins are nearly double the nine combined postseason wins for Flacco, Ryan and Kaepernick.
Brady was winning Super Bowls when Flacco and Ryan were high school teenagers. Kaepernick was 14 when Brady won his first title in February 2002. Brady is the ultimate gatekeeper among these three green quarterbacks still trying to get over the hump and make a name for themselves. It's not going to happen on Brady's watch this year.
New England safety
Steve Gregory
has been on both sides of the Brady ledger. Gregory played against Brady several times as a member of the
San Diego Chargers
and became Brady's teammate for the first time this season after signing as a free agent. Gregory learned quickly that it's better to be with Brady than against him.
"His ability to get to the line, recognize defenses and get the offense in the right play is pretty amazing," Gregory explained. "I love having him on my side now."
The Patriots lost Pro Bowl tight end
Rob Gronkowski
for the season
after he broke his forearm for a second time
, but it doesn't matter. The Patriots proved they are adaptable. New England was 4-1 this year without Gronkowski and didn't miss a beat Sunday against Houston when Gronkowski missed more than three quarters. The high-scoring Patriots have more than enough offensive weapons at their disposal.
The only irreplaceable Patriot is Brady.
"He's our leader and we all follow him," Patriots coach Bill Belichick said. "We all respect him and he led the team today. … There's no quarterback I'd rather have than Tom Brady."
Brady began his day at Gillette Stadium when he came out the tunnel for pregame warm-ups. He jogged to one corner of the end zone and pumped up the home crowd. Brady was intense the entire game and stayed on his teammates, even as the Patriots led by as many as 25 points in the second half.
By the time Brady carved up the Texans and went to his postgame news conference, he was subdued. Brady, 35, gave the Patriots all he had. He is playing as though there is no tomorrow.
"I'm tired, man. All the emotional energy spent," said Brady, who is the third player in NFL history with at least 40 postseason touchdowns. "The big buildup to the week with four days of practice. You're up and you're down, you're up and you're down. I'm tired and ready to go home."
When Brady left the news conference, he ran into Patriots owner Robert Kraft. Brady embraced Kraft by putting one arm around New England's owner, and the two chatted on the way out the stadium.
Kraft had a smile on his face during his talk with Brady. Kraft knows he has the one player who separates the Patriots from the rest of the Super Bowl field.
Brady won his first title in New Orleans versus the
St. Louis Rams
11 years ago to begin his storybook career. Flacco, Ryan and Kaepernick simply aren't good enough to stop Brady from winning his fourth championship in the same place where it all started.
October, 17, 2012
10/17/12
7:00
AM ET
Here are the most interesting stories Wednesday in the AFC East: Morning take: It was a very important victory, but it won't mean anything if Buffalo doesn't win at home Sunday against the Tennessee Titans. The Bills have to keep this momentum going into the bye week.
Morning take: Anything is possible, especially in rivalry games. The AFC East blog is 17-4 this season and will make our picks later in the week.
Morning take: The pass defense was bad with Gregory and the Patriots continued to allow big plays after he went down. But another veteran on the back end can't hurt.
Morning take: The youngster needs to gain the trust of the coaching staff in some areas. Miller's pass blocking needs a lot of improvement; that could be the biggest reason.
August, 9, 2012
8/09/12
1:30
PM ET
The reigning AFC champion
New England Patriots
and
Buffalo Bills
will host their preseason openers Thursday night against the
New Orleans Saints
and
Washington Redskins
, respectively.
Here are four things to watch for in these exhibition games:

No. 1: Patriots' defense
Analysis:
New England's defense, ranked 31st last season, will take the field for the first time in 2012. The last time we saw this group,
New York Giants
quarterback
Eli Manning
was carving up the Patriots in the Super Bowl. New England invested a lot of draft picks and free-agent dollars into this defense. Expect to see several new faces, such as first-round picks
Dont'a Hightower
and
Chandler Jones
, and free-agent signings
Steve Gregory
and
Bobby Carpenter
. The Patriots' starting defense will get a good test against Saints Pro Bowl quarterback
Drew Brees
, who performed well against New England during joint practices this week.
No. 2: Who will emerge at running back?
Analysis:
Expect the Patriots to give a lot of carries to their young running backs Thursday night. Second-year players
Stevan Ridley
and
Shane Vereen
are competing for the starting job vacated by former Patriot
BenJarvus Green-Ellis
. Ridley and Vereen bring different skills to the table. So far, Ridley
has looked the best
in training camp. But this battle will be won in the preseason games. Therefore, one of these young tailbacks must perform well to separate himself.

No. 3: Debut of Buffalo's revamped defensive line
Analysis:
Buffalo's starters may only play a few series. But it will be a good chance to see how the Bills' new-look and dynamic defensive line is coming along. Stud defensive tackles
Kyle Williams
and
Marcell Dareus
were joined by big free-agent signings
Mario Williams
and
Mark Anderson
. This group has the potential to be one of the top defensive lines in the NFL. Washington will provide a good test in the debut of rookie quarterback
Robert Griffin
III. He is one of the most athletic quarterbacks in the league. So if Buffalo's defense can pressure Griffin and keep him at bay, it can corral just about any quarterback.
No. 4: Who will step up as Buffalo's No. 2 receiver?
Analysis:
If Buffalo has a legit No. 2 receiver, it's time for that player to come forward. The Bills need someone to be a threat opposite
Steve Johnson
, who will face plenty of double teams this year. There have been mixed results in training camp. Different players have flashed but no receiver has shown enough consistency. Receivers such as
Marcus Easley
,
Donald Jones
and rookie
T.J. Graham
need to step up. Performing in the preseason is the quickest way to impress Buffalo's coaching staff.
August, 9, 2012
8/09/12
12:00
PM ET
FOXBOROUGH, Mass. -- You would think there was a playoff game at Gillette Stadium this week.

In front of a packed house, the
New England Patriots
hosted the
New Orleans Saints
for a pair of high-quality joint practices. Even famous musician Jon Bon Jovi and supermodel (and
Tom Brady's
wife) Gisele Bundchen showed up for a glimpse of the action.
The talent on the practice field was immense. You had future Hall of Famers Brady and
Drew Brees
at quarterback, Pro Bowl tight ends
Rob Gronkowski
and
Jimmy Graham
and two hungry defenses eager to improve. The tempo was fast and intense.
The Patriots could have easily practiced against themselves this week like the rest of the league. But there is a method to Bill Belichick's madness. It's Super Bowl or bust for New England. And even in August, the Patriots want to test themselves as much as possible against another playoff contender.
"We know that there are a lot of other great organizations and teams and players and coaches out there," Belichick explained. "It's a good challenge every week, and certainly the Saints are one of the top teams in professional football. As I said, they're well-coached, they have great talent, good players, good scheme [and] they win a lot of games. We played against them two years ago, practiced against them two years ago in their championship season. There isn't any team we have more respect for than the Saints from top to bottom."
The reigning AFC champions are loaded. Their roster is deeper and more talented than last year's team that finished 13-3. With the easiest strength of schedule in the NFL, the Patriots are expected to match or surpass last season's win total. Some pundits even believe a 16-0 regular season is within reach. But let's not get too ahead of ourselves.
THREE HOT ISSUES
1. How much better is the defense?
The Patriots' defense has improved. New England was ranked 31st in total defense and 31st against the pass in 2011. So the Patriots cannot get much worse.
The Patriots invested all their draft picks except a seventh-rounder in defense. The biggest coups were first-round picks
Dont'a Hightower
at linebacker and defensive end
Chandler Jones
. Both rookies received a lot of reps with the first team this week and appear to be learning fast. They also provide athleticism and aggressiveness to New England's front seven.
Second-round pick and defensive back
Tavon Wilson
also has looked better than advertised. Belichick received a lot of criticism for drafting Wilson that high when most projected him to be a fifth- or sixth-round pick. Free agent
Steve Gregory
also is New England's starting safety and is an upgrade over the rotating door New England had at the position last year.
With a high-powered offense, the Patriots don't need a top-10 defense. But if the defensive-minded Belichick can get this group in the top 20, New England will be very hard to beat.
"We're just trying to be aggressive and be competitive in everything out there," Patriots cornerback
Devin McCourty
said of improving. "From the front all the way throughout the secondary, guys are just trying to develop an attitude. Defense has a lot to do with attitude and how you approach the game, so we're trying to keep attitude and trying to do it day in and day out."
[+] Enlarge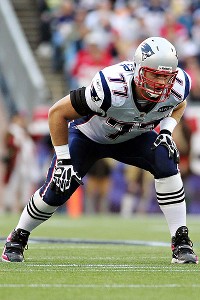 Stew Milne/US PresswireSecond-year left tackle Nate Solder has shined early in Patriots training camp.
2. Who will man the offensive line?
It is difficult to gauge the performance of the offensive line in training camp. About half of training camp practices are in shorts, and that significantly reduces contact in the trenches. But replacements need to be ready because four of New England's starters from last year are injured, retired or contemplating retirement.
New England's offensive line is a M.A.S.H. unit. Starting guards
Logan Mankins
(knee) and
Brian Waters
(personal reasons) have yet to practice with the team, and starting right tackle
Sebastian Vollmer
has a back injury. Longtime starting left tackle
Matt Light
retired, and so did free-agent signee
Robert Gallery
.
The Patriots are trying to find the right combination up front in training camp in preparation for Week 1 of the regular season. So far, the
best lineman in camp
has been second-year left tackle
Nate Solder
, who gained some starting experience last year in his rookie season.
Holdovers such as guard
Dan Koppen
,
Dan Connolly
,
Ryan Wendell
and
Marcus Cannon
are all trying to carve out roles -- at least until starters Mankins, Vollmer and (maybe) Waters return. Brady and the Patriots will pass the football a lot this year, so development of the offensive line is important.
"We're going to play whoever is here, and whatever happens, we're going to be here working hard," Solder said this week.
3. Who will run the football?
Dependable tailback
BenJarvus Green-Ellis
bolted to the
Cincinnati Bengals
in free agency. That leaves second-year tailbacks
Stevan Ridley
and
Shane Vereen
trying to pick up the slack in 2012. Neither player has much experience. Ridley did pretty well in limited playing time his rookie year, amassing 441 yards and a touchdown. Vereen was injured most of his rookie season and wasn't a factor.
Ridley
has the inside track
and has looked impressive. He has good vision and burst. Ball security has been the only question. But Ridley believes he made rookie mistakes that he will fix in Year 2.
"This year I'm going to go and do the best that I can to keep the ball high and tight," Ridley said. "I know that if I can keep the ball in my hands, I'm going to be on the field. So my work is cut out for me."
Backup running back
Danny Woodhead
also will assist Ridley and Vereen, particularly on third downs.
Reason for optimism
This is the best collection of talented skill players Brady has ever had. If everyone stays healthy, I do not see any reason the Patriots cannot be near the top of the league in scoring and passing offense. New England should average at least 30 points per game.
Brady has a Pro Bowl tight end in Gronkowski, a Pro Bowl receiver in
Wes Welker
, a top-five tight end in
Aaron Hernandez
and a much-needed deep threat in
Brandon Lloyd
. The Patriots' passing game should be able to do it all. Brady can go underneath to Welker and Gronkowski or deep to Lloyd and Hernandez. It will be very difficult for opponents to game plan.
"We're not taking anything for granted," Brady said. "We're trying to come out and string practices together."
Reason for pessimism
I'm still not confident in New England's secondary. This was the weakest part of the Patriots last year, and 2012 could be a repeat.
Cornerbacks McCourty,
Kyle Arrington
,
Sterling Moore
and
Ras-I Dowling
all have question marks. The Saints' offense had their way with New England's corners during this week's joint practices. No one among the Patriots' corners made enough plays to really stand out.
Perhaps the biggest problem is New England's corners are not shutdown, man-to-man defenders. That forces New England to play a lot of zone to try to get stops. That leads to a bend-but-don't-break mentality we saw last year.
Expect many opponents to attack New England's cornerbacks until this group proves it can cover and shut down receivers consistently.
OBSERVATION DECK
[+] Enlarge


AP Photo/Robert E. KleinNot many tight ends have the athletic ability to be a punt returner. The Patriots' Aaron Hernandez does.

Speaking of McCourty, he is playing exclusively at corner in training camp. It shows the coaching staff is comfortable that McCourty will bounce back from a shoulder injury and poor play that led to a position change to safety late last season. McCourty is competing hard and trying to get back to his rookie form, when he made the Pro Bowl in 2010.
How athletic is Hernandez? New England is experimenting with its No. 2 tight end at punt return and running back. Hernandez did a good job running the football in the Patriots' playoff win over the Denver Broncos. It was a nice wrinkle added by Belichick. Hernandez is elusive in the open field and has good hands, so returning punts could make sense as another way to get the ball into Hernandez's hands.
I'm not sure why more teams do not have joint practices in training camp. Both the Patriots and Saints gave rave reviews of how well things went this week. It was well organized; both teams got a lot of work done; and there were no injuries. Most importantly, it is a change of pace from hitting your teammates the entire summer. In talking with players, they got a kick out of practicing against an unfamiliar opponent.
The Brady-to-Lloyd combination is still a work in progress. Brady missed Lloyd on several opportunities this week, as the first-time teammates continue to work on their chemistry. Lloyd is the best deep threat Brady has had since Randy Moss. Brady and Moss got on the same page quickly in their first season together. Brady hopes for the same results with Lloyd.
Keep an eye out for undrafted rookie defensive end Justin Francis. I wasn't familiar with the Rutgers product before my training camp visit, but after a few practices, I noticed Francis stood out. Francis has a good motor and athleticism for a defensive end. Francis is a sleeper pick to make New England's 53-man roster, but he must show that he can translate his play on the practice field to the preseason games.
The No. 2 quarterback race between Brian Hoyer and Ryan Mallett favors Hoyer at this stage of camp. Hoyer had a solid week of practice leading into Thursday's preseason opener. Hoyer was more accurate and made some nice throws. Mallett has a lot of physical ability but has a lot to work on. He had trouble with taking some of the velocity off his passes when needed. The preseason games will matter most, but Hoyer has the lead so far.
Linebacker Bobby Carpenter has been a pleasant surprise for New England. The former first-round pick has underachieved at his previous stops in Dallas, Miami and Detroit. But Carpenter has fit in well as a backup linebacker for the Patriots in training camp and is in good shape to make the team. Carpenter even got a little work with the first team this week because of injuries.
August, 5, 2012
8/05/12
12:00
PM ET
The AFC East blog is having a great time visiting every training camp in the division. We started with the
Miami Dolphins
, then hit the
Buffalo Bills
and
New York Jets
last week.
Next up are the reigning AFC champion
New England Patriots
. We are en route to Foxborough, Mass., where we will join the Patriots for a fun string of practices this week.

Here are some things we are looking for:
June, 13, 2012
6/13/12
11:35
AM ET

FOXBOROUGH, Mass. -- Yesterday the AFC East blog
took an up-close
look at the
New York Jets
. Now, it's time to check out the reigning AFC champion
New England Patriots
.
Watching the surgical
Tom Brady
at quarterback is always fun, but I'm more curious about New England's 31st-ranked defense. What changes will be made to improve this side of the ball? Will the new additions in the draft (
Chandler Jones
,
Dont'a Hightower
) and free agency (
Jonathan Fanene
,
Steve Gregory
,
Trevor Scott
) make an immediate defensive impact?
There are also some interesting roster and position battles going on at receiver and running back. There's competition all around, which is what Patriots head coach Bill Belichick likes.
Don't forget to
follow me on Twitter
Wednesday for the real-time updates from Patriots camp. Find out who's performing well in practice and who's struggling. We will also have notes and reaction later this afternoon in the AFC East blog.