December, 1, 2013
12/01/13
5:35
PM ET
TORONTO -- Offering some halftime thoughts as the
Buffalo Bills
are tied
17-17 against
the
Atlanta Falcons
:

1. Quite the up-and-down half for the Bills. After taking an early 14-0 lead, they've allowed the Falcons to stay in this game. Who's to blame? It's been the Bills' run defense, which has allowed
Steven Jackson
(27 yards) and
Antone Smith
(38 yards) to walk into the end zone on all-too-easy touchdown runs.
2. Speaking of running backs,
C.J. Spiller
broke off the longest run of his career on the Bills' first drive. His 77-yard dash led to a 1-yard touchdown run by
EJ Manuel
. The initial ruling was that Manuel did not cross the plane, but the Bills challenged and won. It's the first time coach Doug Marrone has been successful in five challenges this season.
3. Some injury notes to monitor: Manuel was drilled by linebacker
Sean Weatherspoon
in his ribs after an incomplete pass in the first quarter. Weatherspoon was flagged on the play, and Manuel stayed down for a few minutes. He was replaced by
Thad Lewis
for one play, but returned to the field. Meanwhile, Spiller has been seen jogging on the sidelines, a sign that his injured ankle still might not be right. Spiller has 105 yards on nine carries.
4. It didn't look to be the case just before kickoff, but there is a decent crowd. The lower bowl of the Rogers Centre is mostly full, while the upper bowl is generally full from end zone to end zone, with a large area of empty seats behind the end zone. Both teams have received loud cheers today, making the Bills home-away-from-home more like a neutral venue.
September, 20, 2013
9/20/13
12:00
PM ET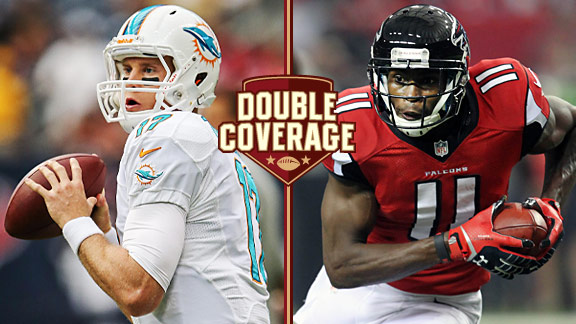 USA TODAY SportsRyan Tannehill and the undefeated Dolphins will try to upset Julio Jones and the Atlanta Falcons.
The
Miami Dolphins
are basking in the light of a 2-0 start while the
Atlanta Falcons
are just trying to find some healthy bodies.
The two teams play each other Sunday in a game that has big implications in the AFC East and NFC South races.
ESPN Dolphins reporter James Walker and ESPN Buccaneers reporter Pat Yasinskas examine this matchup:
Yasinskas:
James, like many, I thought the Dolphins would be an improved team. But it's looking like they might be even better than I thought. They've gone out and started their season with two big wins on the road. What's going right for the Dolphins and, more importantly, how good are they?
Walker:
It's early, Pat, but Miami is already exceeding my expectations. I pegged the Dolphins to be an 8-8 team this year. That still could happen if the team loses focus, but Miami is on pace to do better. I credit two things: improved playmaking ability and the growth of second-year quarterback
Ryan Tannehill
. Miami committed more than $200 million in free-agent contracts to players like receiver
Mike Wallace
, cornerback
Brent Grimes
and linebackers
Dannell Ellerbe
and
Philip Wheeler
. All of those players came up big in last Sunday's win over the
Indianapolis Colts
. When you add in the fact Tannehill has improved in his second year, it's easy to see why the Dolphins are also taking the next step. Atlanta is a team many believe is a Super Bowl contender, but the group is banged up. Pat, how much will injuries impact the Falcons in this game?
Yasinskas:
Atlanta has some major injury problems. The Falcons had to put defensive end/linebacker
Kroy Biermann
and fullback
Bradie Ewing
on injured reserve this week and there are reports that running back
Steven Jackson
will miss a few weeks. The loss of Biermann means the Falcons will have to play rookies
Joplo Bartu
and
Paul Worrilow
at linebacker and second-year pro
Jonathan Massaquoi
at defensive end. If Jackson is out, the Falcons will have to go with
Jacquizz Rodgers
and
Jason Snelling
as their running backs, and that's a sharp drop-off. That probably means the Falcons will pass even more than usual and rely on
Roddy White
and
Julio Jones
. Is Miami's secondary ready for that tandem?
Walker:
I had a good conversation with Miami's top cornerback, Grimes, on Tuesday. He was complimentary of both White and Jones -- and Grimes would know. The former Falcon watched both receivers grow in Atlanta and practiced against them. It will be fun to see who has the advantage between Grimes and White/Jones, depending on the play. Grimes told me they all know each other so well that it's probably a push. The bigger concern for Miami's secondary is the other cornerback spot. Veteran starter
Dimitri Patterson
didn't play in Week 2 due to a groin injury. He's working his way back and could play Sunday. Rookie corners
Will Davis
and
Jamar Taylor
also returned to practice this week, which could provide depth. Similar to the game against Indianapolis, Miami must do a lot of things schematically to cover up its issues opposite Grimes. That includes using the safeties over the top and getting a good pass rush. Speaking of pass rush, the Dolphins have nine sacks in the first two games. Can they exploit the Falcons in this area?
Yasinskas:
Miami's pass rush has to be a major concern for the Falcons. Atlanta revamped its offensive line in the offseason and it's taking some time to come together. The right side of the line is of particular concern with guard
Garrett Reynolds
and
Lamar Holmes
as the starters. Reynolds is average at best and Holmes, a second-year pro, was thrown into the starting lineup when
Mike Johnson
went down with an injury in the preseason. Holmes is very much a work in progress, so the Falcons will have to try to give him some help by getting their tight ends and running backs involved as pass-blockers. Still, Atlanta should be able to move the ball through the air because it has
Matt Ryan
, Jones, White and tight end
Tony Gonzalez
. Has Tannehill developed enough to win a shootout?
Walker:
That's an interesting question, Pat. I'm not sure anyone -- even Miami's coaching staff -- has the answer. I did notice the Dolphins' game plan in Week 1 against Cleveland was fairly conservative compared to Week 2 against Indianapolis. Those are two different teams, and perhaps the Dolphins realized they needed to be more aggressive throwing and take more vertical shots deep to match Colts quarterback
Andrew Luck
. This is a similar type of challenge, because Atlanta's offense is built around scoring points in the passing game. Tannehill is getting better at taking over parts of a game in Year 2. His play in the second half the past two weeks has been terrific. The Dolphins are outscoring opponents 24-6 in the third and fourth quarters, in part because Tannehill is moving the chains, putting points on the board and keeping Miami's defense fresh. I don't expect this game to be all on Tannehill's shoulders. The defense remains the strength of the Dolphins. Keeping Atlanta's scoring around 23 points or fewer, as opposed to having Tannehill throw for 400 yards, is probably Miami's best shot to win.
February, 28, 2013
2/28/13
3:04
PM ET

When reports recently surfaced that
St. Louis Rams
tailback and former Pro Bowler
Steven Jackson
will void his contract and become a free agent, the
New England Patriots
were one of the first teams mentioned as a possible landing spot.
Patriots head coach Bill Belichick likes to add talented veterans at their lowest value. Sometimes it works well (
Randy Moss
, Corey Dillon), while other times it doesn't (Chad Johnson, Albert Haynesworth).
Jackson, 29, seems like a Patriots type of pickup. He has suffered through injuries and is on the downside of his career. But Jackson still has something left in the tank when healthy and can contribute for a contender.
But this is one value find the Patriots should avoid. New England has good depth at tailback with starter
Stevan Ridley
and backup
Shane Vereen
. Ridley rushed for a career-high 1,263 yards in his second season, and should only get better. Signing a former Pro Bowler like Jackson would stunt Ridley's growth and reduce his career. The same goes for Vereen.
The Patriots will be big players in free agency, especially after quarterback
Tom Brady
offered the team cap relief this week. But the Patriots do not need a third running back. New England should better spend its money boosting weak positions like cornerback, safety and wide receiver.
March, 15, 2011
3/15/11
1:00
PM ET
ESPN.com debuted its
positional power rankings series last week
with wide receivers. The two articles I wrote about my ballot (and
my breakdown of the AFC East
) sparked lively discussions about my process.
Readers demanded to know my criteria. My explanation seemed to chafe a few. I stated that my ballot simply reflected my personal taste about how they performed last season.
Stats are a part of equation. They must be to an extent. But if I wanted to go purely on stats, then I would post a link to ESPN.com's fantasy leaders.
I steer clear of metrics. You can pick and choose a specific mathematical equation and make it support any case -- even though you might be comparing a slot receiver catching passes from an elite quarterback to a No. 1 receiver who's constantly double covered on a run-oriented offense. Can't do it.
In the end, it comes down to subjective judgment. Feel free to disagree. An exchange of ideas is the whole point. I don't need to agree with you, and you don't need to accept my list as gospel. Agents won't use the AFC East blog in contract negotiations. The Pro Football Hall of Fame won't use my power rankings to determine induction.
In response to a question about underrated
Buffalo Bills
running back Cookie Gilchrist for the documentary "Full Color Football: The History of the American Football League," legendary runner Jim Brown summed up my sentiments.
"Who gets compared to me and all of that, I couldn't care less about," Brown said. "I don't compare a rose to a petunia. They both have their own kind of beauty. It all depends on what you prefer."
And for those who require statistical reasoning, I share with you a quote another
Cleveland Browns
Hall of Famer told me a couple months ago for a story about
Andre Reed
's induction hopes.
"Our game is beginning to resemble baseball in which everyone is looking at numbers," said Paul Warfield, a member of the undefeated 1972
Miami Dolphins
team. "Numbers tell the story to a degree, but I like to look at one's full body of work. You're supposed to be able to do a lot of things.
"As a receiver, catching the ball is primary and important. But I don't think it takes very much skill or maneuverability to step a couple yards off the line of scrimmage and someone pops you with a pass several times."
So, as you peruse my ballots the next several Tuesdays, that's where I'm coming from.
This week's power rankings position is running back
.
My ballot:
The most obvious omission was
St. Louis Rams
running back
Steven Jackson
. I thought long and hard about including him, but I couldn't talk myself into it. Jackson scored only six touchdowns and had little impact in the passing game. Of the 17 backs who rushed for 1,000 yards, his 3.8 yards per carry were better than only
Cedric Benson
's average.
Some might point out that defenses girded up to remove Jackson from the game, but there are other runners on that list who had worse quarterback situations than the Rams did. I think people still see Jackson as the all-around superstar from 2006.
Hillis was another tough call because of his fumbles. But he was Cleveland's entire offense. Opponents still couldn't stop him. He also added 61 receptions for another 477 yards and a couple touchdowns, numbers that get overlooked.
I'll come back later Tuesday with a ranking of AFC East backs.
November, 7, 2008
11/07/08
4:00
PM ET
Posted by ESPN.com's Tim Graham
Buffalo Bills (5-3) at New England Patriots (5-3), 1 p.m. ET



As if this game weren't significant enough on its own merit, consider the likelihood it will produce the AFC East's only losing team in Week 10. Take a gander at the other two matchups. The division should go 3-1.
Trends are favorable for the Patriots. They've never lost to the Bills in Gillette Stadium and have won nine straight in the series and 14 of their past 15 meetings. The Patriots beat the Bills last year by a combined score of 94-17.
The Bills are struggling on offense and hurting on defense. They'll play without safety and captain Donte Whitner and Pro Bowl defensive end Aaron Schobel.
Through their first four games they averaged 27.3 points for and 13.8 against. Over their next four they've scored 18.3 points and allowed 26.5 points.
Buffalo quarterback Trent Edwards has struggled against 3-4 defenses, which the Patriots use. He has thrown three interceptions, lost two fumbles and been sacked three times over his past five quarters against the Jets and Dolphins (both 3-4 teams).
Buffalo's run offense ranks 26th. Marshawn Lynch hasn't rushed for more than 83 yards and is coming off a 16-yard performance.
New England somehow has maintained effectiveness on a week-to-week basis despite injuries that would appear catastrophic. Quarterback Matt Cassel continues to mature and give the Patriots increased confidence.
The Patriots have allowed an average of 13.7 points over their past three games.
St. Louis Rams (2-6) at New York Jets (5-3), 1 p.m. ET



After last Sunday's victory over the Bills, in which quarterback Brett Favre left his six-shooters in the locker room, the Jets claimed they merely were taking what the defense was giving them.
In that case, we should find out exactly who the Jets prefer to be on offense Sunday in the Meadowlands. They're playing a defense against which they should be able to do whatever they want.
The Rams rank 30th in total defense, 29th against the run and 28th against the pass.
The Jets last week seemed to be gravitating toward a running offense behind Thomas Jones and Leon Washington. Players told me in the locker room that is the identity they want even though they have the most prolific passer in NFL history.
The Rams can go ahead and accept the fact they won't be able to run on the Jets.
The Rams are averaging only 94.1 yards a game on the ground, and Steven Jackson is not completely healthy. But that's what the Rams do best, believe it or not. They rank 27th in passing offense at 168.9 yards a game.
Seattle Seahawks (2-6) at Miami Dolphins (4-4), 1 p.m. ET



The Dolphins are one game out of first place and have an amazingly kind schedule ahead. They will play their next three games at home, starting with Sunday's cross-country visit from the moribund Seahawks.
The Dolphins have won two in a row, but the last time they did that, they dropped their next two games against teams (Houston Texans and Baltimore Ravens) they should've fared better against.
Dolphins coach Tony Sparano said Thursday his ripening club can't afford to experience another letdown.
"Based on the fact that we've already been down this road before, this ain't our first rodeo," Sparano said. "We've kind of done this already. We lost two games. We won two games.
"At the end of the day, I hope that we're not going to learn the same way. We're not going to have to go through the same problems. I don't know what's going to happen out there on Sunday, but I think we'll go into it understanding that this is an important game."
August, 21, 2008
8/21/08
8:15
AM ET
Posted by ESPN.com's Tim Graham
Buffalo Bills fans shouldn't get too excited that St. Louis Rams RB Steve Jackson is expected to end a prolonged holdout by reporting to camp Thursday.
That development isn't indicative of any looming progress between the Bills and Pro Bowl T Jason Peters, who's embroiled in a contract dispute of his own.
The connection between Peters and Jackson -- aside from the fact they're the last two holdouts in the NFL -- is they share the same agent, Eugene Parker.
But that doesn't mean Peters and Jackson are using the same playbook.
Multiple NFL sources have told ESPN.com there has been no movement between the Bills and Peters, and the club doesn't expect Jackson's situation to have any bearing on Peters' holdout.
Peters and Jackson have different circumstances. Jackson was entering the final season of the five-year, $7 million contract he signed as a rookie. Peters still has three years remaining on a contract that already has been renegotiated once, giving him a maximum annual salary of $4 million.
Bills chief operating officer Russ Brandon has said they absolutely will not negotiate with Peters until he shows up. They are hammering out a new deal for WR Lee Evans, who's with the team.
(For the record, Jacksonville Jaguars rookie DE Derrick Harvey also hasn't reported to camp, but he's not technically a holdout. Harvey isn't allowed to show up even if he wanted to because he hasn't signed a contract. You can't hold out if you're not under contract.)
AFC EAST SCOREBOARD
Sunday, 11/23
Monday, 11/24