AFC East:

Stock Watch 2010
October, 27, 2010
10/27/10
8:20
AM ET
»
NFC Stock Watch
:
East
|
West
|
North
|
South
»
AFC
:
East
|
West
|
North
|
South
FALLING
1. Dolphins red zone offense:
They perforated the Steelers' 25-yard line five times and got as far as the 5- and 4-yard lines Sunday. But the Dolphins didn't score a single touchdown in those situations.
Dan Carpenter
converted a field goal each time instead, and the Dolphins lost by one point. The Dolphins are tied for 18th in red-zone efficiency, scoring touchdowns 50 percent of the time. Only the Cardinals have fewer than the Dolphins' 12 trips inside an opponent's 20-yard line.
2. Patriots' pass protection:
Tom Brady
was sacked 16 times all last year. In the past three games, opponents have sacked him 10 times. On Sunday, the Chargers recorded four sacks, something that hadn't happened to Brady since December 2006. Not completely sure how much the absences of Pro Bowl guard
Logan Mankins
and fullback
Kevin Faulk
are playing a role in this trend, but I'm going to guess it's more than a little bit.
[+] Enlarge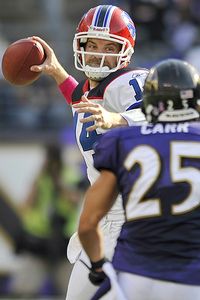 AP Photo/Gail BurtonRyan Fitzpatrick had a career day against Baltimore, passing for 374 yards and four touchdowns.
3. C.J. Spiller, Bills running back:
This year's ninth overall draft choice hasn't been an impact player for weeks, but on Sunday he hurt his team. Spiller fumbled a kickoff on his own 27-yard line with 48 seconds left in the first half. The turnover was crucial. Rather than take an 11-point lead into the locker room (the Bills had the opening possession of the second half), the Ravens scored a touchdown four plays later. On offense, Spiller ran seven times for 33 yards and didn't have a reception for the first time.
RISING
1. Ryan Fitzpatrick, Bills quarterback:
He had the greatest statistical game of his pro career, completing 29 of 43 passes for 374 yards and four touchdowns with a couple interceptions. He posted a 106.2 passer rating. That raised his season rating to 102.0, second in the NFL to only
Peyton Manning
. Fitzpatrick has 11 touchdown passes (as many as Brady and
Tony Romo
) in just four starts since taking over for
Trent Edwards
.
2. Chris Clemons, Dolphins free safety:
That position was considered one of the bigger concerns for Miami's defense heading into the season, but Clemons has done well. In that heartbreaking loss to Pittsburgh, he made six tackles, recorded half a sack and forced two fumbles, including the controversial
Ben Roethlisberger
calamity at the goal line. Clemons went into the game with zero sacks or forced fumbles in his 16-game pro career.
3. Devin McCourty, Patriots cornerback:
The 27th pick in April's draft quietly has put together a solid rookie campaign on the treacherous left side and leads the Patriots with four passes defensed. McCourty snagged his first NFL interception last Sunday against the Chargers. Patriots coach Bill Belichick praised McCourty for his consistency not only game-to-game, but also practice-to-practice. McCourty likely will see a lot of
Randy Moss
this Sunday, when the Vikings visit Gillette Stadium.
October, 20, 2010
10/20/10
10:58
AM ET
»
NFC Stock Watch
:
East
|
West
|
North
|
South
»
AFC
:
East
|
West
|
North
|
South
FALLING
[+] Enlarge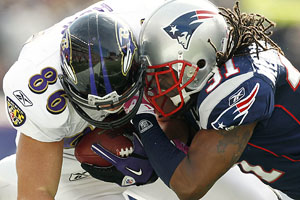 AP Photo/Winslow TownsonBrandon Meriweather's helmet-to-helmet hit on Todd Heap earned him a $50,000 fine.
1. Brandon Meriweather, Patriots safety:
The NFL fined him $50,000 (10 percent of his base salary) for his helmet-to-helmet launch into defenseless Ravens tight end
Todd Heap
in the second quarter. Patriots coach Bill Belichick pulled Meriweather from the game, and the Pro Bowler might have watched the rest of the game from the sideline had safety
Jarrad Page
not suffered a calf injury.
2. Mark Sanchez, Jets quarterback:
This might be a stretch because Sanchez did recover for a fourth-quarter comeback on the road. But Sanchez did have his shakiest moments of the past five weeks. He threw his first two interceptions of the year.
3. Vontae Davis, Dolphins cornerback:
He has been getting rightful attention as one of the NFL's top emerging cornerbacks, but he got charred by Packers receiver
Greg Jennings
on an 86-yard touchdown strike in the first quarter. The game-changing play came one snap after
Chad Henne
threw an interception to prevent the Dolphins from building on their 10-0 jump.
RISING
1. Cameron Wake, Dolphins outside linebacker:
He erupted for his first three-sack NFL game, piling up losses of 24 yards. He hit
Aaron Rodgers
six times. Wake pulled down Rodgers to thwart a third-down play in overtime, forcing the Packers to punt. The Dolphins kicked a field goal on their next series.
2. Jermaine Cunningham, Patriots outside linebacker:
The rookie recorded a strip sack -- his first sack and first forced fumble -- and another tackle for a loss in Sunday's victory over the Ravens.
3. Dwight Lowery, Jets cornerback:
For the second straight week, the reserve defensive back iced the game by pouncing on the ball. Lowery returned a
Brett Favre
interception for a touchdown in Week 5 and jumped on a loose ball in the waning moments to end the Broncos' chances.
October, 13, 2010
10/13/10
11:32
AM ET
»
NFC Stock Watch
:
East
|
West
|
North
|
South
»
AFC
:
East
|
West
|
North
|
South
FALLING
Jim McIsaac/Getty ImagesDarrelle Revis, right, wasn't his normally dominatinating self against the Vikings.
1. Darrelle Revis, New York Jets cornerback:
He wasn't ready to return from his left hamstring injury. The Jets knew he wasn't fully healed for Monday night's game against the Vikings. Otherwise, Revis would've lined up against Vikings receiver
Randy Moss
. Instead,
Antonio Cromartie
guarded Moss and Revis spent much of the night limping after receiver
Percy Harvin
, who scored two fourth-quarter touchdowns. Chances are, Revis won't play Sunday against the Broncos.
2. Aaron Maybin, Bills outside linebacker:
He was the 11th overall draft choice in 2009 but hasn't been good enough to get on the field for one of the NFL's worst defenses -- and maybe the worst in franchise history through five games. Buffalo News reporter Mark Gaughan tracks the number of snaps for each defensive player. He had
Maybin down for two in Sunday's loss to the Jaguars
, five a week earlier and eight the game before that.
3. Bill Parcells, Dolphins consultant:
He's not the same golden figure he was a year ago. Parcells padded his Hall of Fame application right away by directing a 1-15 team to the division championship in 2008. But he's leaving clumsily. South Florida Sun-Sentinel columnist Dave Hyde has
nicely summed up the situation, noting the strange announcement
Parcells was stepping down as executive vice president days before the season and supposedly has been taking shots at
Chad Henne
from the thicket.
RISING
1. Aaron Hernandez, Patriots tight end:
The departure of Randy Moss could affect Hernandez most of all in New England's offense. Hernandez immediately goes from being a complement to Moss and slot receiver
Wes Welker
to a more prominent option.
Tom Brady
already has targeted Hernandez 20 times this season, two fewer than he targeted Moss. Hernandez -- not Welker -- leads the Patriots with 146 yards after catches, according to ESPN Stats & Information data.
2. Calvin Pace, Jets outside linebacker:
A foot injury kept Pace off the field for the first four games, but he came back with a fury Monday night. He recorded 1.5 sacks and hit Vikings quarterback
Brett Favre
three times. More importantly, he escaped from the game without re-aggravating his injury like Revis did. Pace is a huge part of the Jets' defense. He also missed the first four games last year because of a league suspension, but he led the team in three categories: eight sacks, 13 tackles for losses and three forced fumbles. His 16 quarterback hits were second to
Shaun Ellis
' 18.
3. Ronnie Brown, Dolphins running back:
After losing back-to-back home games, the Dolphins seem to have realized throwing the ball so much is not what they're all about -- even with Henne and
Brandon Marshall
. Head coach
Tony Sparano made comments during the bye week
that suggest they want to recommit to the run. Such a mindset seems appropriate, and Brown would be the benefactor. He has been healthy, but through four games he's on pace to rush for only 904 yards and four touchdowns. Those are not numbers the top back on an elite running team should have.
October, 6, 2010
10/06/10
2:27
PM ET
»
NFC Stock Watch
:
East
|
West
|
North
|
South
»
AFC
:
East
|
West
|
North
|
South
FALLING
Chad Henne, Dolphins quarterback:
He mostly was quiet when the
Miami Dolphins
opened their season 2-0 on the road. Since the Dolphins opened up their passing attack, they're 0-2, with both losses at home. Henne has rolled up big aerial yardage. He passed for a
career-high 363 yards two weeks ago
against the
New York Jets
and
302 yards in Monday night's loss to the Patriots
. But he also telegraphed some passes and threw four interceptions. Another game like that after the Dolphins return from their bye, and the calls for
Chad Pennington
will get louder.
Lee Evans, Bills receiver:
A catch with about 20 seconds left in Sunday's loss to the Jets prevented Evans from going without a reception for the second time in three games. Evans has 10 catches for 94 yards and no touchdowns. An unheralded group of
Steve Johnson
,
David Nelson
and
Roscoe Parrish
each have more catches and/or yards than Evans, who is one of the league's highest-paid receivers.
Dolphins' Wildcat offense:
The Dolphins have stood by the Wildcat, but it might be time to see the vet. They averaged 6 yards a play and scored 16 touchdowns the past two seasons, but they've gotten stuffed time and again this year. Their 17 Wildcat plays have gained an average of 1.6 yards with zero touchdowns. The Dolphins called one Wildcat play Monday night against the Patriots, who stopped
Ronnie Brown
for a 2-yard loss.
RISING
[+] Enlarge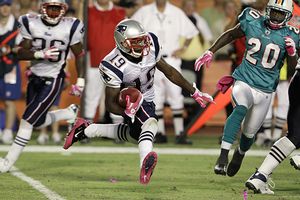 AP Photo/Lynne SladkyPatriots receiver Brandon Tate's playing time should increase now that Randy Moss is gone.
Brandon Tate, Patriots receiver:
His profile on the Patriots' offense should soar now that
Randy Moss
has been traded to the Vikings. Tate, a second-year pro with zero touchdown catches, becomes the most likely deep threat for
Tom Brady
. Tate has shown how explosive he can be in the return game. He ran back a kickoff 103 yards in Monday night's victory over the Dolphins, becoming just the third player in franchise history to return two kickoffs for touchdowns in the same season.
Jets offense with Santonio Holmes:
In their three-game win streak -- all over AFC East opponents -- the Jets averaged 32.3 points. They scored more than 28 points only twice last year. The offense is clicking.
Mark Sanchez
hasn't thrown an interception.
LaDainian Tomlinson
looks fantastic and is on pace for more than 1,300 yards.
Dustin Keller
has been devastating at tight end.
Braylon Edwards
has been a game-breaker. And look who comes back from a suspension this week. It's Holmes, the MVP from Super Bowl XLIII.
Fred Jackson, Bills running back:
The Bills reduced their crowded backfield Tuesday, when they traded
Marshawn Lynch
to the Seahawks. A league source informed me Jackson has been named the starter ahead of rookie
C.J. Spiller
. Jackson finished last season as Buffalo's featured back and had a season so prolific -- fourth-highest all-purpose yardage total in NFL history -- the Pro Football Hall of Fame asked for his jersey to display before the season opener. In four games, Jackson has 20 carries and two receptions.
September, 29, 2010
9/29/10
8:39
AM ET
»
NFC Stock Watch
:
East
|
West
|
North
|
South
»
AFC
:
East
|
West
|
North
|
South
FALLING
1. Donte Whitner, Bills safety:
A few days before playing the Patriots, he grumbled about being tired of hearing opponents laugh at the Bills during games. Then, in a game when the Bills offense and special teams put up a fight, Whitner had one of his worst games in a defensive collapse. Whitner, the eight overall draft pick in 2006, twice was flummoxed on
Randy Moss
touchdowns and had trouble with rookie tight end
Rob Gronkowski
.
[+] Enlarge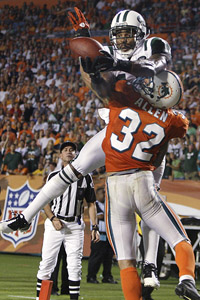 AP Photo/Lynne SladkyBraylon Edwards and the New York Jets took advantage of Jason Allen.
2. Jason Allen, Dolphins cornerback:
With the emergence of young cornerback
Vontae Davis
on the left side and Allen's track record, quarterbacks are going to be throwing Allen's direction as long as the Dolphins keep him out there. Allen thrived against
Brett Favre
in Week 2, but Jets quarterback
Mark Sanchez
didn't have much problem. Allen whiffed on
Braylon Edwards
' 67-yard catch and run and committed pass interference on third-and-goal from the 3 in the fourth quarter. The extra set of downs allowed the Jets to score a touchdown and take an eight-point lead.
3. Jets' pass defense without Darrelle Revis:
They looked far from formidable Sunday night. Dolphins quarterback
Chad Henne
threw for 363 yards and two touchdowns. The Jets couldn't contain
Brandon Marshall
. All told, the Dolphins amassed 436 yards, the most the Rex Ryan-coached Jets have surrendered in a victory by nearly a full football field.
RISING
1. Mark Sanchez, Jets quarterback:
I generally don't include a player as "rising" or "falling" two Stock Watches in a row. If you're up, then you're up, etc. But Sanchez has put together his best two games as a pro back-to-back. Headed into Week 2, he'd never thrown three touchdowns or recorded higher than a 107.0 passer rating. Sanchez notched three TDs, no interceptions and a passer rating of at least 120.5 each of the past two games.
2. Dustin Keller, Jets tight end:
After a clunker of a performance on opening night -- really, how many Jets didn't have that kind of game? -- Keller has regained his footing as a game-changer. He had six receptions for 98 yards and two touchdowns in Sunday night's victory over the Dolphins. Keller already has matched his season-high with three touchdown catches and, counting last year's playoffs, has scored at least one in five of his past six games.
3. BenJarvus Green-Ellis, Patriots running back:
With trusted veteran
Kevin Faulk
done for the year, the Patriots will need to rely upon their backfield committee approach even more. On any given week, we could see anybody step up, but Green-Ellis got to be the chairman Sunday against the Bills. He pounded out 16 carries for 98 yards and a late touchdown.
September, 15, 2010
9/15/10
9:22
AM ET
»
NFC Stock Watch
:
East
|
West
|
North
|
South
»
AFC
:
East
|
West
|
North
|
South
FALLING
[+] Enlarge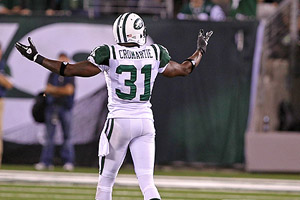 Ed Mulholland/US PresswireAntonio Cromartie was penalized four times for a total of 43 yards in New York's loss to Baltimore.
1. Antonio Cromartie, Jets cornerback:
The Ravens picked on Cromartie rather than test a cornerback who missed training camp and all four preseason games. And the Ravens were wildly successful in their strategy. Cromartie did make a tremendously athletic play to intercept
Joe Flacco
near the goal line and return it 66 yards. But Cromartie was caught cheating all night. He committed four penalties for 43 yards.
2. C.J. Spiller, Bills running back:
He was the most hyped-up rookie of the preseason because of highlight-reel touchdowns that made it look like the transition from Clemson to the NFL would be a snap. Not so fast. In a loss to the Dolphins in Ralph Wilson Stadium, Spiller had 11 offensive touches for 14 yards. He had one kickoff return for 11 yards.
3. Shonn Greene, Jets running back:
The supposed feature back in the Jets' ground-and-pound offense had a bad opener. On the second play of the game, he had a 9 yard reception that he fumbled out of bounds. He totaled five carries for 18 yards, all by the 4:09 mark of the second quarter. He fumbled away his last attempt and didn't get another touch until the fourth quarter.
Mark Sanchez
tossed an easy pass to Greene in the flat. Greene dropped it.
RISING
1. Wes Welker, Patriots receiver:
He's back to his old Welkerrific self.
Tom Brady
targeted his favorite receiver 11 times. Welker had eight receptions for 64 yards and two touchdowns, half of his last year's scoring total. Fans might hold their collective breath on a hard collision here or there in the next couple weeks, but I think we can stop worrying about Welker's rebuilt knee.
2. Dolphins' balanced offense:
Identifying a star from Sunday's low-octane victory over the Bills is difficult. Offensive coordinator Dan Henning won with remarkable equilibrium. They ran 36 times. They passed 34 times.
Ronnie Brown
rushed for 65 yards (and a touchdown).
Ricky Williams
ran for 62 yards.
Brandon Marshall
had eight catches for 53 yards.
Davone Bess
had six grabs for 51 yards. Quarterback
Chad Henne
also got tight end
Anthony Fasano
involved with three receptions, including a 21-yard strike to put the ball at the Buffalo 1.
3. Patrick Chung, Patriots safety:
The sophomore safety had a prolific afternoon in his second NFL start. He made 16 tackles, including one for a loss. Chung stepped in and staked his claim to the position ahead of veteran
James Sanders
, who started the final five games, including the postseason.
Brandon McGowan
started 11 games at free safety but was placed on injured reserve. Chung and strong safety
Brandon Meriweather
could form a rollicking duo on the back end.