June, 15, 2013
6/15/13
1:00
PM ET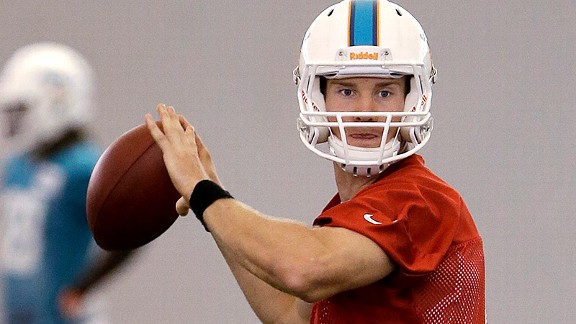 AP Photo/Wilfredo LeeRyan Tannehill hopes to be the next quarterback from the 2012 class to lead his team to the playoffs.
DAVIE, Fla. -- NFL Hall of Fame quarterback
Dan Marino
showed up to
Miami Dolphins
' minicamp on Wednesday. There was no major announcement or holding court with the media. Marino simply arrived, kept close tabs on second-year quarterback
Ryan Tannehill
and the offense, then quietly left about two hours into practice.
Marino's mere presence was symbolic of the pressure Tannehill faces in Miami. No Dolphins quarterback has come close to filling the large shoes of Marino after he retired after the 1999 season. Miami's quarterbacks in this millennium have either been awful (
Cleo Lemon
,
Joey Harrington
), former draft busts (
Chad Henne
,
John Beck
) or caretakers who couldn't consistently take over games (
Chad Pennington
,
Jay Fiedler
).
But something appears different about Tannehill. He is more Marino than Harrington in arm strength and physical ability. The 2012 first-round pick was also taken higher than Henne, but you don't get that same feeling of bust potential. Unlike Fiedler, Tannehill has already demonstrated that he can take over a game and explode for 400 yards, as he did in September in an overtime loss to the
Arizona Cardinals
.
But what are realistic expectations for Tannehill in Year 2? Fellow rookies
Andrew Luck
,
Robert Griffin III
and
Russell Wilson
each led their teams to the playoffs last season. Tannehill showed promise but was a couple of notches behind his peers. He threw for 3,294 yards but had more interceptions (13) than touchdowns (12). Tannehill also had a losing record (7-9) and was left on the outside looking in during the postseason.
However, the Dolphins are showing the same confidence in Tannehill that the
Indianapolis Colts
are showing with Luck or the
Washington Redskins
are with RG III. More than anything, Miami's coaching staff said, they love Tannehill's work ethic and mental approach. Combine that with Tannehill's athleticism and ability to make all the throws, and the Dolphins believe the sky is the limit for their young quarterback.
"One thing about Ryan is he never gets too high and he never gets too low," Miami quarterbacks coach Zac Taylor told the AFC East blog this week. "Last year things never got too big for him. It's not that he never made mistakes -- there were drives and stretches here and there. But I don't think it ever got too big where he totally broke down, and that's encouraging for a rookie quarterback. With all the looks that he saw, I thought he handled it pretty well."
Taylor was a former assistant coach at Texas A&M and has been around Tannehill since he was 19. Taylor watched Tannehill, 24, grow from a redshirt freshman who played receiver his first two years in college to an NFL quarterback with high expectations. According to Taylor, Tannehill is much more comfortable in his position as a building block in Miami.
It was noticeable in organized team activities and minicamp that Tannehill is in control of the offense. He's more vocal with teammates and has a quiet confidence that this is his team.
Miami is in search of leaders after several veterans like
Reggie Bush
,
Karlos Dansby
and
Kevin Burnett
were released or didn't return in free agency. Tannehill is one of the young, inexperienced players who must fill that void.
"It's night and day compared to last year," Tannehill said of his standing on the team. "Just the confidence and the knowledge of the game and what is going on. I still have a lot of work to do, but I am comfortable with where I am at and where this team is at. Anything we can do to get better, myself included, it's easier to build this year compared to last year."
[+] Enlarge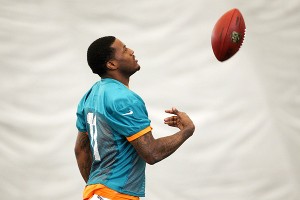 AP Photo/J Pat CarterThe Dolphins opened up their wallet to bolster their offense, including giving Mike Wallace a five-year, $60 million deal.
Tannehill has all the tools to succeed this year. The Dolphins have put together as nurturing an environment as possible to ensure Tannehill takes the next step in his development. Miami spent $60 million to land free-agent receiver
Mike Wallace
and an additional $15 million total to land starting tight end
Dustin Keller
and slot receiver
Brandon Gibson
. Tannehill now has deep speed at receiver and a safety valve at tight end that he lacked last season. The Dolphins were 26th in passing in 2012 and scored only 18 points per game.
If minicamp is any indication, the Dolphins will not be afraid to air it out this year. Tannehill is taking his shots deep and throwing the football all over the field in practices. Tannehill is also routinely making more checks and changes at the line of scrimmage to get out of bad plays, an area where he struggled in 2012.
"He can see a safety start to creep up or lean a certain way, or a linebacker's depth from the line of scrimmage from the heels of his defensive lineman," Dolphins offensive coordinator Mike Sherman said. "Determining whether we turn and protect there or do we go the other way because that guy is in coverage, which I think [is] more recognition of defenses. ... We threw the book at him last year in the hopes that he would get to a point where we are at right now, where now he is just focused and not so much on the offense but on the defense."
It also doesn't hurt that Sherman and Dolphins head coach Joe Philbin know what a talented quarterback looks like. They have coached future Hall of Famers
Brett Favre
(Sherman) and
Aaron Rodgers
(Philbin) during their stints with the
Green Bay Packers
and know how to make it easy for quarterbacks. The fact that they both view Tannehill as a franchise starter carries a lot of weight.
"They're able to relate those experiences with Ryan and the struggles [Favre and Rodgers] had and the success they were eventually able to achieve," Taylor said. "So they've kind of seen the step-by-step process those guys took and [are] able to use that to relate it to Ryan."
The Dolphins are going all-in with Tannehill, and much is expected this season. On paper, Miami looks like a team ready to make a playoff push in 2013, and much of that will come down to Tannehill's development and improvement.
Tannehill may not get the same press and national attention as other quarterbacks in his draft class, but his goals are the same.
"Ryan wants to win Super Bowls at the end of the day," Taylor said. "I do think he has a long ways to go right now. He knows that. So every day he's just trying to become a better player, and be better than the day before and don't make the same mistake twice.
"What that ceiling is, it's hard to predict. Time will tell."
May, 23, 2012
5/23/12
11:00
AM ET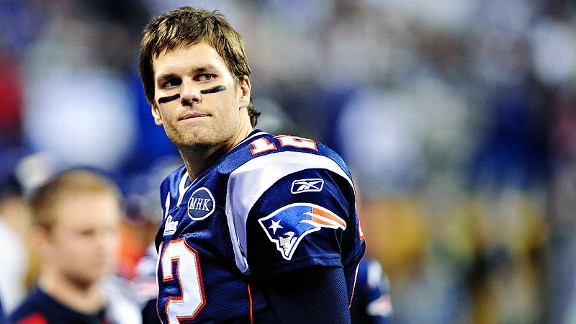 Mark J. Rebilas/US PresswireWithout Tom Brady under center, the New England Patriots become just an ordinary team.
The
New England Patriots
have played in five Super Bowls -- winning three -- since they drafted quarterback
Tom Brady
in the sixth round in 2000. They also have eight division titles in that span, and Brady and coach Bill Belichick recently became the winningest quarterback-coach combo in NFL history.
But all of that comes to an end when Brady retires.
Brady, who turns 35 in August, says he wants to play in New England until he's 40. That is great news for the Patriots, because they will struggle the second the future Hall of Famer hangs it up.
Things that have become foreign to New England the past dozen years will become routine again. New England will have down years and miss the playoffs -- just like everybody else. The Patriots won't survive various injuries -- just like everybody else. The Patriots also will run through a few quarterbacks -- just like everybody else.
On Wednesday, ESPN.com examined
potentially dominant teams in 2015

. At that point, I think New England's easy run over the AFC East will be a thing of the past.
Here are four reasons New England will struggle in the post-Brady era:
No. 1: Patriots won't immediately find Brady's replacement.
Brady's story is once in a generation. He's a former sixth-round pick who slipped through the cracks to become one of the top five quarterbacks of all time. Brady had the drive and "it" factor to become the greatest player in franchise history. Brady often is compared to Joe Montana, because they share a similar story about 20 years apart.
The chances of New England finding another Brady anytime soon are slim.
[+] Enlarge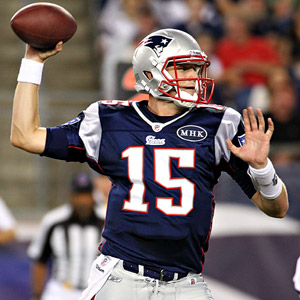 Stew Milne/US PresswireWill Ryan Mallett be ready to take over for Tom Brady when the future Hall of Famer is ready to hang it up?
Patriots fans will scream that
Ryan Mallett
is a future franchise quarterback. But how does anyone really know, considering the 2011 third-round pick hasn't thrown an NFL pass?
What about
Brian Hoyer
? The undrafted quarterback has shown small flashes but certainly not enough to warrant Pro Bowl status. The drop-off going from Brady to 99 percent of other quarterbacks will be steep.
Even if Mallett or Hoyer turns out to be a viable starting quarterback, neither will be nearly as good as Brady. Is Mallett or Hoyer a future Hall of Famer? Probably not. Will either quarterback perennially make the Pro Bowl? Not likely.
New England has been able to overcome poor defense, injuries and at times average receivers to still be competitive. Brady was great enough to carry the Patriots through various weaknesses. That no longer will be a luxury in New England. It will be much harder to get everything right with other areas of the team, especially if the quarterback position is in flux.
No. 2: The offense is old.
Brady is turning 35 in August. No. 1 receiver
Wes Welker
is 31. Starting receiver
Brandon Lloyd
is 30. Longtime left tackle
Matt Light
just retired this offseason. Guard
Brian Waters
might follow, if not this year, then soon after.
When Brady is gone, it's likely all these important offensive pieces will be gone as well. A Patriots offense without Brady, Welker, Lloyd, Light, Waters, etc., means New England is virtually starting over in a few years.
The Patriots still have a couple of young stars in tight ends
Rob Gronkowski
and
Aaron Hernandez
. But consider this: One tight end probably will bolt in free agency. Both Gronkowski and Hernandez -- two of the top five players at their position -- have rookie contracts set to expire in two years. Both will be looking for huge paydays, and New England can't do that with two players at the same position.
New England most likely will throw the money truck at Gronkowski, perhaps making him the highest-paid tight end, and let Hernandez walk. Brady also will be 37 and possibly retired or on his last legs by the time both tight ends will look for extensions. Returning to New England's offense long term won't be as attractive two years from now for a pending free agent such as Hernandez.
No. 3: Sun is setting on Belichick.
Belichick just turned 60 years old. How much longer will he coach the Patriots?
He has coached in the NFL in some capacity for 37 years. He is approaching his fourth decade in the league.
Even head coaches have a shelf life. Belichick currently is the NFL's fourth-oldest head coach behind Tom Coughlin (65) of the
New York Giants
, Romeo Crennel (64) of the
Kansas City Chiefs
and, by a few months, Chan Gailey (60) of the
Buffalo Bills
. Perhaps we are also witnessing the last few years of Belichick roaming the sidelines.
A good debate topic in New England would be who contributed more to the Patriots' dynasty the past dozen years: Brady or Belichick? Both are Hall of Famers. But in my opinion, Brady's development and dominance at quarterback are stronger factors in New England's success. Belichick would not have won all those games, division titles and championships in New England with shoddy quarterback play. Brady remained dominant and kept the team afloat, even when Belichick struggled coaching the defense, which is Belichick's specialty.
No. 4: The rest of the AFC East will catch up.
I often call the AFC East the "Brady and Belichick division." They're the great equalizers who keep the Patriots on top.
But without Brady in a few years, and perhaps Belichick, all four teams are back to an even playing field. Who will be the top quarterback in the AFC East when Brady retires?
Ryan Tannehill
?
Mark Sanchez
?
Tim Tebow
? Someone else?
Maybe all four teams will have average quarterback play. That means the Patriots,
New York Jets
, Bills and
Miami Dolphins
must rely on other areas to be successful and win the division.
Can the Patriots rely on their defense to lead the way? Not right now. Not even close. New England is in no position to overcome poor quarterback play, and that probably won't change overnight.
I expect Brady to play at least two more years (2012 and 2013) at an elite level. He might opt to play beyond that. But after age 37, there's no guarantee Brady can continue to take the physical pounding and play at the high level to which we have become accustomed. We've already seen nagging injuries bother Brady more than ever over the past couple of seasons.
Brady is a special talent the organization probably will never see again. So enjoy the success now, Patriots fans. New England will come back to earth and be an ordinary team again in three to five years.