January, 27, 2012
1/27/12
1:30
PM ET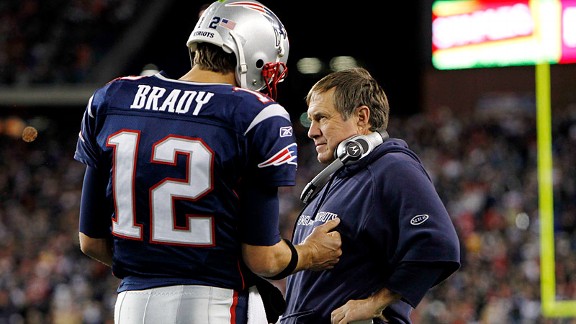 Greg M. Cooper/US PresswireTom Brady and Bill Belichick have won three Super Bowls together -- can they make it four?
The
New England Patriots
are favored to win their first Super Bowl since the end of the 2004 season. That capped a run of three championships in four years, which happened to be the most recent NFL dynasty.
But are the Patriots quietly building another dynasty? New England is the only team to win back-to-back Super Bowls in the past dozen years. If any organization is consistent enough to pull it off, it's New England.
Here are five reasons the Patriots have a chance to once again reach dynasty status:
Reason No. 1: Patriots will beat the Giants
Whoops! Did I reveal my prediction too soon? Oh well. There was no point in waiting. The Patriots will beat the Giants on Feb. 5 to win the fourth Super Bowl of the Bill Belichick era.
This is not only revenge for the Patriots, this is double revenge. New England lost to New York during the 2011 regular season and in Super Bowl XLII. Teams simply don't beat New England three times in a row. Belichick and
Tom Brady
are too good and too locked in to allow it. New England's defense is also playing much better in the postseason.
New York has looked impressive in wins over the
Atlanta Falcons
,
Green Bay Packers
and
San Francisco 49ers
. But New England will present some unique matchup problems and will attack New York's 29th-ranked pass defense. The Patriots also have allowed just one sack in two playoff games. If the Patriots' pass protection is successful, the Giants are toast.
A lot of people, particularly in the AFC East blog, have
criticized my Patriots predictions
all season.
But I have been right about them
every single time. New England was my Super Bowl pick in August, and I've never wavered.
The Patriots will win Super Bowl XLVI over the Giants, which will give them a chance to repeat and begin to chase dynasty status next season.
Reason No. 2: Brady shows no signs of slowing down
Last week we did a story
on how much longer Brady can play
at a high level. Everyone we spoke to says he still has several great years left in his Hall of Fame career.
Brady, 34, had one of his best seasons in 2011. He threw for the second-most yards (5,235) in NFL history and finished with a passer rating of 105.6. He almost single-handedly carried the Patriots to an AFC East title and a No. 1 seed.
Brady says he wants to play until he's 40. That will be difficult. But after another great year, it's hard to doubt him.
It's safe to say Brady will be an elite quarterback for at least the next two or three seasons. Three years is just enough time for New England to make a run at multiple Super Bowls. The Patriots will be a strong contender as long as Brady is healthy. He's had only one major injury his entire career.
Reason No. 3: Patriots have draft capital and cap room
Guess which AFC East team has
the most salary-cap room
and first- and second-round picks this offseason? It's the Patriots.
Belichick has done a masterful job of fielding a championship-caliber team while simultaneously positioning New England well for the future. The Patriots have two first-round picks and two second-round picks thanks to previous trades. The Patriots also have approximately $20 million in cap room to spend in free agency.
Expect most of those resources to go to New England's 31st-ranked defense. Belichick is a defensive-minded coach and I wouldn't be surprised if he spends at least three of those first four picks on that side of the football. That is where the Patriots need depth and impact players.
Leading receiver and pending free agent
Wes Welker
will take up a chunk of New England's cap space, assuming he re-signs. But the Patriots can still add two or three difference-makers in free agency.
A cover corner? A hard-hitting safety? A deep threat at receiver? The Patriots have the ability to plug all these holes next season.
If this year's Patriots are good enough to win a championship despite their flaws, why can't next year's team? New England should be even better next season.
Reason No. 4: AFC quarterbacks are average
Name the elite quarterbacks in the NFL: Brady,
Aaron Rodgers
,
Drew Brees
and you might be able to throw
Eli Manning
's name in the mix now. Most of the elite quarterbacks play in the NFC.
This year's AFC playoff field included quarterbacks
Tim Tebow
,
T.J. Yates
,
Andy Dalton
and
Joe Flacco
. The overall quarterbacking in the AFC is average and lopsided compared to the NFC. That is a huge advantage for the Patriots.
New England has arguably the only elite quarterback in the AFC. (We are taking the injured
Peyton Manning
out of the equation for now.) Brady's closest competition is
Ben Roethlisberger
of the
Pittsburgh Steelers
.
Like Brady, Roethlisberger has won multiple Super Bowls. But years and injuries are piling up for Roethlisberger and the Steelers; they didn't win a playoff game this season. The core in Pittsburgh is past its prime.
Brady and the Patriots are fortunate they don't have to contend with quarterbacks like Rodgers and Brees, unless they reach the Super Bowl. In the AFC, they can continue to beat the Tebows and Flaccos of the world for the next few seasons.
Reason No. 5: Young tight ends
Contractually, Patriots stud tight ends
Rob Gronkowski
and
Aaron Hernandez
will be together for at least two more seasons. Both signed four-year contracts after being drafted together in 2010.
Gronkowski and Hernandez are both 22 and already in the top 10 at their position. A case can be made that "Gronk" is the best at his position, although it's safer to place him in the top three.
As long as Gronkowski and Hernandez are together, New England's offense will be hard to stop. Opponents have yet to figure out how to slow them down. Their development also made it easier for Brady to make quick reads and throws over the middle. That keeps the pass rush off Brady.
There is no doubt that Gronkowski will be a Patriot for a very long time. He's the better all-around tight end, and New England will offer Gronkowski a big contract extension in the next year or two.
Hernandez's case is a little more unpredictable. He's clearly a No. 1 tight end, but how long will he be willing to play second fiddle? That's clearly not an issue now. Both players are having fun learning and growing together. But two years from now, when Hernandez is in his prime and becomes a free agent, would he be willing to rejoin the Patriots as a No. 2 tight end? Also, can New England pay top-10 money to two players at the same position?
But those questions are down the road. Right now, New England is four quarters from securing another Super Bowl win.
Will a Super Bowl victory jump-start another Patriots dynasty?
January, 18, 2012
1/18/12
2:26
PM ET
Last week safety
Ed Reed
and the
Baltimore Ravens
' secondary made
T.J. Yates
of the
Houston Texans
look like a Division II quarterback. Reed had one of Yates' three interceptions in Baltimore's 20-13 victory in the divisional round.
New England Patriots
quarterback and future Hall of Famer
Tom Brady
doesn't want to be the next victim. Reed's interceptions often come in bunches, and he's off to a hot start in the playoffs.
Here is Brady's scouting report on Reed, a fellow future Hall of Famer, entering Sunday's AFC Championship Game:
"You don't fool Ed too often. Every once in a while you see him out of place but it's very, very rare. When you break the huddle, you find where he's at and you make sure you're not lobbing the ball up in his zones, because as you saw in the Houston game, he's going to go up there and make the plays. He's just an exceptional player. I don't think there is a weakness that he has. Coach [Bill] Belichick has a meeting with the all the quarterbacks and you talk about strengths and weak points of a player, and a guy like Ed and Ray Lewis, there's no real weak points. You just have to be careful with the ball around them and understand that this is a team that really can get turnovers and they've gotten turnovers against us when they've played us. I'm sure that will be a huge difference in the game."
January, 17, 2012
1/17/12
12:30
PM ET
Unlike the NFC, the AFC playoff bracket went according to form and has the top two seeds meeting in the conference title game Sunday. The
New England Patriots
(14-3) and
Baltimore Ravens
(13-4) have been the best two teams in the conference from start to finish.
But only one team can advance to Indianapolis to play in Super Bowl XLVI. That is where AFC East blogger James Walker and AFC North blogger Jamison Hensley come in to examine the matchups and pressing issues with the Patriots and Ravens.
James Walker:
Let's start with the quarterbacks, Jamison, because I think this is where the Patriots have the biggest advantage.
Tom Brady
is playing at an unbelievable level. He tied an NFL postseason record with six touchdown passes against a pretty good
Denver Broncos
defense. I'm not sure Baltimore -- or any defense -- has an answer for the Patriots' passing game right now. Behind Brady, the Patriots are averaging 40.5 points in their past four games. New England's offense is peaking at the right time. If New England scores early, that puts an enormous amount of pressure on Ravens quarterback
Joe Flacco
to respond. I doubt a Brady versus Flacco shootout is a game Baltimore wants to play.
[+] Enlarge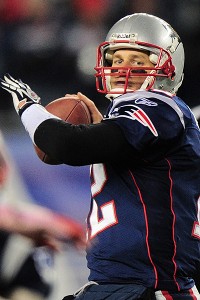 Michael Ivins/US PresswireTom Brady was masterful in the Patriots' playoff rout of Denver.
Jamison Hensley
: You're definitely right about that, James. Flacco has thrown for fewer than 175 yards in his past three games. That's like one half for Brady. Flacco gets a lot of criticism because he isn't consistent -- and that's true. He has flashes when he looks like he's a top-10 quarterback, guiding a last-minute touchdown drive at Pittsburgh and leading the Ravens back from a 21-point deficit against Arizona. Then, there are times when he looks like he is among the league's worst, like when he doesn't complete a pass in two quarters against the Jets. But the Ravens have never had to rely on Flacco in the playoffs. That's the time of the season when the Baltimore defense thrives. There's a huge disparity between Brady and Flacco. But there is an even bigger one between the defenses of the Patriots and Ravens, who are ranked No. 3 in the NFL in fewest yards and points allowed.
James Walker:
We've both watched Baltimore's defense up close for years, and I've always marveled at its consistency. The biggest thing is you know what you're going to get from Baltimore's defense on Sunday. I really have no idea what to expect from the Patriots' defense. I did see with my own eyes last week a group that is capable of playing well. The Patriots actually have the top-rated defense in the playoffs, although it's just for one game. I won't go overboard with the Patriots stopping
Tim Tebow
. Any playoff team not named the
Pittsburgh Steelers
could do that. (I had to jab your AFC North brethren.) But I've seen too many weeks in which New England looked awful defensively and gave up tons of yards. The Ravens' offense should have the advantage as long as they stick with tailback
Ray Rice
, who has killed New England in the past. Speaking of the past, Jamison, how much stock do you put in Baltimore's previous playoff victory against the Patriots in January 2010?
Jamison Hensley
: Just like you can't go overboard on one game for the New England defense, you can't go overboard with that playoff game. Both teams are different from that game two years ago. The Patriots didn't even have
Wes Welker
for that one. The biggest lingering effect is that the Ravens have confidence that they can win in New England. Few teams have ever beaten Brady on his home turf in the playoffs, and
Ray Lewis
and the gang know they can do it, because they did it before. Of course, that game turned on the first offensive play from scrimmage when Rice ran 83 yards for a touchdown. And that's something that hasn't changed for the Ravens. Rice is key to the Ravens winning. Baltimore is 9-0 when Rice carries the ball at least 20 times. He has to be on the mind of every New England defender.
James Walker:
There's no denying Rice is to Baltimore what Brady is to New England. The performance of both players will probably determine the outcome of this game. You astutely pointed out Welker's absence from the January 2010 playoff game. Two additional players not in that game were tight ends
Rob Gronkowski
and
Aaron Hernandez
, who were drafted the following April. Two seasons later, the pair completely change the dynamics of New England's offense. The Ravens' defense is great. But I'm looking down their roster and I'm having a lot of trouble finding linebackers who are fast enough and defensive backs who are strong enough to stop New England's star tight ends. The Ravens might opt to double one -- usually Gronkowski -- but I don't think they have an answer for both. After watching the Ravens' defense all season, Jamison, what strategy do you think they will employ?
Jamison Hensley
: The Ravens played mostly zone against Texans rookie quarterback
T.J. Yates
, but they can't do that against Brady. He would pick them apart. Baltimore has to go to man coverage to be successful. The defender to watch is linebacker
Brendon Ayanbadejo
. He's known as the team's special-teams ace, but he plays an important role in the nickel defense. The Ravens have contained some of the top tight ends they've gone against in San Diego's
Antonio Gates
(two catches for 31 yards) and San Francisco's
Vernon Davis
(four for 38 yards). The problem is, the Ravens haven't faced a team with two quality tight ends like Gronkowski and Hernandez. Baltimore's best bet is to get pressure on Brady. That starts with
Terrell Suggs
, who will test both of the Patriots' offensive tackles.
James Walker:
Suggs has been a monster this season. I also think Brady might be Suggs' least-favorite quarterback, so there won't be any lack of motivation there. But I noticed something important in both AFC divisional games that should be mentioned. Baltimore didn't get a single sack against Yates and Houston, and New England held Denver without a sack, despite facing a defense with two of the league's top pass-rushers in
Von Miller
and
Elvis Dumervil
. Maybe that was more scheme last week on Baltimore's part, because defensive coordinator Chuck Pagano usually gets after it. But New England legitimately stuffed Denver's pass rush for four quarters with an up-tempo offense that used a lot of half-huddle/no-huddle and quick throws to Gronkowski, Hernandez and Welker. I think you're going to see the Patriots speed up the tempo again against Baltimore, especially at home where the crowd is quiet and communication on offense is easier.
[+] Enlarge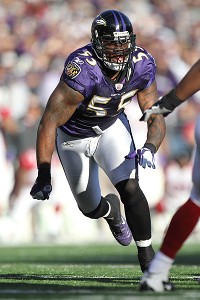 Mitch Stringer/US PresswireKeeping Terrell Suggs away from QB Tom Brady will be a priority for New England on Sunday.
Jamison Hensley
: As we've seen so far in the playoffs, home field has really been an advantage. Only one home team (Green Bay) has lost so far this postseason. The Ravens have had their trouble on the road this season, losing at Seattle and Jacksonville -- teams they should've beaten. But Baltimore has a great track record of winning on the road in the playoffs. The Ravens have won at Miami, Tennessee, Kansas City and, of course, New England under coach John Harbaugh in the postseason. How the Ravens handle the atmosphere on the road will be one of many keys in this matchup.
James Walker:
The Patriots and Ravens played all season for this gigantic opportunity. New England just won one more game to force the road to Indianapolis to go through Gillette Stadium. But I think either club would represent the conference well and has a great chance to win the Super Bowl. Either way, Jamison, just make sure one of us brings that Lombardi Trophy back to the AFC side, where it belongs. I was kind of tired of that "Discount Double-check" thing NFC North blogger Kevin Seifert kept doing in front of us for the past year.
Jamison Hensley
: I hear you. We'll just have to wait until Sunday to see whether Bill Belichick's hoodie or Flacco's Fu Manchu mustache will be advancing. History says this will be a close game. Three of the past four meetings between the Ravens and Patriots have been decided by six points or fewer. For coverage leading up to the AFC Championship Game, everyone can check back to the AFC East and AFC North blogs all week. And, James, it will be just a little colder in New England than Miami, so remember to pack a jacket.
January, 13, 2012
1/13/12
5:00
PM ET
Will the
New England Patriots
win their first playoff game in four years? Can
Tim Tebow
keep his magical run with the
Denver Broncos
going? What about the
Baltimore Ravens
and
Houston Texans
?
There are a lot of intriguing questions in the divisional round of the AFC playoffs. In our latest edition of "Poll Friday," we ask our AFC East community to predict who will play in the conference title game.
Will the bracket stay true to form and have the top-seeded Patriots hosting the second-seeded Ravens? These have been the top two teams in the AFC all year. They are familiar with each other and developed a nice rivalry, despite being in different divisions.
Or will Tebow and/or
T.J. Yates
spoil the party? Not much was expected of either quarterback heading into the playoffs. But Tebow and Yates played well and led their teams to victories in the wild-card round.
Using our SportsNation poll, vote on which two teams will meet in the AFC Championship Game for the right to go to the Super Bowl. You can also share your thoughts in the comment section below.
January, 9, 2012
1/09/12
1:30
PM ET
Tom Brady
...
Tim Tebow
...
Joe Flacco
...
T.J. Yates
.
Which quarterback would you prefer leading your team in the postseason?
Pittsburgh Steelers
quarterback
Ben Roethlisberger
's one-and-done exit from the playoffs leaves a huge gap between the remaining playoff quarterbacks in the AFC. The field is pretty much Brady, who has three rings, and everyone else.
Tebow, Flacco and Yates have all been inconsistent this season. Brady is the only Pro Bowler of the group and proven commodity who has played well deep into the playoffs.
Here is our ranking of the four remaining AFC playoff quarterbacks:
Brady
1. Tom Brady, Patriots
2011 stats:
5,235 yards, 39 TDs, 12 INTs
QBR:
74.2
Analysis:
Brady is elite, and he's far and away the best quarterback remaining in the AFC playoffs. New England relies on Brady more than ever, and he produced the second most passing yards in NFL history this season. The only two quarterbacks in Brady's class are in the NFC:
Aaron Rodgers
and
Drew Brees
. The chances of Tebow, Yates or Flacco outperforming Brady in the playoffs are slim -- and that is a huge advantage for New England. Last month we predicted the Patriots would
win the AFC and advance to Super Bowl
in Indianapolis. The Brady factor is the biggest reason. As long as Brady performs well, New England will be tough to beat, especially at Gillette Stadium.

Flacco
2. Joe Flacco, Baltimore Ravens
2011 stats:
3,610, 20 TDs, 12 INTs
QBR:
57.9
Analysis:
Flacco is notorious for not playing well in the playoffs. He has a chance to buck that trend with second-seeded Baltimore this season. Flacco's natural ability puts him at No. 2 on our list of remaining starting quarterbacks in the AFC. He can make all the throws. Flacco just hasn't done it in the playoffs. This has been somewhat of a strange season for Flacco. In some ways he's taken a step back. His passer rating, completion percentage, yards and touchdowns all dropped from the previous year. But Baltimore is winning and needs Flacco to step up his game in the playoffs.
Tebow
3. Tim Tebow, Denver Broncos
2011 stats:
1,729 yards, 12 TDs, six INTs
QBR:
27.2
Analysis:
Was Tebow's passing performance against Pittsburgh a fluke, or has he turned the corner? Tebow made some big throws in the playoffs and finished with a career-high 316 yards and two touchdowns. Pittsburgh showed no respect for Tebow's arm and paid for it. Statistically it was a sound strategy, considering Tebow's 46.5 completion percentage this season. But Tebow has proven he can win games, despite his QBR being ranked 32nd out of 34 quarterbacks. But Tebow is still playing when a lot of quarterbacks with better numbers are sitting at home.
Yates
4. T.J. Yates, Houston Texans
2011 stats:
949 yards, three TDs, three INTs
QBR:
N/A
Analysis:
Yates, a rookie fifth-round pick, is ranked last of the remaining AFC playoff quarterbacks. He only has six starts under his belt and is 3-3 in those games. Fortunately for the Texans, they have a great running game that can protect Yates. That is paramount against Baltimore, because Yates most likely will not win with his arm. The best strategy for Houston is to try to run the ball well and hope Yates can make a few big plays through the air. Houston Pro Bowl receiver
Andre Johnson
is a tough matchup for Baltimore if Yates can get him the football. The Yates-to-Johnson combo worked great last week in eliminating the
Cincinnati Bengals
.
December, 21, 2011
12/21/11
2:00
PM ET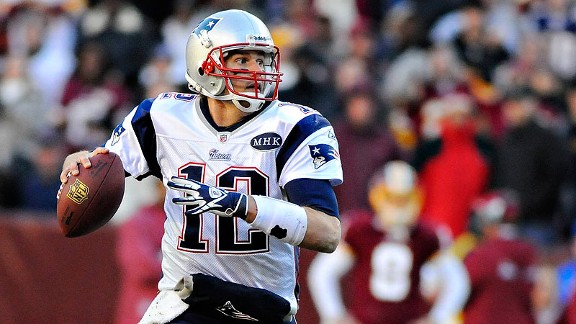 Brad Mills/US PresswireQuarterback Tom Brady and the New England Patriots are riding a six-game winning streak into the final two weeks of the regular season.
"Here's an opening statement you can take to the bank: The New England Patriots will win the AFC East." -- AFC East blog, Nov. 11, 2011
Remember six weeks ago when I
guaranteed the Patriots will win the AFC East
? The statement sparked plenty of doubt and harsh criticism. Simply scan through the comments section of that blog and see for yourself.
Most readers thought this was the year the
New York Jets
would capture the division. Some even thought the
Buffalo Bills
had a shot. Well, we've seen how that turned out.
Now it's time to take it a step further. Here is another prediction you can take to the bank: The Patriots (11-3) will represent the AFC in Super Bowl XLVI.
Sorry Steelers, Ravens, Texans, Broncos and Jets fans. This is the year New England runs through the AFC playoffs.
Here are four reasons why you will see the Patriots in Indianapolis in February:
Reason No. 1: Tom Brady
When it comes to quarterbacking in the AFC, there's Brady and there's everyone else. Brady is the biggest trump card New England has. No team in the conference can match it.
Here are potential quarterbacks Brady could face in the playoffs:
T.J. Yates
,
Tim Tebow
,
Mark Sanchez
,
Joe Flacco
and an injured and gimpy
Ben Roethlisberger
.
Brady is 3-0 against Sanchez and Tebow this season by a combined score of 108-60. We've already seen how those scenarios play out. Those three games against the Jets and Broncos weren't close.
Houston's Yates is a rookie fifth-round draft pick and former third-string quarterback. Do you think Yates can out-duel Brady in Yates' first postseason? Flacco of Baltimore has been inconsistent this year and is notorious for not playing well in playoff games.
The Steelers' Roethlisberger is Brady's biggest competition at quarterback. Pittsburgh is the only AFC playoff team to beat New England this season. But Roethlisberger isn't the same player after suffering a high-ankle sprain. He had three interceptions and a fumble in Monday's loss to the
San Francisco 49ers
. Roethlisberger at 50 percent cannot beat Brady clicking on all cylinders. High-ankle sprains are serious injuries that take at least a month (if not more) to heal. It could be even longer for Roethlisberger if he continues to play on it leading up to the postseason.
The two playoff quarterbacks with the best chance of out-dueling Brady in the playoffs are
Drew Brees
of the
New Orleans Saints
and
Aaron Rodgers
of the
Green Bay Packers
. But both are in the NFC and have to deal with each other first. New England will only have to worry about one of those quarterbacks once the Patriots get to Indianapolis.
Reason No. 2: Home-field advantage
The road to the Super Bowl most likely goes through Gillette Stadium. All the Patriots have to do is beat a pair of AFC East bottom-feeders -- the
Miami Dolphins
(5-9) and the Bills (5-9) -- at home the next two weeks.
That will be a huge advantage for the Patriots in the playoffs. New England is 5-1 at home this season and 22-1 in its last 23 games at Gillette Stadium. (The Patriots did drop of pair of playoff games, but we will get to that later.)
With two home games to finish the regular season and probably home-field advantage throughout the playoffs, the Patriots won't play on the road until they reach the Super Bowl. At that point, it will be a neutral site against the best team from the NFC.
Teams like the Jets (2-5) and Ravens (3-4) have looked awful on the road this year. The Steelers (4-3) have been slightly above average away from Heinz Field. That could come into play if those teams travel to New England in January.
Also, for all the criticism New England's defense has received, the group plays its best football at home. New England is allowing just 18.2 points per game at Gillette Stadium, versus 23.5 points per game on the road. The Patriots' offense will score plenty of points. Therefore, New England will be very tough to beat if its defense maintains its home scoring average in the postseason.
Reason No. 3: Patriots are hottest team in the AFC
Remember the Packers last year? They got hot toward the end of the season and rode the wave all the way to the Super Bowl.
This year's New England team is even hotter than the Packers were in 2010. The Patriots have won six in a row and most likely will enter the playoffs on an eight-game winning streak.
Momentum means a lot this time of year. The Patriots have it. No other team in the AFC can make that claim. The Ravens, Steelers, Texans, Broncos and Jets are all coming off losses. Behind the Patriots, the hottest team in the AFC is the
San Diego Chargers
(7-7), who have won three in a row but may not make the playoffs.
Overall, the AFC is a flawed conference this year. The Steelers have a horrid offensive line and a gimpy quarterback playing on one leg. The Ravens are an enigma on the road. The Texans are trying to win playoff games with a rookie at quarterback. And the Jets and Broncos don't have enough offensive firepower and simply aren't good enough to make a title run.
There are no complete teams in the AFC and that leaves it wide open for a hot team with home-field advantage like the Patriots to advance to the Super Bowl.
Reason No. 4: Motivation not to be one-and-done
As hard as it is to believe, the Patriots haven't won a playoff game since the 2007 season. That will change this year when a focused and motivated New England team takes the field in January.
Brady and coach Bill Belichick will not allow the Patriots to be one-and-done for the third year in a row. The stakes are too high.
Their legacies are on the line. The Hall of Fame pair do not want to be remembered for losing early-round playoff games in the second half of their Patriot careers as much as their three Super Bowls in the first half. It's starting to get to that point, especially if the Patriots suffer another early exit this season.
It's been four years since New England last experienced playoff success. That's an eternity for Brady and Belichick, who are accustomed to winning big games. Time also is running out for Brady to make another Super Bowl run. He's 34 and only has a few elite years left. The Patriots will not squander this opportunity.
Expect to see Brady versus Brees or Brady versus Rodgers in Super Bowl XLVI.