December, 15, 2013
12/15/13
10:00
PM ET
By
Joe Menzer
| Special to ESPN.com
CHARLOTTE, N.C. -- Momentum seemed to swing in favor of the
New York Jets
heading into the fourth quarter Sunday at Bank of America Stadium.
Then, it flipped on the Jets in the instant that Carolina's
Jason Williams
burst through the Jets' line untouched and blocked a
Ryan Quigley
punt just over three minutes into the fourth quarter. The block gave the Panthers the ball at the Jets' 14-yard line, setting up a 1-yard touchdown run by
Mike Tolbert
four plays later that turned a narrow 16-13 Panthers' lead into a comfortable 23-13 advantage.
The Jets never recovered as the Panthers went on to win,
30-20
.
[+] Enlarge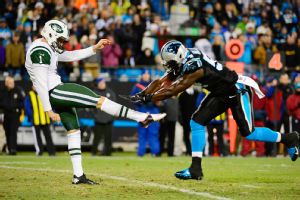 Bob Donnan/USA TODAY SportsRyan Quigley had his punt blocked in the fourth quarter, quickly changing the Jets' momentum.
"They just made a good call. We had gone into a certain formation that they adjusted to, and he just got a good jump off the ball," Jets long-snapper
Tanner Purdum
said of Williams.
Coach Rex Ryan admitted the Jets got caught in a vulnerable formation, going with an extra gunner -- Ryan referred to it as "a flyer" -- on the outside that permitted the Panthers, by NFL rule, to place a rusher over center. Having been burned in the past by Carolina punt returner
Ted Ginn
, Ryan put an extra coverage man in play to prevent a big return by Ginn -- who in 2009, while with Miami, returned a pair of kickoffs for touchdowns against the Jets, from 101 and 100 yards, no less.
"We were trying to take advantage of our speed," Ryan said. "Obviously they have one of the premier returners in the game in Ted Ginn. But when you do that, you obviously cover up the center. The guy had a good rush on us. That's exactly what happened."
A dejected Purdum insisted there wasn't much he could have done to stop Williams in that situation.
"There was nothing we could have done differently in that formation. Not that I know of," Purdum admitted.
Quigley tried to shift some of the blame onto himself.
"It's on me. When it comes down to it, you've got to get the ball off faster," Quigley said.
But then he said Williams was upon him so fast that it would have been very difficult. He also pointed out the Jets had not previously had a punt blocked all season.
"We've been using different formations all year. We've been mixing it up, and obviously we've run that formation this season, so they might have seen it," Quigley said. "And obviously whatever they did, it worked. ... It's just unfortunate that it happened at that point in the game, where it switched the momentum.
"Anytime that happens, it's tough. That was a very tough spot for us to put our defense in."
Quigley said mishaps on special teams are always magnified, and understandably so.
"I was out there four times tonight, and you've got to be perfect all four times," he said.
August, 18, 2010
8/18/10
1:30
PM ET
ESPN.com NFL Power Ranking
(pre-camp): 7
CORTLAND, N.Y. -- There's a healthy chance you're already sick of the
New York Jets
.
You're sick of their loudmouth coach, sick of their hotshot quarterback, sick of their trash-talking defense, sick of their wheeler-dealer general manager, sick of hearing about their HBO series, sick of their delirious fans.
Get used to it all. They're not going away.
Every team wants to kiss the Lombardi Trophy, but the Jets have drawn the disdain of 31 other teams and their fans by being so cocksure about their plans.
Whether the Jets win a championship or crash and burn on their approach, they'll remain the NFL's most fascinating team in 2010. Win or lose, they're going to be a season-long story.
"That's our own expectations," Jets quarterback
Mark Sanchez
said on the first day of training camp at SUNY Cortland. "That's why we feed off of it. It's our own mentality, that Super Bowl-champion mentality. That's what we want, and that's what we're striving for. ... Now, we need to do it every day and prove it."
THREE HOT ISSUES
[+] Enlarge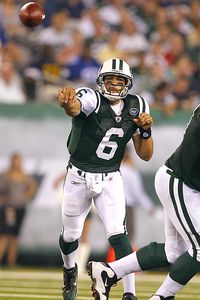 Jim O'Connor/US PresswireThe Jets are hoping Mark Sanchez has matured as a quarterback heading into his second season.
1. Can Sanchez handle the pressure?
There's a lot of skepticism surrounding the man at the controls. Sanchez threw 20 interceptions last year as a rookie. He fumbled 10 times and lost three of them. He was so befuddled at one point, the Jets had to give him a color-coded wristband to help him comprehend the plays.
The Jets hope he matured considerably over the offseason. To help him along as a passer, they added receivers
Santonio Holmes
and
Laveranues Coles
and out-of-the-backfield target
LaDainian Tomlinson
.
Sanchez still has to make the right calls and decisions. Coaches and teammates note his indefatigable work ethic.
And there's no disputing how impressive he appeared down the 2009 homestretch. Offensive coordinator Brian Schottenheimer corralled him in time to salvage the season. Although Sanchez had more than 20 attempts in only three games after Thanksgiving, the Jets won six of those eight outings, two of them on the road in the playoffs.
Sanchez will need to shoulder much more responsibility this year. How he handles being the leading man of a Super Bowl contender will determine the Jets' fate.
2. How will Darrelle Revis' holdout affect the season?
There's a belief among the Jets their defense will take care of itself. As nose tackle
Kris Jenkins
pointed out before training camp began, fans swooned when he suffered a season-ending knee injury six games into last season, but the Jets still finished with the NFL's top-rated total defense, scoring defense and pass defense.
Revis, of course, played an integral part. Maybe the
most
integral part.
All he did was establish himself as the preeminent shutdown cornerback. Revis was so good at shutting down the other team's top receivers, the Jets never had to worry about double-covering. That, in effect, gave them an extra defender to use however they wanted.
The Jets have cornerback depth to help them cope if Revis holds out into the season. They traded for cornerback
Antonio Cromartie
, a sensational cover corner (though not nearly the run defender Revis is).
Dwight Lowery
and first-round draft pick
Kyle Wilson
are capable.
But none of them are as good as Revis is. His return would provide invaluable peace of mind.
[+] Enlarge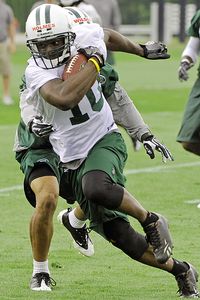 AP Photo/Bill KostrounSantonio Holmes was just one of the Jets' high-profile offseason acquisitions.
3. Did the Jets ruin a good thing with too many roster moves?
The Jets came within a half of the Super Bowl, taking a lead into the third quarter against the
Indianapolis Colts
-- in Lucas Oil Stadium, no less. It was a young team on the make, the type of roster you'd like to keep as intact as possible.
Or so you would think. Ryan and general manager Mike Tannenbaum got rid of a few starters with big voices in the locker room. Gone were the lead running back on the NFL's top ground attack (
Thomas Jones
), a perennial Pro Bowl left guard (
Alan Faneca
), a starting safety (
Kerry Rhodes
) and a respected kicker (
Jay Feely
).
The Jets made some high-profile acquisitions, too. But perhaps the two biggest moves, Holmes and Cromartie, were poaching other teams' misfits. They also signed Tomlinson and outside linebacker
Jason Taylor
, classy veterans but with question marks about what they have left.
BIGGEST SURPRISE
Other than references to his nickname, not much was written or said about Kentucky fullback
John Conner
when the Jets drafted him in the fifth round. The Jets had re-signed
Tony Richardson
for a 17th season, and they wouldn't bring him back if he wasn't going to keep his job, right?
Richardson might be on the bubble. Ryan has been diplomatic in speaking about Richardson's value to the Jets as a locker-room leader, but there's no doubt Ryan loves The Terminator. Conner has been a thumper in camp. Conner will make the team, and keeping two fullbacks is a luxury.
BIGGEST DISAPPOINTMENT
Revis' holdout is a shame on multiple levels. Both sides are standing by principles that are fully understandable. Revis is the NFL's best defender and wants to be paid as such. The Jets, meanwhile, have a signed contract that lasts three more years and refuse to consider as any kind of standard the
Oakland Raiders
' ridiculous deal with
Nnamdi Asomugha
, the league's highest-paid cornerback.
Unless they can reach a compromise or the Jets win the Super Bowl without him, both sides will forever regret this dispute. The Jets have a chance to win their first championship in four decades, and Revis might never get this kind of shot to win a title regardless of where he finishes his career.
OBSERVATION DECK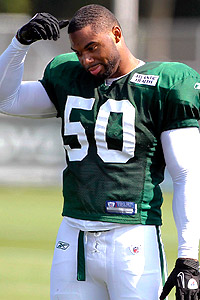 William Perlman/The Star Ledger/US PresswireNew York is comfortable with Vernon Gholston at defensive end in passing situations.