AFC East:

Tebow destinations
March, 21, 2012
3/21/12
10:00
AM ET
The
New York Jets
are
one of four teams
reportedly interested in
Denver Broncos
quarterback
Tim Tebow
.

Is this is a good idea or bad idea for the Jets? Here are some thoughts:
You naturally link Tebow to Jets offensive coordinator Tony Sparano, who ran the Wildcat in Miami. Tebow would be great at it. This gimmick offense would suit his skills well. The Jets want to run the ball -- a lot. With Tebow, Denver was one of the top running teams in the NFL. The Jets don't have a blue-chip running back on the roster. Tebow can add a few hundred yards to the pile and a good yards-per-carry average to New York's ground-and-pound offense. From an X's and O's standpoint, it makes sense.
Here is the rub: Would starting quarterback Mark Sanchez be OK with adding Tebow? I'm sure there would be mixed feelings. On one hand, Sanchez has the security with the Jets after getting a five-year extension. He will be New York's quarterback for at least the next two years. That could be enough for Sanchez to be fine with adding Tebow as his backup. However, the fans don't care about finances, particularly in the win-now culture of New York. If Sanchez has a bad stretch of two or three games, fans will be clamoring for the wildly popular Tebow, especially after Tebow propelled Denver last season and won a playoff game. Sanchez would have to play well and consistent throughout the season or there will be plenty of fan pressure. That is something the Jets have to consider.
Finally, keep in mind Tebow beat the Jets last year. I think that game earned Tebow a lot of respect in New York's locker room, coaching staff and front office. Regardless of how you feel about Tebow as a quarterback, he has a lot of good football traits. He's tough, can run, is hard-nosed and works very hard. Tebow's biggest issue is he can't throw the football accurately. But if the Jets can add him as a backup quarterback to run gimmick plays several times a game, it can work. I like the idea of Tebow to New York as long as Sanchez can handle it and the Jets don't give up any high draft picks.
March, 20, 2012
3/20/12
5:12
PM ET

The Miami Dolphins cannot help themselves. The
Tim Tebow
temptation is just too strong.
ESPN's Adam Schefter reports Miami is
one of four teams
expressing interest in the popular Broncos quarterback. As we mentioned Monday in
the AFC East blog
, this move would make little sense in terms of Xs and Os. But the Dolphins' front office has proved this offseason that logic rarely applies.
Going after Tebow is strictly a public relations move for the Dolphins. Tebow, who played for the University of Florida, would quickly put fans in the seats at Sun Life Stadium. But Tebow running a precision passing, West Coast offense on the field would be a train wreck waiting to happen.
If Tebow would have any success in Miami, the team would have to go away from the West Coast principles rookie coach Joe Philbin and first-year offensive coordinator Mike Sherman were brought to Miami to implement. Is it worth undermining your entire coaching staff for Tebow?
An educated guess is this interest has owner Stephen Ross' fingerprints on it. It hurts Ross to go to games and see so many orange, empty seats. Based on the moves and non-moves the team made this offseason, Ross is probably anticipating more empty seats this year and desperately wants to change it.
Tebow would provide a short-term buzz, but eventually Miami has to win to keep fans interested. That is where Miami's thought of adding Tebow should stop.
The
New York Jets
are also mentioned as one of four interested suitors for Tebow. But Schefter reports Tebow to the Jets is a "long shot." New York just gave starter
Mark Sanchez
a $58.25 million extension that ensures he will be the starter for at least the next two years.
March, 19, 2012
3/19/12
2:10
PM ET
Don't do it,
Miami Dolphins
.
[+] Enlarge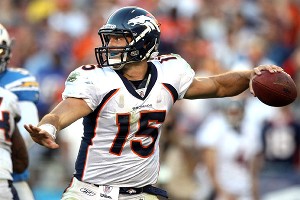 Donald Miralle/Getty ImagesThere are a plethora of reasons the Dolphins should avoid falling into the Tim Tebow trap.
Do not make a quarterback mistake that could stagnate the franchise for the next several years.
Do not, under any circumstances, trade for
Tim Tebow
.
I know this thought will cross the mind of Dolphins owner Stephen Ross, if it hasn't already.
Peyton Manning
agreed to join the
Denver Broncos
on Monday. Now, Tebow is
expected to be available
.
Ross is desperate to make a splash to help fill an empty and often
lifeless Sun Life Stadium
. The Dolphins even came up with the idea last year to honor Tebow and his national champion team with the Florida Gators even though he was the opposing starting quarterback.
It would be na´ve to assume the Dolphins' front office wouldn't be interested in Tebow. Getting the wildly popular Tebow would put more fans in the stands. That is one of Ross' main objectives. But from a pure football standpoint, the Dolphins should want no part of this.

Miami is implementing a precision-passing, West Coast offense under rookie head coach Joe Philbin. Last year Denver had to gut its offense to mold around Tebow's strength, which is more run-oriented. Acquiring Tebow and making him your starter would completely undermine everything Philbin and new offensive coordinator Mike Sherman were brought to Miami to do.
With Tebow, the Dolphins would not run the Packers' system or any pass-heavy system in Miami -- at least if they want a chance to compete. The only system you can successfully run with Tebow is the read-option offense he ran in college and last season with the Broncos. That is why Denver desperately did everything it could to land Manning.
Despite all the reasons to the contrary, expect a lot of speculation linking the Dolphins and Tebow. Miami's front office has made some curious decisions lately and doesn't appear to have a clear-cut plan this offseason. So you just never know with this group.
But what I do know is if Miami's starting quarterback search ends with Tebow, that is the biggest mistake Miami's regime could make.