June, 21, 2013
6/21/13
4:00
PM ET
The
New England Patriots
have made tons of headlines in recent weeks -- and for mostly the wrong reasons. This month alone, New England signed quarterback
Tim Tebow
, Pro Bowl tight end
Rob Gronkowski
had back surgery and
Aaron Hernandez
is in legal trouble.

That brings us to our latest "Poll Friday" question: What's the level of concern for the Patriots? The reigning AFC East champs are having plenty of issues. Will it impact New England's performance in the regular season?
Is New England's ship sinking fast? The Patriots' title window is closing and they need to win now. However, Gronkowski's back and arm issues and Hernandez's legal woes could make it tough. New England also made a lot of changes at wide receiver and could take a couple steps back offensively.
Is there moderate concern about the Patriots? New England has made it a habit to overcome distractions and focus on football. Adding Tebow-mania to the mix, in addition to issues at tight end, makes it tough.
Or will the Patriots be the same dominant team? New England was one game away from the Super Bowl last season and is trying to get back. Will the Patriots overcome offseason questions to win the Super Bowl in February at MetLife Stadium?
Using our SportsNation poll, vote on your level of concern for the 2013 Patriots. You can also share your thoughts in the comment section below.
June, 10, 2013
6/10/13
6:56
PM ET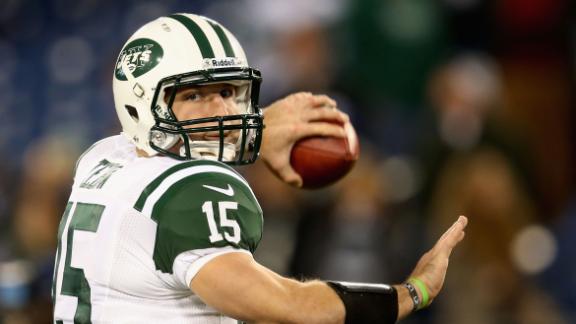 The
New England Patriots
are set to take a step back offensively in 2013. They lost both starting receivers --
Wes Welker
and
Brandon Lloyd
-- from last year's group that led the NFL in scoring and replaced them with mostly unproven players and rookies.
New England also has huge question marks at tight end.
Rob Gronkowski
has had five surgeries on his arm and back since last November and may not be fully recovered for Week 1, and fellow tight end
Aaron Hernandez
also had major shoulder surgery and missed six games last season.
The Patriots signing
quarterback
Tim Tebow
off the scrap heap isn't the answer to New England's offensive woes. If anything, it shows an unexpected sign of desperation for a New England offense searching for answers.
This is yet another sign that New England's run of Super Bowl appearances and NFL dominance is coming to an end. Future Hall of Fame quarterback
Tom Brady
and coach Bill Belichick have made it to five Super Bowls -- winning three. But it looks more and more like last year may have been the Belichick/Brady-era Patriots' final shot to win a fourth championship when they lost at home to the
Baltimore Ravens
in the AFC title game.
To put it bluntly, New England simply is not good enough to win a Super Bowl this year. Last year's team was better, especially on offense. Brady, who will be 36 in August, is a year older and has less firepower. Adding Tebow to the mix doesn't fix anything. It simply brings more media and a huge distraction, which is something Belichick usually tries to avoid.
And what exactly is Tebow's role in New England?
Tebow is certainly not playing quarterback. Brady is clearly the franchise starter in New England, and I would take my chances with the strong arm of
Ryan Mallett
over the inaccuracy and poor mechanics of Tebow any day. Tebow is the No. 3 quarterback at best.
Would the Patriots
really
take Brady off the field to insert Tebow in a Wildcat package? Taking an elite quarterback like Brady off the field for any amount of plays is a huge mistake. Opposing defenses would love to see less Brady and more Tebow on a weekly basis. Would the Patriots be silly enough to oblige?
Maybe Tebow can play H-back or on special teams in New England. But that is nothing more than what he did with the
New York Jets
last year when things went awry. Is all of that worth the extra attention that Tebow brings? The Jets got their answer last year. Now, it's New England's turn to make the same mistake.
I do not see how adding Tebow makes the Patriots a better team. This is a franchise which prides itself on competing for championships. But New England took yet another step backward on Monday.
February, 22, 2013
2/22/13
1:30
PM ET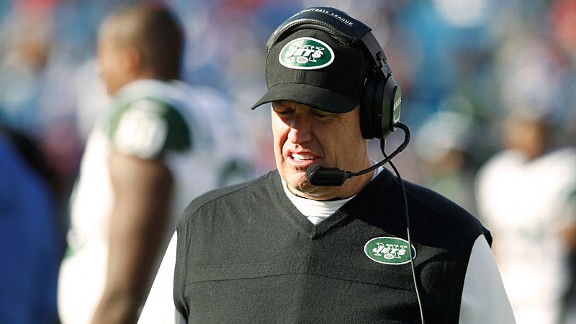 AP Photo/Bill WippertThe Jets are 14-18 the past two seasons under coach Rex Ryan.
Rex Ryan addressed the media at the NFL combine Thursday as only a shell of the brash, supremely confident coach he once was.
Just two years ago, Ryan stepped to the podium and guaranteed the combine media in Indianapolis that the
New York Jets
would win the Super Bowl.
This year's prediction for the Jets?
"I did figure this out: I'm not in the prediction world," Ryan said sheepishly. "I'm usually not real good on my predictions."
This is a different version of Ryan. He has been humbled, beaten down and worn out the past two years in New York. Ryan has had to deal with Tebowmania, Mike Tannenbaum's awful decision-making,
Mark Sanchez
's regression, constant infighting and in-house controversies. The Jets went 14-18 the past two seasons under Ryan, but it felt more like 0-32 under the bright lights of New York.
Just barely, Ryan has survived. But long gone is the coach who thought he would win multiple Super Bowls with Gang Green. Ryan is merely a coach trying to survive the circus he helped create the past four seasons. He has only 2013 to make everything right for a Jets team with a lot of holes and a lot of issues.
In many ways, Ryan appears destined to fail. The Jets are tearing down their roster in what amounts to a must-win year for Ryan. New York lacks a franchise quarterback, has limited players on offense and possesses a tight salary cap. In addition, Ryan works for a new general manager, John Idzik, who won't hesitate to hire his head coach if things go poorly.
This upcoming season is make or break for Ryan, but it doesn't appear he's ready to go out quietly.
"We're stepping up to plate with a bat in our hand, and we're not going to let any strikes go by without swinging," Ryan said. "We are going to take our cuts. We may take a cut at a ball in the ground as well, but we are definitely going to take our cuts. When we talk about being aggressive, I don't know if we really know what that looks like."
There still are a few moments, like this, when Ryan shows some of his old spunk. But much of that swagger is lost, and it mostly comes off as hot air following back-to-back nonwinning seasons.
The Jets were an awful, 6-10 team last season. It's going to take at least two or three years to rebuild New York into a contender again.
Unfortunately for Ryan, he doesn't have another two or three years. Here are the many issues Ryan must overcome to save his job in 2013:
Fix quarterback quandary: Sanchez is not the long-term solution in New York. The problem is the Jets were the last to realize it. New York inexplicably gave Sanchez a $58.25 million contract extension last March and is stuck with Sanchez's $8.25 million guaranteed salary this season. The Jets want competition at quarterback but have limited options. New York does not have the cap room to trade for Alex Smith of the San Francisco 49ers. But a trade for Seattle Seahawks backup quarterback Matt Flynn is more realistic. Flynn is familiar with the West Coast offense, which the Jets are implementing under new offensive coordinator Marty Mornhinweg. Drafting a quarterback is another option for the Jets, although there are a lot of questions about this year's class.

Find resolution with Revis: The Jets have found a way to upset their best player. New York didn't deny reports of putting Revis on the trade block last month, and now that Revis is angry, the team has gone into full spin mode. The Jets say they haven't had conversations with teams about Revis, but it's only February. That doesn't mean there won't be trade discussions closer to the draft or before the season. Revis will be an unrestricted free agent in 2014 and should become one of the NFL's highest-paid defensive players. The Jets probably can't afford Revis' price tag and would be smart to test the market to see what they can get in return. But trading Revis helps the Jets in the long run and hurts Ryan's chances to succeed next season.
Further manage the cap: The Jets had to cut five veterans this week, including starting linebackers Bart Scott and Calvin Pace, to get under the salary cap. New York slashed about $30 million in salary. But with free agency and an incoming draft class, New York still has more cuts on the way. Idzik was hired, in part, because of his ability to manage the cap. But making wholesale changes makes it increasingly tough to field a competitive team. Again, it's best for the Jets in the long run but doesn't help Ryan this year.
Still, Idzik sounds confident that he can field a competitive team in New York next season.
"We're going to be attacking. We're going to be aggressive. We're going to be physical. We're going to play smart," Idzik said this week.
Unless Idzik can fix all of New York's problems in one offseason, it's hard to see Ryan thriving next season and leading the Jets to the playoffs. Three consecutive seasons without a winning record and missing the playoffs doesn't bode well for Ryan's future.
Ryan started fast in New York with back-to-back AFC title games in the 2009 and 2010 seasons. But at this point, his tenure with the Jets appears to be running on fumes.
May, 29, 2012
5/29/12
11:30
AM ET
We have yet another example of Tebow-mania running wild in New York.
In Sports Illustrated's "
Monday Morning Quarterback
," Peter King counted the words at the five biggest newspapers in New York during last week's organized team activities. The two biggest stories last week were
Tim Tebow
's debut with the Jets and Giants No. 1 receiver
Hakeem Nicks
' foot injury in practice.

Nicks' injury is a big one that might cause the stud receiver to miss the beginning of the regular season for the defending Super Bowl champs. The amount dedicated to the story, according to King, was 2,104 words. In contract, Tebow's first practice had 6,971 words, more than three times the media coverage.
In my journalistic opinion, Nicks' injury is a bigger story. He's a top impact player for the reigning champs, and the injury will take months to recover. Tebow will have plenty of other practices, but he moves the needle and sells papers.
It's clear what the New York media is doing. But now it's your turn. How much coverage do you think Tebow should get in the AFC East blog?
On one hand, Tebow is a backup quarterback. Other the other hand, he's one of the most well-known athletes in sports. So I'm curious to hear what our community thinks of this polarizing topic.
March, 30, 2012
3/30/12
12:30
PM ET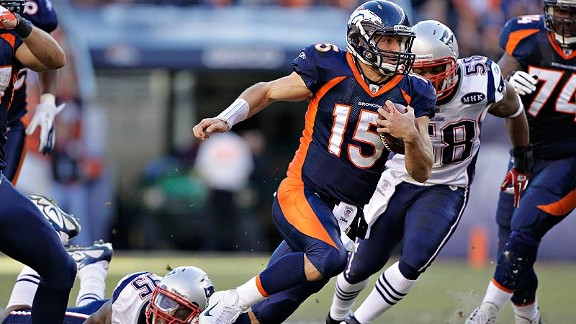 AP Photo/Barry GutierrezThe Jets plan to take advantage of Tim Tebow's running ability in the Wildcat next season.
PALM BEACH, Fla. -- It was approximately 7:30 a.m. Tuesday, and a grumpy Bill Belichick wanted no part of discussing the AFC East's newest addition: Jets quarterback
Tim Tebow
.
"I'm just concentrating on our team," the
New England Patriots
coach said bluntly.
Does Tebow impact what the Patriots do defensively?
"I'm just trying to get better in the offseason, like we always do," Belichick scoffed.
The media kept trying with Tebow, but Belichick kept swatting it away.
"I'm trying to get ready with what we're doing," Belichick said. "I'm not really worried about the other three [division] teams."
Belichick wasn't interested in Tebow-mania. But, eventually, will Belichick's Patriots have a problem on their hands? Does the rest of the AFC East have a problem, as well?
"I think the Wildcat is alive and well," an excited Jets head coach Rex Ryan said this week at the NFL owners meeting.
Here's how Tebow and the Wildcat matches up with the other three teams in the AFC East. The Tebow trouble meter is based on a 10-point scale, with a 10 meaning he'll be a huge headache for a team to defend:

Patriots
Analysis:
Tebow had mixed results against the Patriots in two games last season. Tebow had a field day in the first meeting, particularly early. He rushed for 93 yards and two touchdowns, as the Patriots seemed caught off-guard by Denver's offense in the regular season. The Broncos led 16-7 at one point before the Patriots' offense took over and scored 27 unanswered points. New England won 41-23.
The second meeting against Tebow was more one-sided in favor of the Patriots. New England was much more prepared for Tebow's read-option offense. He rushed for just 13 yards on five carries (2.6 yard average). Tebow actually gained 14 yards rushing on one play, but his other four attempts lost yards. Tebow also lost a fumble and New England won easily, 45-10.
In two games against New England, Tebow rushed for 107 yards and two touchdowns. The Patriots have to prove that their postseason performance against the Broncos is more indicative of how they will stop Tebow in 2012, as opposed to the regular-season meeting.
Tebow trouble meter:
7

Buffalo Bills
Analysis:
The Bills were the most prepared team against Tebow and the Broncos last season. Buffalo pummeled Tebow in Week 16 in a 40-14 victory. He threw three interceptions in the game and also lost a fumble. It was one of Tebow's worst performances of the year.
Bills head coach Chan Gailey believes his team was well-prepared for Tebow's read-option offense because the Bills have their own Wildcat package featuring versatile receiver/quarterback
Brad Smith
. Gailey is hopeful Buffalo's success against Tebow continues next season.
"We will get some work against the Wildcat-type offense in training camp, if nothing else," Gailey said. "To be honest, one of the reasons we have it is we think it is a definite advantage. What we say is this, 'If you got something that's unusual, the coaches are going to take an hour to sit down and talk about it, and you get on the field and do a 10-minute walkthrough on the Wildcat and in practice, out of 45 plays, teams will take maybe five of them on the Wildcat.'"
It also helps that the Bills invested a ton of money this offseason on their defensive line. Free-agent defensive ends
Mario Williams
and
Mark Anderson
should do a great job setting the edge against the Wildcat, which is key. Buffalo's defense has had other issues in the past, such as rushing the quarterback. But I don't see Tebow and the Wildcat giving the Bills too many problems based on the additions and what I saw last season.
Tebow trouble meter:
4

Miami Dolphins
Analysis:
The Dolphins are an interesting case. They were the masters of the Wildcat under former head coach Tony Sparano. Now, Sparano is bringing the package to the Jets as their new offensive coordinator.
"I think it's hilarious," Jets coach Rex Ryan said. "With Tony, everybody looks at this rough, tough, bloody-your-nose type of guy, which he is. But he's very creative also, one of the most creative guys I've been around. I'm excited with what he can do with a guy with the skill set that Tim has."
There are still players on the Dolphins, both on offense and defense, who know the formation well.
However, Miami will be as far removed from the Wildcat as possible under first-year head coach Joe Philbin. The Dolphins are implementing a classic West Coast offense based on timing, precision and rhythm. The Wildcat goes against all that. So there won't be much prep time against Tebow until the week leading up to the Jets games.
Miami did a good job for more than three quarters against Tebow last season at Sun Life Stadium. Denver was scoreless until the final 2 minutes, 44 seconds of the game and pulled off a miraculous comeback by scoring 18 unanswered points in the fourth quarter and overtime. That game actually jump-started Tebow-mania.
Miami is stout against the run. But Tebow rushed for 59 yards and averaged 6.6 yards per carry against Miami. The Dolphins need to do a better job of stopping Tebow in their two meetings next season.
Tebow trouble meter:
7
Overall, Tebow has a chance to make an impact in the AFC East. But his success will vary, depending on the matchup. Tebow won't be able to win many games by himself with limited snaps as New York's backup quarterback. It will be up to starter
Mark Sanchez
to do his part with the passing offense for the Jets to reach their offensive potential.