May, 10, 2011
5/10/11
1:00
PM ET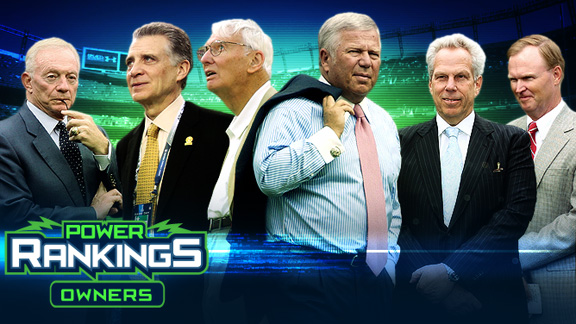 ESPN.com IllustrationThe Rooney family received only first- and second-place votes from our panelists.
There wasn't a whole lot of room for debate at the top.
ESPN.com took its positional Power Rankings series off the field and into the boardroom to rate the owners. None of them are popular fellows these days, but for the purposes of this project, nobody was more respected than the Rooney family.
The
Pittsburgh Steelers
' owners were listed first or second on all eight of the panelists' ballots.
By any definition, Dan Rooney and Art Rooney II qualify as powerful.
They're winners. The Steelers have played in eight Super Bowls and won six of them with three head coaches. The family's success has spanned such a long time that Dan and the late Art Rooney Sr. were inducted into the Pro Football Hall of Fame 36 years apart.
They're transcendent. President Barack Obama selected Steelers chairman Dan Rooney as the U.S. ambassador to Ireland.
They're influential. Dan Rooney was behind the so-called "Rooney Rule," which changed sidelines dramatically by stimulating minority hires. When it comes to the lockout, Rooney is a prominent voice of reason and could help broker the eventual deal.
"The Steelers selection is a no-brainer," ESPN.com senior writer John Clayton said. "The Steelers under the Rooneys have been the model of franchise ownership in sports. They are successful, consistent and supportive.
"They don't undergo the constant changes of other franchises. Plus, the family has been so instrumental in doing things that help advance the league, sometimes at the expense of their own franchise. It's no secret that two Rooneys are in the Pro Football Hall of Fame."
Clayton, AFC North blogger James Walker, AFC West blogger Bill Williamson and NFC South blogger Pat Yasinskas each had the Rooneys atop his ballot.
"The Rooney family is the perfect combination of tradition, consistency and success," Walker said, echoing Clayton's thoughts almost verbatim. "The easiest thing to point out is they've had the most Super Bowl wins and fewest head coaches since 1969. But they also set trends off the field with things like the Rooney Rule. They're very well respected, and there's a special sense of pride about the Steelers from players and fans that you don't see in many places. It starts at the top."
But the Rooneys were not unanimous choices in our ownership Power Rankings.
What about the power of the people?
The
Green Bay Packers
' ownership received three of the four remaining first-place votes. NFC North blogger Kevin Seifert, NFC West blogger Mike Sando and I all listed the Packers first because of their unique kind of power. Rules governing the other 31 franchises don't apply to them.
The Packers are the only publicly owned franchise. Green Bay Packers Inc. is a nonprofit organization formed in 1922. About 112,000 stockholders own roughly 4.75 million shares of the team. A seven-member executive board oversees the team on behalf of the stockholders.
Packers fans never will have to worry about the team being sold or moving away. The Packers are the only franchise that must open its books.
Oh, yeah. They also just won their NFL-record 13th championship.
Seifert explained why the Packers are special.
"My criteria for this category was twofold," Seifert said. "Do the owners fund the team's operations well? And do they operate the team well?
"I think the Packers' arrangement is currently doing both and has none of the baggage that goes along with single-family ownership. Shareholders don't take dividends, so no one is driven by individual profit. All profits go back into the franchise. In my experience, no expenses are spared in operating the team. People might note that general manager Ted Thompson doesn't sign many free agents, but that's a football decision. He's spent plenty on retaining the Packers' own free agents.
"The executive committee has hired a competent president in Mark Murphy, and after a bumpy start on the
Brett Favre
departure, Murphy has facilitated excellent work from the GM and coach he inherited.
"Finally, the Packers' ownership arrangement requires Murphy, Ted Thompson and Mike McCarthy to be more accountable to 112,000 fans than any other NFL official is to his fan base. Shareholders can't make operating decisions, but they have the right to question decisions, to know how money is being spent and to get straight(er) answers than fans of any other NFL team."
Clayton, however, wasn't impressed. He omitted the Packers from his ballot, ensuring they didn't finish second in the Power Rankings despite their three first-place votes.
One gets the impression that if Clayton were to slot all 32 ownerships, he would jot the Packers last.
"I couldn't vote for the Packers because it is a community ownership, not a normal ownership," Clayton said. "It's not as though one owner makes the decisions and has to stand up for the praise or criticism. Assigned the chance to vote for ownership, I felt more comfortable voting for individual owners or family owners."
[+] Enlarge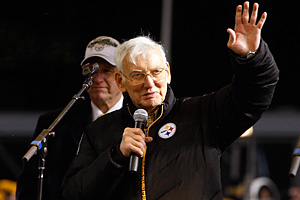 Jared Wickerham/Getty ImagesDan Rooney has been one of the most influential owners in the NFL.
As a result,
New England Patriots
owner Robert Kraft was second overall. Kraft hired Bill Belichick as head coach and has stayed out of the way of football operations. The Patriots have won three Super Bowls in the past decade and went to a fourth. Forbes estimated the Patriots are the third-most-valuable NFL franchise and the world's 10th-biggest sports brand.
AFC South blogger Paul Kuharsky listed Kraft above all. Kuharsky had the Rooneys second and the Packers third.
Kuharsky had the most efficient Power Rankings ballot. He was the lone panelist to vote for all of the owners who finished in the top 10.
"Robert Kraft versus the Rooneys is a close call," Kuharsky said. "I went Kraft because I feel he and his team have done more lately. In many ways, the Patriots -- not the Steelers -- are the standard-setters for the league. And while I prefer the way Heinz Field is in the middle of Pittsburgh, that development around Gillette Stadium has to be the envy of a lot of owners."
New York Giants
co-owners John Mara and Steve Tisch came in fourth,
Philadelphia Eagles
owner Jeffrey Lurie was fifth and
Baltimore Ravens
owner Steve Bisciotti was sixth.
From there, everybody else on the Power Rankings top 10 was omitted from at least one ballot.
Eclectic
Indianapolis Colts
owner Jim Irsay, who was able to help land a Super Bowl in a nontraditional locale, came in seventh. Irsay rated no higher than sixth on any ballot, but he didn't make Williamson's top 10.
"I know it sticks out because I was the only one not to rank him, but if he was in the top three, I'd re-evaluate my reasoning," Williamson said. "But I can live with not voting for the No. 7 finisher. To be frank, I never considered Irsay. I considered 14 ownerships in all. Other than his random tweets, Irsay doesn't stick out to me, good or bad."
When it came to voting, money didn't necessarily equal power for some panelists.
I ranked
Dallas Cowboys
owner Jerry Jones third, higher than any other voter. Sando and Yasinskas didn't rate Jones at all. Jones ended up eighth.
To me, you can't argue with his money or his presence. Forbes ranked the Cowboys the world's fourth-greatest sports brand behind only the New York Yankees, Manchester United and Real Madrid. Their estimated brand value was $128 million more than the NFL average and $15 million more than the Eagles and Giants combined.
Forbes estimated the Cowboys franchise was worth $1.8 billion, nearly $300 million more than the next-closest NFL club, the
Washington Redskins
.
Jones also serves as general manager. That puts him in control of every business and personnel decision. Sando saw that as a drawback.
"Jerry Jones is more involved in football operations than an owner ideally would be," Sando said. "He has shown questionable judgment in hiring head coaches. His involvement in football operations had made those coaches' jobs tougher. Jones dispatched with Tom Landry harshly and later failed to sustain the success Jimmy Johnson orchestrated.
"Also on Jones' watch, the Cowboys have suffered through the practice-bubble catastrophe, a Super Bowl experience that produced poor reviews and a video purporting to show Jones' drunken antics in a bar. Jones also was part of the NFL Management Council Executive Committee when the league agreed to the ill-fated 2006 collective bargaining agreement. Overall, the team hasn't enjoyed enough success recently to say the ends justify the means."
Yasinskas contended that Jones simply is overrated these days.
"If Jerry Jones had continued the success he had with Jimmy Johnson and Barry Switzer back in the 1990s, he'd be at the top of my list," Yasinskas said. "But the fact is the Cowboys really haven't been all that relevant for a long time. Part of that is due to Jones.
"He's done some good things and the new stadium is fabulous, but he's been way too hands-on with that franchise and he's run through lots of good coaches and players without any real results."
Let us know what you think.
September, 15, 2010
9/15/10
5:13
PM ET
There has been talk about the
Buffalo Bills
trading
Marshawn Lynch
since he finished last season second on the depth chart behind
Fred Jackson
.
Rumblings got louder throughout the offseason, when the Bills used the ninth draft choice on
C.J. Spiller
and Lynch declined to show up for most workouts.
Turns out, this week's opponents need a running back. The
Green Bay Packers
lost
Ryan Grant
for the year with an ankle injury, and
their quarterback happens to be a huge Lynch fan
.
Aaron Rodgers
and Packers linebacker
Desmond Bishop
played with Lynch at the University of California. When Rodgers was asked Wednesday what his response would be if Green Bay's front office solicited his opinion about Lynch, the quarterback replied "Bring him on."
Rodgers isn't bothered by Lynch's track record of bad behavior. The NFL suspended Lynch for the first three games last year for multiple problems with the law.
"He's a great player," Rodgers said. "And any character issues the team might see, I think in a situation like that, and I think you've seen that with other players across the league, when you give a guy a change of scenery and a guy like that who feels he might have something to prove, and surround him with two guys, Bishop and myself who played with him, I think that can only help him feel comfortable and see a lot of production."
Milwaukee Journal Sentinel reporter Greg A. Bedard blogged Rodgers' comments and added any trade would be "a long shot" and that "even a third-round pick would likely be too rich for [Packers general manager] Ted Thompson."
Earlier on Wednesday, I wrote about how the
New England Patriots
' decision to trade their former first-round back,
Laurence Maroney
, might
impact the market for a potential Lynch trade
.
Bills coach Chan Gailey on Wednesday reiterated his preference to keep Lynch.
"Opinions vary of whether it's too many" running backs in Buffalo's backfield, Gailey said. "In preseason, we didn't have too many. I know Green Bay wishes they had one more.
"Everybody's got opinions on what's right. We feel that having the three that we have right now is a very good situation for us. We've got to continue to get better with each one of them and see how their roles play out as the year goes on. This is a situation in the NFL where you can't have too many good running backs."
August, 26, 2010
8/26/10
5:38
PM ET
As part of its annual package on NFL team valuations,
Forbes magazine rated the top 10 general managers
.
The AFC East has no representatives, but three were spawned from the division.
Buffalo Bills
fans should be frustrated to see that two among the top five were run out of the organization.
Indianapolis Colts
president Bill Polian topped the Forbes list.
San Diego Chargers
general manager A.J. Smith was fifth. First-year Bills GM Buddy Nix worked under Smith -- and former Bills GM John Butler -- in San Diego.
Second on the list is former
New England Patriots
personnel executive Scott Pioli, now of the
Kansas City Chiefs
.
Patriots coach Bill Belichick should be on the Forbes list because he's the overlord of football operations, but he doesn't hold the title.
Miami Dolphins
general manager Jeff Ireland will be overshadowed as long as Bill Parcells remains his boss.
New York Jets
general manager Mike Tannenbaum has been one of the NFL's most daring executives and has helped mold the Jets into a Super Bowl contender this year. But the Jets have gone 32-32 with him in the role.
Forbes explained its methodology:
Won-lost record vs. payroll rank over the past three seasons, with bonus points awarded for playoff appearances, Super Bowl appearances and championships. With NFL payroll disparities somewhat limited by salary cap rules, the formula tends to place more weight on winning than on payroll.
Forbes added a caveat, however, to account for the high rate of turnover. For teams that have brought in a new GM within the past three years, that executive's role at his previous stop was considered.
1. Bill Polian Colts
2. Jerry Reese, Giants
3. Scott Piloi, Chiefs
4. Kevin Colbert, Steelers
5. A.J. Smith, Chargers
6. Ted Thompson, Packers
7. Jerry Jones, Cowboys
8. Mike Reinfeldt, Titans
9. Mickey Loomis, Saints
10. Rob Brzezinski, Vikings
February, 23, 2009
2/23/09
8:30
AM ET
Posted by ESPN.com's Tim Graham
INDIANAPOLIS -- Bill Belichick's impromptu news conference Sunday morning meant that for the first time in several years all four AFC East coaches addressed reporters at the NFL scouting combine.
It was an encouraging development for the NFL's most secretive division.
Three of the four teams have a heavy Bill Parcells influence, and a significant tenet of his doctrine is a one-voice policy. Assistant coaches, scouts and front office folks are forbidden from talking to reporters. And the one voice that does speak often does so sparingly and shares little. Players often repeat team-approved mantras.
But this weekend was refreshing.
To be sure, Belichick's unscheduled appearance won't become commonplace. But Miami Dolphins coach Tony Sparano -- off limits at last year's combine -- has emerged as an insightful speaker who doesn't dodge questions.
The media certainly upgraded when the New York Jets fired the condescending Eric Mangini and brought in Rex Ryan, a brash quote machine. Jets general manager Mike Tannenbaum held a news conference, too.
Uh oh, two voices.
Buffalo Bills coach Dick Jauron is reserved and has been unavailable recently, but he faced the press at Lucas Oil Stadium. The club generally is among the most accessible in the NFL. The Bills granted access to chief operating officer Russ Brandon, vice president of college scouting Tom Modrak and both coordinators in Indy.
As beneficial as access is for reporters, it's every bit as valuable for the fans. The more information teams share with the media, the more they communicate with their fans. The less people speculate.
The Professional Football Writers Association typed up 163 transcripts during the combine. Four of the six largest files belonged to Belichick or Parcells disciples. Belichick's transcript was the longest, followed by Ohio State linebacker James Laurinaitis, Denver Broncos coach Josh McDaniels, Green Bay Packers general manager Ted Thompson, Sparano and Tannenbaum.
Go figure.