June, 16, 2011
6/16/11
2:55
PM ET
Tom Brady
probably doesn't worry about paying the mortgage(s), not when his wife's career earnings reportedly are about to hit $1 billion.
So I doubt Brady is upset about ranking ninth in all sports and third among NFL quarterbacks in
Sports Illustrated's annual Fortunate 50 list of the top-earning
American athletes. The rankings are based on salaries and estimated endorsement dollars.
Brady came in ninth with
New England Patriots
paychecks of about $20 million and sponsorships of $10 million. Brady was tied for 28th last year in Sports Illustrated's analysis.
Brady is a spokesman for various products, but he's not a prolific pitchman like
Indianapolis Colts
quarterback
Peyton Manning
is. Manning ranked fourth at about $37 million.
Atlanta Falcons
quarterback
Matt Ryan
also finished ahead of Brady at $32.7 million.
Tiger Woods was first with about $2.3 million in golf earnings but an estimated $60 million in endorsements. Phil Mickelson was less than seven figures behind Woods at $61.185 million.
Miami Heat forward LeBron James was third at $44.5 million.
Here are the athletes with AFC East ties:
9. Tom Brady, Patriots quarterback: $30 million
14. Darrelle Revis, Jets cornerback: $25.75 million
38. Mark Sanchez, Jets quarterback: $17.75 million
May, 10, 2011
5/10/11
4:41
PM ET
ESPNBoston.com reporter Mike Reiss passed along an interesting item that underscores
Tom Brady
's standing in the sports world.
Forbes magazine assembled its top 10 list of the most influential athletes
.
Brady ranked second, but first among the traditional big four sports.
Jimmie Johnson, NASCAR driver
Tom Brady, Patriots quarterback
Dale Earnhardt Jr., NASCAR driver
Shaquille O'Neal, Celtics center
Michael Phelps, swimmer
Troy Polamalu, Steelers safety
Peyton Manning, Colts quarterback
Jeff Gordon, NASCAR driver
LeBron James, Heat forward
Tim Tebow, Broncos quarterback
No baseball or hockey players or golfers made the rundown. Tiger Woods, for obvious reasons, dropped off the list. Lance Armstrong also was absent because he retired.
January, 21, 2011
1/21/11
11:30
AM ET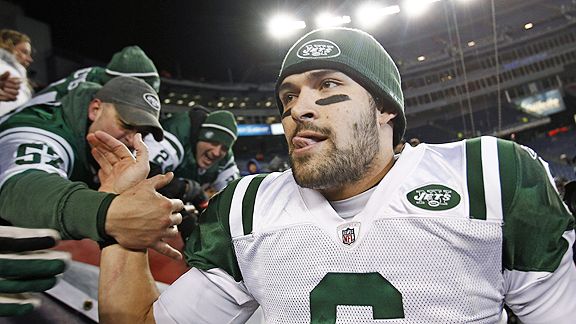 AP Photo/Winslow TownsonAlthough he's nearing the end of just his second pro season, Mark Sanchez has already tied the NFL record for road playoff victories.
FLORHAM PARK, N.J. -- On most throws,
Mark Sanchez
is unimpressive. His body language shows he's still learning how to carry himself as an NFL quarterback. Stats would imply his season ended weeks ago.
The reality, however, is that Sanchez has made it to the AFC Championship Game in each of his first two seasons with the
New York Jets
. He turned 24 years old in November, yet he already has tied the NFL record for road playoff victories.
Mediocre quarterbacks don't do that.
Clutch quarterbacks do.
"He's just one of those kids that has 'it,'" Jets backup quarterback
Mark Brunell
said, "and whatever 'it' may be is the ability to make the play that needs to be made -- clutch."
Sanchez's detractors don't see anything special, but among others, he's developing a reputation as one of those rare quarterbacks who excels in difficult spots. He can erase doubt Sunday by advancing to the Super Bowl with a victory over the
Pittsburgh Steelers
and one of the NFL's few established clutch quarterbacks,
Ben Roethlisberger
.
Like art, the concept of "clutch" is difficult to define, but you know it when you see it. Clutch performers execute when consequences escalate.
Joe Montana
was clutch. Michael Jordan was clutch. Tiger Woods, Reggie Jackson, Patrick Roy -- all clutch.
Sanchez isn't remotely near that echelon, but some expert observers claim he's getting there.
"It seems like it,"
Miami Dolphins
consultant and two-time Super Bowl champion coach Bill Parcells said. "He's in his embryonic stage. So time will tell, but he's certainly showing some of the characteristics that are vital to that type of player.
"Sometimes with these quarterbacks it's not always pretty. But it becomes efficient."
Sanchez's numbers don't shriek competence. He ranked 25th in passer rating. Only three qualifying passers averaged fewer yards per attempt. Two completed a lower percentage of throws.
But over Sanchez's past 20 games, including the playoffs, he has directed
five fourth-quarter comebacks and two more winning drives
when the score was tied in the fourth quarter. Two of those victories were back-to-back on the road and in sudden death -- something that never before had happened.
[+] Enlarge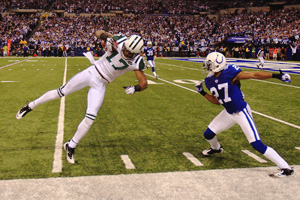 Jonathan Daniel/Getty ImagesSanchez's 18-yard strike to Braylon Edwards set up the game-winning field goal against the Colts in the wild-card round.
A pair of his fourth-quarter comebacks were postseason games, including the wild-card victory over the
Indianapolis Colts
two weeks ago. He took the Jets 40 yards on five plays, completing all three of his passes for 38 yards. He feathered a beautiful pass up the right sideline to
Braylon Edwards
at the Colts' 14-yard line, setting up
Nick Folk
's point-blank field goal as time expired.
Clutch? You betcha.
"Sanchez qualifies in the discussion for sure," noted quarterback guru Sam Wyche said. "Their record and the fact they have prevailed in this single-elimination tournament tells me he's had some clutch plays in 2010. There's no way a quarterback can be off much and get this far in the playoffs."
Wyche knows a little about clutch. He was the
San Francisco 49ers
' passing game coordinator for Montana's first four NFL seasons. Wyche later watched from the
Cincinnati Bengals
sideline when Montana orchestrated one of the most sublime clutch drives of all time to win Super Bowl XXIII.
Wyche explained clutch as a combination of attributes a quarterback must possess when the margin for error is skinniest. The quarterback must be poised, have the rules mastered, be mindful of field position, be skilled at clock management and be in command of his teammates.
"Clutch means making quicker decisions, generally unforgiving decisions," Wyche said. "You're at the end of the game. You don't have the second half to come back and rebound.
"In a time squeeze with two options -- throw the ball away or try to get it into a tight hole -- who makes the right decision?"
Another clutch quality is raising the performance level when it's essential.
Sanchez's 2010 regular-season stats were ordinary, and in many cases below average. He completed 54.8 percent of his throws, averaged 6.6 yards per attempt and tossed 17 touchdowns with 13 interceptions. His passer rating was 75.3, lower than
Chad Henne
's. The Dolphins benched Henne twice because of lackluster play.
A look at Sanchez's effectiveness in key situations indicates an even shakier quarterback. Among those who threw at least 10 times in the regular season, ESPN Stats & Information showed, Sanchez's passer rating was 48th in the fourth quarter and overtime, 38th on third down and 27th in the red zone.
But in Sanchez's five career playoff games, he has completed 60.5 percent of his throws, is averaging 7.4 yards per attempt and has seven touchdowns with three interceptions.
His 92.2 career postseason passer rating -- accumulated entirely on the road -- is 22.0 points higher than his regular-season rating.
Jets head coach Rex Ryan said that when it comes to being clutch "you either have it or you don't" and that Sanchez probably had it as a kid, regardless of the sport he tried "because the great ones, the competitors, find ways to win, and I think Mark is that kind of guy."
Back in November, with the Jets on a death-defying win streak, Ryan was asked about Sanchez's success. The Jets notched consecutive overtime road victories and a miracle against the
Houston Texans
at the Meadowlands, where Sanchez drove the Jets 72 yards for the winning touchdown in just 45 seconds.
Sanchez delivered a dazzling 42-yard strike to Edwards
along the right sideline and a perfect 6-yard toss to
Santonio Holmes
in the left corner of the end zone one play later.
[+] Enlarge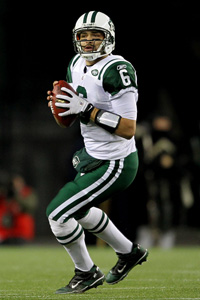 Jim Rogash/Getty ImagesMark Sanchez's 92.2 career postseason passer rating is 22.0 points higher than his regular-season rating.
"It doesn't get too big for him," Ryan said a few days later. "The stage here, he plays on this stage every week and he can handle it, where a lot of guys can't. A lot of guys can be great quarterbacks, but on this stage, not so fast."
The Steelers have one of those quarterbacks, too.
Roethlisberger owns two Super Bowl rings and has delivered
19 fourth-quarter comebacks and 25 winning drives
over his career, according to ProFootballReference.com data. Three of them happened in the postseason, including that famous dart to a toe-dragging Holmes in Super Bowl XLIII.
Wyche compared Roethlisberger to Montana, whom the
NFL Network named the No. 1 clutch quarterback of all time
.
"This guy has the same kind of good fortune in the game," Wyche said. "He seems to zig when he's supposed to zig and doesn't zag. He seems to be able to throw the ball away or maybe get a great run out of his running back, and the players around him perform because they have the confidence that he's going to perform.
"He's just got that quality. It's a charisma thing, and you don't bet against it very often."
Sanchez already has beaten Roethlisberger head-to-head at Heinz Field this year. Roethlisberger posted better passing numbers, but Sanchez ran a fourth-down bootleg 7 yards for a touchdown.
No matter the outcome Sunday night, Sanchez should be considered one of the NFL's future stars. A 24-year-old doesn't advance this far twice in a row by accident.
"He's not mentioned in the same sentences as
Peyton Manning
or
Tom Brady
," Brunell said. "He doesn't have those numbers yet. He doesn't have a Super Bowl ring. But all indications are that he's going to be an elite quarterback someday, who will have those numbers and be mentioned with all those top guys like
Drew Brees
.
"He'll be there. For a guy in only his second year, it's pretty dang impressive what he's accomplished."
January, 13, 2011
1/13/11
9:25
PM ET
The man who once called himself "the straw that stirs the drink" in the Bronx is advising the
New York Jets
to chill out.
New York Yankees legend Reggie Jackson thinks the Jets should shut up and concentrate on getting ready for Sunday's playoff game against the
New England Patriots
.
Jackson actually called in to ESPN 1050 host Michael Kay's show

Thursday specifically to blast the Jets for calling out
Tom Brady
and Bill Belichick. Jackson said it's as absurd as insulting Sandy Koufax or Tom Seaver or Jack Nicklaus before playing them.
"What are you talking about? What are you doing? Shut up! Play football!" Jackson said.
Jackson, a Baseball Hall of Famer, played football at Arizona State before switching full-time to the diamond.
He was particularly agitated by Jets cornerback
Antonio Cromartie
calling
Patriots Brady an "ass----"
and Jets head coach Rex Ryan for making fun of Brady. Ryan jabbed Brady for seeing the Broadway play "Lombardi" on Saturday night instead of watching the Jets beat the
Indianapolis Colts
.
Kay asked Jackson if he ever talked smack to an opponent.
"For what?" Jackson replied incredulously. "So that Don Sutton or Tom Seaver or Jerry Koosman or somebody would bear down harder on me? They're tough enough! And what's that make me? It makes me a fool.
"There are only two guys that made predictions. One guy did it every week that he fought in the '60s, and that was Ali, and he was real. He truly was the greatest. The other guy made one prediction in his career. It was a fluke, and it worked: Joe Namath.
"The greatest players in history, Woods, Nicklaus -- name all the greats -- Jimmy Brown, Johnny Unitas, Montana. They don't run their mouth. The wannabes, the imitations do."
Jackson admitted he generally gets a kick out of Ryan, but Mr. October scolded Cromartie like a Mr. December.
"Go look at the hardware, dude," Jackson said of the Patriots' success. "Walk through the lobby up there and look at the stuff that's there. You don't have that. You don't have anything close to it.
"Shut up. You might learn something. Read. You might figure something out. Watch film. You might get educated. If not, you got a chance to get embarrassed on Sunday. I hope you don't because I like the Jets."
Jackson later added: "You don't know what he's talking about because you've never won. So don't tell me how he thinks. You don't know. Acknowledge that. That's not my opinion. That's fact."
I can't wait to hear what Mike Richter has to say about all this.
October, 11, 2010
10/11/10
8:54
AM ET
Why must I strain to visualize
Brett Favre
in a
New York Jets
uniform?
Maybe because he never was a part of the vibrant Rex Ryan environment that has been so pronounced the past two seasons. Maybe because Favre always will be remembered as a
Green Bay Packers
legend first and foremost. Maybe because he's in his second year with the
Minnesota Vikings
and had such incredible success last year.
[+] Enlarge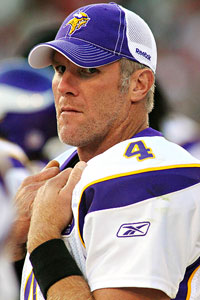 Cary Edmondson/US PresswireThe allegations against Brett Favre are a distraction for the Vikings as they prepare to take on the Jets.
Jets fans would like to forget the Favre experiment of aught-eight.
He propelled them to an 8-3 start and into the Super Bowl conversation. Then he buckled under a heap of interceptions and a wonky right arm. Head coach Eric Mangini lost his job. Then Favre was gone, his last two plays for the Jets an interception and an illegal forward pass.
But conveniently for the Jets (purely from a football standpoint), some
alleged transgressions surfaced in the days leading up
to Favre's return to the Meadowlands on Monday night to play his old team for the first time.
Favre has been accused of sending inappropriate photos and messages to female Jets employees, including former broadcast personality Jenn Sterger and two massage therapists.
NFC North blogger Kevin Seifert noted these accusations -- plus a bout with elbow tendinitis -- thrust Favre into "
one of the most uncertain periods of his NFL career
."
The NFL has expedited an investigation into the incidents and could punish Favre under the personal conduct policy. That won't happen for Monday night's game, but all the turmoil has to be a monumental distraction for the Vikings. ESPNNewYork.com reporter Jane McManus also wrote about the
league's investigation of Favre from a Jets perspective
.
Favre is expected to make his 289th consecutive start, having persevered through all sorts of injuries and even the
death of his father for a stirring 2003 Monday night performance
. How bizarre would it be that his streak would come to an end over a suspension?
Even if he's not suspended, Favre's game certainly could suffer. New York Daily News columnist Gary Myers wrote: "But with this investigation
hanging over his head, how can his play not be affected?
Look at what happened to Tiger Woods' game this year."
Many Jets players and front office personnel felt burned by Favre's hit-and-run stint.
Beloved teammate
Chad Pennington
was dumped to make way for him (and went on to win an AFC East title with the
Miami Dolphins
). Jets players felt Favre wasn't worth the special treatment. Coaches lost their jobs when they didn't make the playoffs.
Favre is the Vikings' problem now, and on Monday night the Jets won't be compassionate.
September, 30, 2010
9/30/10
1:01
PM ET
Bill Parcells has been a media hermit since he took over the
Miami Dolphins
in December 2007.
He sat down for an introductory news conference and reluctantly met with reporters at an endorsement obligation for Gatorade. That was all we've heard aside from an extemporaneous comment here or there about his love for horse racing or some historical football perspective.
[+] Enlarge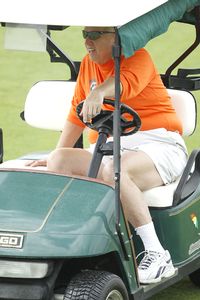 Joel Auerbach/Getty ImagesBill Parcells' contract with the Dolphins runs through 2011, but a clause in that contract allows him to leave at any time.
So it was pretty big news that
Parcells was on a conference call Thursday
with
New York Giants
reporters to talk about being inducted in their Ring of Honor at the new Meadowlands stadium.
For the first time, reporters had the chance to ask him about his future. The Dolphins announced a few days before their season opener
Parcells had stepped down as executive vice president
and turned over football operations to general manager Jeff Ireland.
Parcells has stayed on as a consultant. But what's next?
"Well, that is a good question," Parcells replied. "I am not a sit-around-the-fireplace guy. I don't know. I am not certain about it. We will see what happens when the time comes.
"I know I want to do something even if it is not day-to-day or something like that, I know I want to do something. I don't like sitting around. I like to get up and go do something. We will figure it out when the time comes."
Parcells' comments are ominous given his history as a restless football soul and the fact he can walk away from his Dolphins contract with full pay whenever the mood strikes him.
His contract with the Dolphins runs through 2011. When new owner Stephen Ross bought the team from Wayne Huizenga, Parcells negotiated a clause that will allow him to leave at any time, collect every last cent and not be prevented from working for another team.
Under Ross, the Dolphins have turned into a glitzy operation that embraces celebrity and the South Florida lifestyle as much as it does touchdowns. Ross has sold pieces of the team to Fergie, Gloria Estefan, Marc Anthony and Serena and Venus Williams. Jimmy Buffet got involved in a deal with the Dolphins last year that included stadium naming rights.
For Sunday night's home opener, the Dolphins rolled out an orange carpet for a slew of celebrities to walk past the paparazzi: Jennifer Lopez (Anthony's wife), Kim Kardashian, Enrique Iglesias, T-Pain, Anna Kournikova, Tara Reid and Helio Castroneves among them. attendees who avoided the orange carpet included Tiger Woods, Dwyane Wade and LeBron James, who, coincidentally, was the
subject of a story for which Parcells once actually called me back
.
As much as Parcells isn't a fan of the media, I'm sure even he rolled his eyes when he learned the Dolphins converted their press box into a nightclub-style suite.
Parcells is a football man. I'm sure he'd love to work for an organization that makes football the only priority and doesn't still consider Tara Reid a star.
July, 2, 2010
7/02/10
5:08
PM ET
Tom Brady
rarely had been more surgical. To the
Jacksonville Jaguars
he looked like Kevorkian.
With the AFC East championship there for the clinching, Brady completed 23 of 26 passes for 267 yards and four touchdowns in a runaway
New England Patriots
victory in Week 16 last year.
[+] Enlarge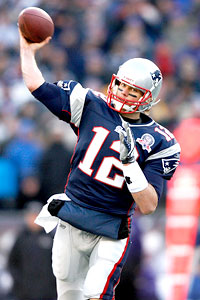 Elsa/Getty ImagesTom Brady still looks to one of his first coaches for guidance.
One of Brady's three incompletions was dropped, another purposely thrown out of bounds. His 149.0 passer rating was the third-highest of his 147-game career behind two games from his record-setting 2007 campaign.
A face in the crowd that chilly, late December afternoon was Tom Martinez. He might not have been grinning as widely as those around him, but nobody could come close to matching his feeling of satisfaction.
"Other than maybe his parents, people don't know what I do," Martinez said of his relationship with Brady. "But he knows."
A week before Brady scalpeled the Jaguars, he summoned Martinez cross-continent from Northern California to Foxborough, Mass. Brady felt battered and a little insecure. His delivery wasn't right. Injuries, sloppy mechanics, whatever it was ... He needed help.
Martinez has been Brady's personal throwing coach since before the three-time Super Bowl champion made his first junior varsity start. They spent the Christmas holiday tinkering in the Dana-Farber Field House. Brady was in a four-week funk that produced three passer ratings below 75.0 and a defeat in the exception.
"He had a broken finger and three broken ribs," Martinez said, ostensibly confirming reports Patriots coach Bill Belichick and Brady himself denied during the season. "He wasn't throwing well.
"It's one of those things where I can see right away what he's doing. He trusts me, so when I tweak him, it's right back to where he wants to be. Then, at that point, it probably is psychological."
Martinez has been working with Brady since 1992, when Tom Brady Sr. brought his 15-year-old son to the College of San Mateo coach for some pointers.
Martinez has been Brady's throwing whisperer ever since.
"What I feel good about is when guys trust me enough to do it, and it actually works," Martinez said. "There's a special relationship that's kind of unsaid between them and me.
"Guys don't say a lot to each other. It's just a masculine thing. On the other hand, you know what you did for them, and they know what you did for them. There's a respect."
Despite having groomed such a star pupil, Martinez hasn't pursued jobs as a quarterbacks coach in the NFL or at a major college. He interviewed for the
Oakland Raiders
opening a few years back but declined the opportunity because of health concerns.
Martinez still resides in Brady's hometown of San Mateo. He conducts youth camps like the one being
staged by JuniorRank Aug. 6
in San Diego for elite sixth- to ninth-graders and works with NFL quarterbacks who seek him out.
He worked with
JaMarcus Russell
before the Raiders drafted the Louisiana State rocket-launcher first overall in 2007. The Raiders released Russell this spring.
Russell has requested Martinez coach him up again
in hopes of getting another shot.
He's tutoring Brady this weekend in the Los Angeles area. They've been meeting once a month throughout the offseason. They're often joined by Patriots receiver
Wes Welker
, who is rehabilitating from major knee surgery with the same specialist who helped Brady come back from his.
The Patriots, of course, have their own quarterbacks coach. Bill O'Brien is a respected member of Belichick's staff. Josh McDaniels was their quarterbacks coach before O'Brien.
So why does Brady still need Martinez after all these years? Martinez explained discussing flaws with a future Hall of Famer's mechanics can be a dicey proposition.
"When a guy gets that good like Brady, the quarterback coach is intimidated because he's not as good as the player," Martinez said. "So they hesitate to say things. Therefore, the player gets sloppy.
"Mechanics should be coached on a daily basis, and I don't know that it is. It's like Tiger Woods' golf swing or Michael Jordan's free throws."
Martinez declines to render opinions on how much Brady's reattached knee impacted last season or whether its stability messed with his confidence. Martinez prefers to concentrate on mechanics alone. He reasoned it doesn't matter why they're off, only that they are.
He will remain on call as long as Brady remains a driven perfectionist.
"He understands what it takes to get to Super Bowls," Martinez said. "A lot of guys don't, so they'll minimize preparation because it might be inconvenient. Where with him, he knows if he's off, that's the difference of whether they keep going or not.
"If he's off a little bit, he's going to be way off. The margin of error is so slim at that level that if you miss by a foot, you're off. Most guys accept that. He doesn't."
March, 30, 2010
3/30/10
2:28
PM ET
Perhaps the perfect spot for University of Florida quarterback
Tim Tebow
is with the
New England Patriots
.
They don't have any glaring holes that can be immediately addressed with their 22nd overall draft choice. They have a secure veteran in
Tom Brady
. They could use another quarterback because they have only two on their roster. Head coach Bill Belichick isn't afraid to take a chance on raw talent. The Patriots also have three second-round picks they could use to trade up to get Tebow if he is on the board a little later.
The Patriots continued their due diligence on Tebow with a visit Monday night and Tuesday, according to ESPN's Adam Schefter. Tebow met with the
Buffalo Bills
on Monday, and Schefter reports visits have been scheduled next week with the
Washington Redskins
and
Cleveland Browns
.
Boston Herald reporter Karen Guregian reports Tebow, who dined with Bills legend Jim Kelly on Sunday night,
had dinner Monday night with Belichick
at Tresca, former hockey star Ray Bourque's restaurant in the North End.
Belichick is close friends with Gators coach Urban Meyer and probably has more inside info on Tebow than most NFL coaches.
At the NFL owners' meetings last week at the Ritz-Carlton Orlando Grande Lakes, where Belichick was spotted wearing a Gators visor and sweatshirt, he didn't sound deterred by Tebow's much-criticized throwing motion, a problem many evaluators point to when projecting him as a pro quarterback.
"Tiger Woods has rebuilt his golf swing twice," Belichick said. "Every quarterback I've ever had or coached has worked on his mechanics and improved them. Phil Simms, certainly [Jeff] Hostetler, Brady ... I can't think of too many that haven't.
"It's part of every player's development. I mean, show me a player who comes into this league at 21 and is a finished product at any position. Show me one guy. They all need work. They all have things they need to work on. Some guys are more coachable than others. Some guys have different things they need to correct, whatever the technique or physical development happens to be. I don't think that's unusual."
AFC EAST SCOREBOARD
Thursday, 10/16
Sunday, 10/19