February, 9, 2011
2/09/11
8:28
AM ET
I once heard Tom Donahoe, the former Buffalo Bills president and general manager, call quarterback Drew Bledsoe a future Pro Football Hall of Famer.
Then again, Donahoe used to say a lot of things.
I was reminded of this when taking a glance at players who will make their first appearance on the Hall of Fame ballot for 2012.
Buffalo News reporter Mark Gaughan, who's on the Hall of Fame selection committee and last weekend was elected president of the Pro Football Writers Association, blogged the
top newcomers to consider the next few years
.
[+] Enlarge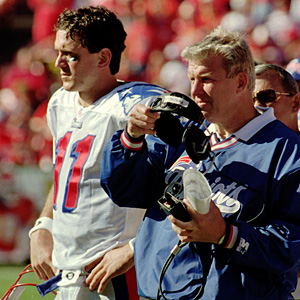 AP Photo/Ed ZurgaBill Parcells and his former quarterback Drew Bledsoe will be on the Hall of Fame ballot next year.
The lists are helpful in speculating when fan favorites such as Andre Reed and Curtis Martin will get their Canton calls. They both were finalists this year -- Reed for the fifth time, Martin for the first -- but
weren't added to the 2011 induction class Saturday
.
Perhaps that development was fitting for Martin because his coach with the New England Patriots and New York Jets will be on the ballot again. They could get in together in 2012.
Bill Parcells has been a finalist twice, but not since 2002 because rules for coaches changed. They now must wait five years from their last game to be eligible for induction, and Parcells returned to the sidelines with the Dallas Cowboys in 2003.
Is Parcells a Hall of Famer? I know Miami Dolphins fans aren't too thrilled with him these days, but he did add to an already remarkable legacy -- two championships, different teams to the Super Bowl, a few organizational turnarounds -- by guiding the Dolphins from 1-15 to the AFC East title as their football operations boss.
Also on the ballot next year will be Bledsoe, running backs Corey Dillon and Tiki Barber, fullback Mike Alstott, guard Will Shields and coaches Bill Cowher and Marty Schottenheimer.
Bledsoe had a fine career with the Patriots, Bills and Cowboys and ranks eighth all-time in passing yards. But he was a Pro Bowler only four times and never was first-team All-Pro. Bledsoe was helpful in getting the Patriots their first championship, so he does have a ring. But that was Tom Brady's team.
Dillon also was a four-time Pro Bowler and won a Super Bowl with the Patriots. He ranks 17th in rushing yards and never led the league in a major rushing category.
Schottenheimer played for the Bills and Patriots before winning 61 percent of his regular-season games as head coach of the Cleveland Browns, Kansas City Chiefs, Washington Redskins and San Diego Chargers. His 200 victories rank sixth all-time, but his 5-23 playoff record will hurt.
That group of first-time candidates -- plus the newcomers for 2013 -- bodes well for Reed. There won't be any new receivers for him to box out. He already has jockeyed ahead of contemporaries Cris Carter and Tim Brown by making the cut from 15 to 10 in the selection process the past two years. Carter and Brown haven't.
Gaughan highlighted first-year players for next few classes.
2013:
Quarterback Vinny Testaverde, offensive linemen Larry Allen and Jonathan Ogden, defensive tackle Warren Sapp, defensive end Michael Strahan.
2014:
Running back Shaun Alexander, receiver Marvin Harrison, linebacker Derrick Brooks, safety Rodney Harrison and coaches Tony Dungy, Jon Gruden and Mike Holmgren -- if they don't return to sideline work.
2015:
Quarterback Kurt Warner, receivers Isaac Bruce and Torry Holt, tackles Orlando Pace and Walter Jones and linebacker Junior Seau.
February, 7, 2011
2/07/11
4:11
PM ET
Lem Barney called Sunday afternoon to talk about
Andre Reed
's inability to break into the Pro Football Hall of Fame.
Barney has been one of Reed's biggest supporters for enshrinement in Canton.
Reed was the only wide receiver to make the cut from 15 to 10 finalists Saturday, but the
Buffalo Bills
star
wasn't among the five players put to a final vote
.
"I try to keep him encouraged," Barney told me. "I'm going to call Dre as soon as I get off the phone with you to tell him not to give up hope."
Barney was a member of the 1992 induction class after a brilliant career as a cornerback and kick returner for the
Detroit Lions
. He served a similar pick-me-up role for teammate Charlie Sanders, who finally made it in 2007 as a senior nominee.
There are multiple reasons for Reed to remain optimistic. He has been a finalist five times. Pro Football Hall of Fame researcher Saleem Choudhry calculated
83 percent of all finalists have eventually been inducted
. But subtract the 10 candidates from this year's ballot (many of whom will get in) and the success rate improves to 94 percent.
"When you get on that finals list, it's like going to church," Barney said. "You have no idea who might shout."
Also in Reed's favor is that for the second year in a row he went farther in the process than receivers
Tim Brown
and
Cris Carter
. That suggests Reed will be the next receiver to get inducted.
Barney compared Reed to Paul Warfield, Charley Taylor and Bobby Mitchell as a complete receiver.
"These guys were not only speed guys, but they ran precise routes and they were disciplined in their training," Barney said. "I thought Dre was a wonderful receiver, not only with the ball, but he was a tremendous blocker.
"Dre certainly has the numbers, the years, the service."
February, 5, 2011
2/05/11
7:45
PM ET
Andre Reed
and
Curtis Martin
received bad news about their Pro Football Hall of Fame bids.
Reed and Martin were among the 15 finalists for induction, but neither AFC East star made the cut Saturday when the next induction class was determined.
[+] Enlarge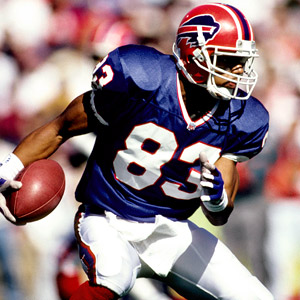 US PresswireAndre Reed has been a finalist five times but the former Buffalo receiver will have to wait to be inducted into the Hall of Fame.
The 2011 class includes running back
Marshall Faulk
, tight end
Shannon Sharpe
, defensive end
Richard Dent
cornerback
Deion Sanders
and NFL Films patriarch Ed Sabol. Senior nominees headed to Canton are linebackers Chris Hanburger and Les Richter.
Reed has been a finalist five times. For the second year in a row, the
Buffalo Bills
legend finished ahead of
Cris Carter
and
Tim Brown
in the selection process, which pares down the group of finalists from 15 to 10. Reed made the top 10, while Carter and Brown did not.
But Reed didn't make the next cut to five. That's the group the selection committee makes a final yea or nay vote on, with 80 percent agreement required for induction. The committee approved all five.
Reed will have to wait to join his former teammates
already honored in Canton: quarterback
Jim Kelly
, running back
Thurman Thomas
, receiver
James Lofton
, defensive end
Bruce Smith
and head coach Marv Levy.
Reed made 951 catches for 13,198 yards and 87 touchdowns and played in four consecutive Super Bowls. He's known as one of the best yards-after-catch receivers in NFL history, perhaps second to only
Jerry Rice
, and among the grittiest over-the-middle threats.
Reed was a seven-time Pro Bowler. He posted 13 seasons with at least 50 receptions, tied for second all-time. He's tied for third in postseason history with five 100-yard games. His 85 postseason receptions rank third.
Martin, a star running back with the
New England Patriots
and
New York Jets
, was on the ballot for the first time. His former coach,
Bill Parcells, advocated Martin be a first-ballot Hall of Famer
.
Martin ranks fourth in all-time rushing yardage behind
Emmitt Smith
, Walter Payton and
Barry Sanders
, a pretty good crew -- if you're into that kind of thing.
Martin rushed for 14,101 yards and scored an even 100 touchdowns, 90 on the ground and 10 more off catches. He ran for 1,000 yards in 10 straight seasons, the second-longest streak in league history. Martin was the 1995 offensive rookie of the year and made five Pro Bowl rosters.
Carter was another Hall of Fame finalist with an AFC East connection, albeit barely. Carter finished his career with the
Miami Dolphins
, catching eight passes over five games in 2002. His 130th and final touchdown was with Miami.
That gave every AFC East club a link to Saturday's selection process.
February, 2, 2011
2/02/11
4:30
PM ET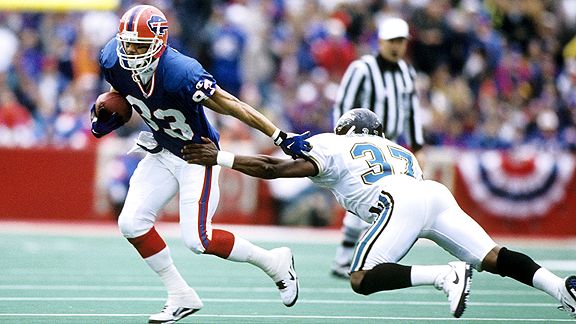 US PRESSWIREFormer Bills receiver Andre Reed finished his career with 951 catches for 13,198 yards and 87 TDs.
Receptions come a lot cheaper these days.
The game has changed, and all you need for proof is a glance at Paul Warfield's career stats. He caught more than 50 passes once. He gained more than 1,000 yards once. In some of his Pro Bowl seasons, his numbers wouldn't have justified a roster spot in your 10-team fantasy league.
Yet Warfield is considered one the most dangerous receivers NFL history, a first-ballot Pro Football Hall of Famer.
"Our game is beginning to resemble baseball in which everyone is looking at numbers," Warfield said this week from his home in Rancho Mirage, Calif. "Numbers tell the story to a degree, but I like to look at one's full body of work.
"I'm from the old-school generation. You might be termed a wide receiver, but you should be a football player first."
Steve Largent is another example of how stats don't quantify a receiver's worth like they used to. Largent retired after the 1989 season as the NFL's all-time leading receiver with 819 catches. He, too, was a first-ballot Hall of Famer.
Twenty-one years later, Largent ranks 20th in receptions behind such names as
Derrick Mason
,
Torry Holt
,
Keenan McCardell
,
Muhsin Muhammad
and fullback
Larry Centers
.
In 1985, only four players had caught 600 passes. The list is 55 players long now.
"It doesn't necessarily undermine a player's ability to get into the Hall of Fame because he had great stats or doesn't have great stats," Largent said Monday from his office in Washington D.C. "You're looking for a guy who was the total package."
With that in mind, you might consider
Andre Reed
's stats if you choose when deciding if he belongs in the Hall of Fame. They're sterling -- if a little outdated and discounted by time.
To both Largent and Warfield and other legendary receivers, Reed qualifies for Canton without even looking at the numbers.
"I saw the value Reed had to that team not only as a receiver, but also as a leader," Largent said. "There are some attributes you don't keep statistics of, but you become aware of as one player watching another play the game."
Reed is Largent's "total package" and Warfield's unequivocal embodiment of "football player."
"It's long overdue for Andre," Warfield said.
Reed is among the 15 Pro Football Hall of Fame finalists who will learn Saturday whether they will be included in this year's induction class.
The star
Buffalo Bills
receiver has been a finalist five times. There's a belief this year offers his best chance yet. In previous years, he has shared the ballot with at least one receiver who took precedence because they were icons (
Jerry Rice
,
Michael Irvin
) or had been waiting longer (
Art Monk
).
Reed could become the sixth Hall of Famer from a team that went to four straight Super Bowls but failed to win one.
Already enshrined are Bills quarterback
Jim Kelly
, running back
Thurman Thomas
, defensive end
Bruce Smith
and head coach Marv Levy. Wide receiver
James Lofton
also is in Canton, but he didn't play on all four Super Bowl teams, and is more closely associated with the
Green Bay Packers
.
"I was a part of something special, and I'll take that to my grave," said Reed, 47. "We were a family. But the Hall of Fame, I don't know how I would react. It would be a validation of your work and what you did.
"Hopefully on Saturday I can be in that fraternity with them, but every year it's a tough ballot."
The other finalists include running backs
Marshall Faulk
,
Curtis Martin
and
Jerome Bettis
, receivers
Tim Brown
and
Cris Carter
, tight end
Shannon Sharpe
, center
Dermontti Dawson
, tackle
Willie Roaf
, defensive ends
Richard Dent
,
Charles Haley
and
Chris Doleman
, defensive tackle
Cortez Kennedy
, cornerback
Deion Sanders
and NFL Films patriarch Ed Sabol.
The Hall of Fame's 44-member selection committee will decide Saturday. The group includes NFL writers, one representative per franchise, 11 at-large voters and one from the Pro Football Writers Association. The committee will pare the group of 15 finalists down to 10 and then to five. At that point, a vote will be held, with 80 percent agreement needed for induction.
Up to five modern-era candidates may be elected each year. First-time nominees Faulk and Sanders are virtual locks to get inducted. That leaves three spots available for Reed and the other finalists to get in.
Buffalo News reporter Mark Gaughan will make the case for Reed's induction. It's a compelling one.
"He certainly had a great career, one of the great clutch receivers," Warfield said. "He was consistent, one Jim Kelly could always go to and always find open in a situation where they're trying to make a big play. He's an all-encompassing receiver."
Reed was third on the NFL's all-time receptions list when he retired after the 2000 season with 951 catches, behind only Rice and Carter. Reed was a seven-time Pro Bowler and a superstar on a team that won four conference championships in a row.
"He was as dangerous a receiver as there is," former Bills quarterback
Frank Reich
said. "Versus press coverage, he was almost impossible to stop, coming off the ball. We always felt if they tried to play tight man on Andre it didn't matter who was guarding him. Any shutdown corner in the league in press coverage, Andre was going to beat him."
Reed was a force on the big stage. In 19 postseason games he had 85 receptions for 1,229 yards and nine touchdowns. He didn't score any Super Bowl touchdowns, but he did have 27 receptions for 323 yards.
In the Bills' epic comeback against the Houston Oilers in the 1992 postseason, he made eight catches for 136 yards and three touchdowns.
Reed is known as tremendously durable. He played 253 games, counting playoffs. He often darted into traffic to make plays in a crowd of defenders.
"No fear," Reich said.
Reed was one the greatest ever when it came to yards after the catch, second perhaps only to Rice.
[+] Enlarge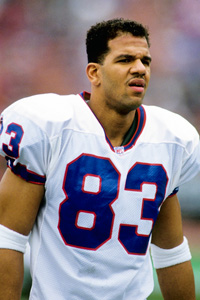 US PresswireAndre Reed, on playing for the Bills: "I was a part of something special, and I'll take that to my grave,"
"Most people that were on that team or played against us will remember how explosive he was in run-after-the-catch," said Reich, now
Peyton Manning
's position coach with the
Indianapolis Colts
. "He rivaled Jerry Rice in that category. Like Jerry Rice, his 40 time was good and probably not great. But there was nobody faster with the ball in his hands."
What put Reed's production in even greater context is a closer look at Buffalo's offense in the 1990s.
Many fans, even those who closely followed the Bills then, recall a prolific aerial attack. They remember Kelly running the no-huddle, K-Gun offense and slinging the ball all over the field to Reed and Lofton.
As Gaughan will point out again Saturday, the Bills ranked 17th in passing offense throughout Reed's career. In Reed's six prime seasons from 1988 through 1993, the Bills passed 51 percent of the time. By comparison, the
Washington Redskins
' famed "Hogs" offense passed 50 percent of the time when Monk was there.
Reed didn't have much receiving help either. He played with Lofton for four seasons, but Lofton was 33 years old when he joined Buffalo. In 1988, for instance, Reed's second and third receivers were Trumaine Johnson and
Chris Burkett
.
So far, the chief impediment for Reed's induction hasn't been his resume, but the other names on the ballot.
A wide receiver has been inducted each of the past four years, and in seven classes out of the past decade.
Gaughan noted there is room in Canton for at least two more receivers from the 1990s. A breakdown of membership shows seven receivers who predominantly played in the 1960s, four from 1970s, four from the 1980s and two from the 1990s.
Reed, Carter and Brown are the worthiest receiver candidates to join Rice and Irvin from that decade.
There's a velvet rope. This is Reed's fifth year as a finalist. Carter has been a finalist four times, Brown twice.
Reed apparently jockeyed to the head of the receiver line last year. In the selection process, Carter and Brown didn't make the top-10 stage, but Reed did.
That development has raised Reed's hopes for 2011.
"I'll be more nervous because of the way the voting went last year," Reed said. "I feel I'm more deserving of it. It was pretty close. The anticipation is enhanced this year."
But there are no guarantees. Several legendary receivers have waited longer than five years to get the Canton call. Don Maynard, John Stallworth and Monk got in on their eighth time as finalists. Lynn Swann was a finalist 14 times. The Seniors Committee was necessary to induct Bob Hayes 34 years after his last NFL game.
Reed admitted he has fantasized about the phone call too many times to count. He's even tried to research the moment.
"I've talked to a bunch of Hall of Famers who say when they get the call they're at a loss for words," said Reed, who plays a lot of golf and sells his own line of barbeque sauce in the San Diego area. "They don't know how to react.
"I'll just have to wait and see."
And hopefully not have to wait some more.
January, 31, 2011
1/31/11
2:45
PM ET
Curtis Martin
has the credentials to justify induction into the Pro Football Hall of Fame.
[+] Enlarge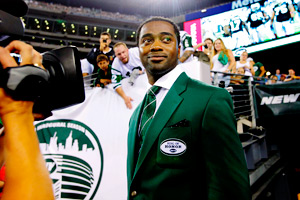 Tony Kurdzuk/US PresswireDo Curtis Martin's credentials qualify him for the Hall of Fame in his first year on the ballot?
But does the popular
New York Jets
and
New England Patriots
running back belong to an even more elite group that that?
Martin is on the Hall of Fame ballot for the first time and will find out Saturday whether he will join the 65 other legends who've gone straight to Canton without delay.
New York Daily News writer Gary Myers examines the
possibility Martin will get the Hall of Fame call Saturday
. Martin's beloved coach, Bill Parcells, asserted Martin should coast into Canton.
"If the idea is to separate yourself, you got the case right there, you can't dispute it," Parcells told Myers. "Come on. That is roller skates."
Martin played 11 seasons and led his team in rushing every time. He finished with 14,101 yards (fourth all-time behind
Emmitt Smith
, Walter Payton and
Barry Sanders
) and 90 touchdowns. Martin added 484 receptions for 3,329 yards and 10 more touchdowns, giving him an even 100.
Martin was Offensive Rookie of the Year in 1995 and made five Pro Bowl teams.
Up to five modern-era candidates will be inducted. But with fellow first-timers running back
Marshall Faulk
and cornerback
Deion Sanders
almost certain to gain approval, essentially three spots are left.
The other 15 finalists include running back
Jerome Bettis
, receivers
Andre Reed
,
Tim Brown
and
Cris Carter
, tight end
Shannon Sharpe
, center
Dermontti Dawson
, tackle
Willie Roaf
, defensive ends
Richard Dent
,
Charles Haley
and
Chris Doleman
, defensive tackle
Cortez Kennedy
and NFL Films patriarch Ed Sabol.
"I haven't been an individual accolades type person," Martin told Myers. "But I have found myself thinking about the Hall of Fame more. I think that it speaks to the intangible qualities that I like to be associated with my name.
"To even be in consideration for the Hall of Fame, you've done a little more than just performed on the football field. It speaks to your dedication, to hard work, the level of competition, the way you compete. Even being mentioned is very humbling to me."
January, 9, 2011
1/09/11
1:10
PM ET
April, 29, 2010
4/29/10
11:07
AM ET
Based on the patience Bill Belichick showed with
Joey Galloway
last summer, we can assume
Torry Holt
won't ruin his chances of dressing for the
New England Patriots
on opening day.
When that happens, the Patriots will field the most prolific receiving duo in NFL history that didn't include
Jerry Rice
.
Holt and Patriots receiver
Randy Moss
will be only the second pair of teammates to enter a season with at least 900 receptions, the Elias Sports Bureau found. The only others to do it were Rice and
Tim Brown
for the
Oakland Raiders
in 2002 and 2003.
To further illustrate how rare it is for a team to have two receivers with such gaudy numbers, no other duo has opened a season with at least 800 catches apiece.
Moss ranks 10th on the NFL's all-time receptions list with 926. Holt is one place and six catches behind him, giving them a total of 1,846.
"You're talking about playing with some of the most prolific offensive football players that the National Football League has," Holt said upon joining the Patriots. "To have the opportunity to fit in with those guys, to learn the offense, I think the sky's the limit."
But they would have to stick together several more seasons to break the record. Rice and Brown started 2003 with 2,474 receptions.
As reader LFR2010 pointed out in the comments section, Moss and Holt will be a combined 67 years old when the season starts.
While that might sound ancient to some, Rice and Brown totaled 76 years at the start of 2002. That year, Rice went to the Pro Bowl with 92 catches for 1,211 yards, while Brown had 81 receptions for 930 yards. The Raiders won the AFC West and went to the Super Bowl.
February, 6, 2010
2/06/10
5:42
PM ET
FORT LAUDERDALE, Fla. --
Andre Reed
deserves to be in the Pro Football Hall of Fame.
He just has to wait his turn.
For the fourth time, the legendary
Buffalo Bills
receiver was a semifinalist who didn't make the cut. Receiver
Jerry Rice
, running backs
Emmitt Smith
and Floyd Little, guard Russ Grimm, defensive tackle
John Randle
, linebacker
Rickey Jackson
and cornerback and esteemed coach Dick LeBeau were selected Saturday for the class of 2010.
Nobody expected Reed to be honored with Rice and Smith on the ballot for the first time. That left two fewer spots available for the others.
But there were some interesting developments in this year's selection process that bode well for Reed's candidacy in 2011.
There had been a belief among Hall of Fame voters
Cris Carter
must be inducted before Reed could make it. But
for the first time, Reed finished ahead of Carter
in the process.
When the list of 15 semifinalists was pared down to 10, Carter and
Tim Brown
(in his first year of eligibility) didn't advance. Reed did after failing to make the final 10 last year.
And as Reed's career numbers continue to slide down the all-time list each season -- a tight end passed him this year, and
Randy Moss
,
Torry Holt
and
Hines Ward
probably will knock him out of the top 10 next year -- there was concern Reed's credentials would dim.
Maybe that won't be the case.
Reed caught 951 passes for 13,198 yards and 87 touchdowns. He went to four straight Super Bowls. Had the Bills won one of them, the chances for his induction would be moot. He'd probably already be in.
"It's not just about how many you caught, but when you caught them," Hall of Fame receiver
Michael Irvin
said on the NFL Network's induction show. "To go to four Super Bowls, that means all of your catches meant something. So hopefully he will be here one day."
January, 9, 2010
1/09/10
12:06
PM ET
Buffalo Bills receiver Andre Reed made the Pro Football Hall of Fame's list of finalists for induction this year.

Reed
Unfortunately, that's as far as Reed will get in 2010.
Reed owns numbers deserving of the Hall of Fame. He made 951 receptions and won four AFC championships. But he has been
left standing outside the velvet rope
because other worthy candidates have passed him by.
Several more will breeze past him this year.
The 15 finalists comprise a loaded group that includes hallowed record-holders Jerry Rice and Emmitt Smith, both eligible for the first time.
Reed's chances are impacted substantially by the number of receivers in line ahead of him. A maximum of five modern-era nominees can be selected when the Hall of Fame's selection committee convenes Feb. 6.
In addition to Rice, other receiver finalists who should get consideration before Reed are Cris Carter (the only other finalists with AFC East ties), Tim Brown and pass-catching tight end Shannon Sharpe. Carter and Sharpe finished ahead of Reed in last year's balloting.
Carter had to wait a year to get in because Bills owner Ralph Wilson was included in the 2009 class and knocked him out.