AFC East:

Tim Tebow released by Patriots
August, 31, 2013
8/31/13
1:24
PM ET
Earlier Saturday, we mentioned quarterback
as one position
where the
Buffalo Bills
might look for help on the waiver wire this weekend.
Now, ESPN NFL Insider Adam Schefter reports that the
New England Patriots
have waived quarterback
Tim Tebow
.

That raises the question: Should the Bills take a flier on Tebow?
The Bills have the eighth-highest waiver priority, and it's unlikely the 30 other NFL teams -- almost all of which have more settled quarterback situations than Buffalo does -- would claim Tebow. So, if they wanted to, the Bills could easily bring the 2010 first-round draft pick to Orchard Park.
For Buffalo, the main question the team would ask is whether Tebow is an upgrade over
Thad Lewis
, who was acquired in a trade Sunday and could start the season as the Bills' third quarterback. Here's a side-by-side look at Lewis' and Tebow's stats this preseason:
THAD LEWIS
Aug. 9 vs.
New York Jets
: 3 rushing attempts for 6 yards (includes two kneel-downs).
Aug. 15 at Cleveland: 4-for-6 passing, 38 yards, no touchdowns, no interceptions, 1 sack
Aug. 22 vs. New England: 2-for-2 passing, 22 yards, no touchdowns, no interceptions, no sacks; 2 rushing attempts for 7 yards.
Aug. 29 vs. Detroit: 7-for-16 passing, 132 yards, 1 touchdown, no interceptions, 1 sack; 7 rushing attempts for 51 yards.
TIM TEBOW
Aug. 9 at Philadelphia: 4-for-12 passing, 55 yards, no touchdowns, no interceptions, 3 sacks; 4 rushing attempts for 31 yards.
Aug. 16 vs. Tampa Bay: 1-for-7 passing, -1 yards, no touchdowns, 1 interception, no sacks; 6 rushing attempts for 30 yards.
Aug. 22 at Detroit: Did not play.
Aug. 29 vs.
New York Giants
: 6-for-11 passing, 91 yards, 2 touchdowns, 1 interception, 4 sacks; 6 rushing attempts for 30 yards.
The Bills have until noon Sunday to place a waiver claim on Tebow.
August, 31, 2013
8/31/13
12:54
PM ET
Tim Tebow
has been fired twice in a span of four months, so you have to figure his next move will be to a TV studio or a broadcast booth. If a smart coach like Bill Belichick can't find a way to justify a roster spot for him, it doesn't bode well for his chances of catching on elsewhere. Unlike the Jets, the Patriots aborted quickly, incurring no damage whatsoever.
Only a year ago, the Jets were in the throes of Tebow-mania, with Rex Ryan & Co. predicting big things for their new "dynamic weapon," as former GM Mike Tannenbaum once called him. Owner Woody Johnson delivered one of the most infamous quotes in Jets history, saying, "You can never have enough Tebow." I prefer to remember him as a "weapon of mass dysfunction," as ESPNNewYork.com colleague Ian O'Connor once referred to Tebow.
Tebow
It turned out to be the worst personnel move in Jets history, in my opinion, because it showed dysfunction on every level of the organization, from ownership to coaching. Many lives were affected by the Tebow debacle: Tannenbaum was fired. Offensive coordinator Tony Sparano was fired. Ryan was put on the hot seat.
Mark Sanchez
... well, there's no way to quantify the psychological damage it did to him.
Here's the irony: If the timing had been different, the Tebow experiment might have had a chance, albeit a small one.
As we quickly learned, Sparano didn't know the Wildcat from "The Cat in the Hat." He barely practiced it in training camp; he didn't use it in preseason games; and he didn't know how to use it when the games mattered.
The current coaching staff actually has a clue. It's planning to run the Wildcat with running back
Bilal Powell
and wide receiver
Jeremy Kerley
, and it might incorporate read-option into the attack with quarterback
Geno Smith
. New quarterbacks coach David Lee, not Sparano, is the true pioneer of the Wildcat for the Jets. Under Lee and coordinator Marty Mornhinweg, the Jets have developed a novel concept: They actually run these plays in practice and in games. Cutting edge stuff, folks.
Even if Tebow had Lee and Mornhinweg, he might have been doomed anyway in New York, where the sideshow was out of control. New general manager John Idzik didn't want to deal with the circus, so he sent Tebow packing after the draft. There was too much baggage, and he had to go. Lousy timing. Lousy everything.
August, 31, 2013
8/31/13
12:45
PM ET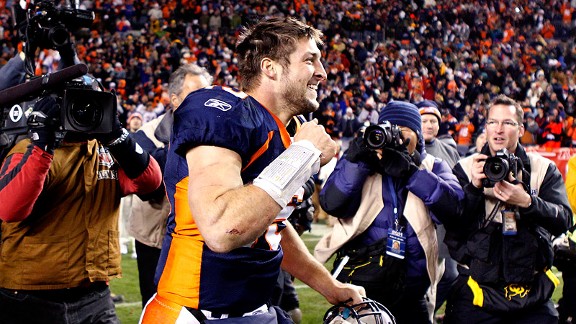 Ron Chenoy/US PresswireTim Tebow was all smiles after Denver's overtime victory against the Steelers in 2012.
In the end he'll always have Pittsburgh.
For yes, the zenith of
Tim Tebow
's ride in Denver, really his ride in the NFL to this point, came Jan. 8, 2012, when a player who didn't complete 50 percent of his passes in an offense that unveiled the NFL's first full-time read-option look during a wild, made-for-TV season had what was -- and what now might forever be -- the game of his professional football life.
Tebow went 10-of-21 passing against the Steelers' No. 1 defense that day for a staggering 316 yards -- 31.6 yards per completion -- and two touchdowns, the second of which came on an 80-yard catch-and-run by
Demaryius Thomas
to finish off the 29-23 Broncos win just 11 seconds into overtime. That's the play, the game, that Tebow's most zealous supporters will always point to as a measure of his NFL worthiness.
About what he can do if given a chance; if nurtured, coached and simply let be to do what he does.
Six days later, however, Tebow was tied in football knots by largely the same Patriots coaching staff that released him Saturday. Tebow went 9-of-26 passing for 136 yards in that AFC divisional-round game, was sacked five times, suffered a rib injury and looked lost, out of place in such a marquee affair. It also started the clock in earnest for the end of Tebow Time in Denver.
A couple days after the loss to the Patriots, the Broncos' chief football decision-maker, John Elway, said this about Tebow's future:
"At the same age, I had a long way to go, too. But I probably, at times, moved too much, relied too much on moving around. Hopefully I can relay that [to Tebow], because my progression as a quarterback was that I finally realized later in my career that I wished I'd learned [earlier] the fact that you do have to win from the pocket."
And there it is, the bottom line. It's why the Broncos chased
Peyton Manning
, why they traded Tebow, why they moved on when they had the chance. They simply decided a running quarterback is fine, but he has to throw better, be more accurate to win trophies in the Sunday league.
There are many inside the Broncos' Dove Valley complex who have said all through the preseason that it would be telling about Tebow's future, and his current spot on the developmental curve, if the Patriots released him. Because whenever criticisms of Tebow came, many folks in the public domain would say something on the order of "Well, if Bill Belichick had him ... "
And the Patriots also have Josh McDaniels as their offensive coordinator. And McDaniels is, in many ways, the first to believe in Tebow as an NFL quarterback. As in believe it enough to, as the Broncos' head coach, the guy with the final say on personnel did in 2010, select Tebow with the 25th pick of that April's draft. McDaniels, by all accounts, was simply floored by Tebow's interview with the team at that year's scouting combine, intrigued by the highest of personal character in an imposing football body. McDaniels wanted Tebow enough to have traded three picks to the Ravens to take him in that 25th spot.
But even McDaniels -- after getting a day-to-day look at Tebow in practice in the weeks and months that followed, even as Spygate unfolded in that 2010 season and the losses mounted -- didn't play Tebow as a rookie. No, it's often forgotten now in all of the water that's passed under the bridge that Tebow didn't see the field in the Mile High City until after McDaniels had been fired and the franchise, for the first time in its history, faced the very real prospect of sections of empty seats and an apathetic fan base.
They benched
Kyle Orton
in 2011 after a training camp and September worthy of any three-ring circus. They put Tebow in the lineup, eventually chucking their playbook and making a new one simply to play in the short term. And, looking back, many with the Broncos privately say all of the seemingly endless talk about Tebow's throwing motion, footwork and throwing mechanics overshadows the fact that he really needs to learn defenses, understand where the ball needs to go in the situations that present themselves in the passing game.
That his confidence on the field, which he always says is unshakable, seems to be waning; that a 1-of-7 for minus-1 yard and an interception is not the passing line any fourth-year quarterback can have in any game preseason or not. That even in a league with some of youngest, brightest starters being of the mobile quarterback variety, throwing the ball on time with accuracy will always be the top priority for those behind center.
And that a player, even one who was for his time in Denver a global cultural phenomenon, who didn't audible much, if ever, as a quarterback may simply have to rethink how he plays the game.
August, 31, 2013
8/31/13
11:58
AM ET
It came down to solely football for the Patriots with quarterback
Tim Tebow
.
Tebow's presence on the team was widely viewed as a positive, a message that came straight from the top in owner Robert Kraft, but, as it turns out, that presence alone wasn't going to be enough for Tebow to stick on the initial 53-man roster.
There was on-field progress from Tebow over the course of the preseason, and his second-half performance Thursday night -- in which he went out on a high note with a touchdown pass on his final throw -- was easily his best.
But coach Bill Belichick often says there are two things that are most important to quarterback play -- decision-making and accuracy -- and Tebow was up and down in those areas throughout the preseason. In three games, he finished 11-of-30 for 145 yards, with two touchdowns and two interceptions.
Based on that work alone, it was hard to imagine Tebow sticking on the initial 53-man roster (
he wasn't on our final projection
).
Yet it was also fair to wonder whether perhaps the Patriots had other things in mind, such as Tebow's presence being positive, especially in the wake of a tumultuous offseason. Or maybe they saw enough as a scout-team quarterback running the option, or to take a long-range view to develop him with 2014 in mind.
Saturday's decision to release him provides clarity on those areas; those weren't as big of a factor.
So the Patriots will enter the 2013 season with just two quarterbacks (
Tom Brady
,
Ryan Mallett
) for the fourth time in the past five years. If there is an injury to either of them, it's fair to think Tebow would be close to the top of the emergency list of replacements should he still be available. (The Patriots might also consider a quarterback for the practice squad; Tebow isn't eligible based on his level of experience.) We've seen plenty of examples of that in Belichick's 14-year coaching tenure.
Thus, although Tebow isn't on the team's initial 53-man roster, this doesn't necessarily mean the door is permanently closed.
AFC EAST SCOREBOARD
Thursday, 10/16
Sunday, 10/19