AFC East:

Tim Tebow to Patriots
June, 17, 2013
Jun 17
1:15
PM ET
The
New England Patriots
rocked the football world last week when they signed immensely popular quarterback
Tim Tebow
to a two-year contract. But one of the underrated aspects of the signing is Tebow has no guaranteed money, and New England can cut the quarterback without penalty.

With that said, we ran an
AFC East poll last Friday
on whether Tebow will make New England's 53-man roster. The results were overwhelming. After more than 7,000 votes, nearly 70 percent of our AFC East community predicts Tebow is good enough to make the Patriots' final roster.
It would be an interesting turnaround for Tebow. Just last week he was a player on the scrap heap that nobody wanted. Not even the talent-deprived
New York Jets
, who are rebuilding and need all the talent they can get, wanted nothing to do with Tebow on their roster. However, Tebow has a solid chance to make the 53-man roster of the Patriots, the reigning AFC East champs.
New England did not carry a third quarterback last season. The Patriots went with future Hall of Fame quarterback
Tom Brady
and young backup
Ryan Mallett
, while they used the extra roster spot on another position.
However, a versatile player like Tebow could contribute in a lot of different ways. In addition to being a third quarterback, Tebow also can fill in at H-back, tight end and special teams. Tebow also is adept at running the Wildcat package, although it probably would be unwise for New England to take Brady off the field for any amount of plays.
June, 14, 2013
Jun 14
11:00
AM ET
We have a video chat extravaganza coming up this afternoon at 1 p.m. ET. I will join NFC East blogger Dan Graziano and NFC West blogger Mike Sando to discuss a variety of topics around the NFL.
Here is the link
to join the party via Spreecast.
We can even discuss Tim Tebow's signing with the New England Patriots if you like, or we can keep it a Tebow-free zone. The choice is yours. But do not miss out on all the fun.
June, 13, 2013
Jun 13
4:30
PM ET
The 2013 mandatory minicamps are in the books in the AFC East. The
Buffalo Bills
,
Miami Dolphins
,
New England Patriots
and
New York Jets
all wrapped up their three-day sessions on Thursday. The Patriots, in fact, cancelled their third and final practice as a reward for the team's hard work.
But there were several interesting developments throughout the division this week. Here are four things we learned during AFC East minicamps:

No. 1: Jets QB Mark Sanchez has a slight edge
Analysis:
The Jets' quarterback job is there for the taking. Incumbent veteran Mark Sanchez led the NFL in turnovers the past two years, but he is doing enough for now to hold off rookie second-round pick
Geno Smith
, who still has a lot to learn. Smith's inexperience in the NFL and running a West Coast offense continued to show this week in minicamp. He's going to have to do extra to supplant Sanchez, who now enters training camp as the favorite to win the quarterback job and start in Week 1.

No. 2: Tim Tebow's role still up in the air
Analysis:
Tebow-mania made its New England debut this week with plenty of media in Foxborough. However, Patriots coach Bill Belichick
remained tight-lipped
on how the team plans to use Tebow this season. Is Tebow simply a third-string quarterback? Will New England insert
a Wildcat package
for Tebow and take Hall of Fame quarterback
Tom Brady
off the field? Can Tebow play another position for New England, such as tight end, running back or special teams? The Patriots did not answer any of these questions this week. Expect plenty of speculation and debate on Tebow until training camp.

No. 3: Dolphins' defense has improved
Analysis:
The Dolphins spent a lot of money and resources to upgrade the defense. Miami signed free agents
Dannell Ellerbe
and
Philip Wheeler
to upgrade the linebacking corps and cornerback
Brent Grimes
to fix the pass defense. The Dolphins also drafted defensive end
Dion Jordan
No. 3 overall to fix the pass rush. It was evident in minicamp this week that this is an improved defense with much more speed and the ability to force turnovers. For example, Miami's defense had
four interceptions on Wednesday
, including two against Dolphins starting quarterback
Ryan Tannehill
. The Dolphins are already good at stopping the run. If they can rush the passer and force turnovers, this will be a tough defense to handle in 2013.

No. 4: Bills' offense still work in progress
Analysis:
Buffalo's offense struggled this week, and particularly the passing game. Quarterbacks
Kevin Kolb
and
EJ Manuel
did not perform well against the various and complex blitz packages of new defensive coordinator Mike Pettine. The pass protection also was shaky. Pettine is bringing the same formula that's worked for the Jets the past several years, and Buffalo's defense certainly had the advantage this week. New Bills offensive coordinator Nathaniel Hackett has about a month to fix some of their issues from minicamp.
June, 13, 2013
Jun 13
10:00
AM ET

The
New England Patriots
made
a controversial decision
to sign popular quarterback
Tim Tebow
to a two-year contract earlier this week. It's the kind of move that doesn't happen unless everyone in the organization is on the same page.
Patriots head coach Bill Belichick and offensive coordinator Josh McDaniels, who drafted Tebow three years ago with the
Denver Broncos
, have always spoken highly of Tebow. On Wednesday, Patriots owner Robert Kraft weighed in on the new addition.
"If you want to win in this league, you need quality depth management," Kraft explained. "In the age of the salary cap, whenever you can get a competitive, first-grade person to join your team, you never know what happens. But for me personally, having Tim Tebow on this team, he's someone who believes in spirituality, he's very competitive and works hard and has a great attitude and he's a winner.
"Having him as part of our franchise is great but he has to compete just like anyone else. We're blessed to have a lot of people like that, but the fact that spirituality is so important to him is very appealing to me."
At best, Tebow is New England's No. 3 quarterback. Future Hall of Famer
Tom Brady
is the unquestioned starter and
Ryan Mallett
is a promising backup. Belichick would not shed light on what Tebow's role with the team would be. Tebow must first make the 53-man roster in training camp.
But Tebow has the support of New England's owner, the man who signs the checks. That's obviously a good sign in Tebow's favor.
Kraft said he saw "two or three" of Tebow's games in person at the University of Florida. Kraft also met Tebow during the pre-draft process and has always been impressed with the quarterback.
"I think he's hard-working and very cooperative," Kraft said. "I don't think there's any coach who wouldn't like to have a team full of people like he is. Like Brady, he comes out there and works hard or
Vince Wilfork
,
Jerod Mayo
. They come in, they work hard, they prepare hard and they're all business. You can't get enough people like that on your team. We're honored that he's with us."
June, 13, 2013
Jun 13
7:00
AM ET
Here are the most interesting stories Thursday in the AFC East: Morning take: That's one reason why the Patriots thought they could bring in Tebow-mania. Brady is the unquestioned starter regardless of what happens on the field, and there will be no push for Tebow to take over.
Morning take: The Jets need Holmes, but it's important for him not to rush back. Holmes should probably sit out most or all of training camp in an effort to get ready for a Week 1 battle against Darrelle Revis and the Tampa Bay Buccaneers.
Morning take: This is a chance for Williams to show what he can do. Byrd has been absent all offseason and might not show up for the start of training camp unless a contract gets done. That's more reps for Williams and others.
Morning take: Miami added linebackers Dannell Ellerbe, Philip Wheeler and cornerback Brent Grimes. These are all upgrades from a year ago. The Dolphins' defense should be faster and more athletic.
June, 12, 2013
Jun 12
12:00
PM ET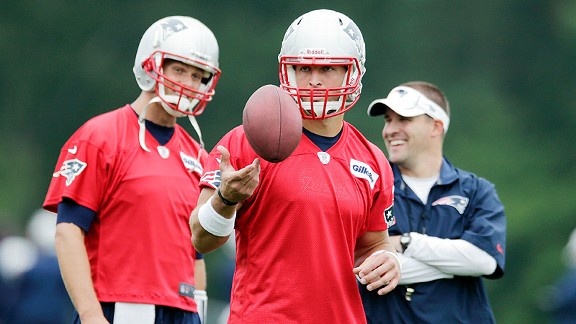 AP Photo/Charles KrupaCaption this photo of Tim Tebow (front), Tom Brady and Josh McDaniels (right).
The
New England Patriots
made huge headlines by signing popular quarterback
Tim Tebow
to a two-year contract this week. Tebow had his first practice with the team Tuesday during the start of mandatory minicamp.
That brings us to our latest "Caption This" post in the AFC East. We found an interesting photo involving Tebow with starting quarterback
Tom Brady
and offensive coordinator Josh McDaniels.
Use your creativity to determine what Brady and McDaniels are talking about. And what's going on in Tebow's mind?
As always, have fun and keep it clean.
June, 12, 2013
Jun 12
7:00
AM ET
Here are the most interesting stories Wednesday in the AFC East: Morning take: New York is very thin at tight end after losing former starter Dustin Keller in free agency. Winslow has been a playmaker his entire career, and it would make a lot of sense for New York to sign him to a struggling offense.
Morning take: This is promising because Buffalo's defense wasn't very good last year. Stopping the run will be most important, because that is where the Bills mainly struggled in 2012.
Morning take: Miami lost a lot of leaders in free agency, such as Reggie Bush, Jake Long and Karlos Dansby. Someone internally must step up and Wallace should be one of those players.
Morning take: Unless Tebow plans on playing another position, I don't see how he could contribute at quarterback. Tom Brady should not come out the game for any reason other than injury, and if that happens second stringer Ryan Mallett is still a better option.
June, 11, 2013
Jun 11
5:43
PM ET
New England Patriots
quarterback
Tim Tebow
met with Boston media for the first time Tuesday. Tebow didn't field questions but made a statement that he is "thankful" and "honored" to play for the Patriots and head coach Bill Belichick.
Tebow signed a two-year contract with no guaranteed money, according to ESPN's Adam Schefter. Tebow must first make the 53-man roster this summer and earn a role on the reigning AFC East champs.
June, 11, 2013
Jun 11
2:30
PM ET
The much-anticipated Bill Belichick news conference took place Tuesday, less than 24 hours after the
New England Patriots
signed popular quarterback
Tim Tebow
.
Dozens of media members showed up to Foxborough, Mass., to ask the Patriots why they made the much-hyped signing of Tebow.
Here is a transcript from the Patriots of Belichick's question and answer session with the media.
What can you tell us about your decision to sign Tim Tebow? What is it about his personality or attitude that leads you to believe that he can contribute to the team?
Belichick:
Anything we do is what we feel is in the best interests of the team. Tim is a talented player that is smart and works hard. We'll see how it goes.
How much of a consideration was the attention that was going to come before making the decision to sign him?
Belichick:
None, we try to do what's best for the team.
How do you deal with a player coming in with all this fanfare and celebrity? Do you have to sit him down and talk to him?
Belichick:
In all honesty, we've been in front of bigger crowds than this before. We'll just keep doing what our job is. We're going to try to get better as a football team, individually and collectively, and that's what we're going to do.
How do you plan to use him? What position?
Belichick:
We'll try to do what we think is best for our football team. I don't know, we'll see.
Is it possible he could be used on special teams or defense in addition to offense?
Belichick:
We'll see, I don't know.
Specific to his off-field traits, what are some things you liked about Tim Tebow when you evaluated him?
Belichick:
He's a talented guy, he's smart, he works hard. We've all seen him play. He can do a lot of things -- we've seen that.
Can you talk about your relationship with Tim? You've known him a long time, obviously there are things you like.
Belichick:
Yeah, I like Tim. I have a lot of respect for Tim.
Have you had a close relationship with him over the years?
Belichick:
I've never coached him before so I wouldn't … I'm certainly closer with a lot of the players that I've coached through my career.
People around the league question his ability to play quarterback in the NFL. How do you feel about that?
Belichick:
I've already said that.
I'm talking about specifically at quarterback.
Belichick:
I've answered the question twice. He's a talented player who is smart and works hard.
Will you discuss with him some of the ancillary stuff that seems to come with him? You know, the way his training camp was covered last year with the Jets and what he'll be doing outside of football.
Belichick:
We have a team full of players. Everybody has a job to do and I'm sure he'll try to do it the best that he can. We'll all try to do our jobs the best that we can.
As you can see, Belichick wasn't extremely forthcoming. But this is the kind of persistent questioning and media attention the Patriots signed up for when signing Tebow. This is only Day 1 of Tebow and the Patriots.
June, 11, 2013
Jun 11
12:00
PM ET
Don't do it,
New England Patriots
!
Do not even think about adding a Wildcat package to last year's top-rated
offense after signing
popular quarterback
Tim Tebow
.

In fact, any offensive formation that involves taking future Hall of Fame quarterback
Tom Brady
off the field is an awful move by New England. I would also use the terms "dumb," "stupid" and "silly." What opposing defense wouldn't love to see more Tebow and less Brady for several plays per game?
Sometimes coaches have too much time on their hands in the summer. I can imagine Patriots head coach Bill Belichick and offensive coordinator Josh McDaniels having discussions over the next several weeks about the possibility of adding the Wildcat package with Tebow under center.
According to ESPN Stats & Information, 53 of Tebow's 71 offensive snaps last season with the
New York Jets
were at quarterback. That's 53 offensive plays the Jets took away from starting quarterback
Mark Sanchez
, usually to run up the middle for a 2- or 3-yard gain. Maybe that made sense for New York. But it would be ridiculous for the Patriots to take even a fraction of those plays away from Brady this upcoming season.
It's still to be determined what Tebow's role will be in New England's offense. But it definitely should not be at quarterback at Brady's expense.
I wrote on Monday
that adding Tebow does not make the Patriots a better team. If anything, it only brings a huge distraction and more questions than answers.
June, 11, 2013
Jun 11
9:00
AM ET
Tim Tebow
is back
in the AFC East.
I'm sure everyone in our community is excited and couldn't get enough of Round 1 of Tebow-mania last season with the
New York Jets
. So now it's time for Round 2 of Tebow with the
New England Patriots
.
Of course, Tebow first must compete this summer and make the 53-man roster. In the event he does, here are five games worth highlighting this season:

Game No. 1: vs. New York Jets, Week 2
Date:
Sept. 12
Tebow tie-in:
Rest assured that Tebow would love to get some revenge against the Jets. Last season was a disaster, and a strong case can be made that Tebow never got a fair shake from New York and coach Rex Ryan. Tebow could show the Jets what they're missing by contributing. The Jets have a chance to lose to former players
Darrelle Revis
and Tebow in Games 1 and 2. That would be an awful way for the Jets to start the 2013 season.

Game No. 2: at Jets, Week 7
Date
: Oct. 20
Tebow tie-in:
Tebow returns to New York. This is where Tebow-mania was on steroids last year. Many Jets fans wanted Tebow to play in place of
Mark Sanchez
, but that never materialized. They could get a chance to see Tebow on the field in another uniform.

Game No. 3: vs. Pittsburgh Steelers, Week 9
Date:
Nov. 3
Tebow tie-in:
The biggest win of Tebow's NFL career came against the Steelers in the wild-card round of the 2011 playoffs while he was with Denver. Tebow threw for 316 yards and two touchdowns in a 29-23 overtime victory. Some Steelers players say they respect Tebow because he proved himself on the field in a big playoff game. Tebow may get to face Pittsburgh's physical defense for the first time since that memorable game.

Game No. 4: vs. Denver Broncos, Week 12
Date:
Nov. 24
Tebow tie-in:
This is another game Tebow should circle on his calendar. Tebow was riding high in Denver after the 2011 season until
Peyton Manning
came to town. The Broncos quickly traded Tebow to the Jets and went with the future Hall of Famer. Tebow's career arc began to drop after that. He wouldn't mind performing well against Manning and Denver in some capacity this season. The Broncos will have
Wes Welker
going to Foxborough in this game, and he will be looking for his own measure of revenge.

Game No. 5: at Miami Dolphins, Week 15
Date:
Dec. 15
Tebow tie-in:
This is the second game between the Patriots and Dolphins this season. But why is this game more important? First, it's a December matchup between the top two teams (on paper) in the AFC East. That means playoff positioning and possibly a division title might be at stake. Second, Tebow had one of his best moments in Miami in 2011, when he played poorly for three quarters, then staged a miraculous fourth-quarter and overtime comeback. Tebow went on to lead Denver to the postseason and the playoff win over Pittsburgh.
June, 10, 2013
Jun 10
6:56
PM ET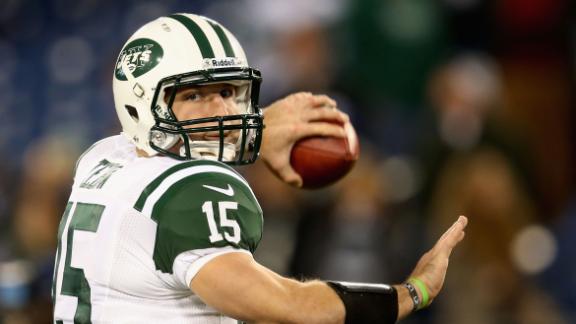 The
New England Patriots
are set to take a step back offensively in 2013. They lost both starting receivers --
Wes Welker
and
Brandon Lloyd
-- from last year's group that led the NFL in scoring and replaced them with mostly unproven players and rookies.
New England also has huge question marks at tight end.
Rob Gronkowski
has had five surgeries on his arm and back since last November and may not be fully recovered for Week 1, and fellow tight end
Aaron Hernandez
also had major shoulder surgery and missed six games last season.
The Patriots signing
quarterback
Tim Tebow
off the scrap heap isn't the answer to New England's offensive woes. If anything, it shows an unexpected sign of desperation for a New England offense searching for answers.
This is yet another sign that New England's run of Super Bowl appearances and NFL dominance is coming to an end. Future Hall of Fame quarterback
Tom Brady
and coach Bill Belichick have made it to five Super Bowls -- winning three. But it looks more and more like last year may have been the Belichick/Brady-era Patriots' final shot to win a fourth championship when they lost at home to the
Baltimore Ravens
in the AFC title game.
To put it bluntly, New England simply is not good enough to win a Super Bowl this year. Last year's team was better, especially on offense. Brady, who will be 36 in August, is a year older and has less firepower. Adding Tebow to the mix doesn't fix anything. It simply brings more media and a huge distraction, which is something Belichick usually tries to avoid.
And what exactly is Tebow's role in New England?
Tebow is certainly not playing quarterback. Brady is clearly the franchise starter in New England, and I would take my chances with the strong arm of
Ryan Mallett
over the inaccuracy and poor mechanics of Tebow any day. Tebow is the No. 3 quarterback at best.
Would the Patriots
really
take Brady off the field to insert Tebow in a Wildcat package? Taking an elite quarterback like Brady off the field for any amount of plays is a huge mistake. Opposing defenses would love to see less Brady and more Tebow on a weekly basis. Would the Patriots be silly enough to oblige?
Maybe Tebow can play H-back or on special teams in New England. But that is nothing more than what he did with the
New York Jets
last year when things went awry. Is all of that worth the extra attention that Tebow brings? The Jets got their answer last year. Now, it's New England's turn to make the same mistake.
I do not see how adding Tebow makes the Patriots a better team. This is a franchise which prides itself on competing for championships. But New England took yet another step backward on Monday.
June, 10, 2013
Jun 10
5:24
PM ET
By
ESPN.com staff
| ESPN.com