January, 18, 2012
1/18/12
1:33
PM ET

It appears Tony Sparano is on his own with the
New York Jets
next season.
Manish Mehta of the New York Daily News reports former
Kansas City Chiefs
coach Todd Haley will
not join the Jets
as a passing game coordinator. Haley recently met with the Jets to see if he can assist Sparano, who was named offensive coordinator.
Pursuing Haley made sense. Sparano's experience is tied more with the offensive line and the running game. Haley could have helped New York quarterback
Mark Sanchez
develop, as well as the passing attack.
But the brunt of that now falls on Sparano, who has had mixed results with quarterbacks as head coach of the
Miami Dolphins
. Former second-round pick
Chad Henne
never reached his potential in Miami under Sparano. However,
Matt Moore
came off the bench this past season and put up career numbers.
September, 12, 2011
9/12/11
10:41
AM ET
By
ESPN.com staff
| ESPN.com
September, 11, 2011
9/11/11
4:37
PM ET
Wow. Let's wrap-up
this 41-7 rout
in Kansas City


What it means:
One game does not make a season. But, come on folks, the
Kansas City Chiefs
can't be feeling good after this one. To allow the
Buffalo Bills
to come in and ruin opening day like this is stunning, and, frankly, it's inexcusable. Remember last year's opener when the Chiefs played with spunk and outworked the Chargers? It started a special season. What will this stinker be the start of? After a poor preseason, the Chiefs played like a team that was unprepared for the regular season on Sunday. It was outworked and outplayed and it was sloppy and ineffective. Add anything else you like. It was just plain bad and the Chiefs.
Trending:
It all started with the reported Jonathan Baldwin-
Thomas Jones
fight. Until the reported fight in late August, all was fairly solid for the Chiefs. They started slow, but they were healthy and all was good. Then, the bout occurred and Baldwin hasn't practiced since with a thumb injury. It started a flurry of bad news for the Chiefs. Free-agent pickup, linebacker
Brandon Siler
, was soon lost for the year with a torn Achilles. Then, standout tight end
Tony Moeaki
was lost for the season with a torn ACL in his knee. Then the Chiefs went 0-4 in the preseason and now this horrible performance in the opener.
What's really scary:
Going into this game, no one expected the Bills' offense to be a juggernaut and no one will likely expect it to be after this game. But the Bills rammed it down the Chiefs' throats. The Chiefs couldn't do anything defensively against the pass or the run. Kansas City won 10 games last year because the defense was stout. It was awful Sunday.
What's next:
The Chiefs have to go to Detroit and play the improved and dangerous
Detroit Lions
before playing at San Diego in Week 3. Yes, Todd Haley's crew must get it in gear, pronto.
February, 7, 2011
2/07/11
12:15
PM ET
New England Patriots
quarterback
Tom Brady
was a unanimous selection for
The Associated Press 2010 Most Valuable Player Award
and for the All-Pro squad. He also won the AP's 2010 Offensive Player of the Year.
Fans, players and coaches voted him the AFC's starter for the Pro Bowl.
But the NFL Alumni Association didn't view Brady as the NFL's best quarterback in 2010.
Alumni membership voted
San Diego Chargers
quarterback
Philip Rivers
to their annual all-star team.
Allrighty.
I
can't argue with the credentials of the voters
, at least.
The all-stars were selected by simple majority of NFL Alumni.
Miami Dolphins
consultant
Bill Parcells compiled the list of nominees
, three at each general position.
The AFC East sent two teams to the playoffs, but couldn't get anybody honored by the NFL alumni. Provincial nominees were Brady,
New York Jets
tight end
Dustin Keller
, Dolphins offensive lineman
Jake Long
and outside linebacker
Cameron Wake
and
Buffalo Bills
defensive lineman
Kyle Williams
.
Parcells did not list Brady among his three candidates for Player of the Year, meaning the star quarterback couldn't be elected for that award. Parcells also didn't include Bill Belichick among his top coach candidates. Parcells' former defensive coordinator was the
landslide winner of the AP's 2010 Coach of the Year Award
.
The NFL Alumni awards for 2010:
Quarterback: Philip Rivers, Chargers
Running back: Maurice Jones-Drew, Jaguars
Wide receiver: Roddy White, Falcons
Tight end: Jason Witten, Cowboys
Offensive line: Josh Sitton, Packers
Defensive lineman: Ndamukong Suh, Lions
Linebacker: Patrick Willis, 49ers
Defensive back: Aqib Talib, Buccaneers
Special teams: Devin Hester, Bears
Spirit Award: Felix Jones, Cowboys
Coach of the Year: Todd Haley, Chiefs
Player of the Year: Troy Polamalu, Steelers
February, 3, 2011
2/03/11
5:59
PM ET

ESPN "First Take" resident disputant Skip Bayless and Chris Broussard discuss whether New England Patriots coach Bill Belichick deserved to win the Associated Press 2010 Coach of the Year Award -- and who might've been snubbed.
February, 2, 2011
2/02/11
7:59
PM ET
The decision wasn't a foregone conclusion like
Tom Brady
one night before, but
New England Patriots
boss Bill Belichick handily won the Associated Press 2010 NFL Coach of the Year Award.

Belichick
Belichick guided the Patriots to another division title and an NFL-best 14 victories despite
challenging circumstances detailed on the AFC East blog
Wednesday morning.
While Belichick had the benefit of Brady at quarterback, the Patriots went through a transitional phase both offensively and defensively. They traded
Randy Moss
, dealt with
Logan Mankins
' long contract holdout, endured injuries that would rattle other teams, and successfully infused several young players into key roles.
The Patriots dominated the regular season. They led the NFL in scoring and ranked eighth in points allowed. They broke the NFL record for fewest turnovers in a season with 10.
Belichick, who also oversees New England's personnel, operated without any coordinators in 2010.
While the honor went to the best candidate, I was surprised to learn Belichick won in a landslide. He received 30 of the 50 votes cast. The award often is given to a coach who has dramatically improved his team. The Patriots were expected to be good in 2010, while there were a few who turned losers into playoff teams -- or came darn close.
Tampa Bay Buccaneers
second-year coach Raheem Morris was a distant second with 11.5 votes.
Kansas City Chiefs
coach Todd Haley was third with 4.5 votes. Mike Smith of the
Atlanta Falcons
, Andy Reid of the
Philadelphia Eagles
, Lovie Smith of the
Chicago Bears
and Steve Spagnuolo of the
St. Louis Rams
each received one vote.
February, 2, 2011
2/02/11
10:24
AM ET
Next up in the weeklong distribution of Associated Press hardware will be the 2010 coach of the year award on Wednesday night.
To guess who will win, we safely can eliminate three-quarters of the AFC East.
Miami Dolphins
coach Tony Sparano won a single home game and nearly lost his job while owner Stephen Ross flirted with then-Stanford coach Jim Harbaugh right after the season.

Belichick
New York Jets
coach Rex Ryan made another deep playoff run, knocking off
Peyton Manning
and
Tom Brady
on the road before expiring in the AFC Championship Game. But the AP award is limited to the regular season. Ryan spent much of the campaign careening from scandal to scandal and dropped out of first place in December.
AP's voting panel couldn't have been too impressed by a coach who spoke presumptively about the Super Bowl for months then entered the postseason as a sixth seed.
Buffalo Bills
coach Chan Gailey was downright fantastic in keeping his team from total implosion. The Bills began the year 0-8, but Gailey somehow kept them stoked enough to win four games and scare some playoff teams, taking the
Baltimore Ravens
,
Kansas City Chiefs
and
Pittsburgh Steelers
into overtime.
So that leaves us with one legitimate AFC East contender for coach of the year.
Bill Belichick coached the
New England Patriots
to 14 wins, most in the NFL. Sure, they were one and done in the playoffs, but all the votes were cast by then.
Belichick's season was incredible when you consider what he had to navigate as a coach and personnel overlord.
He overhauled the Patriots' offense, relying less on the spread and more on multiple tight ends. He handled the
Logan Mankins
holdout. Belichick made the decision to trade
Randy Moss
after two games and swing a deal to bring aboard
Deion Branch
. All the while, Brady was masterful.
Belichick also dealt with losing his best cornerback,
Leigh Bodden
, before the season began. At times, the Patriots started four rookies on defense, putting
Devin McCourty
on the opposition's top receivers. McCourty went to the Pro Bowl.
As much as Belichick deserves the award (
I would have voted for him if I had a ballot
), I doubt he'll win it because the Patriots were expected to be good, and the honor usually goes to a coach who guides his club to a dramatic improvement.
Chiefs coach Todd Haley, Steelers coach Mike Tomlin and
Chicago Bears
coach Lovie Smith would fall into that category. Each went from out of the playoffs in 2009 to a division title. So did Pete Carroll with the
Seattle Seahawks
, but he's not winning it.
Belichick has claimed the AP award twice: 2003 (Patriots went from 9-7 and out of the playoffs to 14-2) and 2007 (Patriots went 16-0).
January, 20, 2011
1/20/11
5:40
PM ET
If the Jets advance to the Super Bowl, would Rex Ryan be the best coach in the NFL?

FLORHAM PARK, N.J. --
Peyton Manning
in Lucas Oil Stadium,
Tom Brady
in Gillette Stadium and
Ben Roethlisberger
at Heinz Field.
[+] Enlarge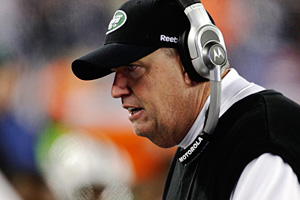 AP Photo/Stephan SavoiaIf Rex Ryan completes another improbable playoff run, is he the league's best coach?
That's the gauntlet
New York Jets
coach Rex Ryan must traverse.
And if he makes it through still alive and advances to the Super Bowl, then Bill Belichick, Lovie Smith, Todd Haley or anybody else who wins a 2010 Coach of the Year Award ought to ship it on over to One Jets Drive.
The sixth-seeded Jets can accomplish a rarity if they defeat the
Pittsburgh Steelers
on Sunday for the AFC Championship. Wild-card teams have reached the Super Bowl before, but only one team ever has knocked off the first, second and third seeds to do it.
The 2005 Pittsburgh Steelers were the first, but the quarterbacks they faced in those playoffs were
Carson Palmer
, Manning and
Jake Plummer
. Not exactly a Murderer's Row.
Manning, Brady and Roethlisberger have won six Super Bowls and played in eight. They have a combined 32-17 postseason record.
"That's a pretty strong task when you mention guys like that," said Tom Flores, who coached the first wild-card champions, the 1980
Oakland Raiders
, in Super Bowl history. "They've been there before. They've experienced being in big games before and winning big games before.
"You're going against the best. There's no unknowns there."
In addition to the superstar opposing quarterbacks, the Jets are venturing into some of the most difficult venues in any sport.
Flores got past an impressive group of quarterbacks for his first Super Bowl (he won another two years later as a division champ): Ken Stabler, MVP Brian Sipe and future Hall of Famer Dan Fouts.
But that lineup isn't as tough as what the Jets are facing. Flores sees Sunday's game being less intimidating than their showdown against the Patriots.
"Their biggest hurdle was in New England," Flores said. "That was almost impossible to beat them there."
Unfortunately for Ryan, awards like coach of the year are based on regular-season results.
He led the Jets to a 11-5 record, but they faded down the homestretch. Their lopsided 45-3 loss to the Patriots in Week 13 followed the next week by an ugly home loss to the
Miami Dolphins
erased any chance of Ryan winning honors.
But if Ryan can navigate this rugged playoff stretch and make it to the Super Bowl, then we'll know who really deserves to be considered the best.
"Well, I can say this: It's not easy," Ryan said. "I don't know who's next. [Terry] Bradshaw?
"Clearly, we have a ton of work to do to pull this off. But we think we're the men for the job, and we're going to find out Sunday."
January, 4, 2011
1/04/11
5:26
PM ET
Bill Parcells had three offseasons to put together the
Miami Dolphins
' roster.
How much elite talent would Parcells say he gathered?
It would be difficult to ask Parcells that question because he almost never agrees to interview requests these days.
But we can discover what Parcells thinks by reviewing
the finalists for NFL Alumni Player of the Year Awards
. Parcells alone selected the finalists, three in each major positional group on offense and defense plus three for all special-teams.
Parcells selected Dolphins left tackle
Jake Long
as one of his offensive linemen and Dolphins edge rusher
Cameron Wake
as one of his linebackers.
Also from the AFC East were
New England Patriots
quarterback
Tom Brady
,
New York Jets
tight end
Dustin Keller
and
Buffalo Bills
defensive lineman
Kyle Williams
.
Parcells, however, did not list Brady among his three candidates for player of the year, opting instead to nominate
San Diego Chargers
quarterback
Philip Rivers
,
Pittsburgh Steelers
safety
Troy Polamalu
and
Green Bay Packers
outside linebacker
Clay Matthews
.
Another surprise is that Parcells didn't choose Bill Belichick, his former defensive coordinator, as a coach of the year candidate. Parcells went with Todd Haley, whom he interviewed for the Dolphins job Tony Sparano took in 2008, Lovie Smith and Mike Smith.
Former players will determine the awards from the names Parcells nominated. Winners will be reveled Feb. 4.
November, 5, 2010
11/05/10
12:55
PM ET
April, 13, 2009
4/13/09
8:30
AM ET
Posted by ESPN.com's Tim Graham
Jason Taylor reaffirmed his aversion to the New York Jets last week.
But his brother-in-law and former longtime Miami Dolphins teammate apparently had no problem switching allegiances.
Zach Thomas was in talks to join the Jets before he finally settled on the Kansas City Chiefs for a one-year contract, agent Drew Rosenhaus told Fox affiliate WSVN in Miami.
"We had been talking to the Jets as well, and we had the option of waiting even until after the draft or before training camp," Rosenhaus said. "But the truth of the matter is Zach was excited about the chance."
Thomas, like Taylor, spent last season in the NFC East after more than a decade as a fixture on the Dolphins' defense. They combined for 13 Pro Bowls while playing together.
Taylor last year was traded to the Washington Redskins, who cut him last month. Thomas was released and signed with the Dallas Cowboys, who didn't want him back.
Taylor is waiting to sign. He probably won't have a new employer until after the NFL draft in two weeks, but it almost certainly won't be the Jets based on what he had to say last week.
"It'd be very, very, very difficult. Very difficult," Taylor said at a youth football camp. "But at the end of the day, if you can't find a job anywhere else and the Jets call, I guess you've got to retire or go play.
"The Jets are the Jets. I've had a lot of history saying bad things about Jets fans. The fireman hat guy [Fireman Ed], and all of the people in New York that are Jets fans are not the ones that are working on Wall Street. I've said all of those things. So I've got to leave it at that."
Taylor would appear to have more attractive options than his wife's brother did. Taylor could land with the New England Patriots, a legitimate Super Bowl contender.
The Chiefs went 2-14 last year, but Rosenhaus ticked off a number of reasons Thomas was interested: new general manager Scott Pioli, new head coach Todd Haley, new quarterback Matt Cassel and the fact Thomas likely will be the starter.
"Zach really likes the opportunity in that defense," Rosenhaus said. "They play a 3-4. He's going to get a chance to start inside. He's going to be 36 years old in September. To have an opportunity to start for a quality franchise, you can't turn that own."
January, 28, 2009
1/28/09
7:15
AM ET
Posted by ESPN.com's Tim Graham
New England Patriots
Buffalo Bills
Miami Dolphins
New York Jets
January, 20, 2009
1/20/09
8:20
AM ET
Posted by ESPN.com's Tim Graham
Grant from Mobile, Ala., recently wrote into the AFC East mailbag:
Hey Tim, Enjoy your work. Seeing that Anquan Boldin's relationship continues to be rocky with the Cards (he didn't even celebrate with his team after they advanced to their first Super Bowl in 60+ years), how can the FINS sweep in and get the game-breaker at WR they desperately need? What would it take to get him? The 25th pick?? Am I dreaming here? Thanks.

Boldin
Thanks for dropping a line, Grant. You're not alone in your curiosity about the dangerous Arizona Cardinals receiver.
Boldin to the Dolphins has been speculated on message boards and sports radio for months.
His agent, Drew Rosenhaus, has fueled some of the discussions by dropping not-so-subtle hints Boldin would love to play for the Dolphins, but mostly Boldin wants out of Arizona and Miami is a convenient reference because the Dolphins have a need, Boldin is from Pahokee, Fla., and Rosenhaus works out of Miami.
Boldin has groused about his contract (two years left on a $22.75 million deal), blasted his head coach, requested a trade and twice declared he would never re-sign with the Cardinals.
But my NFC West colleague, Mike Sando, has written several times this season it would be unwise for the Cardinals to trade him.
As for Boldin's sideline explosion with Cardinals offensive coordinator Todd Haley, keep this in mind: Whatever Haley really thinks of Boldin already has been absorbed by Dolphins football operations boss Bill Parcells.
Haley considers Parcells his mentor. When Parcells was head coach of the New York Jets, Haley was his wide receivers coach. In Parcells' last two seasons as head coach of the Dallas Cowboys, Haley was his passing game coordinator (future Dolphins coach Tony Sparano was the running game coordinator).
So Parcells and Haley were forced to cope with diva Terrell Owens together in 2006.
See where I'm going with this?
Parcells had designs on luring Haley from the Cardinals when assembling the coaching staff last year. He did add Haley's father, Dick Haley, to the Dolphins front office as a player personnel analyst. Dick Haley was the Pittsburgh Steelers' player personnel director from 1971 to 1991, winning four Super Bowls.
Parcells certainly would trust whatever Todd Haley thinks, and his opinion of Boldin might not be all that flattering. For all of Boldin's abilities, Haley hasn't been calling his number much in the postseason: Six catches for 106 yards in two games, with 71 of those yards coming on his lone touchdown.
Haley on Monday was saying all the right things about his public blow-up with Boldin. Haley was diplomatic. He chalked it up as two passionate competitors disagreeing in the heat of battle.
But Parcells is not a big fan of drama. Even though the Dolphins won the AFC East, they still are in the rebuilding stages as an organization.
A player like Boldin might not be the best fit from a chemistry standpoint.
But the Dolphins lacked a difference-maker at receiver. Boldin showed a warrior's heart by missing only two games after suffering a facial injury in Week 4 against the Jets. Boldin finished with 89 catches for 1,038 yards and 11 touchdowns.
I don't believe a Boldin-to-Miami trade will happen. He's a valuable contributor to a team that just won the NFC title, and the Dolphins might not be interested anyway.
But if Boldin keeps trying to force his way out of Arizona and the discord becomes insurmountable, anything is possible.