March, 10, 2011
3/10/11
6:50
PM ET
New England Patriots
safety
Brandon Meriweather
had a breakout season in 2009. He started all 16 games, finished third on the team in tackles, tied for the team lead in interceptions, scored a touchdown and forced two fumbles. He went to his first Pro Bowl.
Since then, Meriweather has not endeared himself to head coach Bill Belichick. His on-field struggles last season were one issue. His involvement in a volatile episode that included two people getting shot is another matter entirely.
That's not the Patriot Way.
The Orange County Sheriff's Department released a statement Thursday with information about the Feb. 28 incident in Meriweather's hometown of Apopka, Fla. Police put Meriweather at the scene.
From the
OCSD's statement, which can be read in full at ESPNBoston.com
:
"We are not prepared at this time to characterize or disclose Mr. Meriweather's status in this case, though we do seek to interview him. This past Wednesday investigators received a call from an attorney identifying himself as representing Mr. Meriweather, who stated he was looking to facilitate an interview with his client. We are receptive to this overture and detectives are seeking to further this interview if it can be arranged."
The attorney for the two victims, John Morgan, has told multiple media outlets his clients claim Meriweather was the shooter.
Tim Bridges, the legal guardian who raised Meriweather
, told Boston Herald reporter Ian R. Rapoport the allegations are false.
Meriweather's future in a Patriots uniform could be short. Even if he was a benevolent character in this dangerous situation, any NFL team, especially the Patriots, would expect better judgment from their players.
Then again, the Patriots drafted Meriweather knowing he had been involved in a shooting while playing for the University of Miami. In 2006,
Meriweather returned fire
after Hurricanes teammate Willie Cooper was shot. Meriweather wasn't charged because the gun was registered and it was ruled he was acting in self-defense.
On the field, Meriweather wore on Belichick's patience last season.
Meriweather's play dropped off considerably in 2010. Although he was voted to his second Pro Bowl, the decision had Patriots' observers scratching their heads.
Belichick removed Meriweather from the starting lineup three times, the first two times for games against the
Buffalo Bills
and
New York Jets
in September and again in Week 14.
An incredulous Belichick also pulled him from the Week 6 game against the
Baltimore Ravens
for an inexcusable head shot on tight end
Todd Heap
.
Meriweather should be thankful the labor situation prevents teams from contacting their players. Otherwise, as soon as the police get done with him, I'm sure Belichick and owner Robert Kraft would love to have words.
January, 15, 2011
1/15/11
4:18
PM ET
Here's example No. 1,675 why it's a bad idea to draw unnecessary attention to yourself.
In response to the kind of colorful dialogue you might hear in a Quentin Tarantino film, the NFL has warned teams to
watch themselves on the field and that any intimated threats
can be used against players if they commit unsportsmanlike acts in the game.
In two tweets,
NFL spokesman Greg Aiello confirmed
league vice president of operations "Ray Anderson contacted multiple clubs this week so they could remind players comments of a physically threatening nature are always taken into account in evaluating discipline for illegal physical contact on field."
That goes for you,
Bart Scott
.
The vociferous
New York Jets
linebacker suggested they would be hunting for
New England Patriots
receiver
Wes Welker
, who made
several soulful remarks about Sunday's game
, likely an homage to the foot-fetish videos Jets coach Rex Ryan and his wife posted on the internet.
"I'll tell you what,"
Scott told Newsday reporter Roderick Boone
. "Be very careful what you say about our coach. [Welker's] days in a uniform will be numbered. Put it like that."
Teams have complained Patriots quarterback
Tom Brady
receives preferential treatment as it is.
This week's rhetoric, most of which has emanated from the Jets, will have
referee Bill Leavy's crew on high alert
for head shots, unnecessary roughness and other such unsportsmanlike penalties that could prove costly, especially for Scott, who has been flagged for those types of infractions a few times already this season.
A breakdown of the Jets' misbehavior penalties in the regular season:
Unnecessary roughness four times.
Personal foul three times (Scott with two of them).
Roughing the passer twice (Scott with one of them).
Roughing the kicker once.
Unsportsmanlike conduct once.
Taunting once.
And the Patriots' rundown:
Unnecessary roughness four times.
Personal foul twice.
Roughing the passer twice.
Unsportsmanlike conduct once.
No roughing the kicker.
No taunting.
Although Levy will be working with an all-star assembly Sunday, his guys in the regular season called unnecessary roughness five times, roughing the passer five times, personal foul twice, unsportsmanlike conduct twice and taunting once. They ejected one player (
Tennessee Titans
safety
Donnie Nickey
in Week 8).
Both personal fouls on Levy's watch happened in the Patriots' overtime victory over the
Baltimore Ravens
in Week 6. Patriots safety
Brandon Meriweather
(for his hit on defenseless Ravens tight end
Todd Heap
) and Ravens fullback LeRon McClain were the perpetrators.
November, 5, 2010
11/05/10
3:48
PM ET
NFC North blogger Kevin Seifert filed a
fantasy-related item to his blog that gives some insight
about the
Buffalo Bills
' problems defending tight ends.
In response to ESPN fantasy expert Matthew Berry promoting Bears tight end
Greg Olsen
as a player to start or add to your fantasy roster this weekend, Seifert dredged up some eye-opening numbers, and I rounded out the rundown.
When you add the handful of additional stats from backup tight ends, the Bills have surrendered 36 receptions for 491 yards and seven touchdowns to opposing tight ends.
Averaged out for the season, the stat line looks like that of an All-Pro: 82 receptions, 1,122 yards and 16 touchdowns.
October, 22, 2010
10/22/10
4:00
PM ET
»
NFC Final Word
:
East
|
West
|
North
|
South
»
AFC
:
East
|
West
|
North
|
South
Five nuggets of knowledge about Week 7:
[+] Enlarge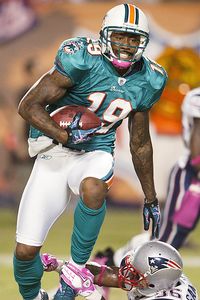 Jonathan Brownfield/US PresswireBrandon Marshall and the Dolphins can increase their profile with a win against the Steelers.
The Dolphins have a glorious opportunity to vault themselves into the Super Bowl discussion.
The Dolphins are the third-best team in the AFC East, but both of their losses are against
Nos. 2 and 3 in ESPN.com's latest Power Rankings
-- the Jets and Patriots. The Dolphins have been overlooked because both of those losses happened in Sun Life Stadium and in prime time. But they can grab everyone's attention with a victory at home against the No. 1 Steelers. While winless at home, the Dolphins are 3-0 on the road and have beaten a pair of NFC teams commonly forecasted to reach the Super Bowl. They're good, but they haven't established themselves as a contender yet. That could change Sunday.
Patriots safety Brandon Meriweather will need to be careful Sunday in San Diego.
There's heightened awareness on big hits. Increased ejections are possible, and officials will be mindful of Meriweather. He was fined $50,000 for his helmet-to-helmet shot on Ravens tight end
Todd Heap
. The Patriots head cross country with depleted numbers at safety.
Jarrad Page
hurt his calf against the Ravens and hasn't been able to practice.
James Sanders
is expected to return, but he has been bothered by a hamstring problem. If Meriweather isn't on his best behavior, the Patriots could find themselves even more short-handed against
Philip Rivers
, who has completed 63.5 percent of his passes between the field numbers.
The Bills have one weird offense.
Let's try to figure this one out ... The Bills rank fourth in the league and second in the AFC in yards gained on first down at 6.3 a pop. They rank fifth in average gained per rush at 4.8 yards.
Ryan Fitzpatrick
has a 99.9 passer rating. Only two teams have committed fewer penalties. So how in the world do the Bills rank 31st in third-down conversions? The NFL doesn't cull stats specifically for second down, but something must be going on there. Have the Bills been skipping straight from first down to third down and nobody has noticed?
The Joe McKnight draft choice continues to dog the Jets.
They used a fourth-round draft choice to draft McKnight out of USC. That wasn't a huge investment, but the trickle-down affect continues to make the decision look terrible. McKnight lost the coaching staff's trust in the preseason because he couldn't pick up the playbook and fumbled too much. But they stuck with him and eventually lost
Danny Woodhead
and
Chauncey Washington
to other teams. While McKnight has been deactivated for all but one game, Woodhead has become a smash hit among Patriots fans. I'm pretty sure Woodhead jerseys are being stitched together as I type this. I have hard time imagining anybody wearing one of McKnight's.
We haven't heard anything from the Jets this week, and that's a good thing for Jets fans.
One of the bigger concerns for Jets fans had to be their players being unoccupied by work for a week during their bye. They have a few major players --
Braylon Edwards
,
Antonio Cromartie
,
Santonio Holmes
-- with track records of landing in hot water, and Jets head coach Rex Ryan gave his team the entire week off. Ryan is far more generous than most of his colleagues. Bills coach Chan Gailey, for instance, had his player practice through Friday afternoon of their bye week. The Jets are 5-1 and looking quite solid in their quest to make a Super Bowl run. The last thing they need is another off-field distraction.
October, 20, 2010
10/20/10
4:37
PM ET
Want to a real-world idea of how much
Brandon Meriweather
's $50,000 fine will hurt his wallet?
Check out Page 2's "Crunch the Fine" converter
to see what the NFL's punishment for Meriweather's helmet-to-helmet launch into
Baltimore Ravens
tight end
Todd Heap
would feel like to normal folks.
Plug in your annual salary, and you'll be told what your commensurate fine would be.
Meriweather's not the only penalized player you can compare marks with.
Others include
Cincinnati Bengals
receiver
Terrell Owens
for his illegal tweet, Washington Wizards guard Gilbert Arenas for faking an injury and Chicago Blackhawks defenseman Niklas Hjalmarsson for boarding Buffalo Sabres winger Jason Pominville (haven't typed that name in a while).
October, 20, 2010
10/20/10
2:14
PM ET
New England Patriots
safety
Brandon Meriweather
met with reporters at his Gillette Stadium locker stall Wednesday to address his recent helmet-to-helmet hit on defenseless
Baltimore Ravens
tight end
Todd Heap
.
The NFL on Tuesday fined Meriweather $50,000 for the collision. Meriweather delivered this statement and informed reporters he would not comment on anything other than Sunday's game against the
San Diego Chargers
:
"Once again, I'm going to say I'm sorry for the hit. But I understand the league is trying to protect the health of all our players. I don't even know how to put it, but, to be honest, I just want all this to go away. I want to focus with the rest of my team on the Chargers and really not let this come up again.

"You know, I'm going to try my best to play within the rules like my coach had always taught us. I'm going to hit and play the game like my coaches have always taught us. Even in training camp, we have always been taught the proper way to hit. I'm going to just focus on that and try to put it in my game in some way, shape, form or fashion.

"From here on, I'm focusing on the Chargers. Anything else spoken about this, I will not comment on."
October, 20, 2010
10/20/10
10:58
AM ET
»
NFC Stock Watch
:
East
|
West
|
North
|
South
»
AFC
:
East
|
West
|
North
|
South
FALLING
[+] Enlarge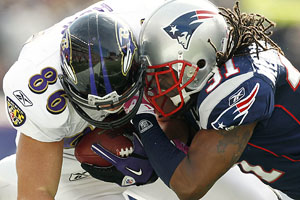 AP Photo/Winslow TownsonBrandon Meriweather's helmet-to-helmet hit on Todd Heap earned him a $50,000 fine.
1. Brandon Meriweather, Patriots safety:
The NFL fined him $50,000 (10 percent of his base salary) for his helmet-to-helmet launch into defenseless Ravens tight end
Todd Heap
in the second quarter. Patriots coach Bill Belichick pulled Meriweather from the game, and the Pro Bowler might have watched the rest of the game from the sideline had safety
Jarrad Page
not suffered a calf injury.
2. Mark Sanchez, Jets quarterback:
This might be a stretch because Sanchez did recover for a fourth-quarter comeback on the road. But Sanchez did have his shakiest moments of the past five weeks. He threw his first two interceptions of the year.
3. Vontae Davis, Dolphins cornerback:
He has been getting rightful attention as one of the NFL's top emerging cornerbacks, but he got charred by Packers receiver
Greg Jennings
on an 86-yard touchdown strike in the first quarter. The game-changing play came one snap after
Chad Henne
threw an interception to prevent the Dolphins from building on their 10-0 jump.
RISING
1. Cameron Wake, Dolphins outside linebacker:
He erupted for his first three-sack NFL game, piling up losses of 24 yards. He hit
Aaron Rodgers
six times. Wake pulled down Rodgers to thwart a third-down play in overtime, forcing the Packers to punt. The Dolphins kicked a field goal on their next series.
2. Jermaine Cunningham, Patriots outside linebacker:
The rookie recorded a strip sack -- his first sack and first forced fumble -- and another tackle for a loss in Sunday's victory over the Ravens.
3. Dwight Lowery, Jets cornerback:
For the second straight week, the reserve defensive back iced the game by pouncing on the ball. Lowery returned a
Brett Favre
interception for a touchdown in Week 5 and jumped on a loose ball in the waning moments to end the Broncos' chances.
October, 19, 2010
10/19/10
11:24
AM ET
Bill Belichick isn't the only one displeased with
New England Patriots
safety
Brandon Meriweather
.
The NFL is upset with Meriweather, too.
NFL executive vice president of football operations Ray Anderson was on ESPN Radio with "Mike & Mike in the Morning" and called Meriweather's helmet-to-helmet hit on defenseless
Baltimore Ravens
tight end
Todd Heap
"flagrant" and "egregious."
ESPNBoston.com posted some of
Anderson's comments about how the NFL would handle
helmet-to-helmet shots from here on out. Suspensions seem more likely.
"What I would tell you is that if there are flagrant and egregious violations of our current rules," Anderson said, "we will be enforcing, effective immediately, discipline at a higher level."
Meriweather said he didn't intend to hurt Heap on the play but was otherwise unapologetic when he spoke with Boston sports-radio station WEEI on Monday.
"I'm going to be aggressive, point blank," Meriweather said. "I won't change my game, period.
"I'm sorry it happened. Heap is actually a real good friend of mine. I talked to him [Sunday] and let him know it wasn't intentional and he told me he understood. ...
"I thought it was going to be overthrown but the tight end always seemed to go and get it. Instead of me waiting for the ball to see if it was going to be overthrown I just attacked. I wasn't trying to for head-to-head contact or trying to injure anybody or play dirty in any kind of way. It just happened."
Meriweather was penalized 15 yards for the hit. Belichick, clearly aggravated, removed him from the game until safety
Jarrad Page
hurt his calf and couldn't continue.
October, 18, 2010
10/18/10
9:52
AM ET
FOXBOROUGH, Mass. -- The headline of a Sporting News preseason yearbook feature on
Rodney Harrison
once called him "The Last Assassin" for the way he ruthlessly hammered ball carriers. He walloped a defenseless receiver or two in his day.
But the former
New England Patriots
safety claims the only way to rid the NFL of players delivering helmet shots is to skip the fines and dole out suspensions.
"You didn't get my attention when you fined me five grand, 10 grand, 15 grand," Harrison said on NBC's "Football Night in America" set Sunday. "You got my attention when I got suspended, and I had to get away from my teammates, and I disappointed my teammates from not being there."
In the NFL culture, some ultra-aggressive defenders view fines merely as investments or necessary employment fees. Many wouldn't be on a roster if they weren't capable of delivering the big hit. So when they get flagged for a helmet-to-helmet blast or for nailing a receiver who's watching the ball, an occasional fine is part and parcel.
"But you have to suspend these guys," Harrison said. "These guys are making millions of dollars."
Patriots safety
Brandon Meriweather
was flagged for launching himself at
Baltimore Ravens
tight end
Todd Heap
, one of multiple dubious head shots around the league Sunday. Heap was defenseless. Meriweather went helmet-to-helmet.
New York Jets safety
Jim Leonhard
also was called for unnecessary roughness for drilling Denver Broncos receiver
Brandon Lloyd
along the sideline on a long third-quarter completion. The 15 yards helped the Broncos score a touchdown on the drive. But replays showed Leonhard used his shoulder.
Meriweather likely will be fined. He wasn't ejected, but Patriots coach Bill Belichick, clearly upset, yanked him. Meriweather eventually returned because safety
Jarrad Page
hurt his left calf.
"It's not the fine that's going to do it," NBC studio analyst Tony Dungy said. "These guys are not doing this on purpose, but they've got to lower their strike zone, change it. We had this with the quarterbacks a few years ago, and we got the defenders to change. You have to protect these receivers. Some of these guys may be out two or three weeks, and the only way to make it fair is have these defenders sit out if they damage someone."
Harrison explained his target area was "right on the chest. You're taught to separate the guy from the ball. ... Now all of a sudden, as you're coming, you start raising up a couple inches. Now it's helmet to helmet. Now they're going to have to reprogram these players to start hitting lower, by the waist."
October, 17, 2010
10/17/10
2:49
PM ET
FOXBOROUGH, Mass. -- Observations from Gillette Stadium, where the
New England Patriots
trail the
Baltimore Ravens
10-7
on Sunday afternoon:
The Patriots' offense has been creative without Randy Moss. In fact, they've looked more like their offense of the past three seasons than they did with Moss through four games. The Patriots are spreading out their receivers and going with less multiple tight end sets than has been their norm.
Even so, Tom Brady is having an uncharacteristically bad home game to this point. He has completed seven of his 13 attempts for 90 yards, no touchdowns, no interceptions. He has been off the mark on a couple short throws that normally are layups for him.
BenJarvus Green-Ellis has the Patriots' lone touchdown, a 2-yard run. But they have had trouble generating a ground game against the stingy Ravens. Patriots running backs have seven carries for 17 yards. The longest run of the afternoon has been receiver Brandon Tate's 22-yard reverse.
The Patriots' defense was its usual, ineffective self on third down to start the game, but tightened up a little. The Patriots went into the game dead last in stopping teams from converting. The Ravens converted third downs of 10 and 9 yards on their opening drive, which lasted 15 plays, went 81 yards and ended with a field goal. But the Ravens moved the chains only one more time in the first half.
The last time I saw Ravens quarterback Joe Flacco live, he was less than spectacular on opening night against the New York Jets. He has been sharp so far against the Patriots, going 14 of 17 for 136 yards and a touchdown with zero interceptions. On the opening drive, he completed all five passes for 63 yards and two big third-down conversions.
Patriots safety Brandon Meriweather can expect a fine for his helmet-to-helmet hit on Ravens tight end Todd Heap with 8:40 left in the second quarter. The ball had already sailed incomplete on a second-and-7 play, but Meriweather launched himself into Heap, who was defenseless.
Rough game for Ravens left tackle Michael Oher: two false starts and a hold so far.
August, 3, 2009
8/03/09
6:50
PM ET
Posted by ESPN.com's Tim Graham
New York Jets linebacker Bart Scott has opinions.
On Monday, a reporter asked him about second-year tight end Dustin Keller.
Scott suggested Keller is on the verge of becoming a star.
"I played against some pretty good tight ends," said Scott, a career Baltimore Raven before joining the Jets as a free agent. "Todd Heap was a tremendous athlete, great leaper.
"I would compare Dustin Keller to Kellen Winslow, and that's very high praise because other than Antonio Gates, I always knew Kellen Winslow was probably the best route-running tight end in the league.
"I think Dustin is well on his way to overcome that."
Keller, the 30th overall draft pick last year, got off to a slow start last year. Although two were for touchdowns, he had seven catches through his first six games, but then Brett Favre started to find him in late October. In a six-game span, Keller caught 33 passes for 370 yards and a touchdown.
Favre was going to Keller in clutch situations, too. In their thrilling Week 11 overtime victory over the New England Patriots in Gillette Stadium, Keller caught six passes for 55 yards -- and five of them for first downs -- in the fourth quarter and sudden death.
On the winning drive, Keller picked up three first downs, including a 16-yard gain to convert a third-and-15 situation.
Scott is impressed by how polished Keller already is.
"It's speed and sloppy route running," Scott said. "You have to be precise with your route running. You can be faster than somebody, but if you waste steps getting out of your break, it allows the defensive player to recover.
"[Keller] is crisp out of his break. He catches the ball at its highest point. I think he's a very athletic player."