May, 26, 2011
5/26/11
4:58
PM ET
The Wall Street Journal reported Thursday that prominent
bond-fund manager Jeffrey Gundlach is trying to field a group
to purchase the
Buffalo Bills
.
"It's not an investment," Grundlach told the Wall Street Journal. "It's because I love the Bills."
The Bills quickly released a statement proclaiming the team is not for sale, but the Wall Street Journal article noted Grundlach's acknowledgment the Bills probably won't be available as long as owner Ralph Wilson is alive. Wilson is 92 years old.
Barron's wrote a feature on Gundlach, a Western New York native, in February. The
headline called Grundlach "The King of Bonds"
and referred to him in the first sentence as "celebrated" in the industry.
This type of development should be significant to Bills fans not because Gundlach offers any guarantees for keeping the team from moving. Too many problems crop up when trying to pull off such a major transaction. Investors change their minds. Uncontrollable outside variables frequently derail plans.
But what I find notable about this story is that it's another reminder there are a lot of rich folks out there who sports fans have never heard of.
For decades, Western New Yorkers have wrung their hands over what would happen when Wilson passes away. Bills fans have hung their hopes on former Buffalo Sabres owner Tom Golisano, a billionaire from nearby Rochester, and legendary quarterback Jim Kelly, who for years has publicly discussed putting together a group to keep the team in the area but has been vague on details.
Last fall, however, Sabres fans had nary a clue who Terry Pegula is. Turns out,
Forbes estimates he's the 128th richest American with a net worth of $3 billion
. He also happens to have roots in Western New York, has long been a Sabres fan and bought the team with ease.
Pegula and Grundlach just go to show that trying to figure out the next owner of the Bills is virtually impossible.
March, 12, 2011
3/12/11
10:33
AM ET
Until further notice, the NFL has ceased to be about X's and O's. Now the game revolves around the almighty dollar.
So who has the most?
Forbes has released its annual list of the world's billionaires, and there are plenty of NFL owners on it.
Miami Dolphins owner
Stephen Ross ranked 362nd on the planet
with an estimated net worth of $3.1 billion.
Ross was second in the NFL behind Seattle Seahawks owner
Paul Allen, who came in 57th
with $13 billion.
New England Patriots owner
Robert Kraft registered 833rd overall
(tied with former Buffalo Sabres owner Tom Golisano, by the way) at $1.5 billion. The Patriots were said to be worth
$1.367 billion in Forbes' latest team-by-team breakdown
.
New York Jets owner Woody Johnson didn't make the list, but he's part of the Johnson & Johnson medical and pharmaceutical fortune. The Johnson family consistently ranks among the top 10 richest American families. Two years ago, Forbes
estimated the family's net worth at $13 billion
.
Forbes calculated that the Jets were worth $1.144 billion, sixth in the NFL. But the team also has the league's highest debt-value at 66 percent in large part because of its new stadium.
Bills owner Ralph Wilson didn't make the billionaires club, but his team is estimated to be worth $799 million.
February, 3, 2011
2/03/11
2:32
PM ET
I listened to a hockey news conference and a football blog broke out.
[+] Enlarge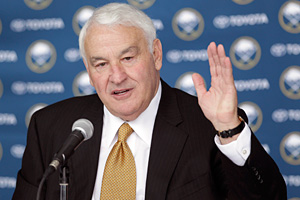 AP Photo/David DupreyForbes estimated that Buffalo Sabres owner B. Thomas Golisano, a Rochester, N.Y., native is worth $1.2 billion.
Buffalo Sabres owner Tom Golisano formally announced Thursday afternoon he was selling his team to Terry Pegula. As a former Sabres beat reporter for the Buffalo News, I listened with interest as the owner I used to cover bid farewell.
But I'll admit as the self-congratulatory sentiments dragged on, I zoned out and commenced writing about football.
Golisano's news conference faded into background noise
until, about a half-hour in, AFC East Blog Fan Club president Jill Pitzonka grabbed my attention. She popped up in my chat window: "Didn't Golly just hint that he wants to buy the Bills?"
Wait. What?
The future of the
Buffalo Bills
long has been an emotional topic in Western New York. Ralph Wilson, their Hall of Fame owner, is 92 years old. Little information has been divulged about what will transpire when the inevitable occurs.
There's great fear the team will be sold and move away. They're trying to build a stadium in Los Angeles, you know. Wilson's decision to sell games to a Toronto promoter haven't calmed the masses.
But Golisano is a potential savior. Forbes estimated the Rochester, N.Y., native is worth $1.2 billion. He has the resources to put together a group to buy the Bills and keep them in Buffalo, just as he did when he pulled the Sabres out of bankruptcy in March 2003.
"Would I be interested in the Bills?" Golisano repeated when asked. "I think the key issue would be the level of concern I would have about them leaving the community, and the higher the concern, the more interest I probably would have.
"If there were people in here in the community who had the wherewithal and the desire to take over the team and didn't need what I had to offer, I'd say that would be great. I would be happy. But the level of interest will vary greatly, depending on the level of concern."
Golisano claimed at the news conference that he could have sold the Sabres for another $70 million to a prospective owner who wanted to move the Sabres. But he took less from Pegula, who will keep the Sabres in Buffalo.
The problem with any kind of Bills conjecture, Golisano stressed, is the Bills have not been for sale.
"The Buffalo Bills just like the Buffalo Sabres are a very important asset to this community," Golisano said. "But the thing that always comes to light is nobody has ever said that they're for sale or going to be for sale.
"Ralph Wilson is a very smart guy, and if he thinks he has an estate tax problem or is going to have an estate tax problem, I would have to assume he's already done something about it. Now, I know he plays his cards very close to the vest, but I don't ever know if the Buffalo Bills are going to be for sale."
Still, Golisano raised hopes among Bills fans by uttering nary a word that suggested he doesn't want to become an NFL owner.
"I would say it's within the realm of possibility that something else might happen" in sports, Golisano said.