April, 20, 2012
4/20/12
4:00
PM ET
NFL observers have debated the past few months trying to figure out what the
Miami Dolphins
and
Buffalo Bills
should do with their top-10 picks. Miami picks No. 8 overall, while Buffalo holds the No. 10 pick.


But should one or both teams consider trading back in the draft? It's a valid option if either team can pull it off.
The key would be an enticing player fall. The two that come to mind are former Alabama running back
Trent Richardson
and former Texas A&M quarterback
Ryan Tannehill
. If one of these players fall, the phones should be ringing Thursday night in Miami and Buffalo.
Richardson is a top-five talent. But recent knee surgery and the lesser importance of running backs at least make it possible that he falls to Miami at No. 8. If that's the case, several teams in the teens could be interested in moving up.
Tannehill is another hot prospect who shot up the draft boards. Initially viewed as a late first-round or early second-round pick, Tannehill has impressed scouts in the offseason and could go as high as No. 3 or No. 4.
But if there isn't a trade with
Minnesota Vikings
and the
Cleveland Browns
pass on Tannehill, he probably will be there at No. 8. That would put Miami in the position to draft Tannehill or pass. Most project the Dolphins will take the quarterback. But if Miami passes and Tannehill falls to Buffalo, several quarterback-needy teams could be ready to pounce.
January, 1, 2012
1/01/12
7:36
PM ET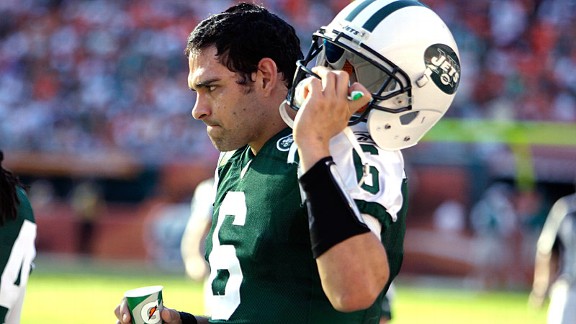 AP Photo/Lynne SladkyMark Sanchez closed out the season with an uninspiring game against Miami.
MIAMI -- There will be no strong-armed quarterback with amazing accuracy riding on a white horse to save the
New York Jets
next season.
Peyton Manning
will not be with Gang Green next year, despite all the rumors. The
Indianapolis Colts
say Manning isn't on the market. And there is no reason for one AFC team to help another get to the Super Bowl.
So forget about it.
Andrew Luck or Robert Griffin III? That's not happening, either. The Jets aren't close to being in position to draft either quarterback. Trading up wouldn't make much sense.
The quarterback for the Jets in 2012 will be
Mark Sanchez
-- for better or for worse. That's not what some Jets fans want to hear. But that's the reality for an organization that's committed to its 2009 first-round pick for at least one more year.
Sanchez finished his third season on a low note. He threw for 207 yards, two touchdowns and three interceptions in a 19-17 loss to the
Miami Dolphins
. In this particular game, Sanchez was the biggest reason for the Jets' loss.
Still, the Jets (8-8) are backing Sanchez.
"Well, I've told you guys I think he's the long-term solution," Ryan said confidently. "I don't think there's any doubt. He's won a lot of games for us. ... I know Mark. I think he's got all the tools to be a great quarterback. He's been a winning quarterback here."
Here is what I took from Ryan's comments: He knows his job is tied to the success of his starting quarterback. When Sanchez plays poorly and his confidence is shot, the Jets lose games. Therefore, Ryan will do and say everything he can to keep Sanchez's spirits up as long as Sanchez is under center.
And, yes, Sanchez will be under center next year. He has two years left on his five-year, $44 million rookie contract. The Jets won't make him an expensive backup in 2012 and they can't trade him. Instead, the Jets will do all they can to support Sanchez and make him better.
If that includes axing offensive coordinator Brian Schottenheimer, so be it.
There seems to be growing unrest with players over Schottenheimer's play-calling and his time may be up in New York.
Santonio Holmes' blowup and eventual benching in the fourth quarter
was a culmination of a frustrating season on offense. New York's offense entered the final week ranked No. 27th in the NFL. ESPN reported earlier that the Jets are already considering names like Norv Turner, who would be a definite upgrade.
If that means making changes in personnel, so be it.
The Jets can focus on their offensive line.
Wayne Hunter
might be the worst offensive tackle in the league. If he's starting next year, the Jets' front office didn't do its job. New York also needs speed at receiver and has an interesting decision to make on pending free agent
Plaxico Burress
. Whatever the Jets decide, it has to be with Sanchez in mind.
Sanchez, as expected, supported his teammates and keeping the team together.
"Whatever it is, we just didn't seem to do [play well] on a consistent basis and the last two years we did find a way to do that," Sanchez said. "We have a lot of talent. We have guys who can make plays. We have guys that can create after the catch. We have guys that can block up from and we have running backs that can really run the rock. We just didn't play our best."
Not everyone was as upbeat about the Jets' offense as Sanchez. When New York starting cornerback
Antonio Cromartie
was asked whether the team gave enough effort Sunday, Cromartie responded, "Uhhh, maybe on one side of the ball."
Holmes had a chance to publicly back Schottenheimer after the game and refused.
Ryan's message to the Jets after the game was for every player to look in the mirror and do something this off-season to make the team better. It's a message that Sanchez, as the quarterback, says he took to heart.
"You've got to ask yourself the tough questions and figure out how you can help this team," Sanchez said. "You've got to ask yourself the tough questions and figure out what you did well and reinforce that, but obviously what you can clean up."
Sanchez does some things well. He's doesn't flinch in the clutch and plays his best football in the fourth quarter. He's also very good with play-action passes. Those are some things to build on.
But overall, I'm skeptical that Sanchez's ceiling is much higher than what we've seen the previous three years. The Jets are a veteran team built to win now yet has no choice but to stick with Sanchez for at least another season.
That is the price you pay for drafting a quarterback in the top five.
If it works out, great. If not, the Jets have to ride with their decision -- for at least one more year.