AFC East:

Two-Minute Drill
December, 21, 2013
12/21/13
8:00
AM ET
Our weekly Q & A is with New York Jets defensive end Muhammad Wilkerson, who has recorded a career-high 10 sacks:
You're a Jersey guy, playing for a hometown team. You're only 24 years old, with an unlimited future. Do you ever pinch yourself?
[+] Enlarge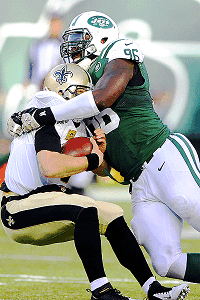 Robert Deutsch/USA TODAY SportsThe Jets' Muhammad Wilkerson has 10 sacks this season.
MW:
I talked to my friends, and they're still in awe or shock that I'm playing professional ball. It's starting to get by me now, but being this is only my third year, I still catch myself sometimes watching TV and I may see myself and I'm like, 'Damn, I'm really playing professional football.' I dreamed this when I was growing up as a young kid. Now it's really happening, and I'm being successful as well. It's cool.
What's the best thing about playing in the New York/New Jersey area?
MW:
Even though we have some crazy fans, being around home, being around this organization, a great group of guys in the locker room, great fans ... They can be crazy and say some crazy stuff, but I love these Jets fans around here.
You went to a Rangers game the other night at the Garden. Did you get recognized?
MW
: They put me up on the darned JumboTron (laughs). But I had no problem with it, it's cool. I was with
Jaiquawn (Jarrett)
. He was getting on me. I was just smiling, laughing. I enjoyed it.
Next year is the final year of your rookie contract. Do you want to be here long-term?
MW:
Yeah, definitely. I love Rex (Ryan) as a coach, I love this organization. I'm thankful and blessed they brought me here. I would like to be here for a long time, but we'll see. I can't control that.
The defensive line is the strength of the team, and all the key pieces are 26 or younger. You must be excited about the future
:
MW
: Yeah, definitely. We can be a great group, but we have to put in the work. We have the talent, but we have to work together and do our part, individually and as a team.
Are you happy with your season?
MW
: I'm a team guy, man. You can't ask me about individual stuff.
Are you happy with the Jets' season?
MW
: I'm not happy. I think we shot ourselves in the foot in some games, but we can't dwell on that. This offseason, we have to find ourselves and find out what went wrong, learn from them and get ready for next year.
November, 16, 2013
11/16/13
8:00
AM ET
Our weekly Q & A is with Hall of Fame running back Curtis Martin, who was in the news recently. He accepted an invitation by
Miami Dolphins
owner Stephen Ross to serve on an advisory committee to review the Dolphins' conduct policies and make recommendations in the aftermath of the
Richie Incognito
-
Jonathan Martin
bullying scandal:
How does a former Jets great end up on a Dolphins committee?
Martin
: It doesn't have anything to do with it being the Miami Dolphins; this is a universal problem. It's this situation. You know all about the turmoil it has caused. Stephen wanted to pick out individuals he trusted, people like (former Dolphins)
Jason Taylor
and
Dan Marino
. I'm more of an outside point of view.
You don't see anything weird about it?
[+] Enlarge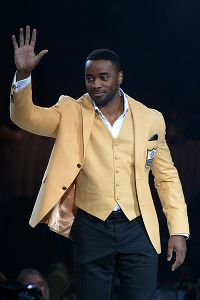 Kirby Lee/USA TODAY SportsCurtis Martin is going to serve on an advisory committee to review the Dolphins' conduct policies in the aftermath of the Jonathan Martin-Richie Incognito situation.
Martin:
No. At the end of the day, the NFL is part of my family now. It wouldn't matter what team it was. This is something I wanted to do. It's a very important issue.
In all the years you played, did you ever witness this type of bullying?
Martin:
No, I've never seen anything like it, personally. I'll be really interested to see the final facts. In a situation like this, you have to get all the facts and make a judgment. When I was playing, there's no way I'd be aware of a situation like this and not address it. I take this issue very seriously. I hear a lot of people saying a lot of things. People say [the Dolphins] had to know it was going on, but that's not necessarily true. Really, I'd rather wait until we have all the facts before I say anything more about it.
How did you get to know Stephen Ross?
Martin
: We've had some interactions in the past. I definitely have a lot of respect for him. From his words, I think he appreciates the way I think about things.
When you retired in 2007, you said you were close to becoming involved in the ownership of an NFL team A short time later, Ross purchased the Dolphins. Were you talking to him about becoming a part owner of the Dolphins?
Martin:
When I was freshly retired and looking to buy into team, he was one of the guys generous enough to give me good advice. I was seeking out the expertise and experience from different owners. I wanted to talk to some owners who had been around a long time, and I wanted to talk to new owners.
Let's talk about the Jets. Are you surprised they're doing so well?
Martin
: I don't necessarily feel surprised about it. I always like to see how things play out. I'm glad they're doing well. Say what you want, but 5-4 is encouraging. There's a lot of potential there. Geno [Smith] is growing and growing.
What do you think their record would be if Mark Sanchez still were the quarterback?
Martin:
That's a real guess. To be honest, if I knew, I'd say. Sanchez has had pretty decent years, but I like Geno's talent. He's versatile. He has escapability, along with a pretty good arm. Once this kid totally understands the game … I equate it to chess. When I started to learn to play chess, I made some good moves, but I didn't have a sense of the whole board. It's the same thing with playing quarterback. You have to know where everybody is on the field. That will come in time. Geno will be very dangerous as he develops that quality.
You're also a member of the Super Bowl XLVIII committee. How's that going?
Martin:
It's been a learning experience. I always thought the teams just showed up at the game, there was more traffic and that was all there was to the Super Bowl. But it's so much more than that. You have to work with the lighting on the field, transportation, sponsorships. What if it snows? It's really a huge, huge task to put on a Super Bowl. Woody Johnson wanted me to sit in on the committee, on hehalf of the Jets, and I consider it a tremendous honor. This is going to be one of the biggest, best Super Bowls ever.
September, 28, 2013
9/28/13
8:00
AM ET
We sat down with New York Jets right tackle Austin Howard, who played a superb game last week against Buffalo Bills defensive end Mario Williams. Howard has an interesting background: He began as an undrafted free agent from Northern Iowa, where he played basketball and football:
Q: Was basketball your first love?
Howard:
I always loved basketball, but the biggest role model for me was my oldest brother, Marcel, and he went out for football. He had a lot of success at Iowa State and was in the league for a little bit [training camp with the
Detroit Lions
]. So that's what I wanted to do. I wanted to follow in his footsteps. But basketball, I had fun doing it. It just got to a point where I realized I was too big -- a 6-foot-7, 290-pound power forward/center. I kept growing and growing and growing. I had a blast at Northern Iowa. We went to the NCAA tournament and played Georgetown [in 2006]. I didn't play in that game, and I didn't play much overall [five games, eight points], but it was a once-in-a-lifetime opportunity. I remember we played "Big Baby" Davis. We actually beat LSU at LSU.
Q: What was it like coming out of a smaller school and trying to make it as an undrafted free agent?
Howard:
I've never been used to big-time lights. I've always felt that, even through high school and college, I need to give 110 percent to really show myself. I was blessed to go to Northern Iowa because, one, I felt like it gave me an opportunity to focus on my education. In terms of sports, it was an opportunity to be a big fish in a small pond. I felt I could succeed there and show off my skills. At other places, I might not have had that type of chance.
Q: Kurt Warner went to Northern Iowa, and he had a storybook career. Is he the inspiration for undrafted guys out of Northern Iowa?
Howard:
He has a great story, but, I mean, you can't look at him as someone you want to model yourself after and have that same type of mentality when it comes to the small schools. You know, guys make it. I believe we had three offensive linemen during my career at UNI that went to the league. It happens. If you're good, they'll find you.
Q: You weren't really on the radar here until the start of the 2012 training camp, when you reported at about 330 pounds. You dropped almost 30 pounds that offseason. Was that the turning point for you?
Howard:
I never felt I was at a weight that was inhibiting my performance, but the coaches here know a lot about the body and science and the work that goes into this sport, and they felt it would be better if I was at a lighter weight. Obviously, it has worked. I have to give a lot of credit to my fiancee [Larissa Johnson]. She works out a lot. She was cooking all the meals and dragging me to her [fitness] classes at six o'clock in the morning. We did rollerblading, mountain biking, you name it. That helped me become the player I am now.