AFC East:

University of Miami
August, 15, 2013
8/15/13
4:00
PM ET
DAVIE, Fla. -- The
Miami Dolphins
completed their 2013 training camp Thursday, and one of the top players in camp was second-year defensive end
Olivier Vernon
.
The former third-round draft pick has been arguably Miami's most improved player throughout organized team activities, minicamps and training camp. Vernon beat out No. 3 overall pick
Dion Jordan
for the starting job at defensive end, although Jordan has been hampered by an injured shoulder.
Vernon was a backup for the Dolphins last year and registered 3.5 sacks off the bench. This year he's looking for more. I caught up with Vernon Thursday after the final practice of camp to get thoughts on his progress.
[+] Enlarge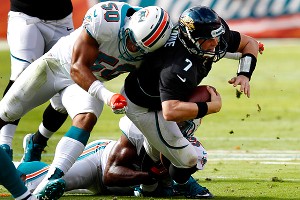 Robert Mayer/USA TODAY SportsDefensive end Olivier Vernon (50) hopes to build on a solid rookie season.
James Walker:
Olivier, you and left tackle
Jonathan Martin
have been going at it a lot in this camp. How much are you making each other better for the regular season?
Olivier Vernon:
We're making each other a whole lot better. We try to go against each other every time in practice. As far as pass-rush moves, with me using my hand techniques, I've learned so much [facing Martin]. I've grown so much from last year to now, it's like a whole different person. I have him to thank for that. He helped me a lot, and being able to see him, he's gotten so much better. It works hand and hand.
Walker:
I was going to ask about your growth since your rookie year. Has the game slowed down for you in Year 2?
Vernon:
Last year was a whole boatload I had to learn. It was kind of overwhelming. But I just tried to go out there and played my best. Now, this year I feel like I know most of the things that's going on. So it's much easier. You don't have to worry about, "Do I have to do this? Do I have to do that?" It slows down for you mentally.
Walker:
What's it been like playing for Dolphins defensive coordinator Kevin Coyle?
Vernon:
He's a real cool dude. He sets people in position to make plays. If you know your role and you're good at your role and do your job, you're going to make plays. Last year was a new coaching staff, so he couldn't put everything in. We had to crawl before we [could] walk. So this year it should be more things added on defense-wise.
Walker:
Miami's defensive line has a lot of depth. What's the ceiling for this group?
Vernon:
It can be great. We got a special D-line group. We all try to make each other better, especially with competition. The sky is the limit I feel like for this D-line.
Walker:
Any predictions for your alma mater this year: the University of Miami?
Vernon:
For the U? I know they're going to beat the Gators [laughs]. That's for one. But I feel like they're going to be okay. They're going to be alright. It all depends on what happens with this whole NCAA thing [investigation].
July, 24, 2013
7/24/13
11:30
AM ET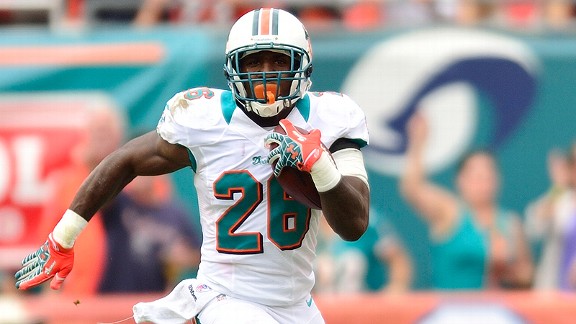 Steve Mitchell/US PresswireWith Reggie Bush gone, Lamar Miller (26) appears to have the inside track to lead the Miami Dolphins' rushing attack in 2013.
DAVIE, Fla. -- The South Florida sun is beaming on the
Miami Dolphins
this week during training camp. They were among the first handful of teams to kick off the 2013 NFL season, and the July weather is unrelenting.
But no spotlight in Miami is hotter or brighter right now than it is on
Lamar Miller
. The Dolphins, who have playoff aspirations, are banking on their second-year tailback to carry the running game despite a small sample size in Miller's rookie season.
Miller is a proud Miami product through and through. He grew up in Miami, played high school football in the city and was a star running back in college for the Miami Hurricanes. Last year, Miller completed the Miami football trifecta when he was drafted by the Dolphins in the fourth round.
This year, Miller gets the rare opportunity to be the featured runner for his hometown NFL team. The Dolphins showed a lot of confidence in Miller this offseason by letting leading rusher
Reggie Bush
walk in free agency. It was Miller, not Bush, who led Miami with 4.9 yards per attempt last season, and the Dolphins expect more of the same in 2013.
Miller appears ready for the challenge. He certainly has a quiet confidence about him in Year 2 that he didn't have as a rookie.
"I feel very comfortable just getting used to running the ball, the offensive line scheme and just being [involved] more," Miller said. "I just know what I'm doing. I'm not second-guessing too much, and I'm just doing what the coaches are telling me to do. Last year, I was thinking about it too much."
Are the Dolphins making the right decision? It's too early to tell whether Miller can handle the load after just 51 carries last season.
Miller ranked 10th among rookie rushers last season with 250 rushing yards. Other drafted running backs such as
Alfred Morris
(1,613 yards) of the
Washington Redskins
,
Doug Martin
(1,454 yards) of the
Tampa Bay Buccaneers
and
Trent Richardson
(950 yards) of the
Cleveland Browns
had far more productive rookie campaigns and are safer bets as starters in 2013.
However, Miller has been praised by the Dolphins all offseason. Miami's coaching staff and front office are seemingly as high on Miller as Washington is on Morris and Cleveland is on Richardson. It's a calculated risk, but Miller is doing all the right things at this point to make the Dolphins feel secure in their decision.
"[Miller] is very, very fundamentally sound," Dolphins head coach Joe Philbin said. "He is a guy where we talk to our team about ball security. ...There were a lot of good clips we showed the ball club yesterday of him in practice executing the fundamental of where we want to.
"I think his knowledge of the system has definitely increased. He appears to be a lot more comfortable in what he is doing. [There] doesn't appear to be much indecision in his play. He's doing a nice job."
The hunger for more is what's fueling Miller. He made a wise decision this offseason to train with four-time Pro Bowl tailback and fellow University of Miami alum
Frank Gore
. Miller looks up to Gore, 30, because they have a lot of similarities. Gore also is a Miami native who took a similar path to the NFL by starring at the University of Miami. Similar to Miller, who suffered a shoulder injury in college, Gore (knees) also entered the NFL with injury concerns but went on to have a stellar career.
Miller believes his time with Gore will make him a better NFL player in 2013.
"He gave me a lot of advice, going from his first year to now," Miller explained. "He taught me how to pass protect, catch the ball out of the backfield and take whatever the defense is giving me."
Being a starting running back in Philbin's offense isn't easy. The player must have multiple talents, many of which do not include just running the ball.
Philbin and offensive coordinator Mike Sherman run a quarterback-heavy West Coast system that requires running backs to do a lot of pass protecting and catching the football in open space. The closest comparison would be Pro Bowl quarterback
Aaron Rodgers
' offense in Green Bay, where Philbin served as offensive coordinator from 2007-11. Philbin is trying to mold the Dolphins into a similar attacking-style offense.
The Bush safety net is no longer available for Miller. He is the focal point of Miami's running game and must prove he can be a complete tailback. Miller averaged just 3.2 carries per game last season, and that number could get into the 20s on most weeks this year.
There is certainly a buzz in Miami that Miller is ready to produce his first 1,000-yard season. But Miller isn't focusing on his own preseason hype.
"I hear people talking about it, but I really try not to get into it," Miller said. "I'm just staying humble and just staying focused on what the team wants me to do."
May, 30, 2013
5/30/13
11:00
AM ET
Former head coach Jimmy Johnson is best known in the NFL for winning back-to-back Super Bowls with the
Dallas Cowboys
. Johnson took a 1-15 team in 1989 and turned it into a multiple Super Bowl winner by the time he left the Cowboys in 1993.

Johnson
But Johnson also has very strong ties in Miami, where he had success both at the collegiate and NFL level. The total body of work
earned Johnson the No. 13 spot
on ESPN.com's list of all-time great coaches.
Johnson's rise to fame among the coaching ranks began during his five very successful years as head coach of the Miami Hurricanes from 1984-88. Johnson's fiery coaching style led the Hurricanes to a national championship in 1987 and a stellar 52-9 overall record at Miami.
After leaving Dallas in 1993, Johnson came out of retirement three years later to lead the Dolphins. Johnson's goal was to get Hall of Fame quarterback
Dan Marino
a Super Bowl ring, but that never materialized.
Johnson had a 36-28 record in Miami and led the Dolphins to the playoffs in three of his four seasons. But Johnson was 2-3 in the postseason with the Dolphins and wasn't able to get over the hump. Johnson retired for the last time after 1999 season, which also happened to be the same time Marino retired. Both had a huge influence on the Miami football landscape in the 1980s and 1990s.
March, 20, 2013
3/20/13
9:46
AM ET

The
Miami Dolphins
quickly went to work this week to find a replacement for four-time Pro Bowler
Jake Long
. One day after re-signing versatile backup offensive tackle
Nate Garner
, Miami is meeting with unrestricted free agent
Eric Winston
, ESPN's
Adam Schefter reports
.
Winston would be a good fit in Miami for several reasons. He's a former University of Miami alum and knows the area well. Winston also is very durable. He has 103 career starts and has not missed a game in six seasons. Winston played in all 16 games last year for the
Kansas City Chiefs
.
The biggest question: Can Winston play left tackle? He's played most of his career at right tackle, and asking Winston to switch to the left side full time might be asking too much.
Miami's 2012 second-round pick,
Jonathan Martin
, is currently the favorite to replace Long on the left side. If Winston is signed, perhaps Martin and Winston would have to compete at left tackle in training camp, with the loser getting the right side.
Schefter also reports the
New England Patriots
,
San Diego Chargers
,
Philadelphia Eagles
and
Dallas Cowboys
are interested in Winston.
January, 25, 2013
1/25/13
7:00
AM ET
Here are the most interesting stories Friday in the AFC East: Morning take: Revis is a stud on a team that's not close to a championship. The Jets probably won't pay him in 2014, either. So a separation might be best for both parties.
Morning take: At 35, Brady certainly is no longer in his prime. But he is still an elite quarterback and that's enough to keep New England in title contention next season.
Morning take: Miami had two hits in last year's draft with defensive end Olivier Vernon and running back Lamar Miller from the University of Miami. The Florida colleges are always filled with talent, and the Dolphins should be on top of their home turf.
Morning take: The Bills will be looking at any and all quarterback prospects. Wilson has holes in his game, but so do other quarterbacks. He is getting early comparisons to Washington Redskins backup Kirk Cousins.