December, 9, 2010
12/09/10
5:22
PM ET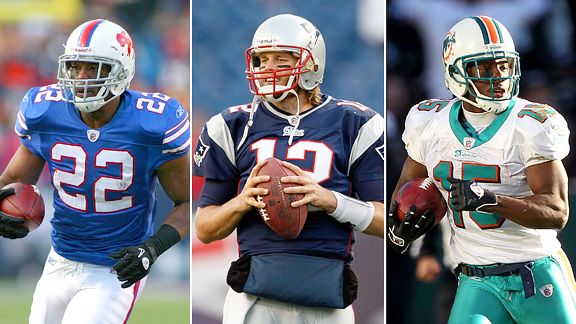 Getty ImagesFred Jackson, Tom Brady and Davone Bess came into the league as unheralded long shots but have made the most of their chances.
It's no mystery why we love underdogs.
Respected football minds who get paid to assemble NFL teams dismissed them out of hand, scratched them from their draft lists, cut them in training camp.
Yet these players survive. They're too driven to give up. Not all of them become stars, but that's not necessary to become a precious asset on a team.
"As a coach, you love those stories," said former
New York Jets
and
Kansas City Chiefs
head coach Herm Edwards. "They don't let you down."
Said
Buffalo Bills
head coach Chan Gailey: "You have to have them. There's no way to play the game without them."
Overachievers have dominated the AFC East this year. Late-round draft picks, players who weren't drafted at all and castoffs from other teams have starred for every team, including the MVP favorite (
Tom Brady
), two leading rushers (
BenJarvus Green-Ellis
and
Fred Jackson
), three leading receivers (
Wes Welker
,
Steve Johnson
,
Davone Bess
) and three sack leaders (
Cameron Wake
,
Mike Wright
and
Kyle Williams
).
These thriving underdogs are a substantial reason why the AFC East has been so compelling this year.
"It's
football
," said Jim Jensen, the ultimate survivor with the
Miami Dolphins
. They drafted the Boston University quarterback in the 11th round in 1980, and he stuck around until 1992 as a receiver/wedge buster/long snapper/third-down fullback/holder/tell me where to go, Coach, and I'll hit them.
"I like to watch guys that are working hard and working for the team," Jensen said. "They're working for a goal. They're not selfish. Wes Welker is a great example. He just loves to win. He's unselfish. Davone Bess is another one who's an inspiration to watch."
There's a reason the conquering underdog is such a common theme in Hollywood.
"These guys have something to prove," said film producer Mark Ciardi. "There's enough of these stories where these guys just survive and climb over players teams have a lot of money invested in. It's just a different thing when you've got to prove people wrong. They know they've got to check way more boxes than other people to succeed."
Ciardi pitched for the Milwaukee Brewers despite being a 15th-round draft choice in 1983.
"I got no money to sign," Ciardi said. "I was the last guy on the pitching squad of 17 guys in rookie ball. I had no chance."
Four years later, Ciardi made it to the majors. He started three games and pitched another in relief. He defied the odds, which is why he finds stories about unlikely heroes so appealing.
Among his true-story films: "Invincible" (about
Philadelphia Eagles
walk-on Vince Papale), "Miracle" (about the 1980 U.S. Olympic hockey team), "The Rookie" (about 35-year-old rookie pitcher Jim Morris) and "Secretariat."
All of those motion pictures portrayed an undeniable will to win, a theme that has carried Ciardi throughout his career. He sees it in such players as Brady and Patriots running back
Danny Woodhead
.
"What I realized was you've got to work extra hard," Ciardi said. "Nothing will be given to you, but you have an opportunity. The only way you're going to succeed is to snatch it and force them to keep you. If they don't have money invested in you, chances are you're not going to get the same kind of shot."
But having overachievers on the roster means more than a compelling storyline and increased jersey sales.
They often become team leaders and examples for other players to emulate. Underdogs help manage the salary cap because they're cheaper (at least in the beginning). They make draft mistakes much more bearable. They help a front office sell the team to future free agents.
"They're so coachable," former
Baltimore Ravens
head coach Brian Billick said. "Once they get into it, they realize how tenuous it is to stay in the NFL. Nothing came easy for them. You love having guys like that on your team."
Inquiring about a coach's favorite player is like asking a parent to name his favorite child. But it's easy to guess what type they admire most: the relentless survivors.
"You know what they have done to get to where they are," Gailey said. "As a competitor, you appreciate that. Everybody doesn't end up with a bunch of God-given talent. Guys have to go fight for what they want in life. When those guys get it, it's very satisfying to see it for those guys to make it."
[+] Enlarge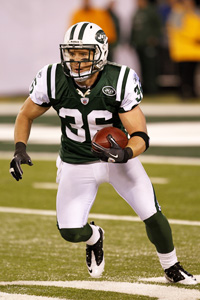 Chris Trotman/Getty ImagesJim Leonhard went from the NFL scrapheap to being a vital player on defense and special teams for the Jets.
Two players New York Jets head coach Rex Ryan identified as critical to his establishing his defense last year were inside linebacker
Bart Scott
and safety
Jim Leonhard
. Neither was drafted. Leonhard had been waived by the Bills, re-signed and then cast adrift in free agency because the Bills viewed him as no more than roster filler. When Leonhard suffered a season-ending shin injury last week, Jets fans got nervous because he was integral to the secondary and special teams.
The NFL-leading
New England Patriots
are loaded with examples of perseverance. Brady has been such a superstar in the league for so long, it's sometimes strange to think of him as an underdog. But as the 199th pick in the 2000 draft, Brady might be the game's greatest overachiever.
Wake, the Miami Dolphins outside linebacker, leads the league with 12 sacks. He wasn't drafted and went five years between his last down at Penn State and his first in the NFL. Pro Bowl safety
Yeremiah Bell
was a sixth-round pick who got waived as a rookie and placed on the practice squad.
Buffalo's offense features late-round picks or undrafted players at the three marquee spots. Quarterback
Ryan Fitzpatrick
was a seventh-round draft choice and a career backup. Jackson didn't start a game for his high school team and came up through Division III and the arena leagues before emerging in NFL Europa. Top receiver Johnson was a seventh-round draft choice.
As inspirational as these players are, they also make slackers look that much worse. Those healthy first-, second- and third-round players who can't get on the field unfortunately aren't wired to battle that way.
"A lot of these guys think it's a right that they have to play," Gailey said. Overachievers "realize it's a privilege to play this game.
"When you got a guy who knows how to fight and understands the fight, understands competition, understands working through adversity and he becomes a good player on your team, then that helps set a tone."
Billick and Edwards emphasized the impact of undrafted players and late-round successes on a roster's overall well-being. Edwards, an undrafted player who started for the Eagles from the opening day of his rookie season, said unearthing overlooked gems are "like getting a free draft pick." Billick noted that they're instrumental to managing the salary cap.
"The residual effect is you don't have to spend those resources," Billick said, "whether they be draft choices or a procurement through free agency to go fill that spot.
"You pick Tom Brady up in the sixth round. Are you kidding me? What that does for your organization ... Even the difference between that and having to draft
Matt Ryan
third in the draft, the resources you have to spend is just a gift from above."
Heaven-sent is how Patriots fans must view a good chunk of their division-leading team. Dolfans can't be more thrilled with Wake or Bess. The Jets will depend on undrafted starters such as right guard
Brandon Moore
, defensive end
Mike Devito
and Scott down the home stretch while certainly missing Leonhard.
And about the only pleasure Bills fans have had this season is watching their unlikely stars because they're such gripping characters.
"An underlying factor to all these stories," Ciardi said, "is the will and the heart that makes them extraordinary on the field."
November, 18, 2008
11/18/08
6:56
PM ET
Posted by ESPN.com's Tim Graham
They weren't good enough to be Mr. Irrelevant.
Some probably avoided watching the NFL draft when it was their year to be called. Those who did watched and waited and waited and waited ...
Never did they hear that ESPN jingle alert and then witness their names triumphantly flash at the bottom of a television screen. Mel Kiper didn't get to say what astute late-round steals they were.
So many players don't get selected, but undrafted doesn't always equate to unwanted or unable.
Key Undrafted Players in the AFC East
Just because a player wasn't drafted by an NFL team doesn't mean he can't have a productive career. Consider the following players now playing in the AFC East:
Buffalo Bills
Player
Analysis
CB Jabari Greer
Although he suffered a knee injury Monday night, he was Buffalo's best pass defender. He returned both of his interceptions for touchdowns.
LT Jason Peters
He was undrafted as a tight end, cut and re-signed to the practice squad. The Bills converted him into a Pro Bowler at a critical position.
Miami Dolphins
WR Greg Camarillo
The former walk-on punter at Stanford leads the Dolphins with 49 catches for 538 yards.
WR Davone Bess
The rookie has 19 catches and has been the team's best kick and punt returner.
New England Patriots
LB Larry Izzo
He has been to three Pro Bowls as a special-teams ace. He has led the Patriots in special-teams tackles in seven of the previous nine seasons.
WR Wes Welker
He set a franchise record last season with 112 receptions and is one off the NFL lead this year with 72.
New York Jets
RG Brandon Moore
The only undrafted offensive lineman among a unit with decorated resumes. He has been a starter since 2004.
FB Tony Richardson
Three-time Pro Bowler has blocked for a 1,000-yard rusher six times, and should have his seventh this year in front of Thomas Jones.
The NFL is rife with examples of undrafted players who develop into weekly contributors or maybe even stars, and the AFC East is loaded with them this year.
The NFL average for undrafted players is about 13 per roster. The New England Patriots have 18 of them. The Buffalo Bills have 17. The New York Jets have 16. The Miami Dolphins have 14.
"From Day One, we put some of those guys out there potentially to make a difference," Dolphins coach Tony Sparano said. "Right now, we're seeing some of that happen out there."
They've played a significant role in making it the most competitive division. Only two games separate first place from last place, and it's one of just two divisions in which each team has outscored the opposition.
Coaches admit a special satisfaction when rummage-bin players develop into reliable contributors.
"Guys that are undrafted have a certain degree of underdog status or long shot," Patriots coach Bill Belichick said. "It's great to see those guys that nobody talks about, nobody has
any hype for do well and be able to play and compete and have a job and a position in this league.
"To me, that's what the NFL is all about. It's about competition, and it's about performance. That's not necessarily the way it is in everything else, but on the football field, that's the way I see it.
"The guys that start from the bottom and come all the way up and earn it as a free agent, kind of like a lot of have -- players and coaches -- that is gratifying for them and overall for the system."
Both AFC East victories in Week 11 were off the right foot of an undrafted player. Jets kicker Jay Feely made a 34-yard field goal in overtime to beat the Patriots on Thursday night. Rookie Dan Carpenter kicked a 38-yard field goal inside the final 40 seconds to beat the Oakland Raiders.
Four players in the Patriots' starting offensive lineup Thursday were draft orphans, including Wes Welker. He's second in the NFL with 72 catches. Running back BenJarvus Green-Ellis has been remarkable. Two more started on defense.
Three-quarters of the Dolphins' active receiving corps wasn't drafted. Greg Camarillo is one of them. He leads the Dolphins with 49 receptions. Davone Bess has been their most productive punt and kickoff returner. Third running back Patrick Cobbs, also undrafted, is second only to starter Ronnie Brown in nonkicker scoring with three touchdowns.
Buffalo's Pro Bowl left tackle, Jason Peters, wasn't drafted. Neither was top cornerback Jabari Greer or starting safety George Wilson.
The Jets signed right guard Brandon Moore as a rookie free agent in 2002. He has started 72 games and counting. Pro Bowl fullback Tony Richardson and starting safety Abram Elam also were passed over.
"When you stop and think about the number of guys in the draft, you got about 1,500 guys in the pool and each team can take only about seven of them," said Charley Armey, a retired player personnel man who spent seven years in the Patriots' front office in the 1990s.
"There's a huge area for guys to slip through the cracks."
Armey is associated with one of the most famous undrafted players in NFL history. Armey was the St. Louis Rams' director of player personnel in 1998, when they signed Arena Football League quarterback Kurt Warner. Another of Armey's favorite discoveries is linebacker London Fletcher from Division III John Carroll University.
"It never surprises me because I know there are so many factors that can keep them getting drafted," Armey said from his home in Sun City, Ariz. "As much energy as we put into the NFL draft, one thing you can't predict is how a player is going to make that jump from college to the NFL."
Undrafted players are more than roster spackle. They're necessary to the foundation of any organization.
They're cheap labor, for one.
"Because of the salary cap you have to have some of these lower-end guys make your team and develop or your salary cap won't work," Armey said.
Said Sparano: "We're kind of looking for something for nothing in some of those situations."
While some teams concentrate on acquiring as much star power as possible (and then struggle to pay them all), Armey noted a philosophy Dick Vermeil brought to the Rams.
Vermeil, as head coach of the Philadelphia Eagles, signed Vince Papale, a bartender and part-time teacher who became an NFL receiver and special-teamer. Papale's uplifting story was the subject of the 2006 motion picture "Invincible."
"Dick was a firm believer of working the bottom of the roster," Armey said. "You have to be in the business of developing players and rotating them in and work the bottom of your roster as hard as you work the top."
The process of developing undrafted prospects will be more difficult without NFL Europa. More players will emerge from arena leagues -- something called the U.S. Indoor Football League spawned backup Bills running back Fred Jackson -- or the Canadian Football League.
With so much competition among scouting staffs, unearthing a hidden gem is virtually impossible. Teams evaluate more players than ever. When a personnel director identifies someone he wants to sign, chances are other clubs have contacted the agent already.
In that regard, acquiring a rookie free agent resembles the college recruiting process for a blue chipper.
The Dolphins out-jockeyed several teams to land Bess, who was Colt Brennan's top target at Hawaii. The Dolphins thought Bess would be drafted, and when he wasn't they sprung into action.
"It's maybe not so much being first, but selling your depth chart," Sparano said. "For us this year, that was easier. We're selling opportunity. Kids are looking, and maybe they're favorite team might've been the Pittsburgh Steelers, but at the end of the day they've got to go where they think they got the best chance of making the team.
"They have five receivers and this team has three receivers ... For a guy like Bess, he had a lot of people calling him. We were fortunate, and he was fortunate."
A reputation of fair treatment is another strong selling point when it comes to free agents. The Patriots are known as an organization that values performance over pedigree.
Not only do the Patriots give undrafted players an honest look in training camp, but they also have a tendency to trust their young reserves and look at their practice squad before considering outside help when injuries strike.
"If you sign with us, you're going to get a chance," Belichick said. "If you play good enough, you're going to get a roster spot. If that means some other higher draft choice or some other big-name, higher-profile guy doesn't play as well, then that's competition. That's what this league's about."
And when the process yields results on a regular basis, the results can be more rewarding than hitting on draft picks.
"The pride factor is in the player, that he was willing to do what he had to do," Armey said. "I picked up a lot of guys that I knew had the talent but didn't do what they had to do. But when you get a guy with a competitive edge and he wants to overcome being 5-foot-9 or slow, you can find a great player.
"It can pay you off in dividends."