September, 11, 2013
9/11/13
3:49
PM ET
Things turned around fast for the Patriots after their season-opening win over the Bills on Sunday. The coaching staff graded the film on the plane ride home from Western New York in anticipation of fast-forwarding to this week's opponent, the Jets.


Whenever the Patriots and Jets square off there's going to be a layer of intrigue. The teams have had no shortage of dramatic moments in the recent past, both during games and in the days leading up to them.
To the surprise of many, the Jets got the job done narrowly at home over the Bucs in Week 1, sparked by a late scramble by quarterback
Geno Smith
and subsequent personal foul penalty that pushed them into game-winning field goal range.
With a chance to jump out in front of the rest of the division at stake, here are five items we'll be watching for on Thursday night.
1. Who catches passes?
With
Danny Amendola
(groin) likely to sit out Thursday's game, the Patriots must go back to the drawing board to find their top receiver. The presumptive top target this week is
Julian Edelman
, a Week 1 star who has long held the trust of
Tom Brady
. Behind Edelman,
Kenbrell Thompkins
will hold down the perimeter targets, with
Josh Boyce
as a candidate to step into a third receiver role. Fellow rookie
Aaron Dobson
(hamstring) could be active this week, but it wouldn't be a surprise if he doesn't play a major offensive role even if he suits up. He's still in the development stages. Tight end
Zach Sudfeld
(hamstring) might be out, catapulting
Michael Hoomanawanui
into a starting role.
2. Ridley the bell-cow back?
After being benched in the second quarter due to a fumble, might running back
Stevan Ridley
be put right back into his starting role in the backfield? The team needs him with
Shane Vereen
now on the short-term injured reserve list, and Ridley has bounced back from fumbling woes before. Consider this: In the four games following his fumbles in 2012, Ridley averaged 17.75 carries. In the other 12 games, he averaged 18.25. Don't be surprised if he takes on a leading role again this week. Veteran
Leon Washington
, if healthy, could be used to replace Vereen.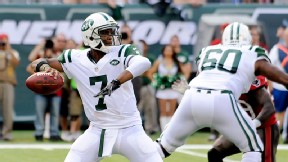 (AP Photo/Bill KostrounThe pressure will be on the Patriots' defensive line to get to Jets rookie quarterback Geno Smith.
3. Pressuring Geno.
Sacks don't always tell the story as it relates to generating pressure on opposing quarterbacks, but Thursday night would be a good time for the Patriots to register their first sack of the season after being shut out against Buffalo. They'll face another rookie quarterback. One way to knock Geno Smith off of his game is to make him uncomfortable in the pocket. The Patriots' defensive ends and edge players will be under the microscope in this department.
4. Wilfork vs. Mangold.
We don't often dig into individual matchups for our items to watch for, but this one is too good to ignore. When the Patriots play the Jets, it means two of the very best at their craft go head-to-head, as nose tackle
Vince Wilfork
will often align over Jets center
Nick Mangold
. Mangold left Week 1 with an elbow issue but later returned and should be good to go on Thursday. The Jets love to run the football, but Mangold will have his hands full in trying to generate movement against Wilfork.

5. Jets DL in focus.
In reviewing the Jets' first game of the season, it was clear that the defensive line is an explosive and disruptive group that won't make things easy on Brady.
Muhammad Wilkerson
is a star already, while first-round pick
Sheldon Richardson
had an active afternoon against both the run and pass, totaling seven tackles and a half sack. Veteran
Antwan Barnes
adds edge pressure and the Jets' front seven will be a big test even without 2012 first-round pick
Quinton Coples
. The Patriots' offensive line picked it up down the stretch against Buffalo, but it must be ready again when the Jets take the field. This defense will find ways to manufacture pressure through both schemes and individual rushers.
April, 15, 2010
4/15/10
3:41
PM ET
That speck in the AFC East's rearview mirror is the
Buffalo Bills
.
And, no, objects are not closer than they appear.
Given the circumstances within the division and looming labor uncertainty, it's possible the Bills will have to wait until 2012 to have a reasonable shot at the playoffs.
The Bills went into the 2010 offseason a distant fourth to their three divisional opponents. The
New England Patriots
are defending champs. The
New York Jets
reached the AFC Championship game. The
Miami Dolphins
won the division in 2008.
Those were the facts before offseason maneuverings commenced. After the various signings and trades, Buffalo is lagging even more.
The Bills clearly are rebuilding, and that's OK. They should have embraced that concept years ago. Instead, they treaded below mediocrity, failing to reach the playoffs 10 straight seasons.
As it shapes up now, the Bills would be a miracle playoff team. They not only would need to drastically improve, they'd also have to pray at least two proven AFC East teams crash.
Then there's the serious possibility of a lockout in 2011. Some predict the labor battle could wipe out the season.
The Bills have made some prudent decisions in revamping their front office. They promoted Buddy Nix to general manager and brought in
Pittsburgh Steelers
pro personnel coordinator Doug Whaley to be assistant GM. Nix hired Chan Gailey as head coach, perhaps not an inspirational choice, but a solid one.
Nix stated from the outset his approach to improving the team would be through the draft. That's the plan he has followed. Their biggest free-agent signings were defensive lineman
Dwan Edwards
and offensive tackle
Cornell Green
. They've made no trades. Buffalo is the only AFC East team that does not know who its quarterback will be.
Other AFC East teams have done the opposite, acquiring star veterans that make them better immediately and widening the gap between them and Buffalo enough to make it a three-team division in April.
The Jets have improved on both defense and offense: adding back
LaDainian Tomlinson
, receiver
Santonio Holmes
, cornerback
Antonio Cromartie
and perhaps outside linebacker
Jason Taylor
.
Miami traded for receiver
Brandon Marshall
and signed inside linebacker
Karlos Dansby
.
New England has done little more than re-sign its own players, who happen to be pretty good: nose tackle
Vince Wilfork
, running back
Kevin Faulk
and right guard
Stephen Neal
among them.
Buffalo fans should be optimistic about the new leadership. Nix and Gailey have done nothing yet that contradicts their master plan. They've given no reason to be disheartened about their long-range vision.
But the rest of the AFC East sure has made it tough to expect any Bills thrills for a while.
December, 25, 2009
12/25/09
3:00
PM ET
»
NFC Final Word
:
East
|
West
|
North
|
South
»
AFC
:
East
|
West
|
North
|
South
Five nuggets of knowledge about Week 16:
Maybe it was watching the Cowboys beat the Saints last week, but I can picture the Jets knocking off the Colts.
We'll find out quickly how important an undefeated season is to the Colts. The Jets might see more Curtis Painter than
Peyton Manning
, which wouldn't hurt their cause. But the Jets could beat the Colts straight up. They do own the NFL's top scoring defense and run offense. The Colts are average against the run. As always, the difference will how well rookie quarterback
Mark Sanchez
performs against the No. 20 pass defense.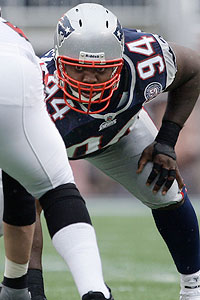 AP Photo/Charles KrupaThe Patriots will need Ty Warren if they hope to contain Maurice Jones-Drew.
The Patriots can't afford to scratch Vince Wilfork and Ty Warren this week.
The resourceful Patriots found a way to stop Bills running backs
Fred Jackson
and
Marshawn Lynch
despite the absences of two substantial defensive linemen. They'll need Wilfork and Warren to keep Jaguars running back
Maurice Jones-Drew
in check. Jones-Drew is tough to tackle. ProFootballFocus.com says he leads the NFL with
831 yards after contact
, almost 250 more than the next most persistent runner.
The Dolphins' pass rush will be pivotal to defeating the Texans.
The Dolphins' sense of urgency should manifest itself in the pressure it puts on Texans quarterback
Matt Schaub
. Through the air is the only way the Texans should be able to win. Their rushing offense is tied for last in the NFL. Miami's rookie cornerbacks will need all the help they can get from
Jason Taylor
,
Joey Porter
,
Cameron Wake
and
Randy Starks
in trying to contain premier receiver
Andre Johnson
. In games when Schaub gets sacked at least twice, the Texans are 3-6.
Bills fans should expect anything they see from Brian Brohm to be a bonus.
Brohm likely will make his first NFL start Sunday at Atlanta. He joined the Bills from the
Green Bay Packers
' practice squad barely a month ago, and until this week, has been running the scout squad. So Bills fans should not a) expect too much; b) project his performance as any significant indicator for the future. Brohm was a 2008 second-round draft pick who was never higher than third on the Packers' depth chart.
No matter what, the Patriots have ensured they will finish with the division's best record for the ninth straight season.
The
Miami Dolphins
still can win the AFC East if they win their last two games and the Patriots lose their last two. But one of the more remarkable accomplishments of the Bill Belichick era is that no division rival has finished with a better record since his first year as Patriots head coach.