AFC East:

Vinny Testaverde
February, 25, 2014
Feb 25
12:30
PM ET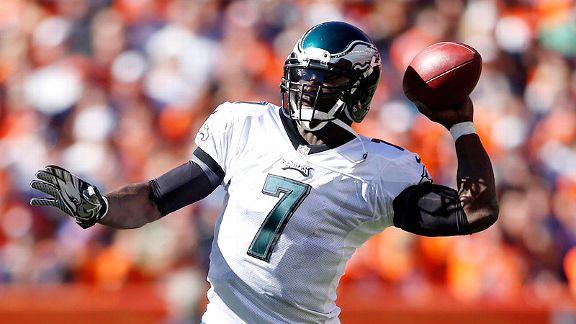 Chris Humphreys/USA TODAY SportsQuarterback Michael Vick could be just what the New York Jets need as a backup to Geno Smith.
It's 1998, and the
New York Jets
have a young quarterback they like a lot but aren't willing to marry. They're intrigued by a mid-30s free agent, a former No. 1 overall pick who lost his starting job the previous year with his second franchise. They decide to sign him, ostensibly as the backup, thinking he still has enough left if he has to play.
That's how the Jets landed
Vinny Testaverde
, who was 35 when he replaced
Glenn Foley
after a few games and led them to the AFC Championship Game. It was one of their smartest personnel moves ever.
Pardon the time travel, but the Testaverde story is relevant because the Jets are faced with a similar situation at quarterback -- not identical, but similar.
This time, the Testaverde role could be played by
Michael Vick
, who fits the same profile. He is a former top pick, turns 34 in June and will be looking for a third team after losing his job last season to
Nick Foles
, the new prince of the
Philadelphia Eagles
. The Jets are intrigued by Vick, and there's already rampant speculation they will pursue him when free agency begins March 11.
Do it.
Vick would be a nice fit for the Jets, assuming they part ways with
Mark Sanchez
. They need a seasoned backup who can fill a two-pronged job description: still good enough to pose a threat to
Geno Smith
(and win games, if called upon) and willing to serve as a mentor to the young quarterback.
This isn't to suggest that Vick will pull a Testaverde, who lasted four-plus years as the Jets' starter and became one of the most beloved players in franchise history, but he would fill the current void. He would be a short-term answer for a team that has to start thinking short term. The full-scale rebuilding project is over.
Make no mistake, the Jets still want Smith to succeed and believe he can, but they're still not willing to commit to him -- wisely so. Even though they have more invested in Smith than they did in Foley all those years ago, the Jets still have questions. A player like Vick would be solid insurance for 2014. If Smith regresses, if he crumbles under the pressure of having Vick over his shoulder, it's time to move on. You start over in 2015.
It's one of the toughest commodities to find, a quarterback willing to be a good-soldier backup but capable of becoming captain of the platoon if called upon. Vick was a model teammate last season, handling the quarterback change with aplomb, but he still wants to be a starter. There's no telling if he would be amenable to the Jets' situation. The Jets need to find out.
"A lot depends on the makeup of the No. 2 quarterback," said an AFC personnel executive, speaking on the condition of anonymity. "If you're grooming a young starter, there needs to be a healthy balance of competitor and mentor but also a good resource on the sideline and during game prep. I certainly think [Vick] can still start in the short term."
Another reason this could work is Vick's familiarity with Marty Mornhinweg's system. They spent four years together in Philadelphia, 2009 to 2012, with Vick making the Pro Bowl in 2010 after rebooting his career in the aftermath of a 21-month prison sentence for dogfighting. In 2010, he posted a career-high 100.2 passer rating.
A healthy and rejuvenated Vick, armed with his knowledge of Mornhinweg's offense, would pose a serious threat to Smith in training camp. General manager John Idzik always talks about competition; this would be real competition. You would have to think it would be Smith's job to lose. And if he does, so be it.
Obviously, Vick isn't the same player he was in 2010. Undermined by injuries and turnovers, his production has deteriorated -- with a touchdown-interception ratio of 35-27 over the past three seasons. He has played a full season only once in his career, but the beauty of the Jets' situation is that he probably wouldn't have to.
Because of his background with Mornhinweg, Vick is a better option than any of the other free-agent quarterbacks.
Josh McCown
, 34, is interesting, but he did nothing noteworthy in his career until a five-start hot streak last season with the
Chicago Bears
. He would be a good insurance policy -- until he had to play.
The way to go is Vick -- as long as he's cool with the conditions: Help the kid as much as you can, knowing that you'll play if you give us the best chance to win.
If the Jets decide to chase Vick, they might want to include the Testaverde story in their recruiting pitch.
June, 10, 2011
6/10/11
8:41
AM ET
Football Outsiders senior writer Mike Tanier has been charting the top five quarterbacks of every NFL team. In his
latest column, he broke down the AFC East's best
. You should click on the links to read Tanier's reasoning and interesting stats on each selection.
A first-round pick from the famed 1983 draft class appears on every list.

Buffalo Bills
Joe Ferguson
Jack Kemp
Quick take: It's strange to see Flutie on the Bills' all-time list. When I arrived in Western New York 11 years ago, the area was hotly divided over him and
Rob Johnson
. Some fans wanted Flutie to just go away. But I agree with the list and, as Tanier, points out in his piece, this goes to show how few great quarterbacks there've been over the years.

Miami Dolphins
Bob Griese
Don Strock
Earl Morrall
Quick take: The Dolphins have a two Hall of Famers in their history, but you can see how much trouble they've had finding a replacement for Marino when you consider their fourth- and fifth-best quarterbacks are known for being quality backups. Granted, Morrall came off the sideline to help maintain the undefeated 1972 season. But he started 14 times over five seasons with Miami and just 40 percent of his career games.

New England Patriots
Drew Bledsoe
Babe Parilli
Steve Grogan
Tony Eason
Quick take: This is the only AFC East team with an active quarterback on the list. The rundown couldn't be more straightforward to me. Maybe you could flip Grogan and Parilli because of longevity and the neck roll.

New York Jets
(
from a previous Football Outsiders column
)
Joe Namath
Richard Todd
Quick take: Tanier notes that if you wanted to rank Sanchez fourth right now, then he wouldn't argue. Neither would I, although I'd be more comfortable with Sanchez replacing Todd on this list. Tanier also claims if Pennington had avoided one of his lost seasons, he might be the greatest quarterback in Jets history -- from a statistical standpoint.
April, 19, 2011
4/19/11
2:13
PM ET
The NBA admitted it made a mistake by not penalizing Oklahoma City Thunder center Kendrick Perkins for goaltending on the pivotal, go-ahead basket with 65 seconds to play in Sunday's postseason victory over the Denver Nuggets.
That's
one of the hotter topics in sports lately
.
So what's the most controversial call in AFC East history?
There are a number of candidates to choose from. The Tuck Rule comes to mind. While technically not a blown call, it sure didn't look right.
The Patriots had a magical bicentennial season in 1976, but it came to a screeching stop. Defensive lineman Ray Hamilton was called for a highly questionable late hit on Ken Stabler, allowing the
Oakland Raiders
to turn a fourth-and-18 into a touchdown five plays later and eventually eliminate the Patriots from the playoffs.
The Music City Miracle still resonates with
Buffalo Bills
fans certain
Frank Wycheck
made a forward lateral across the field to
Kevin Dyson
. The Bills haven't been to the playoffs in the 11 years since.
In 1998, Bills receiver
Andre Reed
claimed he overheard an official say "Just give it to them" after Patriots receiver
Shawn Jefferson
made a controversial sideline catch with six seconds left, setting up
Drew Bledsoe
's winning touchdown pass to
Ben Coates
.
New York Jets
quarterback
Vinny Testaverde
scored a phantom touchdown against the
Seattle Seahawks
in 1998 on a fourth-down plunge that didn't cross the goal line. The Jets went on to win the AFC East.
Last year, the
Miami Dolphins
lost a potentially season-changing game against the
Pittsburgh Steelers
when officials ruled the video replay couldn't determine
Ikaika Alama-Francis
recovered in the end zone. The Steelers kicked a field goal to win by a point.
Those are just a few that come to mind.
What call do you think is the AFC East's worst of all-time?
February, 9, 2011
2/09/11
8:28
AM ET
I once heard Tom Donahoe, the former Buffalo Bills president and general manager, call quarterback Drew Bledsoe a future Pro Football Hall of Famer.
Then again, Donahoe used to say a lot of things.
I was reminded of this when taking a glance at players who will make their first appearance on the Hall of Fame ballot for 2012.
Buffalo News reporter Mark Gaughan, who's on the Hall of Fame selection committee and last weekend was elected president of the Pro Football Writers Association, blogged the
top newcomers to consider the next few years
.
[+] Enlarge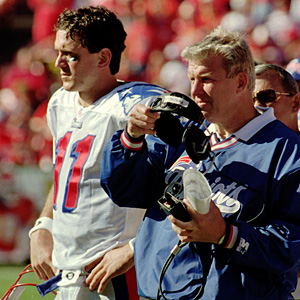 AP Photo/Ed ZurgaBill Parcells and his former quarterback Drew Bledsoe will be on the Hall of Fame ballot next year.
The lists are helpful in speculating when fan favorites such as Andre Reed and Curtis Martin will get their Canton calls. They both were finalists this year -- Reed for the fifth time, Martin for the first -- but
weren't added to the 2011 induction class Saturday
.
Perhaps that development was fitting for Martin because his coach with the New England Patriots and New York Jets will be on the ballot again. They could get in together in 2012.
Bill Parcells has been a finalist twice, but not since 2002 because rules for coaches changed. They now must wait five years from their last game to be eligible for induction, and Parcells returned to the sidelines with the Dallas Cowboys in 2003.
Is Parcells a Hall of Famer? I know Miami Dolphins fans aren't too thrilled with him these days, but he did add to an already remarkable legacy -- two championships, different teams to the Super Bowl, a few organizational turnarounds -- by guiding the Dolphins from 1-15 to the AFC East title as their football operations boss.
Also on the ballot next year will be Bledsoe, running backs Corey Dillon and Tiki Barber, fullback Mike Alstott, guard Will Shields and coaches Bill Cowher and Marty Schottenheimer.
Bledsoe had a fine career with the Patriots, Bills and Cowboys and ranks eighth all-time in passing yards. But he was a Pro Bowler only four times and never was first-team All-Pro. Bledsoe was helpful in getting the Patriots their first championship, so he does have a ring. But that was Tom Brady's team.
Dillon also was a four-time Pro Bowler and won a Super Bowl with the Patriots. He ranks 17th in rushing yards and never led the league in a major rushing category.
Schottenheimer played for the Bills and Patriots before winning 61 percent of his regular-season games as head coach of the Cleveland Browns, Kansas City Chiefs, Washington Redskins and San Diego Chargers. His 200 victories rank sixth all-time, but his 5-23 playoff record will hurt.
That group of first-time candidates -- plus the newcomers for 2013 -- bodes well for Reed. There won't be any new receivers for him to box out. He already has jockeyed ahead of contemporaries Cris Carter and Tim Brown by making the cut from 15 to 10 in the selection process the past two years. Carter and Brown haven't.
Gaughan highlighted first-year players for next few classes.
2013:
Quarterback Vinny Testaverde, offensive linemen Larry Allen and Jonathan Ogden, defensive tackle Warren Sapp, defensive end Michael Strahan.
2014:
Running back Shaun Alexander, receiver Marvin Harrison, linebacker Derrick Brooks, safety Rodney Harrison and coaches Tony Dungy, Jon Gruden and Mike Holmgren -- if they don't return to sideline work.
2015:
Quarterback Kurt Warner, receivers Isaac Bruce and Torry Holt, tackles Orlando Pace and Walter Jones and linebacker Junior Seau.
December, 1, 2010
12/01/10
12:00
PM ET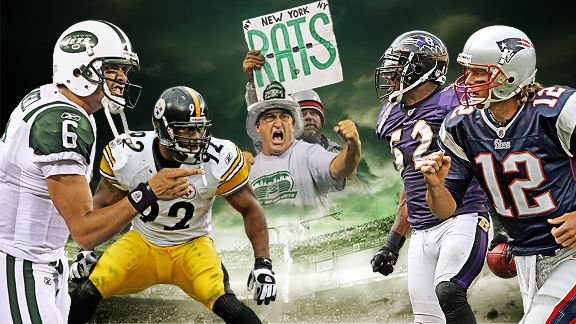 ESPN.com IllustrationTwo of our NFL bloggers weigh in on which division boasts the better rivalry.
Two of the NFL's hottest rivalries will take center stage in Week 13. Lucky for us.
The
Pittsburgh Steelers
will visit the
Baltimore Ravens
on Sunday night. The
New York Jets
then will visit the
New England Patriots
on Monday night. Combined record of the four teams: 34-10.
Millions of football fans will be tuned in to see both marquee matchups with superstars and storylines aplenty.
But which pairing represents the NFL's best divisional rivalry?
Each matchup has a history, quality quarterbacks and plenty at stake for the playoffs. A couple of feisty bloggers -- James Walker from the AFC North and Tim Graham from the AFC East -- will state a case for why his division has the better rivalry.
James Walker:
Tim, I just want to apologize in advance, because I don't think you have much of a leg to stand on comparing these two rivalries. Do you accept my apology?
Tim Graham:
If that's really what you think, then the only thing to accept is your resignation. The Jets-Patriots rivalry goes back 50 years, showcases ESPN's team of the decade versus the biggest media sensation, involves espionage, features incredible player and coaching crossover and will generate significantly more attention this week than the Steelers and Ravens. Yet I don't have a leg to stand on? This should be amusing.
Walker:
OK, let's get down to business. First, I'm going to tell you why the Jets-Patriots rivalry doesn't stack up to Ravens-Steelers. For starters, the Jets aren't even the Patriots' biggest rival in the AFC. The Colts are. Indianapolis and New England have played eight straight years in much bigger games -- sometimes with the Super Bowl at stake.
Meanwhile, there is no debating the Steelers and Ravens are each other's biggest rival. Both teams have played on the biggest stages, including the AFC Championship Game in 2008, when the Steelers went on to win Super Bowl XLIII. Finally, here's another difference: Pittsburgh and Baltimore both have championships within the past decade. When both rivals are able to reach the pinnacle while beating up each other along the way, that's when a rivalry is truly special. The Ravens and Steelers have it. The Colts and Patriots have it. The Jets and Patriots? I don't think so.
[+] Enlarge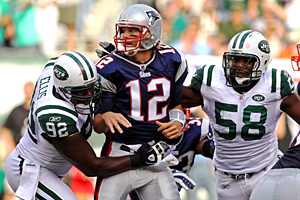 Ed Mulholland/US PresswirePatriots quarterback Tom Brady said earlier this season that he hates the Jets.
Graham:
Your opinion about the Colts representing a bigger rival than the Jets would be pertinent if the Patriots agreed with it.
Tom Brady
earlier this year declared "I hate the Jets," and he wasn't joking. The Patriots play the Jets twice a year. Division games are worth more than any other game in terms of importance. A Patriots-Colts game is more like a playoff exhibition.
You do make a good point about the Ravens and Steelers each winning a Super Bowl in the past decade. But recent titles don't necessarily make rivalries. If they did, then the Packers, Vikings and Bears don't have rivalries. Storylines and animus make rivalries. In that regard, Jets-Patriots is unsurpassed.
Walker:
Brady says he hates the Jets, but a rivalry is a two-way street. How much hatred does New York really have for the Patriots? It can't be too deep-rooted. Most of New York's key people recently came from the AFC North and other teams, including head coach Rex Ryan. I'd be willing to bet
Santonio Holmes
hates the Ravens more than he hates the Patriots. I know
Bart Scott
hates the Steelers. We've talked about it several times while he was in Baltimore.
Braylon Edwards
? He hyped his return to Cleveland 10 times more than this week's game against New England. Do you really think key players like Edwards,
LaDainian Tomlinson
and
Antonio Cromartie
have a feel for the Jets-Patriots rivalry? I doubt it.
But there is legitimate, two-way hatred between the Steelers and Ravens.
Hines Ward
hates the Ravens.
Ray Lewis
hates the Steelers. The markets of Pittsburgh and Baltimore simply cannot drive the point home like bigger cities New York and Boston can. For example, Ravens defensive end
Terrell Suggs
basically told me he doesn't like the Steelers, either, which is similar to what Brady said about the Jets. Yet it didn't get any attention. The Jets-Patriots rivalry may be unsurpassed in hype. But the Ravens-Steelers rivalry is unsurpassed in substance.
Graham:
Come on, James. You need to do more than take a glance at 2010 rosters to understand the Jets-Patriots rivalry. Every team has free agents who need to learn a rivalry. The point about Brady's hatred was that he never said that about the Colts, which you propose is a bigger rival for the Patriots than the Jets are.
But you want substance? How about Bill Parcells taking the Patriots to the Super Bowl and then leaving them for the Jets amid such controversial circumstances the NFL forced New York to send four draft picks to the Patriots over three years, including the first-round pick in 1999, as a penalty? How about the infamous
Curtis Martin
defection from the Patriots to the Jets and the infamous "poison pill" contract? How about Parcells abdicating his Jets job to Bill Belichick and then Belichick writing his resignation on a cocktail napkin moments before the Jets thought they were introducing him as their next head coach? How about the Jets blocking Belichick from joining the Patriots until he filed a federal lawsuit and then settling on the Patriots shipping five draft picks to the Jets over three years, including their 2000 first-rounder? How about Patriots defensive coordinator Eric Mangini departing to be Jets head coach and leaving the bridge in cinders? How about the Patriots filing tampering charges against the Jets on receiver
Deion Branch
? How about a little thing called Spygate? How about
Damien Woody
,
Danny Woodhead
,
Ty Law
,
Vinny Testaverde
,
Roman Phifer
,
Larry Izzo
,
Hank Poteat
and
Chris Baker
(among many other role players) wearing both uniforms within the past decade? Steelers-Ravens has nothing even remotely close to a third of that rundown.
[+] Enlarge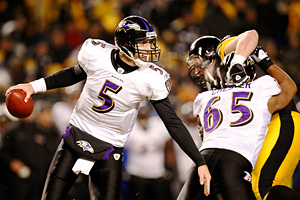 Gregory Shamus/Getty ImagesJoe Flacco will have to constantly prove himself against the Steelers and Ben Roethlisberger.
Walker:
Why you think playing for both teams makes it more of a rivalry is beyond me. I think it lessens your argument. I can't imagine
Ed Reed
or Lewis wearing a Steelers jersey. Ward would never sign a deal to play for the Ravens. Not in a million years. These two teams hate each other too much. Yet all these Jets and Patriots players simply flip-flop between teams at their leisure? That's weak and not the sign of a hated rivalry, in my opinion.
Graham:
That's rather Pollyanna to think Ravens would never go play for the Steelers or vice versa. Do you honestly believe if the Steelers had hired Ryan, then all of those players who followed him to the Jets wouldn't have gone to Pittsburgh? Please. Players pursue the best opportunity based on money, playing a system they love and a chance to win a title.
Here is how players switching teams make for a better rivalry: It thickens the plot. Fans who used to wear a player's jersey burn them. The expatriate player shares playbook secrets and other intelligence. That player has a chip on his shoulder and comes back to haunt his old team.
Walker:
Moving onto quarterbacks. I think there are some similarities between the teams' four passers.
Joe Flacco
is the third-year upstart trying to get to the championship level of
Ben Roethlisberger
, who already has two rings. Much of Flacco's status eventually will be determined by how much success he has against Roethlisberger and the Steelers within his division. It seems the Ravens and Steelers are always in the way and have to go through each other to have a deep run in the playoffs and get to the Super Bowl. What dynamic do you see developing with Brady and a young
Mark Sanchez
?
Graham:
I don't know if there's much of a quarterback comparison beyond the glamour element at this stage. Brady and Sanchez have a lot in common from an off-the-field standpoint. They sell a lot of jerseys, attract a lot of ladies, walk a lot of red carpets, appear in a lot of photo shoots and do a lot of cameos. But they're too far apart in experience to compare résumés.
[+] Enlarge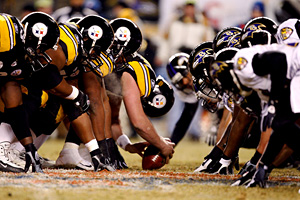 Streeter Lecka/Getty ImagesThe Ravens and Steelers have competed recently in many high-profile matchups -- including the 2008 AFC Championship Game.
I see the Jets and Patriots as more of a fan base and organizational rivalry: teams from two of the greatest sports markets, with two of the NFL's most influential owners, and two of the best defensive coaches in the game -- heck, two of the most controversial coaches of this generation. Ever since Ryan took over as Jets head coach, he has been tweaking Belichick. Some thought the rivalry would wane when the Jets fired Mangini, but Ryan -- a guy who helped build the Steelers-Ravens rivalry, by the way -- came along and made it juicier.
Walker:
Now is our favorite part. It's prediction time. It's no secret the Steelers and Ravens are built and play similarly. So it's usually a close game. Baltimore is going for its first series sweep since 2006, but Roethlisberger didn't play in the first meeting because of a suspension. Now he's back and is 7-2 all-time against Baltimore. But I have a feeling this is the Ravens' week. They are healthier overall, 5-0 at home and appear to be peaking at the right time. The Steelers, on the other hand, have been up and down. Both teams usually bring out the best in each other, but I'm picking the Ravens to win, 20-17. So who are you picking between the Patriots and Jets, Tim? Don't chicken out.
Graham:
I predict the loser of the Jets-Patriots game will have the same record as the team that wins the Ravens-Steelers game. Predicting a score has no bearing on our debate of which rivalry is better. But I will say the Jets and Patriots provide a rare showdown between teams with the NFL's best two records. This is only the fifth time in "Monday Night Football" history two clubs with records of 9-2 or better will play, and the first game under those circumstances that doesn't involve the
Joe Montana
-led
San Francisco 49ers
in Candlestick Park.
This is a special game befitting a special rivalry. Your game features clubs that needed overtime to beat the
Buffalo Bills
. I'll expect that resignation letter by kickoff.
August, 8, 2010
8/08/10
9:33
AM ET
Does
Drew Bledsoe
belong in the Pro Football Hall of Fame?
The numbers suggest he does.
The numbers, however, also show Hall of Fame milestones are changing.
[+] Enlarge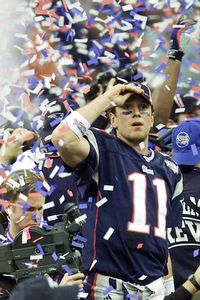 AP Photo/Beth A. KeiserDrew Bledsoe was the backup to Tom Brady in Super Bowl XXXVI.
In a piece for "The Fifth Down" blog at NYTimes.com, quarterback statistician Luis DeLoureiro takes a look at the traditional assurances for induction. In the past
multiple championships or 40,000 yards passing
have meant an automatic bronze bust in Canton.
All seven quarterbacks who've been eligible for the Hall and have thrown for 40,000 yards have gotten in. Two more are active and should enter on the first ballot:
Brett Favre
and
Peyton Manning
.
Dan Marino
,
Warren Moon
, Fran Tarkenton and Dan Fouts didn't win titles. Moon and Fouts never appeared in a Super Bowl.
So what about Bledsoe?
He threw for 44,611 yards and 251 touchdowns in 14 seasons with the
New England Patriots
,
Buffalo Bills
and
Dallas Cowboys
. He reached two Super Bowls with the Patriots, losing as a starter and winning as
Tom Brady
's backup.
But everyone knows the NFL has evolved. Passing numbers are prolific compared to 10 years ago.
New York Jets
and Patriots quarterback
Vinny Testaverde
is another example. He threw for even more yards than Bledsoe did. The Heisman Trophy winner rolled up 46,233 yards and 275 touchdowns, ranking among the top eight all-time in each category
DeLoureiro, who
also writes for NFLStatAnalysis.net
, noted the only two quarterbacks of the Super Bowl era to enter the Hall of Fame without 40,000 yards or multiple championships were
Steve Young
and
Jim Kelly
.
Both presented special cases. Young started only eight seasons and was a two-time league MVP. Kelly took the Bills to four straight Super Bowls.
Tom Donahoe, the former Bills general manager, use to refer to Bledsoe as a future Hall of Famer, a comment that always sounded ridiculous to me.
It still does.
June, 22, 2010
6/22/10
1:00
PM ET
»
NFC Big Question
:
East
|
West
|
North
|
South
»
AFC
:
East
|
West
|
North
|
South
What's the worst call to have spoiled the result for an AFC East team?
In the past few weeks, Koman Coulibaly and Jim Joyce made two of the most infamous officiating blunders.
On a global stage,
Coulibaly's no-goal gaffe might cost the U.S. soccer team
a place in the knockout round of the World Cup.
Joyce spoiled baseball history when he blew a call
at first base on what should have completed a perfect game.
[+] Enlarge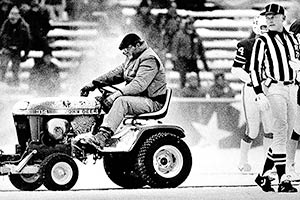 AP Photo/Mike KullenJohn Smith had better footing after a plow cleared away the snow for his game-winning kick.
At least they're not alone in sports history. Plenty of other officials have made dubious calls that have changed the outcome of a big game.
The AFC East has seen its share.
With help from my Facebook friends
, I came up with a short list of controversial calls to consider.
We'll steer clear of the calls that helped an AFC East team win. So forget the Tuck Rule or Vinny Testaverde's phantom touchdown plunge. We're looking for heartbreak here.
With 52 seconds left in their 1976 playoff game,
New England Patriots
defensive lineman Ray Hamilton was called for a highly questionable roughing penalty on
Oakland Raiders
quarterback Ken Stabler. The Patriots were up by four points. The Raiders faced a third-and-18 from New England's 27-yard line. Stabler's pass was incomplete, but the flag gave the Raiders a first down, and they eventually punched into the end zone.
The Patriots defeated the
Miami Dolphins
in the Snow Plow Game in 1982. On a winter wonderland of a field, Patriots coach Ron Meyer ordered a plow onto the field to clear kicker John Smith's placement for a 33-yard field goal with 4:45 to play. Officials didn't prevent it. Final score: Patriots 3, Dolphins 0.
In 1998, a questionable fourth-down conversion immediately followed by a wild penalty in the end zone as time expired infuriated the
Buffalo Bills
so much they didn't line up for the extra point in a vexing loss to the Patriots.
A Hail Mary pass interference
gave New England the ball on Buffalo's 1-yard line. Down by four points,
Drew Bledsoe
tossed to
Ben Coates
for the touchdown.
Bills fans bemoan the Music City Miracle
, one of the most controversial plays in NFL history. The
Tennessee Titans
pulled off what I believe was a perfect lateral to eliminate the Bills from the 1999 playoffs. Despite a video review that seemed to have more interpretations than a Salvador Dali painting, the touchdown stood. The Bills haven't returned to the postseason.
Last year, a Sports Illustrated photo
showed Dolphins receiver
Ted Ginn
stripped
New Orleans Saints
safety
Darren Sharper
shy of the goal line. The ball bounded out of the end zone for what should have been a Dolphins' touchback, but a review upheld Sharper's pick-six, a critical play in a dramatic Saints' victory. Had the Dolphins won, it might have helped them get into the playoffs.
There are so many others to choose from. Please share your thoughts in the comments section.
June, 8, 2010
6/08/10
1:00
PM ET
»
NFC Big Question
:
East
|
West
|
North
|
South
»
AFC
:
East
|
West
|
North
|
South
Who will be remembered as the greater coach, Bill Belichick or Bill Parcells?
The passing of basketball legend John Wooden got me thinking about the great coaches in AFC East history. Don Shula is at the top. Weeb Ewbank and Marv Levy also are in the Pro Football Hall of Fame.
[+] Enlarge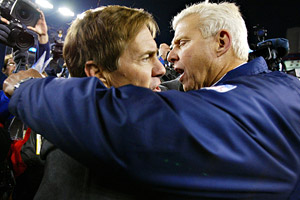 Al Bello/Getty Images Bill Belichick has a better winning percentage, but does that make him a better coach than Bill Parcells?
But there are two legends not yet eligible for enshrinement because they're still working in the AFC East.
And that led me to wonder, 15 years from now, whether Parcells or Belichick will be known as the finer football mind.
Their résumés are difficult to compare. Parcells has been a restless vagabond who seemingly can overhaul any abomination, while Belichick has been an exemplar of stability.
Parcells won two Super Bowls as head coach of the
New York Giants
and took the
New England Patriots
to the big game. He had a successful stay with the
Dallas Cowboys
and has been an influential personnel man with the
New York Jets
and now with the
Miami Dolphins
.
As Miami's football operations boss, he took over a 1-15 team and turned it into a division champion within a year. While his previous turnarounds weren't as dramatic as that, what he did with the Jets, Patriots and Cowboys was admirable.
Parcells' career head-coaching record is 172-130-1 for a .570 winning percentage.
Belichick deserves partial credit for Parcells' success. Every time Parcells went to a Super Bowl, Belichick was his defensive coordinator or assistant head coach.
On his own, Belichick won three Super Bowls with the Patriots and nearly closed out the NFL's most dominant season in 2007 with a fourth ring. He has overseen New England's football operations since he took over the job in 2001.
Belichick's career head-coaching record is 148-92-0 for a .617 winning percentage.
Of course, Belichick's legacy will be marked by the video-taping scandal that ensnared the team three years ago. The Patriots still almost ran the table after that. And Jets fans might hold it against Belichick that he rebuffed them to become head coach of the Patriots.
My selection is Belichick based on the number of Lombardi Trophies and the fact that without his work as defensive coordinator, nobody can say for sure Parcells still would have won his pair.
True, you can argue it's easy to run a defense with a revolutionary defender like Lawrence Taylor running amok, but that's how Parcells won his Super Bowls, too.
Some also might argue Belichick has been carried by
Tom Brady
, while Parcells has won with a variety of quarterbacks. Belichick did win 11 games with
Matt Cassel
two seasons ago, and Belichick shouldn't be punished in this debate for managing to remain in one place longer than four seasons, something Parcells has done just once.
But this question is open for debate, and I fully expect some animated comments below.
September, 1, 2009
9/01/09
12:15
PM ET
FOXBOROUGH, Mass. -- Bill Belichick has a rather simple philosophy for backup quarterbacks.
As he did last year, even before
Tom Brady
's left knee looked like shredded wheat, Belichick asked himself a question when filling out the
New England Patriots
' 53-man roster.
"Are you comfortable with them?" Belichick said in a training camp interview with ESPN.com. "If you feel like you can [win] with him, then you probably feel comfortable with him. If you don't feel that way, then that means you're probably looking for somebody else."
| | |
| --- | --- |
| | |
| | Rick Stewart/Getty Images |
| | Matt Cassel filled in for Tom Brady last year and won 11 games. |
In the span of one calendar year, Belichick has gone from content with his backup quarterbacks to thoroughly unsatisfied with some of the same names.
Belichick's comfort level with
Matt Cassel
allowed the Patriots to experience an incredible season despite Brady's absence. But none of the quarterbacks on New England's active roster from Week 2 last season is with the club anymore.
Cassel (traded in April for financial reasons),
Kevin O'Connell
(waived Sunday) and
Matt Gutierrez
(released a month ago) are gone.
"When you put them in the game, you want the ability to win with them," Belichick said in an interview with ESPN.com shortly after signing free agent
Andrew Walter
, but with O'Connell still on the roster.
The O'Connell move caught the football community off guard. But he apparently didn't fit either of two basic roles Belichick sees for backup quarterbacks. There are projects and there are stabilizers.
"If you're trying to get your backup guy to eventually be your starter or be able to go in and win for you, and you draft a young player like Cassel, you know he's not ready that first year," Belichick said. "But you hope in time you can get him ready.
"That's the problem with a young quarterback. It takes a little bit of time to develop them. The problem with the old quarterback is it's a year-to-year proposition.
"It's a combination of how far you really think you'll be able to go with that player and if you feel he's keeping it warm until you had your starter back -- but then you're looking for someone else."
The only other quarterbacks behind Brady are Walter and undrafted rookie
Brian Hoyer
, who has looked sharp in preseason games and perhaps supplanted O'Connell as a less expensive project of choice. Seventh-round draft choice
Julian Edelman
played quarterback at Kent State but has been moved to receiver.
Belichick has done well with backup quarterbacks in the past. When the Patriots have been forced to use a second-stringer, he has been successful. Brady got his break as a medical replacement for Drew Bledsoe in 2001.
When Belichick stood behind a lectern at Gillette Stadium one year ago and suggested that a quarterback who hadn't started a game since high school could step in for a future Hall of Famer and take New England to the playoffs, it was tough not to laugh.
Or at least it sounded comical at the time. Cassel, emerging from an unpleasant preseason that led to speculation he might not make the final roster, replaced Brady and won 11 games.
The Patriots didn't reach the postseason. The
Miami Dolphins
also went 11-5 and won the AFC East title on a tiebreaker.
Yet it was an admirable failure given the circumstances.
Belichick has employed different types of backup quarterbacks who never saw significant action. The Patriots kept veterans such as Vinny Testaverde and Doug Flutie and used youngsters such as Rohan Davey and O'Connell.
"It's an insurance policy," Belichick said. "People have different philosophies on insurance.
"You can spend a lot and have a real high-quality backup quarterback who's one play away from being your starting quarterback. Or you could have more modest expense there and use that extra money to solidify other positions."
But Belichick claimed he never felt apprehensive sending one of his second-string quarterbacks onto the field when he needed to.
"I don't think there was any set formula," Belichick said. "There's a lot of factors that go into it, but in the end that's what you're looking for: a guy you can win with."
May, 11, 2009
5/11/09
2:20
PM ET
| | |
| --- | --- |
| | |
| | Jim Rogash/Getty Images |
| | The Patriots showed faith in unproven Kevin O'Connell, left, by not pursuing a veteran to be No. 2 behind quarterback Tom Brady. |
Posted by ESPN.com's Tim Graham
Three professional pass attempts were all Tom Brady had when he trotted onto the field for Drew Bledsoe and managed the New England Patriots' first championship campaign.
Matt Cassel had 39 attempts over his first three seasons before he assumed control of the offense and helped the Patriots win 11 games.
The folks at CareerBuilder.com recently posted a list of the top jobs that don't require experience. Cruiseline worker, English-as-second-language instructor, medical transcriber ... they forgot Patriots quarterback. I would have slotted that gig at No. 10, just ahead of movie extra.
What's cool about being Patriots quarterback is that you can start off as background filler and turn into the leading man.
If Brady's reconstructed left knee doesn't hold up as Patriot Nation prays it will, then sophomore Kevin O'Connell apparently is next in line. The Patriots have chosen not to reinforce their depth chart with veteran support after trading Cassel to the Kansas City Chiefs.
How risky is that?
Fan logic dictates if an unheralded Brady (sixth-round draft pick) can come off the bench to be a superstar, and an unknown Cassel (seventh-round draft pick) can come off the bench to get within a tiebreaker of the AFC East crown, then O'Connell (third-round draft pick) can come off the bench and run the show, too.
"It's the relative unknown that scares the living hell out of you," former Patriots quarterback Scott Zolak said. "Brett Favre might have had it four or five years ago, where all hopes rest on one guy. Now, maybe you're down to two: Peyton Manning and Tom Brady.
| | |
| --- | --- |
| | |
| | Scott Boehm/Getty Images |
| | The Patriots' current No. 3 quarterback is Matt Gutierrez, who didn't even make the team following last year's training camp. |
"Your season hinges on that one guy. You hold your breath again because you don't know."
Although the Patriots kicked the tires on Kyle Boller and Patrick Ramsey, they have so far chosen not to acquire a veteran quarterback.
Brady's backups are O'Connell, who threw six passes as a rookie last year, and Matt Gutierrez, who was undrafted in 2007, has thrown one NFL pass and didn't make the team out of training camp last year. The Patriots signed rookie free agent Brian Hoyer two weeks ago.
"Ultimately, I don't think they've reached a conclusion," said former NFL executive Michael Lombardi, who writes for the National Football Post. "They haven't had a preseason to really evaluate their quarterbacks and this is the time, May and June, to see where they need to go.
"The course right now is to develop O'Connell and see where they are in the preseason and then make adjustments."
New England can't expect to keep inserting neophyte quarterbacks into the lineup and get away with it.
"I don't think that can be a recipe you can count on," Scouts Inc. analyst Matt Williamson said. "I do think there's some risk. It would be nice to have a veteran in the fold, but they know what they're doing."
Zolak doesn't see the need for veteran help.
"Last year at this time, I would have thought a veteran would be the way to go," Zolak said. "They've gone that veteran route with Vinny Testaverde and Doug Flutie, but they've never needed to use that guy.
"They went the in-house route with Cassel, developed the guy for four years and that's the route that worked when it was tested."
Zolak and Wlliamson are fans of O'Connell's.
As a sportscaster for "Patriots All-Access," a television show produced by the club, Zolak has seen the 6-foot-5 San Diego State product more than the average reporter.
"Usually, when you see these guys you think Scott Mitchell, and he doesn't move that well," Zolak said. "But the kid has a smoothness to him and is very fluid for his size. He went to his legs a lot his senior year and picked up a lot of yards on the ground."
Said Williamson: "He has all the tools to work with. He's smart. He's big. He's got a nice arm. He moves around real well."
| | |
| --- | --- |
| | |
| | Stan Liu/Icon SMI |
| | As a senior at San Diego State, Kevin O'Connell rushed for 408 yards and a school-record 11 touchdowns on the ground. |
The Patriots have made enough brilliant personnel moves since Bill Belichick took over in 2000 to earn their fans' trust. The staff has monitored O'Connell for a year. If the coaches are confident he can handle the No. 2 role, then many figure that should be enough.
While the Patriots' front office has been praised rightly for unearthing Brady and Cassel in the late rounds, not all of their quarterbacks have panned out. Lest we forget, they also drafted Rohan Davey and Kliff Kingsbury.
The Patriots also must overcome the departure of offensive coordinator Josh McDaniels, the man who called the plays and molded Cassel into an NFL commodity even though Cassel hadn't st
arted a game since high school.
"As long as you have Wes Welker, as long as you have Randy Moss ... they have some weapons," Zolak said. "With Fred Taylor and Kevin Faulk on third down, I don't care who the quarterback coach is. It's hard not to be successful with the type of players they have."
The last time Patriot Nation gave their backup quarterback a second thought was back in the Zolak and Hugh Millen days.
Ever since the Patriots selected Drew Bledsoe with the first pick of the 1993 draft, they have gone into the season without worry about their quarterback's health.
From 1993 through 2000, Bledsoe came off the field enough for his backups to average 39 mop-up attempts per season.
Bledsoe was Gibraltar in the huddle. Nobody bothered to think about his backup beyond the possibility he someday might development into Bledsoe's heir -- when Bledsoe was good and ready to abdicate. Alas, we all know that internal bleeding isn't something you can walk off.
Brady entered Game 2 of the 2001 season and remained the starter for the next 128 games, including 17 in the playoffs, until he crumpled to the turf in last year's season opener. A mangled left knee sidelined him for the rest of the year.
So, for the first time in a decade and a half, the Patriots enter training camp hopeful their quarterback will hold up.
A rebuilt knee -- one that was beset by infections early in the healing process -- offers no guarantees. The only optimism emanates from the aura of the quarterback's credentials. He has won championships, married a supermodel, almost helped Ecuador land the 2010 Winter Olympics, scored 42 points to help the Washington Generals beat the Harlem Globetrotters and almost single-handedly brought back the 8-track.
"I think it's a fluke thing with Brady," Zolak said. "I've talked with enough people who think it's almost like his rookie year again. The kid's hungry again and he's back to the old work ethic he had. That's not to say he has a bad one, but let's face it: The guy has a lot of priorities, and his life has changed since he's won three rings. But he's up and going at full go.
"Tom will be back. As good as Manning was, questions with his knee last year, he didn't really get going until about Week 5, and the guy ended up getting NFL MVP. Donovan McNabb came back from it. So it can be done."
But what if his knee doesn't hold up? As much as he's treated like a god, he is human.
"And if something happens to him, they'll go with one of the in-house guys," Zolak said. "They like the guys they have."
November, 19, 2008
11/19/08
4:30
PM ET
Posted by ESPN.com's Tim Graham
| | |
| --- | --- |
| | |
| Collins | Favre |
The old-man references won't be thrown around like they were a year ago when Brett Favre faced Vinny Testaverde, but there's plenty of mileage between the quarterbacks in Sunday's game between the New York Jets and Tennessee Titans.
How many clicks on the odometer? Over 57 miles.
The Elias Sports Bureau computes that Favre and Kerry Collins will have the third-most most combined yardage between opposing quarterbacks in NFL history with 100,364 yards.
Dan Marino and John Elway set the record in December 1998 with 109,224 combined yards. Favre and Testaverde went into their November 2007 meeting with 105,979 yards between them.
Tale of the Tape: Favre vs. Collins
Favre


Collins
18
Years
13
5,597
Comp
3,078
9,073
Att
5,525
61.7

Pct.
55.7
63,892
Yds
36,472
460
TD
182
300
Int
176
458
Sacks
310
86.0
Rating
73.7
2
Super Bowls
1
9
Pro Bowls
1
Favre and Testaverde also set the record for combined age in that game at 82 years.
Favre is 39. Collins will turn 36 next month.
"I appreciate every game," Favre told reporters Wednesday in Florham Park, N.Y. "If you talk with Kerry, if you talk with Kurt [Warner], older guys, you realize that you're playing game to game.
"Your focus is so much different than it was as a younger player. You just appreciate the moment a lot more because you realize it won't be there forever. This game could be my last."
Favre clearly is having a blast with the Jets, as evidenced by a video clip that's making the rounds in cyberspace of the legendary quarterback forcefully hugging Jets general manager Mike Tannenbaum after last week's sudden-death victory over the New England Patriots.
"You have to seize the moment, whatever that may be, whether it's taking in the crowd, whether you take in a rivalry, whatever it may be, really appreciate it," Favre said.
"I'd like to say I've seen it all and done it all, but that's not true. A big win like we had Thursday night, I think 'Man, it just doesn't get any better than this.' Then you play next week against a team that's undefeated. You never know."
November, 19, 2008
11/19/08
12:58
PM ET
Posted by ESPN.com's Tim Graham

Favre
Brett Favre has the chance to call one more NFL record his own Sunday, when the New York Jets play the Tennessee Titans in LP Field.
Favre, who never has won in Nashville, has walked out of 31 NFL stadiums triumphant, tying him with Miami Dolphins legend Dan Marino for victories at the most venues.
Steve McNair is third with 30 stadiums. Joe Montana and Vinny Testaverde are tied for fourth with 28.
If he can't knock off the unbeaten Titans, Favre will have another opportunity to chalk up a new building Dec. 21. The Jets visit Qwest Field to play the Seattle Seahawks.
September, 8, 2008
9/08/08
3:10
PM ET
Posted by Scout's Inc.'s Keith Kidd
When an injury occurs in the NFL, the wheels start spinning immediately -- diagnoses are made, lists are checked and phone calls are placed either during the game or immediately after. And when your quarterback goes down for the rest of the season, like Tom Brady did on Sunday, there is an even bigger sense of urgency.
Once Brady was diagnosed by the team's doctors and the staff understood the extent of his injury, the process began. If a player is deemed to be out for an extended period, the team starts looking for someone to fill the 53-man roster. The first place they look is to their own practice squad, and in this case the Patriots will find QB Matt Gutierrez. However, the Patriots will probably not add him because they already have enough inexperienced quarterbacks on their roster.
The next place a team will look to fill their roster is its emergency list. Every team has an emergency list of five to seven players per position who could fill a roster spot vacated by injury, players that team scouts have determined are the best available without jobs in the NFL. This list provides each player's position, test score, height, weight, speed, age, agent's name and phone number, player's phone number, minimum salary for that player and a small comment area. These lists are finalized every Friday throughout the regular season in case an injury occurs during that week's game.
The Patriots probably placed calls during the game to players' agents to find out their status and willingness to sign, and the ideal situation is to bring in players on Monday or Tuesday for a workout and physical. If all that checks out, then the team will sign that player. Right now, New England is looking for the quarterback who can contribute the quickest, and once they identify that player offensive coordinator/quarterbacks coach Josh McDaniels begins a process to determine what the newly-signed quarterback is comfortable with and help the player understand the team's terminology. Regardless, whichever veteran quarterback the Patriots decide to sign, he will be a help for the inexperienced quarterbacks on the roster, including QB Matt Cassel.
We know some of the players the Patriots are looking at, and here's a look how the top six on their emergency list might look:
1. Chris Simms -- He has had success as a starter in the NFL. Simms has good arm strength and good presence in the pocket. He was derailed in Tampa Bay by an unfortunate spleen injury, but he could help the Patriots win if needed. However, he will take time to learn their system and has not been a cold-weather quarterback at any point in his career.
2. Tim Rattay -- He is a journeyman quarterback who could finish a game if necessary. He can process quickly, get rid of the ball fast and it shouldn't be hard for him to learn the system. He is at his best in a controlled, short-to-intermediate passing attack.
3. Vinny Testaverde -- The 45-year-old quarterback is very familiar with the Patriots' system and was signed late last year after Cassel's poor play in the regular season. His age might be a limiting factor, though.
4. Daunte Culpepper -- Even though he is retired, he could probably be convinced to apply for reinstatement. Culpepper has been in three different systems -- Minnesota, Oakland and Miami -- and he has been productive as a starter. Plus, he already has a very good relationship with WR Randy Moss from their time in Minnesota.
5.
Craig Nall
-- He is a journeyman backup quarterback who doesn't have much starting experience. But he is also familiar with the AFC East.
New England head coach Bill Belichick is a tremendous evaluator of talent and knows how to assess a player's strengths and weaknesses. He has surely studied all of the players above in preparation for games against their former teams. You can be sure that there will be a good reason for the Patriots passing on any player on their emergency list.
Scouts Inc. watches games, breaks down film and studies football from all angles for ESPN.com.