September, 3, 2012
9/03/12
2:03
PM ET
For
Miami Dolphins
quarterback
Ryan Tannehill
's regular-season debut, he gets the league's second-best defense from last season.

Tannehill
Welcome to the NFL, rookie.
The surging
Houston Texans
will host Tannehill and the rebuilding Dolphins on Sunday. The good news is Tannehill will make his first start that counts in his home state of Texas. The bad news is it comes against a Houston defense that was dominant last year under defensive coordinator Wade Phillips.
The Texans were third against the pass and fourth against the run. Houston also was sixth in the NFL with 44 sacks.
In other words, there is nothing the Texans didn't do well defensively last season.
Can Tannehill have success making his first pro start with receivers resembling an expansion team? The odds do not look good.
Tannehill had some good moments in the preseason. He knows the West Coast offense, can make all the throws and the potential is there. Those are the reasons he beat out incumbent
Matt Moore
for the starting job this summer.
But Sunday's game against Houston is looking like a tough, uphill battle for Tannehill. He's on the road, facing an elite defense and his supporting cast isn't good enough or consistent enough to make Tannehill's job easy.
The Dolphins appear to be throwing Tannehill to the wolves in Week 1. But the biggest goal for Miami in 2012 is to get the rookie quarterback prepared to play well in future seasons. Sunday against Houston could be a tough (but good) learning experience for Tannehill.
April, 27, 2011
4/27/11
9:15
PM ET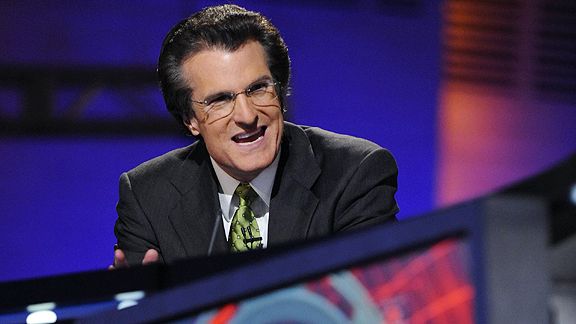 Howard Smith/US PresswireMel Kiper largely agreed with AFC East readers and the blog's mock draft.
U.S. Department of Labor analysts have confirmed Mel Kiper is the second-busiest man in the country this week and would have been first had the president not felt compelled to hold a weird news conference Wednesday.
Even with Kiper's heavy workload -- imagine how much care must go into crafting his final notes and hair the night before the draft -- he took the time to share his thoughts on our AFC East reader mock draft.
We verified our first round Wednesday with a long-form certification process: a six-week, pick-a-day reader vote.
Kiper's intrepid editor, Chris Sprow, caught up with him to go over the AFC East reader mock draft.
Here are Kiper's thoughts:
It's hard to argue with any of the top three picks here. If the trade domino doesn't fall, no reason this couldn't happen.

I'm going to stick with A.J. Green to the Bengals. Blaine Gabbert makes some sense, but if they still believe there's hope they can somehow hold onto Carson Palmer, they don't make that pick. But this could be one they are still undecided on, which is a theme this year.

If Green isn't there for Cleveland, I don't expect them to pass on Julio Jones, which means I don't think he's still there at No. 10 for the Redskins.

I like the pick of tackle Anthony Castonzo to Detroit because my gut says they know protecting Matthew Stafford is priority No. 1. I just think they might still see Tyron Smith there.

Texans defensive coordinator Wade Phillips will love Robert Quinn if he's around with the 11th pick. If Quinn is not, Aldon Smith could go that high. His tape is phenomenal in spots.

J.J. Watt and Cameron Jordan are perhaps the most interchangeable picks, so these picks don't seem off at all for the Patriots and Chargers. Could play out that way.

I'm not as high on Derek Sherrod as some, but would love to be proven wrong. I just think he's there past Philly at No. 23. Slight reach for me.

Danny Watkins is a definite possibility at No. 28, but I think New England can go in so many different directions because of how many picks they have.

No Jake Locker? No Andy Dalton? I wouldn't count on it.
The last point lends itself to the nature of our project. We began six weeks ago, and quarterback buzz always ramps up as we draw closer to the draft.
Mock drafts also can't accurately factor trade scenarios, and those kinds of draft-day maneuvers will dictate where quarterbacks are drafted after
Cam Newton
and Gabbert.
It was nice of Kiper and Sprow to share some bonus analysis for us. Much thanks.
It won't be long until we find out how well we did.
December, 12, 2010
12/12/10
10:34
AM ET
Might the
Miami Dolphins
be looking for their third defensive coordinator in three seasons?
Something to keep an eye on is Mike Nolan's possible candidacy to be the next
Denver Broncos
head coach.
Nolan left the Broncos after last season because he didn't get along with head coach Josh McDaniels. Nolan looks even better these days -- and probably is even more admired by Broncos' upper management -- for parting with McDaniels, who committed a series of gaffes and got fired less than two years into the gig.
AFC West blogger Bill Williamson
sketched out a case for Nolan to return to Denver
.
Broncos owner Pat Bowlen has valued the coaches who worked under Dan Reeves in Denver, which Nolan did as a linebackers coach. Denver's next two coaches after Reeves were Reeves coordinators Wade Phillips and Mike Shanahan. McDaniels was Denver's first head coach without ties to Reeves.
Williamson wrote:
While [Nolan] and Josh McDaniels parted ways after one season because they decided they couldn't work well together, Nolan got along with other key factions of the team. Most importantly, the Broncos' defense was successful under Nolan. It has crashed badly ever since Nolan left to become Miami's defensive coordinator.
Nolan likely would command immediate respect in the Broncos' locker room because the players know him and played well under him. Nolan also has been a head coach, running the
San Francisco 49ers
for three years. He went 18-37 there, but head coaches often make a greater impact in their second chance.
The Dolphins' defense has performed well under Nolan -- although their 6-6 record doesn't reflect it. The Dolphins have a top-10 defense in many important categories: fourth in total defense, ninth in run defense, fifth in pass defense, ninth in sacks per pass play, fourth in first downs and 10th in third-down efficiency.
The Dolphins, who fired Paul Pasqualoni last year and hired Nolan, would have a tough time finding an adequate replacement.
November, 8, 2010
11/08/10
8:25
PM ET
Patrick Moran of BuffaloSportsDaily.com picked a good day to publish his enlightening Q&A with former
Buffalo Bills
receiver
Eric Moulds
.
Moulds covered a lot of ground in the interview and gave blunt assessments of the current Bills, noting a glaring lack of leadership and his disdain for playing games in Toronto.
Purely by coincidence,
Moulds' best comments pertained to the firing of Wade Phillips
-- 10 years ago.
Phillips was the last coach to take the Bills to the playoffs. The
Dallas Cowboys
fired Phillips on Monday.
"I think we were onto something good," Moulds said of the 2000 Bills. "I think that move [firing Phillips] set us back 10 years as an organization, and the Bills are still trying to recover now. We had a playoff team, great coaches and a lot of Pro Bowl players, and the powers that be just ripped it up like a piece of paper. Still till this day it bothers me."
Moulds, without naming owner Ralph Wilson, also pointed a finger at "the powers that be" above Phillips for switching quarterbacks when the Bills began the playoffs after the 1999 season.
Doug Flutie
started every game until the regular-season finale, getting the Bills to a 10-5 record.
Rob Johnson
started instead and remained the starter for the playoffs.
"I thought it was the dumbest decision made in history of pro sports," said Moulds, a three-time Pro Bowler. "It's a story that I wish ended differently."
The season ended with the Music City Miracle. The Bills haven't been in the playoffs since.
January, 19, 2010
1/19/10
4:30
PM ET
By
Matt Mosley
| ESPN.com
Pardon me if I was a little startled by the news Monday that the
Buffalo Bills
were going to hire Chan Gailey as their next head coach
. What, was Bruce Coslet not available?
[+] Enlarge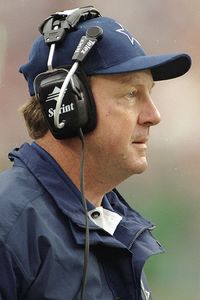 Getty ImagesGailey led the Cowboys to the playoffs in both seasons he served as the head coach.
It appears that the Bills swung for the fences -- and then settled for a weak grounder to short. To label this an uninspiring hire is an injustice to the uninspiring men who preceded Gailey in Buffalo. One of those men, Wade Phillips, just led the Cowboys to their second division title in three seasons.
Gailey took over a star-studded (if aging) Cowboys team coming off a 6-10 season and led them to the playoffs in 1998 and 1999. Owner Jerry Jones was so impressed with Gailey's 18-14 record that he fired him after a playoff loss to the Vikings and replaced him with Dave Campo. No one really likes to say this in polite company, but quarterback Troy Aikman clashed with Gailey and wanted him gone. And Jones didn't hesitate in pulling the trigger. Here's what
Jones said at the time
:
"This decision I had to make is about football,'' Jones said in Jan. 2000. ''It wasn't about egos. Chan Gailey, relative to when he accepted this job, burned the midnight oil. He worked hard, he was diligent, he was honest. He did everything I imagined."
And it turns out that Jones was still thinking about the Gailey firing when he decided to retain Wade Phillips following the '08 season's December-January collapse. Something about continuity. Here's what Jones said about his decision to fire Gailey earlier this month:
"The most unfair that I've ever been in anything in sports and maybe in other parts was dismissing Chan after two years,"
Jones said
. "That wasn't right. ... That is one thing I look at today in my mirror and say you just weren't as fair as you needed to be there to the team, the fans and certainly to Chan to make that change after two years."
So there you have it. The lesson Jones learned from the Gailey firing is one of the main reasons Phillips is still around. That and the fact that Jones hates the idea of coaches sitting at home while he pays them $3 million. And by the way, Gailey was making $500,000 per year as the head coach of the Cowboys when he was fired in 2000.
The club's offensive coordinator, Jason Garrett, makes roughly $3 million per year now. For any Bills fans who may stumble onto this blog, Gailey is a remarkably nice man. He has no business being a head coach in this league, but I can pretty much assure you that he won't be accused of striking an assistant coach at any point in the near future.
If I'm someone like Leslie Frazier, this hire really ticks me off. Some of these assistants have worked their tails off to position themselves for a head-coaching opportunity. And they're passed over for a man who flamed out in Dallas a decade ago.
June, 10, 2009
6/10/09
8:40
AM ET
Posted by ESPN.com's Tim Graham
ORCHARD PARK, N.Y. -- Trent Edwards is tiring of the questions.
He acknowledges the thrill of playing quarterback in the NFL is worth whatever hassles come with it, but the make-or-break theme that has enveloped him isn't enjoyable.
| | |
| --- | --- |
| | |
| | Paul Jasienski/Getty Images |
| | Trent Edwards is 12-11 as Buffalo's starting quarterback. |
Another question about pressure, a crossroads, put up or shut up ...
"You guys are kind of forcing me to try to think that way," Edwards said Tuesday afternoon after the Buffalo Bills' first minicamp practice. "I get that question a lot. I feel like every offseason I get that question. It's kind of a go-to question to ask a quarterback."
Edwards is entering his third season with Buffalo. That's seems to be about the amount of time a quarterback gets around these parts.
Doug Flutie was here for three years. Rob Johnson was here for four years, the starter of choice for two. Drew Bledsoe was here for three years. J.P. Losman spent three years as the starter before Buffalo gave the job to Edwards.
The town's patience -- and perhaps the owner's -- haven't lasted much beyond three years after Marv Levy and Jim Kelly ran the show.
Since Levy retired as head coach, his next three successors were given similar terms. Wade Phillips and Gregg Williams lasted three years apiece. Mike Mularkey was given a third year but resigned.
That cleared the way for Dick Jauron, who was given a fourth year much to the fan base's mortification.
So the trends certainly point to this being a make-or-break season on several counts.
March, 25, 2009
3/25/09
4:48
PM ET
Posted by ESPN.com's Tim Graham
DANA POINT, Calif. -- Oh, you better believe Dallas Cowboys coach Wade Phillips was asked about Terrell Owens.
Phillips, encircled by a gang of reporters, sat down at the NFC coaches' media breakfast Wednesday morning and was peppered with questions about a number of topics. But the club's decision to release Owens was among the most popular.
The diva receiver signed with the Buffalo Bills, who haven't been to the playoffs since 1999, when Phillips was their head coach.
Here are the highlights of what Phillips had to say about T.O.
Why did the Cowboys cut Owens?
Wade Phillips: We appreciate certainly, and I appreciate as a coach, all the great things he did. But we made the decision. We're going forward. We know we've got some young players we think can come in and play for us and help us at wide receiver, and we're going to give them that opportunity -- and younger players I'm talking about, even Patrick Crayton. We have a lot of confidence in Miles Austin. Sam Hurd unfortunately got hurt last year, but he was on the same pace with Miles and then Isaiah Stanback has come through and gotten better and better. All three of those guys ... have a lot of potential and we think they'll come through for us.
What type of player are the Bills getting?
WP: He's an outstanding player. Obviously, I think his numbers are going to be the second-best ever. He's going to be in great shape. He's a hard worker. All the things you want in a football player. I think they're getting a really good football player. One thing you've got to look at with players is production. He's been probably the most productive receiver in the last several years anyway.
Then why would you release him?
WP: Because we feel like we can forward with the guys we have. We think we have some emerging players that are going to make a difference.
Cowboys owner Jerry Jones said not having Owens around would make Tony Romo a better quarterback. Do you agree?
WP: Well, I think Tony is going to be better as he goes along, certainly. He's certainly accomplished a lot of things as far a quarterback is concerned. He's looking forward to and we're looking forward to this season. I think this is going to be even more of a breakout year for him just because of experience, not because Terrell is or isn't there. I think it's just experience and playing the game. Tony is still 21-8 as the starter the last two years. I think this is a big year for him.
Is the locker room better off without Terrell Owens?
WP: I'm not even going to discuss that because that's why I didn't want to talk about it in the first place. So you begin to talk about last year and all these things -- "This did or didn't happen. Somebody said this." All those things, I'm through with that.
This year. What's important is this year. The greatest stadium in the world, we're opening. Our team is going to have a great attitude. I think they already do now as far as looking forward to this season. That's the way you've got to go. That's the great thing about football. Pittsburgh is last year's champs. They're going to live in the glory for a little while certainly, but all of us are working for this season.
Is Owens a victim of his reputation?
WP: Terrell's situation is like the head coach of the Dallas Cowboys. Anything that's said or done is going to be reported. And I'm not saying good or bad. What he says and how he's perceived is up to the fans and somewhat the media -- mostly the media reporting it to the fans and then present it themselves as to how they feel about him.
Is Owens' divisiveness overblown?
WP: Sure. Sure. Sure. Just give me a player that works hard, tries to win and has great talent and produces. That's going to be the big thing is replacing his numbers, certainly, but we think we have some young players that can come through for us and make that an easier transition.
Did you speak to Bills coach Dick Jauron about Owens?
WP: No. I would have. I'd be glad to talk to Dick, but that was Buffalo's decision to pick him up. We knew somebody would pick him up, certainly. Again, he's a talented player.
March, 7, 2009
3/07/09
6:22
PM ET
| | |
| --- | --- |
| | |
| | Drew Hallowell/Getty Images |
| | Terrell Owens agreed to a one-year, $6.5 million deal with the Buffalo Bills, according to sources. |
Posted by ESPN.com's Tim Graham
The Buffalo Bills have gone 7-9 three straight years under Dick Jauron, who was retained because owner Ralph Wilson claimed the club would be "better served by continuity in the coaching staff rather than a disruptive overhaul."
Even though the Bills haven't gone to the playoffs in nine seasons, their front office essentially stayed the same. Wilson opted to continue without a traditional general manager. The pro personnel director and top college scout remained in place.
The only way the Bills could expect results to change would be if the same administrators -- after years of doing business the same way -- adopted a totally different approach and made the sort of bold move nobody expected.
| | |
| --- | --- |
| | |
| | NFL.com Video |
| | Bills WR Terrell Owens meets the media for the first time after being introduced in Buffalo. |
Bringing aboard Terrell Owens certainly would qualify.
The Bills on Saturday signed Owens for one year at $6.5 million guaranteed.
The price tag is amazingly cheap compared to other contracts being made with wide receivers. The Bills had pursued Laveranues Coles, but he signed a four-year, $28 million deal with the Cincinnati Bengals.
Owens is the last guy people would expect the Bills to sign, precisely the sort of player they wouldn't have courted in years past.
The Bills have an aversion to prima donnas, and although they have made some head-scratching decisions in free agency -- making guard Derrick Dockery the highest-paid player in team history, for example -- they are not prone to impulse buys on big-ticket merchandise.
Plus, the Bills already have one of the most expensive receivers in the NFL.
Lee Evans has been the clear-cut No. 1 target in Buffalo's offense and one of the faces of the franchise for years. Last year, the Bills signed him to an in-season extension for four years and $37.25 million.
Who will be Buffalo's No. 1 receiver now?
Owens has a history of being divisive in the locker room. While the Bills have failed to reach the postseason since Wade Phillips was their coach, they prided themselves on their chemistry. The team is loaded with character individuals.
It will be interesting to see whether Owens becomes a distraction, especially if he doesn't get enough passes thrown his way. Offensive coordinator Turk Schonert and quarterback Trent Edwards will be responsible for keeping Owens satisfied.
But the Bills must be applauded for trying something different. They badly needed another offensive weapon and more help to overcome the likely suspension of running back Marshawn Lynch.
Status quo wasn't going to cut it.
February, 16, 2009
2/16/09
9:00
AM ET
Posted by ESPN.com's Tim Graham
After two weeks of polling, all the ballots have been counted to determine your picks for the Mount Rushmore of each AFC East team.
To play off ESPN's quest to determine the best sports Mount Rushmore from the 50 states, Washington, D.C., and Puerto Rico, I asked for your thoughts on the four legends who best symbolize the Buffalo Bills, Miami Dolphins, New England Patriots and New York Jets.
Readers mentioned 13 Bills, the fewest among the four teams, but the final foursome was clear cut.
They are quarterback Jim Kelly, defensive end Bruce Smith, running back O.J. Simpson and head coach Marv Levy.
That Rushmore includes four Hall of Famers and matches the one I suggested. Running back Thurman Thomas was the closest to breaking into the monument, receiving one fewer vote than Levy.
Here is how the top-10 voting broke down:
Jim Kelly
Bruce Smith
Marv Levy
O.J. Simpson
Thurman Thomas
Ralph Wilson
Jack Kemp
Bill Polian
Joe DeLamielleure
Billy Shaw
And a few comments from those who voted:
Stein in Canandaigua, N.Y., writes: My Bills Mount Rushmore 1) Jimbo- Quite possibly the most popular Bill ever. He was the face of the franchise during his playing days, and may be once again if he has a hand in keeping the Bills in Buffalo. 2)Ralphie- You've got to give credit to the man who gave Buffalo the Bills, and who allowed us to keeep them. 3)Marv- The greatest coach in the team's history. Because of Marv the Bills franchise had the highest winning percentage of the 90's (im pretty sure. TG?) 4) BRUUUUUUUUUCE- Though Bruce may not have been the most popular Bill, he is the only player on the Bills that can be considered the greatest of all time at his position. Honorable Mention to the Juice- Clearly one of the greatest Bills of all time, but obviously can never make it to Mount Rushmore
Jay in Naples, Fla., writes: Bills fans were called out, so I am offering my Bills Mount Rushmore. Billy Shaw (G 60's), Joe DeLamielleure (G 70's), Jim Kelly(QB 90's), and Bruce Smith (DE 90's). I think Bills fans are hard pressed to create this list because those teams in the 90's are so much about team and not individual players. How do you include Kelly and not Thurman Thomas or Andre Reed? How do you include Bruce and not Darryl Talley? Also, Marv Levy is as deserving as any player. In the end I made my choices based on the blue collar work ethic of the city of Buffalo and its rich football history. AFL great Shaw, DeLamielleure part of the great Electric Company O-line, Kelly and Smith as representitives of both sides of the ball on one of the greatest teams ever assembled.
elway79798 writes: Well, Doug Flutie would be on the mt. rushmore, but Wade Phillips would sneak up in the middle of the night, and change the carving into Rob Johnson.
January, 28, 2009
1/28/09
1:00
PM ET
Posted by ESPN.com's Tim Graham
They were the first words out of New York Jets coach Rex Ryan's mouth at last week's introductory news conference, a clever declaration establishing that he intended not only to win a Super Bowl, but quickly.
"With all the cameras and all that, I was looking for our new president back there," Ryan said, then paused for dramatic effect.
"You know, I think we'll get to meet him in the next couple years anyway."
To make that happen, Ryan must contradict history. Ryan is the fifth son of a former NFL head coach to follow in his father's sideline paces -- and the first four have set a poor standard.
Father-son NFL head coaches
Father
Record
Son
Record
Don Shula
328-156-6 (.678)
David Shula
19-52-0 (.268)
Bum Phillips
82-77-0 (.516)
Wade Phillips
70-49-0 (.588)
Jim E. Mora
125-106-0 (.541)
Jim L. Mora
26-22-0 (.542)
Dick Nolan
69-82-5 (.457)
Mike Nolan
18-37-0 (.327)
Buddy Ryan
55-55-1 (.500)
Rex Ryan
??-??-? (.???)

David Shula, Wade Phillips, Jim Mora and Mike Nolan have pockmarked résumés. They've combined for a 133-160 regular-season record and a single playoff victory.
Shula and Nolan each posted winning percentages under .300 and were fired by the Cincinnati Bengals and San Francisco 49ers, respectively, with zero playoff appearances.
Mora is the only head coach's son to win in the playoffs, going 1-1 with the Atlanta Falcons. Phillips, the most successful with a regular-season winning percentage of .588, has failed to win in the postseason after four tries with the Denver Broncos, Buffalo Bills and Dallas Cowboys.
So when somebody tells you about Ryan's pedigree, enlighten him or her that bloodlines mean zilch when it comes to coaching.
Ryan will need to be his own man.
December, 30, 2008
12/30/08
11:01
PM ET
Posted by ESPN.com's Tim Graham
While buttressed Buffalo Bills coach Dick Jauron slogs along with a 12 percent approval rating, Miami Dolphins rookie Tony Sparano is about as popular as pizza.
Know anybody who doesn't like pizza? Me either.
Sparano on Tuesday night was pulling down a gaudy 96 percent in the latest edition of ESPN SportsNation's NFL head coach approval ratings. That was the highest in the NFL, one point better than Atlanta Falcons coach Mike Smith.
Sparano has been popular since the Dolphins unleashed the Wildcat offense in Week 3, but his 96 percent rating -- on the heels of Miami's division-clinching triumph over the New York Jets -- will be his best of the year if it holds up.
Elsewhere in the division, New England Patriots coach Bill Belichick was at 83 percent, good for 11th in the league.
Eric Mangini, fired by the Jets on Monday, was at 37 percent after topping out at 91 percent in Week 12.
Then there's Jauron. The Bills on Tuesday announced Jauron will be back next year despite three straight 7-9 seasons. His 12 percent approval rating is tied for last -- with Dallas Cowboys coach Wade Phillips.
December, 11, 2008
12/11/08
5:58
PM ET
Posted by ESPN.com's Tim Graham
Buffalo Bills coach Dick Jauron's once-mighty approval rating has dwindled to a single digit.
As of Thursday night, Jauron's number in the SportsNation NFL head coach approval ratings was lower than the Erie County sales tax: 8 percent.
That's the second-lowest rating of any of the 35 coaches, including three who were fired, over the 14 weeks so far. Minnesota Vikings coach Brad Childress pulled a 6 percent in Weeks 2 and 4.
Scott Linehan also sank to 8 percent before the St. Louis Rams axed him. Ex-Oakland Raiders coach Lane Kiffin bottomed out at 33 percent, while former San Francisco 49ers coach Mike Nolan dipped as low as 20 percent.
Jauron also owns the biggest discrepancy between his zenith and nadir.
Jauron rang up the poll's highest rating of the season when he hit 95 percent in Weeks 3 and 4 and didn't slip below 86 percent through Oct. 26. Washington Redskins coach Jim Zorn also soared to 95 percent in Week 5.
But Jauron's 83-point differential dwarfs everyone else, including the NFL's lighting rods: Andy Reid (79 points), Wade Phillips (73 points), Mike McCarthy (67 points) and Lovie Smith (67 points).
The worst year for fan dissatisfaction belongs to Cincinnati Bengals coach Marvin Lewis, whose highest approval rating was 23 percent in Week 9.