August, 9, 2012
8/09/12
9:30
AM ET
MIAMI -- The AFC East blog is back in its South Florida headquarters after an 11-day road trip visiting training camps around the division.
I have now visited all four camps in the past two weeks. You can check out our "Camp Confidential" segments for three AFC East teams
here
,
here
and
here
. The
New England Patriots
' report is coming up later on Thursday.
With tons of notes still left in my pad, I decided to do the first annual "Walker Awards" for 2012 training camp.
Enjoy.

Most impressive team:
Patriots
Analysis:
To be frank, you can just see the difference in talent between the Patriots and everyone else in the division. No other team has a quarterback like
Tom Brady
. No other team has
Rob Gronkowski
at tight end or a receiver like
Wes Welker
. No teams' practices are as crisp and workmanlike as coach Bill Belichick's. The football culture in New England is just better, and you can see it and feel it in its training camp. The Patriots are confident. They know what success feels like and prepare for it every day. It would be shocking if New England doesn't win another division title based on what I've seen in camp. It's clear the Patriots deserve to be the favorites.
Most impressive quarterback:
Tom Brady, Patriots
Analysis:
No surprise here. Brady is the only legit franchise quarterback in the division.
Even though he struggled
in practice on Tuesday, the other two practices were what I expected. There is a big difference when you watch other AFC East quarterbacks like
Matt Moore
,
Ryan Fitzpatrick
and
Mark Sanchez
practice compared to Brady. It's the biggest reason New England sits comfortably at the top of the division.

Most impressive running back
:
C.J. Spiller
,
Buffalo Bills
Analysis:
I was really impressed by what I saw from Spiller during my visit to Pittsford, N.Y., last week. Spiller looks like a player who is demanding more carries with his play. He has to wait his turn behind starter
Fred Jackson
, but Buffalo's coaching staff would be silly to let Spiller rot on the bench this year and not put the ball in his hands. If Jackson proves to be 100 percent healthy, the Bills could have one of the best one-two punches at running back in the league. The question is, how do you keep both players happy?
Most impressive rookie:
Stephon Gilmore
, CB, Bills
Analysis:
This was a close race between Gilmore and Patriots rookie linebacker
Dont'a Hightower
. I was really impressed with both rookies in training camp. But Gilmore made fewer mistakes than Hightower during my time at both camps. Gilmore is playing like a five-year veteran. He is challenging No. 1 Bills receiver
Steve Johnson
nearly every day in practice, and that can only speed up his development. Gilmore is physical, he moves well and he's fearless. He may already be Buffalo's No. 1 corner and he hasn't played a game in the NFL.

Most disappointing player:
Vontae Davis
, CB, Dolphins
Analysis:
While we're on the subject of corners, the most disappointing player during my tour of training camp has been Davis. He has the physical tools to be a No. 1 corner. Davis was heading in that direction toward the end of the 2011 season. But Davis,
as outline by HBO's "Hard Knocks
," showed up to camp out of shape. The former first-round pick has been getting beat too much and Miami's coaching staff moved him out of the starting lineup for
Richard Marshall
. Davis has always been plagued by immaturity. With a new coaching staff, he needs to grow up fast or it is going to be a long year.
Most comeback potential:
Chad Johnson
, WR, Dolphins
Analysis:
Johnson looks like a man on a mission. The receiver is showing flashes of the old Johnson we saw with the
Cincinnati Bengals
. He is coming off his career-worst season with just 15 receptions last year in New England. Johnson admits he
was humbled and exposed
, but now he's motivated. That's a good thing for Miami, which needs all the help at receiver it can get.

Most baffling player:
Antonio Cromartie
, CB,
New York Jets
Analysis:
It's been a bizarre training camp for New York's starting cornerback. First, Cromartie causes controversy by saying he's the second-best receiver on the team. Then, Cromartie injuries No. 1 receiver
Santonio Holmes
' ribs with a big hit in a scrimmage, forcing Holmes to miss at least one preseason game. Finally, Cromartie gets into it with tight end
Dustin Keller
this week and causes head coach Rex Ryan to stop practice. It's only August and Cromartie has a string of incidents piling up. He just needs to concentrate on playing his best football from here on out.
Most overhyped player:
Tim Tebow
, QB, Jets
Analysis:
Yes, Tebow is polarizing. Fans either love him or hate him. But strictly from a football standpoint, Tebow was not impressive enough in practices to merit the immense coverage he gets in the media. Tebow is far from lighting it up in training camp. Sanchez is outplaying Tebow and erasing any doubts that Tebow should be the starter in Week 1.
In last week's scrimmage
that I attended, Tebow was 0-for-3 with two fumbled snaps. The offense looks shaky with him under center. Tebow will be able to help the Jets' ground-and-pound offense with his running ability and contribute on special teams. But the huge hype of outplaying Sanchez and making a strong push for the starting quarterback job in training camp hasn't materialized.
January, 7, 2012
1/07/12
2:41
PM ET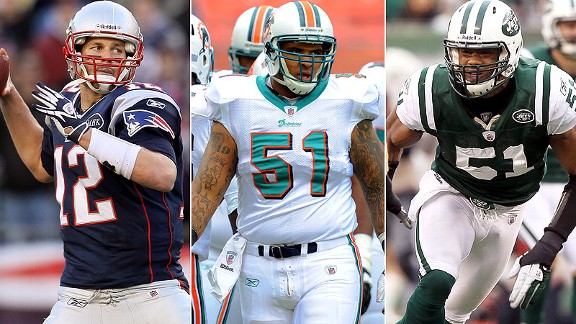 Getty Images/US Presswire/Getty ImagesTom Brady, Mike Pouncey and Aaron Maybin are deserving recipients of a Walker Award.
As the playoffs are set to begin Saturday, let's put a bow on another exciting regular season in the NFL.
Here are the 2011 Walker Awards for the AFC East division:
Player of the Year
Walker Award
: Patriots QB
Tom Brady
Analysis:
This is an easy pick. Brady easily was the best player in the AFC East. In my opinion, the NFL's Most Valuable Player by definition of the term. Without Brady, the Patriots are probably a five-win team this season. With Brady, New England went 13-3 and has home-field advantage throughout the playoffs. That's a projected eight-game swing for one player. No other player in the league is more valuable to their team.
Coach of the Year
Walker Award:
Patriots coach Bill Belichick
Analysis:
This Walker Award also was an easy choice. This was not Belichick's best year, particularly on defense. But he's the only coach in the AFC East to have a winning record and get his team into the playoffs. Belichick swept Rex Ryan and the Jets, swept the Dolphins and split with the Bills. He was 5-1 against the AFC East, and that is the key to winning the division. But Belichick ultimately will be graded by how well his team plays in the postseason. Another one-and-done won't cut it.
Rookie of the Year
Walker Award:
Dolphins C
Mike Pouncey
Analysis:
There were a lot of good candidates for this award on each team.
Nate Solder
in New England,
Marcell Dareus
in Buffalo and
Muhammad Wilkerson
all were considered. But Pouncey started from day one in Miami and was a consistent force. I covered the rookie seasons for both Pouncey twins (Maurkice in 2010 and Mike in 2011).
Maurkice Pouncey
is a little better at this point but not by much. Mike Pouncey did a great job of bringing the running game back to Miami. He played a big role in
Reggie Bush
recording his first 1,000-yard season.
Comeback Player of the Year
Walker Award:
Jets OLB
Aaron Maybin
Analysis:
This was a close race between Maybin and Bush. But Bush, who recently won a Super Bowl with the
New Orleans Saints
, has shown plenty of flashes and the ability to play in the NFL. Maybin didn't show anything until this year. Ryan has an eye for defensive talent. He figured Maybin could fit in New York's scheme as a situational pass-rusher and he was right. Maybin led the Jets with six sacks to jump-start his NFL career.
Most Disappointing Player
Walker Award:
Patriots WR
Chad Ochocinco
Analysis:
The Patriots made a rash of trades and free-agent signings this offseason. But the one that received the most hype was New England's acquisition of Ochocinco. The former six-time Pro Bowler was expected to add a big-play threat to the Patriots. But Ochocinco struggled getting acclimated to a new offense, and the Patriots quickly moved on. Ochocinco would go long stretches without getting opportunities. He finished the year with career lows in receptions (15) and yards (276). Ochocinco also tied a career low with just one touchdown. But Ochocinco still is capable of making a big play and could get a shot to contribute more in the playoffs.
Most Disappointing Team
Walker Award:
Jets
Analysis:
Ryan said the Jets would win the Super Bowl and this was his best team in three seasons. His previous two teams made it to the AFC Championship Game. But everything went awry for New York (8-8) this year due to an inconsistent offense and a defense that wasn't as dominant as previous seasons. As things fell apart, chemistry issues also ruined the Jets down the stretch. A lot needs to be cleaned up, and 2012 is a big year for a lot of people in New York.
Game of the Year
Walker Award:
Bills-Patriots, Week 3
Analysis:
The best game in the division happened early in the year when the undefeated Bills faced the undefeated Patriots. Home-field advantage and momentum carried the Bills to one of the biggest upsets of the year in a 34-31 shootout. Brady had his worst game of the year and threw four interceptions, and Buffalo kicker
Rian Lindell
nailed a 28-yard field goal as time expired to win the game. The victory was expected to mean so much more for Buffalo. It ended an astounding 15-game losing streak against the Patriots. But the team's seven-game losing streak made for another poor season for the Bills. Still, this was the most exciting game in the division.