February, 3, 2012
2/03/12
7:00
PM ET
INDIANAPOLIS -- The Hall of Fame voting for the 2012 class will commence on Saturday.
Here are some thoughts on the Hall of Fame and the AFC East:
I don't see any sure-fire locks this year, which is rare. Maybe Bill Parcells fits in that category. But the group overall is solid. I'm sure there will be plenty of tough discussions on the Hall of Fame panel, because every spot is pretty much available for the 2012 class.
In terms of the AFC East, I like the chances of former New England Patriots and New York Jets running back Curtis Martin. He missed the cut last year, but this seems like the type of year a great, consistent player like Martin gets in. He is fourth all-time in rushing (14,101 yards), and the three ahead of Martin -- Emmitt Smith, Walter Payton and Barry Sanders -- are all in Canton.
Former Buffalo Bills receiver Andre Reed is a tougher call. This is the sixth time he's been a finalist, and each chance the odds appeared against him. This may be his best chance Reed has. The class is wide open and Reed may be able to grab one of those slots. I am not on the Hall of Fame panel, but my prediction is Parcells, Martin and offensive lineman Will Shields will get in. I think Reed could be fighting for the remaining slots with great players like Cris Carter, Willie Roaf, Chris Doleman and Jerome Bettis.
February, 5, 2011
2/05/11
7:45
PM ET
Andre Reed
and
Curtis Martin
received bad news about their Pro Football Hall of Fame bids.
Reed and Martin were among the 15 finalists for induction, but neither AFC East star made the cut Saturday when the next induction class was determined.
[+] Enlarge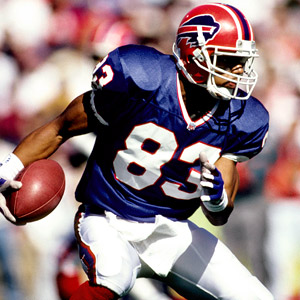 US PresswireAndre Reed has been a finalist five times but the former Buffalo receiver will have to wait to be inducted into the Hall of Fame.
The 2011 class includes running back
Marshall Faulk
, tight end
Shannon Sharpe
, defensive end
Richard Dent
cornerback
Deion Sanders
and NFL Films patriarch Ed Sabol. Senior nominees headed to Canton are linebackers Chris Hanburger and Les Richter.
Reed has been a finalist five times. For the second year in a row, the
Buffalo Bills
legend finished ahead of
Cris Carter
and
Tim Brown
in the selection process, which pares down the group of finalists from 15 to 10. Reed made the top 10, while Carter and Brown did not.
But Reed didn't make the next cut to five. That's the group the selection committee makes a final yea or nay vote on, with 80 percent agreement required for induction. The committee approved all five.
Reed will have to wait to join his former teammates
already honored in Canton: quarterback
Jim Kelly
, running back
Thurman Thomas
, receiver
James Lofton
, defensive end
Bruce Smith
and head coach Marv Levy.
Reed made 951 catches for 13,198 yards and 87 touchdowns and played in four consecutive Super Bowls. He's known as one of the best yards-after-catch receivers in NFL history, perhaps second to only
Jerry Rice
, and among the grittiest over-the-middle threats.
Reed was a seven-time Pro Bowler. He posted 13 seasons with at least 50 receptions, tied for second all-time. He's tied for third in postseason history with five 100-yard games. His 85 postseason receptions rank third.
Martin, a star running back with the
New England Patriots
and
New York Jets
, was on the ballot for the first time. His former coach,
Bill Parcells, advocated Martin be a first-ballot Hall of Famer
.
Martin ranks fourth in all-time rushing yardage behind
Emmitt Smith
, Walter Payton and
Barry Sanders
, a pretty good crew -- if you're into that kind of thing.
Martin rushed for 14,101 yards and scored an even 100 touchdowns, 90 on the ground and 10 more off catches. He ran for 1,000 yards in 10 straight seasons, the second-longest streak in league history. Martin was the 1995 offensive rookie of the year and made five Pro Bowl rosters.
Carter was another Hall of Fame finalist with an AFC East connection, albeit barely. Carter finished his career with the
Miami Dolphins
, catching eight passes over five games in 2002. His 130th and final touchdown was with Miami.
That gave every AFC East club a link to Saturday's selection process.
January, 31, 2011
1/31/11
2:45
PM ET
Curtis Martin
has the credentials to justify induction into the Pro Football Hall of Fame.
[+] Enlarge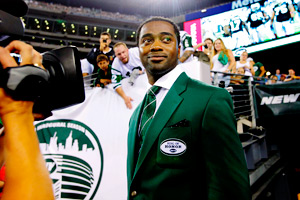 Tony Kurdzuk/US PresswireDo Curtis Martin's credentials qualify him for the Hall of Fame in his first year on the ballot?
But does the popular
New York Jets
and
New England Patriots
running back belong to an even more elite group that that?
Martin is on the Hall of Fame ballot for the first time and will find out Saturday whether he will join the 65 other legends who've gone straight to Canton without delay.
New York Daily News writer Gary Myers examines the
possibility Martin will get the Hall of Fame call Saturday
. Martin's beloved coach, Bill Parcells, asserted Martin should coast into Canton.
"If the idea is to separate yourself, you got the case right there, you can't dispute it," Parcells told Myers. "Come on. That is roller skates."
Martin played 11 seasons and led his team in rushing every time. He finished with 14,101 yards (fourth all-time behind
Emmitt Smith
, Walter Payton and
Barry Sanders
) and 90 touchdowns. Martin added 484 receptions for 3,329 yards and 10 more touchdowns, giving him an even 100.
Martin was Offensive Rookie of the Year in 1995 and made five Pro Bowl teams.
Up to five modern-era candidates will be inducted. But with fellow first-timers running back
Marshall Faulk
and cornerback
Deion Sanders
almost certain to gain approval, essentially three spots are left.
The other 15 finalists include running back
Jerome Bettis
, receivers
Andre Reed
,
Tim Brown
and
Cris Carter
, tight end
Shannon Sharpe
, center
Dermontti Dawson
, tackle
Willie Roaf
, defensive ends
Richard Dent
,
Charles Haley
and
Chris Doleman
, defensive tackle
Cortez Kennedy
and NFL Films patriarch Ed Sabol.
"I haven't been an individual accolades type person," Martin told Myers. "But I have found myself thinking about the Hall of Fame more. I think that it speaks to the intangible qualities that I like to be associated with my name.
"To even be in consideration for the Hall of Fame, you've done a little more than just performed on the football field. It speaks to your dedication, to hard work, the level of competition, the way you compete. Even being mentioned is very humbling to me."
November, 1, 2010
11/01/10
12:43
PM ET
New York Jets
running back
LaDainian Tomlinson
reached a special milestone Sunday.
He joined his idol, the legendary Walter Payton, as the only players to gain at least 13,000 yards rushing and 4,000 yards receiving.
But it was not a banner day for Tomlinson or the Jets' rush attack. Their inability to mount a substantial ground game was a major reason they failed to score in a 9-0 home loss to the
Green Bay Packers
.
ESPN Stats & Information pointed out in the Jets' five-game win streak, they averaged 4.8 yards per carry, gained a first down once every 4.5 attempts and scored four rushing touchdowns.
Sunday against the Packers, the Jets averaged 3.1 yards per carry and gained a first down once every 9.5 attempts.
Tomlinson ran 16 times for 54 yards.
Shonn Greene
had six carries for 22 yards.
ESPN Stats & Information took the Jets' anemic ground game a step further and examined
Mark Sanchez
on play-action passes.
He had thrived on play-action passes, completing 59 percent of his throws at an average of 8 yards an attempt for a 108.5 passer rating the previous six games. Without Tomlinson or Greene keeping the Packers honest, Sanchez completed just 40 percent of his play-action passes for a 6.3-yard average and a 61.7 passer rating.