September, 11, 2014
9/11/14
12:00
PM ET
DAVIE, Fla. --
Miami Dolphins
third-year quarterback
Ryan Tannehill
owns career wins over
Tom Brady
and the
New England Patriots
,
Andrew Luck
and the
Indianapolis Colts
and even
Russell Wilson
and the
Seattle Seahawks
.
Tannehill
But, surprisingly, the one team Tannehill has struggled most against throughout his NFL career is the
Buffalo Bills
. Tannehill is 1-3 against Buffalo, completing just 48 percent of his passes in those four games and averaging only 136.7 yards per contest.
Tannehill's most recent outing against Buffalo was arguably his worst game. He was 10-of-27 passing for 82 yards in a 19-0 loss to the Bills in Week 16.
Tannehill will get to meet his personal nemesis when the Dolphins (1-0) travel to face the Bills (1-0) on Sunday. Tannehill knows he wasn't his best in Week 1 against the Patriots but still put together a winning performance. He completed 18-of-32 passes for 178 yards, two touchdowns and an interception.
"We left a lot of plays out there. I left a lot of plays out there, personally," Tannehill admitted. "Location of throws, missing throws, [I] had a couple of dropped passes. Details like that where we left a lot of yards and a lot of touchdowns out on the field. ... But you can't leave that many plays on the field consistently and expect to win week-in and week-out. Definitely, we want to clean those details up this week."
Tannehill will have to play better this week. Buffalo has found a way to batter Tannehill and force Miami's offense to be one-dimensional in the past. That was especially the case during last season's season sweep when the Bills' defense registered nine quarterback sacks on Tannehill in two games.
Those two contests helped convince Miami to do a major makeover of its offensive line via free agency and the draft. The Dolphins signed veteran left tackle
Branden Albert
to a $47 million contract, drafted rookie right tackle
Ja'Wuan James
in the first round and added center
Samson Satele
and veteran guards
Daryn Colledge
and
Shelley Smith
in free agency.
Miami had five new starting offensive linemen in Week 1, and the unit thrived against New England. The Dolphins had impressive balance with 191 rushing yards and 169 passing yards, which caught the attention of Bills head coach Doug Marrone.
"As far as just a unit, in general, they're working extremely well together and I think that's the most impressive thing," Marrone said in a conference call with the Miami media. "They're knocking people off the ball."
Both teams enter this game with momentum. That sets up this interesting matchup of surprise undefeated teams where the winner will be 2-0 and in first place in the AFC East.
According to ESPN Stats and Information, 63 percent of teams that start 2-0 since 1990 have gone on to make the playoffs. Whoever wins Sunday will be well-positioned to end a lengthy postseason drought. The Dolphins haven't made the playoffs since 2008, and the Bills have the NFL's longest playoff drought dating back to the 1999 season.
"Very important just because we need to get this lead. We don't need to be playing catch up," Dolphins receiver
Mike Wallace
said. "We've been there before. We need to see how it feels to play as the division leaders the whole time. We can do that. We have the team to do it. We just have to continue to put in the work every single week, every single day."
September, 17, 2012
9/17/12
5:50
PM ET
The AFC East finished 2-2 this past weekend, creating a four-way tie at the top of the division. There were a number of good individual performances. But who is the latest AFC East Player of the Week?

Is it
Miami Dolphins
tailback
Reggie Bush
? He rushed for 172 yards and two touchdowns while wearing out the Oakland Raiders' defense. Bush ran well inside the tackles and outside for big gains. It was one of Bush's best performances of his career.
Or should
C.J. Spiller
get the nod this week? Spiller was a candidate in Week 1 after putting up big numbers in a blowout loss. This time Spiller rushes for 123 yards and two touchdowns in the Buffalo Bills' win over the
Kansas City Chiefs
.
Unknown linebacker
Garrett McIntyre
of the
New York Jets
and
New England Patriots
linebacker
Brandon Spikes
also played well defensively in a pair of losing efforts.
Using our SportsNation poll, vote who should be the AFC East Player of the Week for Week 2. You can also share your thoughts in the comment section below.
September, 13, 2012
9/13/12
7:30
PM ET
Here are the latest injury updates for Week 2 in the AFC East:

Buffalo Bills
With tailback
Fred Jackson
definitely out, the biggest name to watch this week is defensive tackle
Marcell Dareus
. His brother was shot and killed earlier this week, but Dareus returned to practice Thursday and expects to play. Rookie receiver
T.J. Graham
will replace the injured
David Nelson
(knee), who went on injured reserve.

Miami Dolphins
Backup running back
Daniel Thomas
suffered a concussion and could miss Sunday's game. He's been held out of practice for two straight days. That means rookie
Lamar Miller
could spell
Reggie Bush
against the
Oakland Raiders
. Dolphins defensive tackle
Tony McDaniel
(knee) also has missed practices Wednesday and Thursday. Receiver
Anthony Armstrong
was added to the injury report with a hamstring injury.

New England Patriots
Backup tailback
Shane Vereen
returned to practice this week on a limited basis. He could provide depth and explosiveness in New England's backfield. Starting guard
Dan Connolly
's status also is in question after suffering a head injury. Connolly practiced on a limited basis Thursday but sat out Wednesday's practice.

New York Jets
The biggest injury name to watch is Jets Pro Bowl cornerback
Darrelle Revis
(concussion), who did not practice for the second straight day. New York head coach Rex Ryan said Thursday the team probably won't determine Revis' playing status until Saturday. So he is pretty much a game-time decision. Tight end
Dustin Keller
(hamstring) and safety
LaRon Landry
(heel) both sat out Thursday but are just managing injuries. Defensive tackle
Sione Pouha
is practicing and looks like a go after missing Week 1.
September, 11, 2012
9/11/12
2:00
PM ET

The
Buffalo Bills
were throttled by the
New York Jets
in a 48-28 loss in Week 1. The Bills will try to bounce back and get to .500 with Sunday's home game against the
Kansas City Chiefs
.
Here is a reason to be hopeful and a reason to be concerned about Buffalo in Week 2:
Reason for hope: RB C.J. Spiller
Spiller was like a rainbow shining for Buffalo in midst of a dreary day. Spiller is currently the NFL's rushing leader after gaining 169 yards and a touchdown against a tough New York defense. He looks
ready to turn it up
in his third year and will get that opportunity with
Fred Jackson
(knee) out at least a month. With injuries to Jackson and receiver
David Nelson
, the Bills should let Spiller do his thing early and often this week. He is a home-run hitter who can take it the distance at any time.
Reason for concern: Defense
New York's offense, which couldn't score a touchdown in the preseason, pretty much did what it wanted against Buffalo's defense. The $100 million acquisition of
Mario Williams
registered
just one tackle
. The secondary couldn't cover anyone and the young corners were exposed. Maybe it was just a bad week. The Bills will do everything they can to fix things defensively in practice. But the Jets' offense was by no means a juggernaut. The Chiefs can present more problems on paper with running back
Jamaal Charles
, receiver
Dwayne Bowe
and others. Buffalo's defense needs to be more detailed and feed off the energy at home.
September, 16, 2011
9/16/11
3:00
PM ET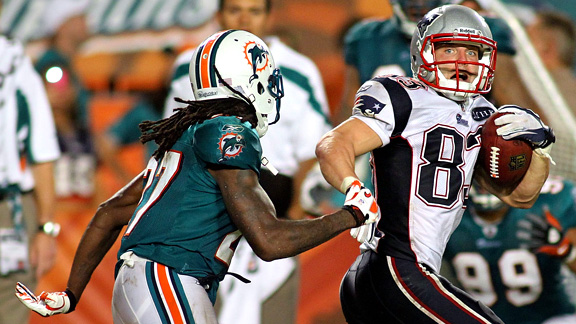 Marc Serota/Getty ImagesNew England's Wes Welker gets behind Miami's Bennie Sapp and scores on a 99-yard pass Monday.
DAVIE, Fla. --
Miami Dolphins
coach Tony Sparano had no interest in discussing last week's struggles against the
New England Patriots
.
"On to Houston," Sparano said.
What about Miami's lack of pass rush?
"We're on to Houston," Sparano said.
What's the message for bouncing back after the Patriots loss?
"On to Houston," Sparano said.
How did rookie center
Mike Pouncey
play in his regular-season debut?
"Houston," said Sparano, hammering the point home.
Sparano's message was clear: Miami cannot afford to look back -- even if the game just happened Monday. Coming off a short week, the Dolphins will try to avoid a 0-2 start at home Sunday against the
Houston Texans
(1-0). It will mark the second straight week Miami faces a high-powered offense.
Surprisingly, the biggest concern heading into Week 2 is Miami's defense. The unit was No. 6 in the NFL last season. But New England carved up Miami's defense for 622 yards, including 517 yards passing by quarterback
Tom Brady
.
On a night Miami's offense
and quarterback
Chad Henne
played well, the defense was a liability. It was the opposite of last year's identity.
The Dolphins couldn't stop the pass Monday. They didn't stop the run. They had little pass rush and gave up big plays, including a 99-yard touchdown catch by
Wes Welker
. Miami also didn't tackle well and struggled defensively in the red zone. The Dolphins allowed New England to score touchdowns on four of six trips inside the 20.
There wasn't much good the Dolphins' defense could take away from Monday's game. It's probably one of those gut-wrenching tapes Miami wants to throw in the garbage and never watch again.
"That was embarrassing. There is no question about it," Dolphins safety
Yeremiah Bell
said candidly. "But we went through that tape and it's over. Now it's on to Houston and time to prove what kind of defense we really are."
Secondary players such as Bell often talk about having short memories. But it's up to an entire defense to forget what happened against New England. The Texans are coming into Sun Life Stadium with a lot of momentum after scoring 34 points in the first half of last week's 34-7 win against the
Indianapolis Colts
.
The Texans were the NFL's No. 3 offense in 2010 and No. 4 in passing. They have plenty of firepower with receiver
Andre Johnson
, quarterback
Matt Schaub
and Pro Bowl tailback
Arian Foster
(hamstring), who could make his season debut Sunday.
If Miami's poor defensive performance last week was a one-game fluke, we're about to find out.
"Everyone knows the defense is better than that," Dolphins starting cornerback
Sean Smith
said. "What we did is in the past. We're definitely looking forward to going out there and showing everybody that we can still get this thing rolling."
Miami's defense was active last season. The Dolphins were ranked in the top 10 in sacks (39) and total yards allowed in 2010. The Patriots gained more than 622 yards Monday and only allowed one sack to Miami linebacker
Cameron Wake
.
[+] Enlarge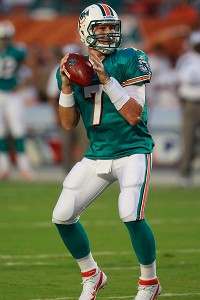 AP Photo/Wilfredo LeeMiami's Chad Henne had a strong opening game against the Patriots on Monday night.
It's only Week 1, but the Dolphins are last in the NFL in total defense by a wide margin. The Patriots are the next closest team, allowing 488 yards to Miami's offense.
"I didn't see the fire from our guys that we usually play with," Bell said. "Whatever reason it was, we didn't have that fire. We need to get back to the basics. We need to get back to competing with guys and get in guys' faces like we did last year."
Someone had to pay the price for last week's debacle. There was one casualty: Dolphins veteran cornerback
Benny Sapp
. Miami cut Sapp this week after he allowed the 99-yard touchdown catch to Welker in the fourth quarter.
Miami re-signed veteran corner
Will Allen
and hopes he can help tighten up the pass defense. Allen spent the past five seasons with Miami and knows the defense well. The Dolphins cut Allen before the regular season.
Allen is a longtime starter and can play on the outside as well as the nickel role. It also doesn't hurt that he's coming back with a chip on his shoulder after being released.
"You always got something to prove, and that's what I think each and every player in this locker room feels like each and every day," Allen said. "Maybe not so much as far as practice. But on Sundays, stepping up and having different competitions and [being] challenged in different ways. Everybody has something to prove all the time."
Sunday is show-and-prove time for the Dolphins' defense, particularly the secondary. The common theme in Miami's locker room was, "Last week was last week." But if Miami's defense lays another egg at home for the second straight game, doubt might start to creep in with this proud, veteran group.
"That wasn't us out there. We know that," Bell said. "It was the first game, and that's over with. So we're on to the Texans. We're going to put on a much better showing than we did Monday night, that's for sure.