December, 26, 2012
12/26/12
5:00
PM ET


The
New England Patriots
, for the most part, will know what they are playing for by the time they take the field Sunday against the
Miami Dolphins
.
New England (11-4) has the late, 4:25 p.m. ET game this week, while the
Houston Texans
(12-3) will face the
Indianapolis Colts
at 1 p.m. ET. The Patriots need to win and the Texans to lose in order to secure one of the top two seeds in the AFC, which includes a first-round bye.
"I'm sure we'll all be aware of that, yeah. No question," Brady said candidly during his weekly press conference Wednesday. "But I don't think that changes what our goal is for the weekend. I think we're trying to win this game regardless. It could be different if some other teams win, but that's really out of our control. We're just going to go out and try to win."
But what if Houston wins? The Patriots cannot improve their seed unless the
Denver Broncos
(12-3) lose to the lowly
Kansas City Chiefs
(2-13), which is highly unlikely. Should New England shut it down and avoid risking injury to key players like quarterback
Tom Brady
? Or should the Patriots play to win regardless?
New England also will know the result of the
Baltimore Ravens
(10-5) and
Cincinnati Bengals
game at 1 p.m. ET. The Patriots could fall to the No. 4 seed if the Ravens win and New England loses. But the No. 3 and No. 4 seeds will host games in the wild-card round.
All of this presents a late-game dilemma the Patriots must consider. It will be a balance between winning and preserving good health heading into the playoffs.
Based on New England head coach Bill Belichick's comments Wednesday, it sounds like the Patriots will be full-go no matter what happens with other teams.
"I've been around this league long enough to know that you can't predict how things are going to go on Sundays in the NFL," Belichick said. "We'll control what we can control which is to get ready and play Miami."
The good news is the Colts are not laying down and will give the Texans their best shot. Expect a lot of Patriots fans to root for Indianapolis.
November, 17, 2012
11/17/12
4:29
PM ET

The
New England Patriots
are expected to be without dynamic tight end
Aaron Hernandez
for the third straight game.
Barring any last-minute changes, a source tells the AFC East blog
that it's "unlikely"
Hernandez will play Sunday against the
Indianapolis Colts
. This confirms a report Friday by the NFL Network.
Hernandez continues to be bothered by a severe ankle sprain he suffered in Week 2 against the
Arizona Cardinals
. He returned briefly for two games, but probably came back too soon.
New England leads the NFL in total offense and can afford to rest Hernandez and get him healthy for the stretch run. After putting up career numbers in 2011, Hernandez has just 17 catches for 143 yards and two touchdowns this season.
This is a big game for New England. The Patriots are 6-3 and can create further distance in the AFC East. The Colts are also 6-3 and need this game to tighten their grip on a wild-card spot in the AFC.
January, 10, 2012
1/10/12
1:25
PM ET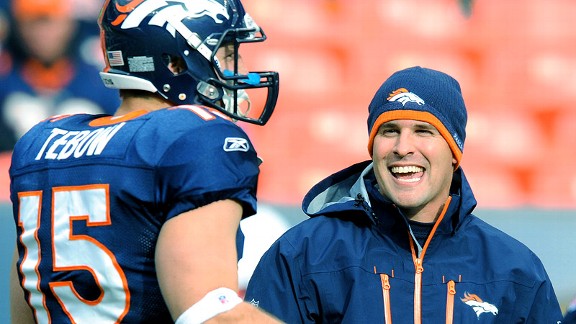 Ron Chenoy/US PresswireFormer Denver coach Josh McDaniels, right, is back with the Patriots. He'll help New England prepare for a Broncos team led by quarterback Tim Tebow, whom he drafted.
Someone has to lose Saturday's divisional-round playoff game between the
New England Patriots
and
Denver Broncos
. But one person will smell like roses this weekend no matter the outcome: Josh McDaniels.
The formers Broncos head coach and current Patriots assistant has cleverly positioned himself in a win-win situation.
On one hand, McDaniels rejoins New England at the perfect time to help the team make a deep playoff run. McDaniels has plenty of inside knowledge on the Broncos' roster and would get a lot of credit if he helped New England win its first playoff game since the end of the 2007 season.
On the other hand, if New England (13-3) were upset by the Broncos (9-8), it would be in large part due to McDaniels' most controversial draft pick in Denver:
Tim Tebow
. McDaniels was heavily ridiculed for "reaching" to take the former Florida quarterback in the first round. One more win by Tebow would advance Denver to the AFC Championship Game and within one game of the Super Bowl. That would be the ultimate vindication for McDaniels, who believed in Tebow from the start when no one else did.
Obviously McDaniels would prefer the former outcome, not the latter. But both options have McDaniels sitting pretty in this AFC playoff game filled with interesting storylines.
After an ugly two-year stint in Denver, after which he was fired, and one year with the
St. Louis Rams
, McDaniels was welcomed back in New England.
"I have a lot of respect for Josh, not only as a coach, but as a friend," Patriots director of player personnel Nick Casario said this week. "I've known Josh a long time, it's no secret. I think it's great to have him back. It's great to have him a part of our program and our system again. His goal and our goal is for everyone to work as hard as they can in preparation for this game, and that's what we'll try to do."
What is McDaniels' role during the playoffs with New England? Patriots head coach Bill Belichick has been vague.
McDaniels' title is "offensive assistant." But this week, because of the opponent, McDaniels could serve as more a scout on both sides of the football.
McDaniels, who was head coach of the Broncos from 2009 to 2010, has great intel on many of their key players. He drafted Denver's building blocks on offense -- Tebow and receivers
Demaryius Thomas
and
Eric Decker
. McDaniels also coached defensive stars
Champ Bailey
and
Elvis Dumervil
. This is priceless inside info that the Patriots could not get from simply studying tape.
McDaniels also should fit in seamlessly with New England's coaching staff. He spent eight seasons with the Patriots as an assistant and position coach, and three additional seasons as offensive coordinator. The system and terminology is virtually the same. This is a great way to ease McDaniels back into the fold to eventually take over for offensive coordinator Bill O'Brien when O'Brien leaves for Penn State after the playoffs.
"[McDaniels] is a person that I spent a lot of time with in a lot of different situations," Patriots head coach Bill Belichick said. "I have a lot of confidence in him, he's smart, he's got great experience and background, and he knows our system. I've enjoyed our conversations the past couple days as we've gotten caught up on some things and moved forward into the playoffs here. I think that he'll be a good asset to our team for the remainder of the season."
McDaniels is reviled by Broncos fans. He was expected to be the next prodigy at head coach. Instead, he went 11-17 and didn't complete his second season. Joining New England's staff this week in an effort to end the Broncos' season certainly doesn't help his reputation in Denver.
Still, no one can deny first-year head coach John Fox is advancing through the playoffs with a roster McDaniels helped build. Starters Tebow, Thomas, Decker and offensive linemen
Zane Beadles
and
J.D. Walton
were all from McDaniels' final draft class in 2010. McDaniels' 2009 draft picks
Robert Ayers
, who had two sacks in last week's playoff win against the
Pittsburgh Steelers
, and safety
David Bruton,
also are contributors on defense.
But Tebow and Thomas are McDaniels' greatest parting gifts to the Broncos. The quarterback-receiver tandem connected for one of the greatest plays in Broncos' history last week.
Denver's playoff run probably will end this weekend in New England. The Broncos are nearly two-touchdown underdogs. The matchup is perfect for the Patriots, who won the regular-season meeting in Denver by 18 points.
But if the Broncos pull a monumental upset, players like Tebow, Thomas, Decker (if healthy) and Ayers will have a huge role. For that, McDaniels would still deserve a lot of credit.
Sometimes the stars align.
McDaniels simply can't lose this week.
January, 9, 2012
1/09/12
4:48
PM ET


Say what you want about
Denver Broncos
quarterback
Tim Tebow
. But one thing he does pretty well is throw the deep ball over top of coverage that's trying to stop the run.
Tebow had a career day Sunday throwing deep in a wild-card win over the
Pittsburgh Steelers
. Tebow was had three completions over 50 yards and, according to ESPN Stats & Information, the most yards per completion (31.6) in NFL playoff history.
The Steelers made the mistake by stacking the line of scrimmage too much and showing little respect for Tebow's deep ball. New England's pass defense, which is notorious for giving up big plays, has to be more balanced in its approach in order to avoid getting "Tebowed."
"Really one of the best things that he did or better things he did among a number of things at Florida was he threw the ball down field really well," Patriots director of player personnel Nick Casario said Monday. "He has good arm strength, real accurate with the football, and I think there have been a lot of examples this year in Denver, not only in yesterday's game against Pittsburgh, but where they've thrown the ball down the field and been able to get the ball behind the defense. They have players on the perimeter that they're able to get vertical into the defense and down the field."
The opportunities will be there for Tebow to make plays with his arm. The Patriots were 31st in the NFL defending the pass. New England also led the league in giving up an astounding 79 pass plays of 20 yards or more this season.
Tebow's accuracy isn't great -- he was 10 for 21 last week -- but he proved against Pittsburgh that he's not afraid to "pull the trigger." His 80-yard touchdown pass in overtime to Broncos receiver
Demaryius Thomas
was the biggest play in Denver's season.
December, 11, 2011
12/11/11
7:54
PM ET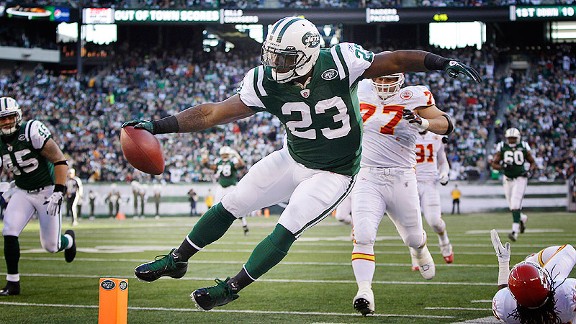 AP Photo/Kathy WillensShonne Green had a season-high 129 yards on 24 carries in the Jets' win over the Chiefs.
EAST RUTHERFORD, N.J. -- Forget about quarterback
Mark Sanchez
. He's not going to single-handedly carry the
New York Jets
.
Don't worry about New York's defense. That group will be there when it matters.
The most important factor that will determine the Jets' future this season is their up-and-down running game.
Memo to tailbacks
Shonn Greene
and
LaDainian Tomlinson
: It's your time.
New York's ground game was dominant Sunday in a
37-10 victory
over the
Kansas City Chiefs
, with Greene and Tomlinson combining for 251 total yards and two touchdowns.
The Jets won their third straight game, improved to 8-5, and currently hold the sixth seed in the AFC. New York simply must continue winning to make it to the playoffs for the third time under head coach Rex Ryan.
New York, which had three rushing touchdowns, imposed its will against Kansas City by winning the battle on the line of scrimmage. The Jets' run-to-pass ratio was 2-to-1 (42 runs, 21 passes).
"That's how you win games in December, because there's going to be a lot of cold games, a lot of snowy games and you have to be able to effectively run the ball," Jets guard
Matt Slauson
said. "It's really nice to see that our confidence is building as a unit on offense. We really feel like we're starting to be able to do whatever we want, and everybody is executing well."
The Jets' offense is going in the right direction because the running backs are trending upward. Tomlinson said he had a feeling things would go well Sunday following the coin toss.
New York won the toss and uncharacteristically took the football; Ryan usually defers to the second half. But lately the Jets have relied too much on fourth-quarter comebacks, so Ryan's message was clear.
"That kind of set the [tone] for us to start fast," Tomlinson said. "Once we got that first touchdown, we really felt like it was going to be a good day for us."
Greene's first run was for 31 yards and led to New York's first touchdown. He finished with a season-high 129 rushing yards, just his second 100-yard game of the season, and led the Jets in receiving with 58 yards. Greene often has been criticized this season for not making enough big plays, but he averaged 5.4 yards per carry against the Chiefs and carried the offense.
Tomlinson added 64 total yards and a touchdown. His best play was a 19-yard touchdown reception from Sanchez before halftime. This was Tomlinson's second game back from a knee injury, and he appears to have fresh legs for the final stretch of the season.
Also keep in mind that New York was without its most dynamic running back,
Joe McKnight
, who missed the game with an elbow injury. McKnight adds big-play ability to the backfield and on special teams that the Jets don't get from Greene and Tomlinson.
The Jets haven't had all three running backs healthy for a while. But they could have their full group of running backs together as early as next week.
"It can be really dangerous," said Jets fullback
John Conner
, who blocks for all three. "Shonn is pounding it and running real hard. LT and Joe have great speed and quickness. That's going to cause some problems for defenses in the future."
The immediate future looks bright for the Jets if they can continue running the football. There was a point earlier in the season when the running game was one of the weakest areas of the team.
"We're built for this," Slauson said. "Unfortunately, it took us a little bit to get it going. But everything is meshing great now, working really hard and it's coming together now."
Despite the team's many struggles this season, New York has found a way to control whether it makes the playoffs. The
Cincinnati Bengals
(7-6),
Tennessee Titans
(7-6) and
Oakland Raiders
(7-6) all lost in Week 14. That gives the Jets a one-game lead in the wild-card race with three weeks remaining.
The Jets needed a lot of help and they got it. Now, they must hold their spot by staying focused and continuing to win.
"You've got the Eagles, the Giants and Miami to close it out. There are no easy games," Ryan said of the Jets' remaining schedule. "As far as being overconfident, we're always confident -- period. Overconfident? I don't think so."
The Jets have their swagger back at just the right time. Much of it has to do with their ability to run the football.
December, 9, 2011
12/09/11
11:00
AM ET

The
New York Jets
need help. But is anyone willing to assist them?
Time is running out and Week 14 could be huge for New York to make up ground in the wild-card chase. The Jets (7-5) have been inconsistent all year and put themselves in a position where they could miss the postseason for the first time under coach Rex Ryan. To avoid it, New York needs to keep winning and have a few teams ahead of the Jets lose.
Here are the key games the Jets and their fans need to keep an eye on this weekend:
Despite similar records, Oakland, Tennessee and Cincinnati are all ahead of New York, via tiebreakers, for the final wild-card spot in the AFC. The Jets need to jump all three teams in the next four weeks.
It's possible that the Bengals, Titans and Raiders could all lose this week. The trio plays very good opponents. But even if, say, two of these teams fall, that's good progress for the Jets.
Of course, New York has to handle its business at home by beating the
Kansas City Chiefs
(5-7). The Jets are 5-1 at MetLife Stadium this year and are heavily favored to win.
December, 4, 2011
12/04/11
7:28
PM ET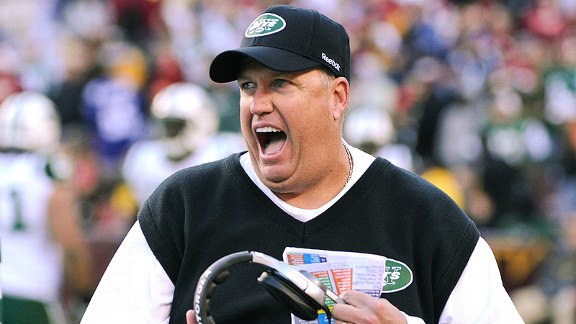 Howard Smith/US PresswireCoach Rex Ryan and the Jets have momentum entering the last quarter of the regular season.
MIAMI -- Week 13 told us a lot about the AFC East. With the playoff race heating up, we got a much better understanding of the pretenders and contenders.
Here are seven things we learned:
1. The Jets are back in it
It was a great weekend for the
New York Jets
. Not only did New York handle its business by beating the
Washington Redskins
,
34-19
, but the Jets got help in the AFC wild-card race. The
Cincinnati Bengals
entered the weekend with the edge for the final wild card but were crushed by the
Pittsburgh Steelers
, 35-7. The Jets (7-5), Bengals (7-5), Broncos (7-5) and Raiders (7-5) are in the running for the sixth seed. (Denver or Oakland will win the AFC West.) The Jets don't hold many tiebreakers, but they will be in good shape if they continue to win. New York has two winnable games coming up against
Kansas City Chiefs
(5-7) and at the
Philadelphia Eagles
(4-8). Their final two games are against the
New York Giants
and at the surging
Miami Dolphins
.
2. Sanchez is clutch
Say what you want about Jets quarterback
Mark Sanchez
. But he's proven over the past three seasons to play his best football in the biggest moments. After another uneven first three quarters, Sanchez came alive again in the fourth Sunday, leading the Jets to two key touchdown drives. Sanchez's best throw was a 30-yard touchdown pass to receiver
Santonio Holmes
for the go-ahead score. New York running back
Shonn Greene
punched in the final touchdown to put the game away. Sanchez's final numbers (165 yards, one touchdown) were not impressive. But the Jets have a good chance to make a postseason push if Sanchez continues to play well in the fourth quarter.
3. The Dolphins are dangerous
Their playoff hopes are over and changes are expected after the season. But the Dolphins are a team the Jets and Patriots should be wary of when they meet in the final two weeks of the regular season. The Dolphins dominated the AFC West-leading Raiders in a 34-14 win Sunday. The Dolphins (4-8) are 4-1 in their past five games. The winning streak has quieted talk of changes at head coach and quarterback until the season is over.
"We're having fun," Miami linebacker
Kevin Burnett
said. "I can't explain how much that takes away the pain and the feeling of being on the losing end of the spectrum."
4. Miami's defense should stay together
Whatever Miami owner Stephen Ross decides to do after this season, the team should find a way to keep its defense intact. If that means a new head coach and/or general manager must retain most of Miami's defensive players, so be it. If that means keeping veteran defensive coordinator Mike Nolan on next year's coaching staff, so be it. The Dolphins have the answers on that side of the football. Miami was ranked sixth in the NFL defensively last season. After a slow start, this group is rounding back to its usual form. The Dolphins held the Raiders to 304 yards, including 46 rushing.
"That's our personality: We're a tough, hard-nose type of defense," Dolphins linebacker
Cameron Wake
said. "When teams come in here and try to run the ball, stopping them is something we take a lot of pride in."
5. The Bills are finished
The AFC East blog said the
Buffalo Bills
were done following last week's loss to the Jets. But it's pretty much official after Sunday's
23-17
home loss to the
Tennessee Titans
. Buffalo is 2-7 since its surprising 3-0 start. The defense needs a major overhaul. Buffalo hasn't stopped anyone consistently all season, and it needs to take a hard look at its scheme and players. Injuries to the offensive line, running back
Fred Jackson
and receiver
Donald Jones
have hurt the offense. Buffalo must improve its depth in the offseason to compete in the division for the long haul.
6. Patriots will get a first-round bye
Don't be alarmed by the
Indianapolis Colts
' late run Sunday. The
New England Patriots
are cruising. New England led by 28 points entering the fourth quarter before taking its foot off the pedal in a
31-24
win against the winless Colts (0-12). The victory keeps the Patriots (9-3), who have the easiest remaining schedule, in the driver's seat for the No. 1 seed in the AFC. The
Baltimore Ravens
Pittsburgh Steelers and
Houston Texans
are also 9-3.
7. Gronkowski is elite
I usually like to wait until a player has a few seasons in the NFL before calling him "elite." But Patriots second-year tight end
Rob Gronkowski
is developing into something special. He scored three more touchdowns -- two receiving, one rushing -- against Indianapolis. Gronkowski has 13 TD catches in 2011, tying him with
Antonio Gates
and
Vernon Davis
for the season record for tight ends. Gronkowski is a lock for his first Pro Bowl. Quarterback
Tom Brady
and Gronkowski are the most dangerous red-zone combination in the NFL this season.
November, 14, 2011
11/14/11
12:00
PM ET
Here are seven notes and observations from Week 10 in the AFC East:
[+] Enlarge

William Perlman/The Star-Ledger via US PresswirePatriots defensive end Andre Carter had 4.5 sacks against Mark Sanchez and the Jets on Sunday.

The New England Patriots received a lot of press for making big-name acquisitions like Albert Haynesworth and Chad Ochocinco. But New England's best offseason addition turned out to be an under-the-radar free agent. Veteran defensive end Andre Carter signed with the Patriots in August and didn't create many headlines. He was one of several defensive linemen added to the team for depth, which included Haynesworth and Shaun Ellis. But Carter is on a tear with the Patriots this season. He had 4.5 sacks in Sunday's important win against the New York Jets and is tied for fourth in the NFL with nine sacks. Carter is on pace to shatter his career-best total of 11 sacks from 2009.

The Patriots have depth issues at several positions, but offensive tackle is not one of them. New England flexed its muscle at tackle against the Jets and didn't allow any sacks on quarterback Tom Brady. Left tackle Matt Light and right tackle Sebastian Vollmer got the start and played great, while rookie first-round pick Nate Solder was used as a sub in heavy packages and temporarily when Vollmer was hurt. Both Vollmer and Solder were questionable heading into the game. The Patriots also have a young offensive tackle on their practice squad in Matt Kopa who has potential. The second-year player from Stanford could be additional insurance if New England has any major injuries at the position.

The Jets (5-4) are essentially two games back in the AFC East and could run into issues in the wild-card race. The first tiebreaker is head-to-head meetings, and the Jets lost to a pair of wild-card contenders in the Baltimore Ravens (6-3) and Oakland Raiders (5-4). New York has to hope the Ravens and Raiders win their divisions. The Jets also have to worry about the Cincinnati Bengals (6-3) and maybe the struggling Buffalo Bills (5-4). The Jets and Bills could have an elimination game in two weeks at the Meadowlands.

Speaking of Buffalo, a lot of pressure now is on Bills starting quarterback Ryan Fitzpatrick. He was paid $59 million to be the long-term solution and face of the franchise. Fitzpatrick is no longer a cute, surprising story. With the $10 million per year price tag comes high expectations for Fitzpatrick to consistently produce. It's poor timing for Fitzpatrick to play his worst football of the season. He's thrown for 337 yards, two touchdowns and five interceptions the past two weeks. As a result, Buffalo has been outscored 71-18 in that span against the Jets and Dallas Cowboys. The bar has been raised and Fitzpatrick will get a lion's share of the blame when things don't go well. That's par for the course for other franchise quarterbacks around the league.

Buffalo has a lot of issues defensively. But the biggest issue haunting the Bills is their lack of pass rush. Buffalo thought it fixed its pass-rush issues in Toronto after registering 10 sacks against the Washington Redskins. It was the second-most sacks in Bills history. But that proved to be a fluke. Buffalo has just one sack in its past two games, and quarterbacks are taking advantage. Dallas quarterback Tony Romo was very comfortable in the pocket. He was 23 of 26 for 270 yards and three touchdowns.

Is winning the best thing for the Miami Dolphins? Miami fans have to be torn about the Dolphins' two-game winning streak. The Dolphins are finally playing well. But it comes after the team has no pressure and no shot at the postseason. On the flip side, it's a virtual certainty Miami played itself out of the Andrew Luck sweepstakes. The Indianapolis Colts (0-10) cannot win three of their final six games. Miami (2-7) also would have to lose its final seven games. That doesn't appear likely, either.

Next week's game between Buffalo and Miami will be more interesting than expected. The AFC East blog will be covering that contest next week at Sun Life Stadium. I think this is a must-win game for Buffalo. The Bills are in the middle of their three-game road trip, and this is the most winnable one on their schedule. Miami, meanwhile, will have a lot of say in who wins the AFC East. The Dolphins have four division games remaining and seem to be relishing their "spoiler" role. Miami can put a huge dent in Buffalo's season next week.