December, 6, 2013
Dec 6
11:05
AM ET
FOXBOROUGH, Mass. -- Running back
Brandon Bolden
was not spotted at the start of Friday morning's rainy
New England Patriots
practice, which sparked the following question: Could this open the door for
Stevan Ridley
to return to the 46-man game-day roster?
Ridley
Bolden hasn't been listed on the team's injury report this week and the absence could be non-injury related. More details regarding Bolden's absence should be learned around 4 p.m. ET when the official participation report is released.
The Patriots dressed three running backs for last Sunday's win against the Texans --
Shane Vereen
(41 of 70 snaps),
LeGarrette Blount
(20 snaps) and Bolden (9) -- which left Ridley on the sidelines. Since that decision, one of the top storylines surrounding the team is if Ridley will continue to be a healthy scratch, or if he might re-emerge in some form. Bolden's status could have a direct impact on the answer.
The other area of note that caught the eye at practice was seeing fill-in starting right tackle
Will Svitek
's right ankle heavily taped. Svitek landed on the injury report Wednesday, leaving the Patriots vulnerable at tackle because starter
Sebastian Vollmer
(leg) is on season-ending injured reserve and top backup
Marcus Cannon
(ankle) remains out of practice.
Also with receiver
Aaron Dobson
(foot) not practicing, it essentially rules him out Sunday for the second straight game.
Cornerback
Alfonzo Dennard
wasn't present for the second day in a row as he is due in court for a second day in Nebraska.
October, 27, 2013
Oct 27
2:25
PM ET
FOXBOROUGH, Mass. -- Sharing a few thoughts at halftime, as the
New England Patriots
trail the
Miami Dolphins
,
17-3
:


Ugly half of football
. This has been one of the Patriots' worst halves of the season. The tone was set by
Tom Brady
's interception on the team's second offensive play -- an inaccurate delivery to tight end
Rob Gronkowski
. It was a bad throw by Brady, who might be dealing with discomfort with the middle and ring fingers on his throwing hand.
Where's Ridley?
Running back
Stevan Ridley
, the team's leading rusher in 2012, was limited to six snaps in the first half (not including final kneel-down) as the Patriots went mostly with
Brandon Bolden
(15 snaps), while mixing in
LeGarrette Blount
(starter who totaled 5 snaps). A bit of a head-scratcher there.
Cole over Ryan at cornerback
. Without top cornerback
Aqib Talib
, the Patriots started
Alfonzo Dennard
and
Kyle Arrington
at the position, with
Marquice Cole
playing the nickelback role. It was Cole who overran receiver
Brandon Gibson
on the Dolphins' first touchdown. The Patriots used rookie cornerback
Logan Ryan
in that role last week, but he hasn't played a defensive snap today, with Cole getting the nod over him.
Dolphins sparked by run
. Miami ran the ball 21 times in the first half, and you wonder if the same approach would be taken if the Patriots had
Vince Wilfork
and
Tommy Kelly
at defensive tackle, and
Jerod Mayo
at linebacker. The Patriots just aren't as sturdy in the front seven and the Dolphins are taking it to them. Credit goes to the Dolphins for executing and winning the critical situations.
Injury report
. Starting right tackle
Sebastian Vollmer
left with a right leg injury and has already been ruled out. Looked like the season-ending type, but that hasn't been confirmed. That thrusts third-year player
Marcus Cannon
into the statring mix at right tackle, with veteran
Will Svitek
now the top backup.
Patriots get the ball
. The Patriots had won the opening toss and elected to defer, so they will receive the opening kickoff of the second half. The home crowd booed the Patriots as they kneeled on the ball at the end of the second quarter.
October, 21, 2013
Oct 21
6:15
PM ET
Rex Ryan probably didn't want to come off as a tattletale, but the
New York Jets
coach left little doubt Monday that he knew about the
New England Patriots
' previous use of the illegal pushing technique on field goal blocks, and he didn't deny blowing the whistle on them.
In fact, the Jets sideline alerted the officiating crew during the game to watch out for it, a person familiar with the situation said late Monday.

Ryan
While he wouldn't answer directly on whether he was aware the Patriots had used it once the previous week against the
New Orleans Saints
, Ryan said, "The coaches watch every single play of every single game, so we're aware of the opponents' tendencies and everything else."
In other words, he knew.
Ryan declined to say if that information was shared with his players ("I'll leave that in-house"), and he also avoided the question of whether he tipped off officials before Sunday's game.
"Again, you know what? My comments with the officials, I'll just leave that way," he said.
The Jets were well-schooled on the new "push" penalty, players said Monday. In addition to the mandatory tutorital in training camp from officials, who travel the country to educate teams on new rules, the players were "reminded" as recently as early last week, said
Damon Harrison
, a member of the field-goal unit.
They were reminded because the Patriots got away with it last week.
Chris Jones
pushed teammate
Will Svitek
on
Garrett Hartley
's 39-yard field goal late in the fourth quarter. Jones and Svitek ran the same technique against the Jets, but the umpire saw it and threw a flag -- 15 yards for unsportsmanlike conduct. It nullified a field-goal miss by
Nick Folk
, who followed up by nailing one from 42 yards in overtime, lifting the Jets to a 30-27 win.
The "push" penalty, on the books this season for the first time, is designed to improve player safety. This was the first time it was enforced.
Former Jets special-teams coach Mike Westhoff, an ESPN Radio analyst, studied a tape of the play and said it was "very, very evident" that it was orchestrated. He said Jones "cheated back in his stance," allowing him to get in position to push Svitek from behind.
"I watched the tape. You don't have to be Sherlock Holmes," Westhoff told ESPNNewYork.com. "I can't prove this -- I don't know what they teach -- but those guys are pretty sharp up there [in New England]. I can't imagine them running a technique and not being aware of it. In my opinion, it was coached, taught and implemented that very way. I think they did it on purpose and got caught."
Westhoff said he "blocked a lot of kicks with that same technique," but it was legal up until this season. He said it's an unsafe practice because of "the force it generates," a big body pushing another big body into a blocker.
Demario Davis, another special-teams contributor, said he was "very aware of the rule." Patriots coach Bill Belichick admittedly wasn't, acknowledging Monday his postgame interpretation was wrong. Rule 9, Section 1, Article 3 from the rule book is pretty straight-forward: "Team B players cannot push teammates on the line of scrimmage into the offensive formation."
Willie Colon
, another interior blocker on the field-goal unit, said "all coaches should have knowledge of the rules." But he admitted he didn't know what was going on until after the game.
How could a head coach make such an oversight? Ryan didn't want to go there.
"I'm not worried about that," he said, bristling after several questions about the controversy. "The focus is going to be wherever you guys want it to be, but I think we outplayed New England, and I think that's why we won the game."
September, 28, 2013
Sep 28
5:00
AM ET
Every Saturday, the "football journey" of one New England Patriots player will be highlighted as part of a regular feature.
FOXBOROUGH, Mass. -- With the Patriots preparing to visit the
Atlanta Falcons
on Sunday night, it's especially timely to catch up with veteran offensive lineman
Will Svitek
.
The former Falcon signed a one-year contract with the Patriots on March 18 and was projected to add depth at both tackle spots. At the time, the Patriots were unsure if starting right tackle
Sebastian Vollmer
would be returning, as he remained a free agent.
Vollmer ended up re-signing eight days later, and Svitek would find himself in an unusual spot for him -- right guard. He proved to be a quick study as the position switch added to his value.
Now, with Vollmer not expected to play Sunday night against the Falcons, Svitek's presence would add important depth at tackle. Svitek has missed the first three games with a knee injury, but could be primed to return in a game against his former team.
This is his football journey:
[+] Enlarge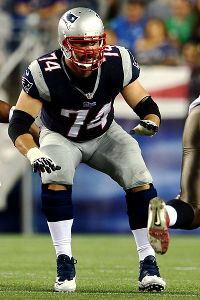 AP Photo/Damian StrohmeyerWill Svitek was 2 years old when his family came to the U.S. "to escape communism and achieve the American dream."
When he first started playing football:
"I started playing Pop Warner when I was in fifth or sixth grade growing up in Southern California. Basketball was the first sport I started playing, then track. I only played football because all my friends were doing it."
First positions:
"I played a little bit of everything as a Pop Warner kid – tight end, defensive end, linebacker. In high school, I played tight end, wide receiver and defensive end. It's hard to believe I was a receiver in high school – I was about 6-6, 235 [pounds] when I graduated. I was a skinny kid. But I was more of a basketball and track guy. Football was more something to do in the fall and be popular with the girls [laughing]."
Memories at Newbury Park (Calif.) High School
: "Football was fun in high school because all my friends were playing. There is something special about playing high school football and that camaraderie. There is no other sport where you have more camaraderie than on a football team, playing Friday night with all your friends, in front of your family and all your classmates. That's a special thing. The guys on the football team, I've known since I was a little kid and they're some of my best friends. Some of the guys I played with in high school come to a game every year, since college and into the NFL."
Enrolling at Stanford, where he played football:
"As I was approaching college, I realized that most of my opportunities were in football; I was fortunate to get a lot of scholarship offers and decided to pursue that route in college. I got recruited as a tight end/defensive end and chose Stanford because I felt like it epitomized what a student-athlete was. It was also nice to stay on the West Coast and play in the Pac-10. Since I was 10, it was a dream of mine to go to Stanford. I played defensive end all five years, and for half of one year I played some tight end because of injuries."
Football memories at Stanford:
"Unfortunately we didn't have the wins that we wanted, but I would never change it for the world. Some of my best friends to this day are from Stanford. I always tell people, my best friends in the world are from high school football, college football or the NFL. Football has given me a lot of great relationships."
Favorite teams and players growing up:
"When I was a young, young guy I was a big Lakers fan. I was kind of Redskins fan when they were in the Super Bowl with Mark Rypien. That was kind of random. But then I became a Chargers fan, growing up in Southern California."
Role models who helped him along the way
: "Most importantly, my parents. I came from an unusual background, born in Prague, Czech Republic, so everything is unorthodox with my background. My family immigrated to America, to Southern California, when I was 2 to escape communism and achieve the American dream. We left with the clothes on our back and were in a refugee camp. We came to the U.S. in '85 with absolutely nothing – no money, no work experience out here, no credit history. My parents had to start off from scratch, living in a one-bedroom apartment, all five of us, for a couple years. My parents taught me about work ethic, dedication, and what the American dream is. I've always wanted to work hard, always wanted to have discipline, because my parents gave me so many opportunities. Unfortunately my dad passed away last year from cancer, so I try to represent him and do what he taught me. My goal in life has always been to make my parents proud."
Entering the NFL as a sixth-round draft choice of the Kansas City Chiefs in 2005:
"By my senior year, I was about 6-6, 300 pounds and I felt like talking to some scouts and others that offensive line would be my best opportunity for a professional career. I was open to the idea. I played in the East-West Shrine Game as a defensive lineman, against
Logan Mankins
, as we were on the same team and practiced against each other. Some teams started working me out as an offensive lineman and I knew it would be a tough road. It's a hard transition going to the NFL, period, let alone changing positions. There were some growing pains, but I was fortunate that Kansas City drafted me in the sixth round to play left tackle. It worked out well."
Early years in Kansas City and appearing in 16 games with four starts from 2005 to 2007:
"I made the 53-man roster my first year, which was my goal. I was inactive 15 games, but then I knew the road would be going to NFL Europe to get some experience, which I did after my rookie season. I started at left tackle for all 11 games, which was basically like getting to play a college season at a position I had never played before. We won the World Bowl championship. … My first offensive play in the NFL was at right tackle against the 49ers my second year, and it was pretty cool. I had
Tony Gonzalez
to the right of me and Will Shields to the left of me -- two Hall of Fame guys -- with Bryant Young across from me. That was pretty special."
Signing with the Falcons and remaining with them from 2009 to 2012 (47 games; 14 starts):
"I was a free agent and a lot of things go into that. The opportunity arose in Atlanta and I signed a two-year deal, and then signed another two-year deal. It was a great opportunity. Last year, I tore my triceps and spent the whole year on IR unfortunately, but the year before I felt like I had the best year of my career, starting 11 games at left tackle. We won a lot of games when I was there, four winning seasons, and it was a positive atmosphere. I really learned a lot."
Joining the Patriots on a one-year deal as a free agent:
"I came in here for a visit at the start of free agency, and the opportunity to play for Coach Belichick and this organization, it's truly an honor. It's been a great experience and obviously I think a lot of people would like to play for the New England Patriots. I feel like I fit in well here; the way I play, I think it was a natural fit for me … I've always tried to pride myself on being versatile, playing different sports growing up, and then being a receiver in high school, and going to college and playing defensive end, and in the NFL playing left tackle. It's the 'more you can do.' In the NFL, I've started games at left tackle, right tackle and even one playoff game as a tight end. Now, this year, I'm playing right guard. Being in a new offense, and playing a new position, you almost feel like a rookie all over again. I pride myself on being professional and doing what the coaches ask me to do."
What he loves about football:
"It's the competition. We're all competitors in the NFL and it epitomizes competition. Trying to defeat your man, there is no other feeling like that. It's a great team sport, the ultimate team sport; so many things have to be put together. It's a special game and a special group of guys because not everyone can play football. I feel fortunate to be in this situation. It's been a good ride so far. I want to keep it going."
Summing up his football journey:
"It's been an unusual road for me. Thinking back to when I was playing Pop Warner and high school, if you had told me I'd be blocking for
Tom Brady
and playing for Coach Belichick, I never would have believed it. I've never really envisioned myself that far down the road, just always focusing on the next step. I never would have imagined I'd be in this situation, playing offensive line in the NFL. I think football teaches you a lot in terms of life, things I'll be able to carry with me the rest of my life -- hard work, teamwork, dedication, working with people. There's the education you get in the classroom, and it's valuable. But the education you get on the football field is also something you'll have for the rest of your life."
September, 7, 2013
Sep 7
11:00
AM ET
Every day before the New England Patriots play a game, we'll attempt to predict the team's inactive players.
The Patriots currently have 52 players on their roster. With 46 players allowed on the game-day roster, there are six players who won't be part of the season opener against the
Buffalo Bills
.
Our best guess on the list:
RB
Brandon Bolden
-- Has been limited in practice with a knee injury and was one of the only players not spotted in the preseason finale, so the hunch is that he might need more time.
WR
Aaron Dobson
-- Rookie was limited in practice with a hamstring injury and currently projects to a reserve role (and doesn't contribute on special teams).
DT
A.J. Francis
-- Claimed on waivers from the Dolphins on Sunday, the undrafted rookie is still getting up to speed in the system.
TE
Rob Gronkowski
-- Listed as doubtful as he recovers from forearm and back surgeries, he still seems to be a few weeks away.
OT/G
Will Svitek
-- Veteran who backs up multiple spots has already been declared out with a knee injury.
LB
Chris White
-- Claimed on waivers from the Lions on Sunday, he probably needs more time to get integrated into the system.
Extra point:
The Patriots sometimes make roster moves the day of the game, and it wouldn't be a surprise if they fill their final roster spot Saturday. Guard Josh Kline would be an ideal candidate from this view, and if it happens, it could bump rookie guard/center
Chris Barker
to the inactive list.
September, 5, 2013
Sep 5
11:08
AM ET
FOXBOROUGH, Mass. -- Veteran offensive lineman
Will Svitek
was the lone absence at Patriots practice on Thursday morning, which was conducted in helmets and shells three days prior to their regular-season opener against Buffalo.

Svitek didn't participate in Wednesday's practice because of a knee issue that has been bothering him since the preseason finale.
Tight end
Rob Gronkowski
was once again on the field and working with his teammates, as was wide receiver
Danny Amendola
, both of whom were listed as limited on Wednesday's injury report. Amendola, who is nursing a groin issue, showed no noticeable signs of ill effects during the media portion of practice.
Should Svitek be forced to sit on Sunday, the Patriots have internal options to fill his spot on the depth chart. The team claimed a pair of interior linemen on waivers last weekend, adding center
Braxston Cave
and guard
Chris Barker
from Cleveland and Miami, respectively.
Marcus Cannon
gives the team a reserve option at right tackle, with
Sebastian Vollmer
as a candidate to slide to left tackle in the event of an injury to starter
Nate Solder
. Cannon can also play guard, with Barker as a possible second reserve if the team endures major interior issues.
The Patriots will practice on Friday before traveling to Buffalo on Saturday.
August, 30, 2013
Aug 30
11:55
AM ET
FOXBOROUGH, Mass. -- Picked-up pieces after reviewing the first quarter of the Patriots' 28-20 preseason win over the Giants:

1. It seemed like the Patriots wanted to take a closer look at veteran safety
Adrian Wilson
and his effectiveness as a blitzer. Wilson blitzed on the first play of the game (the ball was out quickly) and then on the third-and-7 play (incomplete pass) that ended the Giants' second drive. On the second blitz, Wilson was met by running back
Andre Brown
and ridden out of the play, as quarterback
Eli Manning
stepped up to make his throw on the run. Then there was a third blitz from Wilson on the Giants' opening play of the third drive (off the defensive left side), when Manning completed a 37-yard pass to receiver
Louis Murphy
as Wilson was again picked up by running back
David Wilson
. He then blitzed again on the Giants' touchdown later in the quarter (wasn't close to disrupting the play). As the Patriots consider whether Wilson has a spot on their 53-man roster, I could envision them looking at these blitzes today and attempting to determine if Wilson can help them in that role.
2. Rookie defensive end
Michael Buchanan
(6-6, 255) was disruptive off the defensive left side, showing good power and multiple pass-rush moves, as well as how his long arms can affect passing lanes for opposing quarterbacks. In addition, he showed strength and technique to effectively set the edge, which is a necessity for any end (4-3) or outside linebacker (3-4) in the team's scheme. We got a good look at that on the Giants' second offensive play when Buchanan locked up with pulling guard
Chris Snee
, held his ground, and kept Wilson hemmed in as he was stopped for a modest 1-yard gain.
3. A good contrast to that play was seen later in the quarter on Wilson's 16-yard run on a pitch from Manning around left end. The Patriots' run force broke down, with right end
Jake Bequette
taking his first step inside, which was enough to lose containment. With linebacker
Dane Fletcher
also sealed off by left tackle
Will Beatty
, and cornerback
Marquice Cole
cleared out of the area because he was covering receiver
Hakeem Nicks
, it left a wide swath of real estate for Wilson. Some credit goes to the Giants for a well-blocked run, but it looked like it also could have been executed better from the Patriots' standpoint.
4. The top seven offensive linemen appear set for the Patriots (
Nate Solder
,
Logan Mankins
,
Ryan Wendell
,
Dan Connolly
,
Sebastian Vollmer
,
Marcus Cannon
,
Will Svitek
), so I spent some time watching the reserves beyond that to see if anyone stood out. Center
Matt Stankiewitch
(6-4, 305) would be the choice. The first play might have been his worst -- he was pushed back into quarterback
Ryan Mallett
by
Linval Joseph
-- but he seemed to settle in nicely over the remainder of the first quarter against first-unit competition. His athleticism to get to the second level of the defense was seen on receiver Josh Boyce's 18-yard reverse, when he sealed off linebacker
Dan Connor
. A nice play like that was later balanced off by failing to hold his block against defensive tackle
Mike Patterson
as Patterson pressured Mallett early in the second quarter. Like most rookies, Stankiewitch will benefit from some physical development, but he showed a scrappiness that made us take note.
5. There is a risk-reward that comes with every blitz, and the risk was evidenced on the Giants' first touchdown. On third-and-2 from the Patriots 3-yard line, the defense sent seven rushers. That created a man-to-man situation with receivers and defensive backs, with rookie cornerback
Logan Ryan
matched up against Nicks. The rush didn't get there and Manning had time to lock in on Nicks to complete a relatively easy touchdown. If you're going to send seven, that's a case where the rush has to get there quickly to help out the defensive backs. Didn't happen in that case.
August, 29, 2013
Aug 29
7:49
PM ET
August, 20, 2013
Aug 20
9:30
AM ET
If there is a silver lining for dealing with an injury to a player, it's that his absence creates an opportunity for one of his teammates.
In the case of Patriots right guard
Dan Connolly
, who is currently recovering from offseason shoulder surgery, it was
Marcus Cannon
who was called upon to fill in. A subsequent injury to Cannon opened the door for
Markus Zusevics
to earn guard reps, and then missed time for Zusevics led to veteran
Will Svitek
playing on the interior part of the line, rather than his customary tackle spot.
Head coach Bill Belichick recently highlighted Svitek's versatile skill set, noting that he can play either tackle position, a desirable skill set for teams looking to build their line depth.
The Patriots have long valued versatility among their offensive linemen, as there can be several moving parts along the line that force a team to shuffle the deck.
Focusing on the Patriots projected top seven linemen, position versatility is among the common denominators.
Guard Logan Mankins:
Belichick said during the 2012 season that he believed Mankins was probably capable of playing any of the five line positions if needed, though Mankins is entrenched at the left guard spot, where he's among the best in the game. He was also a standout left tackle in college at Fresno State.
Center Ryan Wendell:
Wendell took over starting center duties for the 2012 season, though he can flex to either guard spot as well. His modest size (6-2, 300) is offset by his technician-like approach and ability to leverage defenders. He's developed into one of the better centers in football.
Tackle Sebastian Vollmer:
Another player who has been entrenched in his current spot at right tackle, Vollmer has the requisite skills to swing to left tackle as well. In fact, he was likely the Patriots back-up left tackle last season, though
Nate Solder
was on the field for virtually every offensive snap.
Tackle Nate Solder:
Solder was a chess piece on the line as a rookie, playing at both tackle spots, as an extra lineman, and even getting preseason guards snaps. With his uncommon length and movement skills, playing multiple positions is well within his capabilities.
Guard Dan Connolly:
Like Wendell, Connolly has interior line flex. He started at center in 2011 before kicking out to guard last season. As things currently stand, he'd likely be called upon to take over at center if Wendell were to ever suffer an injury.
Guard Marcus Cannon:
A college tackle prospect, Cannon seems to be working more at guard these days. That being said, he can still serve as a reserve right tackle, and might be able to play left tackle in a pinch, too.
Tackle Will Svitek:
As we said off the top, Svitek has four position versatility, with the tools to swing to either tackle spot and play each guard post as well.
Among the remaining linemen on the roster, we have the best feel for Zusevics, who we've seen at both tackle and guard. The book is still out on
Josh Kline
,
Luke Patterson
,
Brice Schwab
and
Chris McDonald
, who we've seen in small doses this camp.
The Patriots could keep one or more of these five on the practice squad, or one could also emerge as a surprise keep on the 53-man roster. One has to figure that if any of them stick around, he'll have the versatility to play multiple line spots.
March, 18, 2013
Mar 18
8:40
AM ET
Here are the most interesting stories Monday in the AFC East: Morning take: I've said all offseason there isn't a quarterback in this draft I would take in the top 10. However, desperate times call for desperate measures, and the Bills find themselves with only Tarvaris Jackson as the potential starter. If the top-rated quarterback is on the board, the Bills have to consider it based simply on need.
Morning take: This is an insurance move if Sebastian Vollmer doesn't re-sign. Svitek has experience on the left and right side and offers flexibility.
Morning take: We haven't had any Tim Tebow news in a while in the AFC East blog. So I thought I'd add this in there.
Morning take: This is not at all surprising. Burnett was released in Miami because former Raider Philip Wheeler signed with the Dolphins. This was simply a swap of player.