July, 20, 2010
7/20/10
3:01
PM ET
The
New York Jets
will display a Ring of Honor inside their new stadium, and there are no surprises in their inaugural class.
The Jets announced Tuesday they will celebrate six legends: coach Weeb Ewbank, quarterback Joe Namath, receiver Don Maynard, offensive lineman Winston Hill, defensive lineman Joe Klecko and running back
Curtis Martin
.
An unveiling ceremony will take place at halftime of the Aug. 16 exhibition against the
New York Giants
.
"This organization has always had a deep appreciation for and admiration of those who have worn this team's uniform," Jets owner Woody Johnson said in a statement issued by the club. "These six men span generations of Jets football, all embodying the best of this game and what it means to truly be a Jet. With this new stadium we now have a proper way to salute those who have helped make this franchise what it is today."
The plan for future honorees involves yearly nominations but not minimum or maximum number to be added.
June, 30, 2010
6/30/10
2:00
PM ET
Notable players:
QB Joe Namath, RB Emerson Boozer, RB Matt Snell, WR Don Maynard, WR George Sauer, G Dave Herman, T Winston Hill, DT John Elliott, DE Gerry Philbin, DE Verlon Biggs, MLB Al Atkinson, CB Johnny Sample, K Jim Turner.
[+] Enlarge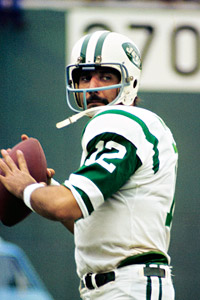 Darryl Norenberg/US PresswireJoe Namath and the Jets stunned the football world by winning Super Bowl III.
Analysis:
To sum up the glory of the season and the agony of being a
New York Jets
fan over the past 40 years, there's only one candidate for the best team in franchise history.
The 1968 Jets are iconic. They transformed the NFL with their landmark 16-7 victory over the Baltimore Colts in Super Bowl III, a result seared more deeply into legend with Joe Namath's renowned guarantee.
Those Jets remain the ultimate "any given Sunday" underdogs. They legitimized the upstart American Football League by knocking off the heavily favored Colts, an NFL institution. You can close your eyes and see the NFL Films clip of Namath wagging his index finger while he trotted toward the Orange Bowl tunnel.
But the Jets were no Buster Douglas fluke. While Namath was the leading man of an offense that averaged 29.9 points a game, the Jets owned the AFL's top-rated defense in yards allowed.
The Colts averaged 28.7 points a game. The fewest points they had scored in a game was 16, but the Jets' defense chased league MVP Earl Morrall from the game and made it easy for running back Matt Snell to hammer out the win.
Most impressive win:
Aside from the Super Bowl, the Jets' biggest victory was avenging their Heidi Game loss to the
Oakland Raiders
. A month and a half later in the AFL title game, the Jets' defense yielded 433 total yards. Still, New York won 27-23.
Broadway No:
The Jets' 1968 season is synonymous with Namath's swagger, but he wasn't always the driving force. Desperate to corral his recklessness, the Jets turned into a running team to the point Namath went 27 quarters without throwing a touchdown pass. Namath threw two more interceptions than he did touchdowns and finished with a 72.1 passer rating, 11th in the NFL.
Honorable mention
1969:
The Jets followed up their championship campaign with a 10-4 record but scored only six points in their first playoff game and lost. They wouldn't have another winning season for a dozen years.
1998:
Two seasons earlier, the Jets went 1-15. Head coach Bill Parcells navigated them to the AFC Championship Game behind the fifth highest-scoring offense and the second-stingiest defense.
1981:
After a 1-3-1 start, the New York Sack Exchange backstopped the Jets to their first playoff berth in 12 seasons. They closed out the regular season with a 7-1 rally.
November, 1, 2009
11/01/09
2:35
PM ET
Posted by ESPN.com's Tim Graham
EAST RUTHERFORD, N.J. -- Through two quarters at the Meadowlands, the
New York Jets
have out-adjusted the
Miami Dolphins
in a game that's tied at 3.
We'll see who makes the better modifications at halftime, where the Jets are honoring legendary tackle Winston Hill, an eight-time AFL All-Star. Hill will be a member of the inaugural class for the Jets' Ring of Fame when the new stadium opens next year.
Hill just told the crowd "The second half is going to belong to us," and aside from the score, the first half has gone quite well for the Jets.
Three weeks after the Dolphins stampeded their way to a 31-27 victory, the Jets' defense has been formidable in the rematch.
Miami's high-wattage Wildcat has looked as powerful as a night light. The Wildcat has been engulfed, generating negative yardage. Overall,
Ronnie Brown
has six carries for 11 yards.
Ricky Williams
has three attempts for 3 yards.
The Dolphins also are struggling on third downs. They went three-and-out on each of their first three possessions and are 1 for 8 on third-down conversions.
New York almost certainly won't rush for 300 yards a third straight week, but
Thomas Jones
has 12 carries for 49 yards. Rookie back
Shonn Greene
, coming off his big breakout game, has five carries for 19 yards.
Last time they played, the Dolphins eliminated Jets tight end
Dustin Keller
from the game. He had zero catches. But the Jets got him involved early Sunday. Keller has a game-high four catches for 21 yards at halftime.
The biggest highlights for Miami have been produced by safety
Gibril Wilson
, who has had a rough season, especially with missed tackles, and has conceded some snaps to rookie
Chris Clemons
.
But Wilson has recorded the two biggest hits of the afternoon, both on Jets quarterback
Mark Sanchez
. Wilson detonated him as he threw in the first quarter and got a sack on a another safety blitz in the second quarter.