June, 10, 2011
6/10/11
8:41
AM ET
Football Outsiders senior writer Mike Tanier has been charting the top five quarterbacks of every NFL team. In his
latest column, he broke down the AFC East's best
. You should click on the links to read Tanier's reasoning and interesting stats on each selection.
A first-round pick from the famed 1983 draft class appears on every list.

Buffalo Bills
Joe Ferguson
Jack Kemp
Quick take: It's strange to see Flutie on the Bills' all-time list. When I arrived in Western New York 11 years ago, the area was hotly divided over him and
Rob Johnson
. Some fans wanted Flutie to just go away. But I agree with the list and, as Tanier, points out in his piece, this goes to show how few great quarterbacks there've been over the years.

Miami Dolphins
Bob Griese
Don Strock
Earl Morrall
Quick take: The Dolphins have a two Hall of Famers in their history, but you can see how much trouble they've had finding a replacement for Marino when you consider their fourth- and fifth-best quarterbacks are known for being quality backups. Granted, Morrall came off the sideline to help maintain the undefeated 1972 season. But he started 14 times over five seasons with Miami and just 40 percent of his career games.

New England Patriots
Drew Bledsoe
Babe Parilli
Steve Grogan
Tony Eason
Quick take: This is the only AFC East team with an active quarterback on the list. The rundown couldn't be more straightforward to me. Maybe you could flip Grogan and Parilli because of longevity and the neck roll.

New York Jets
(
from a previous Football Outsiders column
)
Joe Namath
Richard Todd
Quick take: Tanier notes that if you wanted to rank Sanchez fourth right now, then he wouldn't argue. Neither would I, although I'd be more comfortable with Sanchez replacing Todd on this list. Tanier also claims if Pennington had avoided one of his lost seasons, he might be the greatest quarterback in Jets history -- from a statistical standpoint.
January, 10, 2011
1/10/11
8:32
PM ET
For those of you unfamiliar with what Cookie Gilchrist was all about, Paul Maguire has a story to share.
It was December 1964. While snow was being cleared from Fenway Park's field, the Buffalo Bills waited anxiously in a spartan locker room for their game against the Boston Patriots to start. They normally would've whiled away this time with card games or other diversions to ease the mood. Not on that day.
The Bills had to win to host the AFL Championship game six days later. The atmosphere was tense, the room quiet.
"Cookie stood up," Maguire recalled, "and said 'I'm going to tell you something. If we don't win this game, I'm going to beat the s--- out of everybody in this locker room.' "
Just then, Bills head coach Lou Saban and assistants Joe Collier, Jerry Smith and John Mazur unwittingly walked into their star fullback's escalating fury.
[+] Enlarge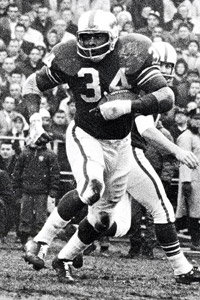 AP PhotoFormer Buffalo Bills star Carlton Chester "Cookie" Gilchrist died Monday morning in Pittsburgh. He was 75.
Maguire continued: "Cookie pointed and said, 'And I'm going to start with you, Coach. I'm going to kick your ass first.' I just sat back in my locker. I knew he meant it."
On the first play of the game, Gilchrist took a handoff from Jack Kemp and trucked helpless Patriots safety Chuck Shonta.
"Cookie ran right over his ass," said Maguire, the Bills' popular linebacker and punter. "Then he went up to Bob Dee, who was the defensive end, and says 'You're next.' Kemp came over the sideline and said 'We've got to get him out of there. He's going to kill somebody.' "
The Bills pummeled the Patriots and then shocked the San Diego Chargers to win their first of back-to-back AFL titles.
"He had so much character he brought out the best in all of us," Bills tight end Charley Ferguson said. "If there's ever such a thing as 110 percent, that's what you got from Cookie. There was no such thing as not being ready."
Carlton Chester "Cookie" Gilchrist died Monday morning in a Pittsburgh assisted living facility.
Cancer finally caught him at 75 years old, but not before he broke another tackle.
Gilchrist's hospice nurse found him dead in a chair Saturday. She phoned his great nephew with the somber news. Thomas Gilchrist arrived and saw his uncle slumped over. Nurses prepared Cookie's bed for him to be laid down one last time. Thomas carried his uncle's 140-pound body from the chair.
And then Cookie woke up.
"He was dead in the chair," Thomas Gilchrist said. "And 30 minutes later he was drinking a root beer with me."
Cookie Gilchrist's family and teammates were laughing at the thought Monday. It was symbolic of how he was: rugged, stubborn and usually unbeatable.
Gilchrist often is overlooked among the game's great running backs because his career was brief and his relationships strained.
Ferguson, who also played with Jim Brown and O.J. Simpson, called Gilchrist "one of the greatest backs to ever play the game."
"These young guys didn't have more of an opportunity to learn about Cookie and see him in action," Ferguson said while mourning at former Bills teammate Booker Edgerson's home in suburban Buffalo. "They may have heard something, may have heard very little, but if they ever had that kind of opportunity it would have meant something to them."
Gilchrist went straight from Har-Brack High School in the Pittsburgh area to the Canadian Football League, where he starred for six years. He played fullback, linebacker and kicked field goals for Hamilton, Saskatchewan and Toronto before he returned stateside with Buffalo.
He played only six seasons in the AFL, but they were brilliant. He's the fullback on the all-time AFL team. In 1962, he became the first AFL back to rush for more than 1,000 yards and also kicked eight field goals and 14 extra points for Buffalo. In each of his first four seasons, he was an All-Star and led the league in rushing touchdowns.
He spent three years with the Bills and one with the
Miami Dolphins
sandwiched between year-long stays with the
Denver Broncos
.
"He was so impressive," Maguire said. "He was the biggest fullback in the game and could run and block. When he first came to the Bills he was the wedge buster.
"On the football field, he was one of the nastiest sons a bitches I ever met in my life. There was absolutely no fear in that man."
Gilchrist's 31 rushing touchdowns (in just three seasons) still rank third in Buffalo behind only Simpson and Thurman Thomas. Gilchrist set single-game records with 243 yards and five touchdowns against the
New York Jets
in 1963.
Gilchrist was a battering ram on the field, but so headstrong that he gave coaches and administrators headaches.
He engaged in several disputes with Saban and Bills owner Ralph Wilson. One of the pivotal moments came in Buffalo's first game against Boston in 1964, a War Memorial Stadium shootout between Kemp and Babe Parilli that didn't involve much running.
"The offense got the ball and he didn't go into the game," former Bills tight end Ernie Warlick recalled. "Saban asked 'Hey, Cookie, why aren't you out there?' He said 'They're not giving me the ball, so why the hell should I play?' So he sat on the bench and told his backup [Willie Ross] to go in."
The Bills placed Gilchrist on waivers after that episode, but Kemp brokered a reconciliation. The club pulled him back for the rest of the campaign. The Bills traded him to Denver in the offseason for Billy Joe.
"He jumped off the curb every once in a while," Warlick said, "but he was with them team almost 100 percent."
Gilchrist was among a group of black players who boycotted the AFL All-Star game over racist treatment in New Orleans. The game was moved to Houston.
He turned down induction into the CFL Hall of Fame, citing bigotry.
"He was very outspoken," said Edgerson, a Bills cornerback for eight seasons. "He understood the economics and the monetary value of a player. He expressed himself, and that got him in trouble a lot.
"But the things he did back in the 1960s was mild compared to what these guys do today. There is no way in the world he would be considered a bad boy today."
The Bills waived Gilchrist during the 1964 season because of his contract demands.
"I wanted a percentage of the hot dog sales, the popcorn, the parking and the ticket sales," Gilchrist said in a
2007 interview with the Pittsburgh Tribune-Review
. "[Saban] said that would make me part owner of the team. I was a marked man after that."
Those familiar with the selection process claim Wilson has long refused to consider Gilchrist for the team's Wall of Fame. Gilchrist and Wilson didn't mend their fractured relationship until a phone conversation last week, Thomas Gilchrist said.
Wilson also had a lifelong feud with Saban, the only coach to win a championship for Buffalo, let alone two.
Saban, who died in March 2009, isn't on the Wall of Fame either
.
"It's very sad that it couldn't be patched sooner," said
Edgerson, added to the Wall of Fame in October
. "It doesn't make any difference whose fault it is, or who didn't come to the table. Obviously, it was bad blood because they have not been put up on the Wall, and everybody believes that they should have been regardless."
Said Warlick: "It is a shame that those two guys are not even considered to go on the Wall. It's really too bad because they both should be there."
What makes Gilchrist's absence on the Wall of Fame even more disappointing is that players such as him -- stars that burned brightly but briefly -- aren't properly appreciated, particularly by younger generations.
Those who watched Gilchrist play know how special he was.
"Anybody from that era would never forget him," Maguire said. "He was that kind of a guy. When you went on the field with him, you never even doubted that you were going to win because he wouldn't let you think any other way."
Gilchrist is survived by sons Jeffrey and Scott and daughter Christina Gilchrist and two grandchildren.
Calling hours will be held Wednesday at Ross G. Walker Funeral home in New Kensington, Pa. Funeral services will be Thursday.
Thomas Gilchrist asked that any regards be sent to 322 Mall Blvd. Suite 164, Monroeville, Pa. 15146.
February, 16, 2009
2/16/09
11:15
AM ET
Posted by ESPN.com's Tim Graham
After two weeks of polling, the ballots have been counted to determine your picks for the Mount Rushmore of each AFC East team.
To play off ESPN's quest to determine the best sports Mount Rushmore from the 50 states, Washington, D.C., and Puerto Rico, I solicited your thoughts on the four legends who best symbolize the Buffalo Bills, Miami Dolphins, New England Patriots and New York Jets.
Patriot Nation responded with 16 nominees, and the polling was the closest among the four AFC East clubs.
The final four are quarterback Tom Brady, head coach Bill Belichick, linebacker Andre Tippett and guard John Hannah. The last two are in the Pro Football Hall of Fame. The first two are on their way.
Brady and Belichick were runaway selections. Tippett and Hannah tied for third, while owner Robert Kraft was one vote behind them. Fan-favorite receiver Troy Brown finished one vote behind Kraft.
Top 10 voting went like this:
1.Tom Brady
2. Bill Belichick
3. Andre Tippett
John Hannah
5. Robert Kraft
6. Troy Brown
7. Tedy Bruschi
8. Drew Bledsoe
9. Steve Grogan
10. Adam Vinatieri

Here are a few of the comments from the readers who participated:
Mike in Natick, Mass., writes: My Top 4: Tom Brady Bob Kraft John Hannah Bill Belichick I think Brady and BB are on the list for obvious reasons. Hannah was one of the most, if not the most dominating interior linemen in the league in his era, maybe even the most dominating lineman. And Bob Kraft took a franchise which was heading in the wrong direction since Super Bowl XX. He bought the franchise, hired the best coach at the time to run his team (though Parcells didn't have full control) and eventually built a state of the art stadium. He has taken the team from a second class citizen in the NFL to the benchmark of success and the class of the NFL. For as much as anybody else has done for the New England Patriots on the field, the Patriots would not be who they are today without the ownership of Bob Kraft.
Jeff W in Boston writes: Hey Tim, As for a Patriots Mount Rushmore, it's a very difficult decision, but I have to go with championships. Tom Brady obviously makes it in, as does Bill Belichick. My last two choices are a bit more controversial, but I think they represent everything the Patriots stand for. Those two would be Bob Kraft and Troy Brown. Kraft turned around a losing culture and helped make the Patriots relevant, while Brown was the ultimate team player. It's tough for me to leave Andre Tippett off of here, and while he was certainly one of the top Patriots players of all time, I have to think of who brought championships to New England.
Quinton from Parts Unknown writes: I would say Brady, Belichick, Bob Kraft, and my uncle Bruce Armstrong(LT) who after his 14 year career ended up with the patriots record for career and consecutive starts and bridged that gap from the bad years to the good.
Pats_fan_1961 writes: I would have to put at least one member from the original AFL days, and one from today's team, and fill in the other two spots in between. So, My selections would be Gino Capaletti, John Hannah, Andre Tippett, and "In Bill We Trust" Belichick.
Gino was Mr. Patriot in the 60s, you have to include him. Honorable mention: Steve Grogan, Sam Cunningham, Darryl Stingley, Steve Nelson, Mike Haynes, Babe Parelli, Tom Brady, and Tedy Bruschi, Billy Sullivan, and finally Bob Kraft.
Sullivan gets an honorable mention because, after all, he was the founder of the Patriots, and Sam "Bam" Cunningham was the best back the Pats have ever drafted and remained a Patriot.
rickstoneburnersr writes: How could you leave out Tedy Bruschi and Adam Vinatieri? Also give Drew Bledsoe some respect, don't forget what the team was like before Bledsoe. Patriots Rushmore: Tom Brady, Drew Bledsoe, Tedy Bruschi, and Adam Vinatieri!!!
October, 23, 2008
10/23/08
8:20
AM ET
Posted by ESPN.com's Tim Graham
FOXBOROUGH, Mass. -- I've seen enough halls of fame to know what a great one looks like.
The better ones I always return to. In the past two years I've visited the Pro Football Hall of Fame, National Baseball Hall of Fame, Hockey Hall of Fame and International Boxing Hall of Fame. I've attended induction ceremonies at most.
But the best I've seen belongs to the New England Patriots.
Before Monday night's game in Gillette Stadium, I had the chance to tour The Hall at Patriot Place, a dazzling collection of exhibits, multimedia presentations and high-tech interactive displays on 36,000-square feet.
The Hall at Patriot Place opened last month at a cost of roughly $24 million.
I took the tour with Pro Football Hall of Fame executive director Stephen A. Perry and vice president of communications and exhibits Joe Horrigan. Both were seeing The Hall at Patriot Place for the first time.
"This is first-class, on par with anything we've seen and better than most," Horrigan said. "It's a really remarkable use of space, really creative. Everyone in the industry is going towards a lot of these elements, from the traditional display to the interactive motif. This is what a visitor looks for when he goes to a museum.
"I'm stealing ideas as I go through here. They've scored a touchdown."
Bryan Morry, The Hall at Patriot Place's executive director, explained the vision wasn't a graveyard for artifacts. Patriots president Jonathan Kraft wanted to establish a destination that allowed fans and alumni to embrace the team's tradition.
As I passed through, I found guard John Hannah playing with one of the interactive kiosks. Hannah, in his gold Pro Football Hall of Fame blazer, was at the game for a halftime ceremony to honor linebacker Andre Tippett, who was enshrined in Canton this summer.
Hannah praised the Krafts for building a monument that celebrates the Patriots legacy.
There's plenty to look at: multimedia stations that can engage you for as long as your curiosity of Patriots history can handle, a 150-seat theater and all the standard displays of uniforms and hardware. Hanging from the rafters is the John Deere tractor convict Mark Henderson used to clear a spot for John Smith's infamous field goal to beat the Miami Dolphins in 1982
The Hall at Patriot Place also strives to be a New England football archive, including preps and colleges.
But the most impressive elements are interactive. Educated football fans will leave smarter than when they walked in. A presentation by Bill Belichick insightfully breaks down actual plays from the Patriots' playbook. You pick the play, and Belichick tells you why it works in detail.
Visitors also can listen to offensive coordinator Josh McDaniels relay plays into a quarterback's helmet, step inside an actual-sized Patriots huddle to hear how plays are called and pick up sideline phones to hear how the coordinators communicate with players during the game.
"Museums are no longer a place where you go to view dinosaur bones," Horrigan said. "They expect the dinosaur to move, breathe and shoot fire. That's what happens here."
The Patriots do not have a ring of fame. The Hall at Patriot Place is the ultimate team honor a Patriot can receive.
There are 13 members: tackle Bruce Armstrong, linebacker Nick Buoniconti, kicker Gino Cappelletti, tight end Ben Coates, defensive lineman Bob Dee, quarterback Steve Grogan, Hannah, cornerback Mike Haynes, tackle Jim Lee Hunt, receiver Stanley Morgan, linebacker Steve Nelson, quarterback Babe Parilli and Tippett.