January, 30, 2015
Jan 30
12:00
PM ET
"The Bus" is poised to make his final stop in football.
Jerome Bettis is one of 18 finalists for the Pro Football Hall of Fame -- the latest class will be announced Saturday night -- and the former
Pittsburgh Steelers
and
St. Louis Rams
running back's arrival in Canton, Ohio might be overdue.
Bettis remains the sixth-leading rusher in NFL history (13,662 yards) nearly a decade since his retirement -- which he announced right after the Steelers won Super Bowl XL in his hometown of Detroit -- and he is the only player among the NFL's top 10 all-time rushers who is eligible for the Hall of Fame and is not in it.
Bettis is a finalist for the Hall of Fame for the fifth consecutive year, and it's hard to see what his résumé is lacking.
His 50 100-yard rushing games for the Steelers are a franchise record and Bettis made six Pro Bowls in a career that spanned 1993-2005. Bettis has a Super Bowl ring, he has iconic moments -- none stand out more than his running over
Chicago Bears
linebacker Brian Urlacher on a snowy day in 2005 -- and he has the numbers.
The one knock against Bettis may be that he averaged only 3.9 yards per carry. Bettis, however, was at his best when the Steelers got a lead in the fourth quarter of games and used him to grind out the clock.
Former
New York Jets
and
Washington Redskins
running back John Riggins also averaged 3.9 yards a carry during his career but Riggins, who was also a big back, has been in the Pro Football Hall of Fame since 1992.
January, 30, 2015
Jan 30
12:00
PM ET
Le'Veon Bell
came within 42 yards of leading the NFL in yards from scrimmage in 2014. He joined Pro Football Hall of Famer Marshall Faulk as the only players in NFL history with at least 1,350 rushing yards and 850 receiving yards in a season, according to Elias Sports Bureau.
And yet nothing reflected his value more than the one game that Bell missed.
The
Pittsburgh Steelers
' offense struggled in a 30-17 AFC wild-card loss to the
Baltimore Ravens
with Bell watching helplessly on the sidelines because of a hyperextended knee.
Bell
The Steelers rushed for only 68 yards and gave up five sacks -- they had yielded four in the their last four regular-season games -- in the loss that ended their season. The critical turnover of the game came in the fourth quarter, when a
Ben Roethlisberger
pass bounced off the hands of running back
Ben Tate
and into the arms of Ravens outside linebacker
Terrell Suggs
.
The Steelers could only wonder what might have been had Bell been healthy enough to play against the Ravens since he excels as a runner and receiver and is also adept at picking up blitzing linebackers.
Bell's all-around game earned the second-year man a truckload of accolades, and he has been voted the AFC North's Most Valuable Player.
Bell beat out Roethlisberger, who tied New Orleans'
Drew Brees
for the most passing yards (4,952) in 2014, for the honor, which was voted on by ESPN reporters who cover AFC North teams.
"The things that he can do in all three phases of the game to run, to catch the ball, and to block are some of the most special things I've ever seen a running back do," Roethlisberger said during Bell's breakout season.
Bell set numerous Steelers records, including the one for most yards from scrimmage (2,215) in a season. He also joined the late Walter Payton as the only players in NFL history with at least 200 yards from scrimmage in three consecutive games.
Payton accomplished the feat in 1977. Bell matched it with 711 yards from scrimmage during a three-game stretch that bridged November and December.
"When they were talking about me and Walter Payton being the only ones having that (record), it kind of hit me a little bit," Bell said, "like, OK, all the hard work I've been putting in for 17 years playing football and all the hard work I've been putting in is paying off. Being looked at as one of the better players in the NFL is something that I take pride in."
And Bell only turns 23 when he celebrates his birthday Feb. 18.
"This is only my second year so I feel like I have room for improvement," Bell said. "There's still a lot of things I can work on and get better at."
AFC North Most Valuable Player voting:
Le'Veon Bell, 12 points; Ben Roethlisberger, 8;
Joe Flacco
, 4;
Justin Forsett
, 3;
Antonio Brown
, 2;
Jeremy Hill
, 1.
Panel of voters:
Scott Brown, Jeremy Fowler, Coley Harvey, Jamison Hensley and Pat McManamon.
January, 30, 2015
Jan 30
10:00
AM ET
Three thoughts on
Josh Gordon's letter
posted on the Cauldron website:
Gordon
1. Gordon's note seemed heartfelt and sincere. He might not have written every word, but the sentiment in it was his, and it spoke for him. He painted himself as the most unfortunate of victims. He failed a marijuana test from secondhand smoke. He was arrested for DWI when his blood-alcohol limit was barely above the legal limit. He tested positive for alcohol, a drug he shouldn't have been tested for, when he had four drinks on a private plane to Las Vegas with teammates. But he did not hide from accountability and said he had failed many people, including himself. I respect his right to state his case. His letter is worth reading.
2. I'm the kind of guy who goes upstairs specifically to get one thing, then comes back down with nothing and forgets what I went upstairs for in the first place. The point: I'm neither qualified nor inclined to judge whether Gordon is an addict. That is up to him.
3. Gordon explains much about himself and his past, but in his explanation he also makes clear he was responsible for failing the substance-abuse tests. Whatever the reason, he failed the tests, and the league makes it very clear it looks at the test results, not the reasons or explanations. Barring a miracle, there will be no Gordon in Cleveland this season.
January, 29, 2015
Jan 29
5:02
PM ET
Cincinnati Bengals
head coach Marvin Lewis made the media rounds in Arizona on Thursday as he fulfilled various Super Bowl Week appearances.
It was during a seven-minute appearance on ESPN's "NFL Insiders" in the afternoon that Lewis spoke publicly for the second time about the standoff the Bengals and Broncos had this month over assistant coach Vance Joseph.

Joseph
Last week during the Senior Bowl in Mobile, Alabama, Lewis told Bengals.com and the Cincinnati Enquirer that the decision to block Joseph, one of the Bengals' co-defensive backs coaches, from leaving for Denver was
"a hard one."
It was so hard because team president
Mike Brown
recognizes Joseph's value, Lewis said on the television show Thursday.
"My boss and owner sees him as a star," Lewis said, "and a guy that, as I told Vance, he could be sitting in my chair very quickly."
Lewis then added, laughing: "It could be next year."
Viewed in several NFL circles as an up-and-comer in the coaching ranks, the 42-year-old Joseph had been granted permission by the Bengals to interview for the Broncos' head-coaching vacancy that came open when John Fox was fired following Denver's divisional-round playoff loss to Indianapolis. Four days after Joseph's interview, former Ravens offensive coordinator Gary Kubiak was announced as Fox's replacement.
Not long after, word leaked that Kubiak and his new bosses favored bringing Joseph on board as they tried to fill their empty defensive coordinator position. Before joining the Bengals last offseason, Joseph had served as Kubiak's defensive backs coach for three years when Kubiak was the head coach of the
Houston Texans
.
Once they discovered the Broncos' intentions, the Bengals blocked Joseph from voiding his contract in order to leave for the coordinator position. Had he instead been offered the head-coaching job, perhaps their stance would have been different.
Denver on Wednesday hired longtime coach Wade Phillips to run the defense.
"Vance understands how things work. All coaches do," Lewis said Thursday. "Anytime you're in that situation as a coach, the very first thing should be if I can be released from my contract. As we know, as you look across the league, some are and some aren't, and that's part of the process.
"As Mike reminds me, his No. 1 devotion is to the Cincinnati Bengals. That's what he's in charge of is his club and our club, and what's best for us."
Though Lewis might have been joking about it, the Bengals do seem to have the makings of a succession plan in place in the event 2015 is his final season. For now, Lewis is set to coach next season on the final year of a contract. The team hasn't given any indication if it plans to sign him to an extension sometime this offseason.
Along with Joseph, the Bengals also already have another former head coach on their staff in Hue Jackson, the offensive coordinator who interviewed for the
Buffalo Bills
' opening this month.
January, 29, 2015
Jan 29
4:15
PM ET
CLEVELAND --
Cleveland Browns
wide receiver
Josh Gordon
's well-written
essay in The Cauldron
lends some clarity to his recent suspension and blasts commentators who broadly categorize him as an alcoholic or drug addict.
Gordon
But by making the distinction he's neither of those things, he's basically blaming his issues on being a 23-year-old with a few lapses in judgment. This means he has the worst luck in league history or he thinks readers are incredibly naive.
A DWI, three NFL suspensions and one team suspension in three years -- that's a lot to pin on a capricious nature. Gordon is authoritative at the top of the story -- yes, I have a "problem" -- but teases the reader by not delving into that problem other than stating that he "messed up" and describing his rough upbringing in the Houston area.
Gordon isn't making excuses for his behavior. It's just that the explanations of his incidents with the league still require more details. Gordon hasn't earned the benefit of the doubt to ignore them. "Inadvertently" inhaling secondhand smoke and not knowing his zero-drinking stipulation might stretch into the first few days of the offseason don't seem like things that just happen. (If the second part is true, shame on Gordon's camp for not reminding him 100 times over about the end date. Wonder how many of his teammates knew about the stipulation on the way to Vegas.) Missing team activities doesn't just happen. There are rumblings from the team's office that Gordon's timeliness was an issue more than once late in 2014.
And it's still unclear from Gordon's letter what concrete steps he plans to take to curb poor decision-making.
Good for Gordon for speaking out. He has every right to combat those who brand him as an NFL outcast. The letter strikes with conviction. You're right, Josh, we don't really
know
you. This letter helps, in spots.
But if your only "problem" is being young, that paints with the same broad strokes that your critics used on you. Perhaps Part II can dive deeper into this area.
After a growing number of incidents in three NFL seasons, Browns fans hoping for the best could use more to go off of here.
Sorry, guys, I wasn't thinking, I'm only 23
-- that isn't enough, especially when you start the letter throwing footballs at targets.
Fewer Charles Barkley rants, more energy pointed toward staying suspension-free.
January, 29, 2015
Jan 29
12:00
PM ET
One was an absolute wrecking ball on defense, consistently finding his way to the football. The other was eased into his team's offense before ultimately taking it over the second half of the season, and helping it earn a postseason berth.
But only one would be named the AFC North's Rookie of the Year.
[+] Enlarge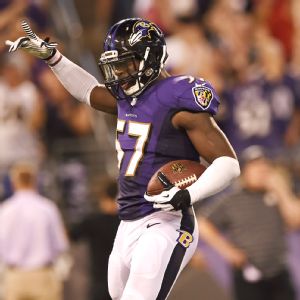 Patrick Smith/Getty ImagesIn his rookie season, Ravens LB C.J. Mosley registered five or more tackles in every game.
That honor went to
Baltimore Ravens
linebacker
C.J. Mosley
, who barely edged out
Cincinnati Bengals
running back
Jeremy Hill
. From the five-person voting panel, Mosley received 12 overall points to Hill's 11. Mosley also had three first-place votes to the two that went to Hill.
Out of the pair, Hill is the only one up for the NFL's Rookie of the Year award that will be announced this weekend in Arizona. He's the only AFC North representative, contending with a group made up of all offensive players. Receiver
Odell Beckham Jr.
, quarterback
Teddy Bridgewater
, receiver
Mike Evans
and receiver
Sammy Watkins
also are up for the honor. No defensive player has earned the award since 2010, when
Ndamukong Suh
received it.
Mosley was seemingly everywhere for the Ravens this season. He had 129 tackles, the eighth-highest total for any defender in the league. He also was part of a defense that ranked eighth in the league.
In addition to the 129 tackles, Mosley also had three sacks, two interceptions and forced and recovered a fumble. The Alabama product also had 19 tackles in the Ravens' two playoff games, including 10 in the divisional-round loss to the Patriots. In a Week 5 loss at Indianapolis, he had a season-high 14 stops.
Hill became a threat for the Bengals starting in Week 9 when he rushed for a season-high 154 yards and two touchdowns in a
33-23 win
against the Jaguars. It was his 60-yard touchdown run in the fourth quarter that helped ice the win, and firmly put him in his fan base's consciousness. That week, and for the two after it, Hill started in place of
Giovani Bernard
. The third-year running back was resting after experiencing a series of injuries following hard hits in previous games.
Also during Bernard's absence, Hill rushed for 152 yards in a
homecoming game at New Orleans
. The Baton Rouge, Louisiana, native and LSU product went on to become the Bengals' top option at running back after Bernard returned. Across the final nine weeks of the season, Hill rushed for 929 yards, more than any other back in that stretch.
In addition to their Rookie of the Year award, ESPN.com's AFC North reporters voted on four other honors for the division (Coach of the Year,
Offensive Player of the Year
,
Defensive Player of the Year
and Most Valuable Player). We've been handing out the awards daily since Monday.
Mosley finished third in the division Defensive Player of the Year voting, and Hill finished third in Offensive Player of the Year voting.
AFC North Rookie of the Year:
Mosley, 12 points; Hill, 11;
Joel Bitonio
, 8, Cleveland;
Martavis Bryant
, 1, Pittsburgh.
Panel of voters:
Scott Brown, Jeremy Fowler, Coley Harvey, Jamison Hensley and Pat McManamon.
January, 29, 2015
Jan 29
11:00
AM ET
Join us at 3 p.m. ET, 12 p.m. PT Thursday for the second special
NFL Nation TV Super Bowl Week Spreecast
.
Episode No. 42 will review ESPN.com's recent joint venture with Pro Football Focus, which broke down how many "above-average" players each team is from contending for the Super Bowl.
The crew will also preview the Super Bowl matchup between the defending champion
Seattle Seahawks
and three-time winner
New England Patriots
as well as break down how the Pro Football Hall of Fame's upcoming class may shake out Saturday.
Host Paul Gutierrez (ESPN Nation's
San Francisco 49ers
reporter) and co-hosts Coley Harvey (
Cincinnati Bengals
reporter) and Mike Wells (
Indianapolis Colts
reporter) will be joined by Jeff Legwold (
Denver Broncos
reporter) and ESPN NFL Insider Mike Sando, both of whom are among the Hall's 46 selectors.
January, 29, 2015
Jan 29
9:00
AM ET
The
Pittsburgh Steelers
made one of their best draft picks in franchise history in 2004 with the 11th overall pick when they selected a big, talented quarterback by the name of
Ben Roethlisberger
.
Might the Steelers' need to upgrade at cornerback lead them back to Miami of Ohio?
There might not be a more intriguing prospect in the 2015 draft than
Quinten Rollins
, who starred four seasons for the Red Hawks
and then
started playing football at Miami.
In basketball, Rollins started four seasons as a point guard and finished second in school history in steals (214) and fourth in assists (391). With a year of eligibility remaining to play another sport, Rollins moved over to the football team.
And all the 6-foot, 203-pound Rollins did was intercept seven passes, third-most among FBS players, and win Mid-American Conference Defensive Player of the Year honors. He opened eyes at the Senior Bowl last week with a diving interception in the all-star game that is a showcase for NFL prospects.
ESPN NFL analyst Matt Williamson is a fan of Rollins and said the latter could move into the first round of the draft if he performs well in the pre-draft process.
The key, Williamson said, is Rollins running well at the NFL Scouting Combine next month, as the biggest question about him is his straight-line speed. But Williamson, a former NFL scout, loves Rollins' quickness, athleticism and size and said he is physical enough to play free safety at the next level.
What intrigues Williamson most about Rollins is his upside, and he will be among those jockeying for position behind Michigan State's
Trae Waynes
and Florida State's P.J. Williams, who are widely considered the top two cornerbacks in the draft.
"There were times at the Senior Bowl when people ran by him, but part of that's recognition, too, and not learning about double moves and things like that yet," Williamson said of Rollins. "But he goes up and plays the ball really well, like you would think a basketball player would."
January, 29, 2015
Jan 29
8:00
AM ET
Baltimore Ravens
coach John Harbaugh said recently that cornerback
Jimmy Smith
is
expected to start running
in February.
That's certainly good news for the Ravens. Their secondary wasn't the same after Smith suffered a season-ending foot injury on the opening drive of a Week 8 loss in Cincinnati.
With Smith, the Ravens were 5-2 and held quarterbacks to a 86.8 passer rating (No. 11 in the NFL). Without Smith, the Ravens were 5-4 (which includes the game at Cincinnati where Smith was hurt) and quarterbacks recorded a 93.8 passer rating (24th in the league).
Smith
With Smith, the Ravens gave up seven touchdown passes (tied for fewest in the NFL) and allowed quarterbacks to connect on 63.1 percent of their throws (15th in the NFL). Without Smith, the Ravens allowed 15 touchdown passes (tied for 13th-most in the league) and watched quarterbacks complete 65.1 percent of their passes (23rd).
Smith had a breakthrough season in 2013, and he was establishing himself as one of the top rising cornerbacks in the NFL in 2014. He has the size to press receivers at the line and the speed to run with them. His streak of not allowing a touchdown is at 11 games.
When he went down with the foot injury on a goal-line stand against the Bengals, the Ravens struggled to find any stability at Smith's spot. Four cornerbacks (
Dominique Franks
,
Anthony Levine
,
Asa Jackson
and
Rashaan Melvin
) started at right cornerback in the final eight regular-season games.
Quarterbacks noticed that Smith wasn't there. Teams threw twice as much to Smith's side after he sustained a season-ending injury.
Here is a comparison of what quarterbacks did from outside the numbers on Smith's side:
With Smith, quarterbacks completed 54.9 percent of their passes (28 of 51) and recorded a 67.5 passer rating.
Without Smith, their completion rate soared to 68 percent (70 of 103) and the passer rating jumped to 101.
Do the Ravens give up six touchdowns to Ben Roethlisberger with Smith? Do they fail to hold a 10-point lead in the fourth quarter against
Philip Rivers
with him?
And do they beat
Tom Brady
in the playoffs and advance to the AFC Championship Game with Smith? Melvin, his replacement, allowed the game-tying and winning touchdowns in the second half in New England.
In November, Smith was confident that
he'd bounce back
from the Lisfranc injury, which requires six months to recover. Under that timetable, Smith will be ready to participate in the Ravens' voluntary organized team activities which typically begin in late May.
Smith's absence only magnified how much the Ravens need a healthy Smith in 2015.
January, 28, 2015
Jan 28
4:00
PM ET
CINCINNATI -- To the
Cincinnati Bengals
fan who may have already begun envisioning a future without tight end
Jermaine Gresham
, hold off.
At least, that's the underlying message behind comments made earlier this week by offensive coordinator Hue Jackson.
Asked if there was still a place on the Bengals' roster for the embattled soon-to-be-free-agent Gresham, Jackson answered in the affirmative.
"There's a place for him," Jackson said to ESPN.com. "But again, he's free, so that's going to work itself out for him however it works itself out."
Gresham
Gresham's five-year rookie contract will come to an end in March when he becomes one of 13 Bengals to become eligible for unrestricted free agency. He and his representatives are free at that point to talk to whichever interested teams they would like. Reading into Jackson's comment it seems possible the Bengals could be one of those teams.
"We have a way that we do things, and how we want to accomplish things," Jackson said. "Within what we asked him to do this year, he did some good things. There are some things he knows he needs to do to be better, and he will work at them to be better."
It should be noted there was some concern among some around the team right after the season about Gresham's apparent inability to play in two meaningful late-season games because of injuries. After testing out respective ailments ahead of the Week 15 game at Cleveland and the wild-card round playoff game at Indianapolis, Gresham decided he couldn't play in either game. The decisions came despite cutting, running and jumping as he went through pregame evaluations from trainers and coaches.
Gresham was asked multiple times after the playoff loss to comment about what made him hesitant to play in the game. He declined each request.
Without the veteran tight end, the Bengals were forced into tweaking a game plan that already took a hit the day before when receiver
A.J. Green
wasn't cleared of the concussion protocol. Forced to shelve two of their top pass-catchers, the Bengals turned to backup running back
Rex Burkhead
as an alternate receiver, and mixed up protection fronts to account for Gresham's absence in run-blocking sequences. The Bengals already were without fellow tight end
Tyler Eifert
and receiver
Marvin Jones
; two of their leading 2013 pass-catchers who practically missed all of 2014.
"A doctor says he can't go, and I don't get to control that," Jackson said about Gresham's playoff absence. "When they said, 'Hue, here's the offensive football team you get,' you have to go out and coach. Were we at full strength? No. But we were the best we could be that day from an injury standpoint and it wasn't good enough."
The Bengals lost 26-10. Despite repeated trips to the postseason, they haven't won a playoff game since January 1991.
Gresham caught 62 passes for 460 yards this season and a division-high five touchdowns. He also fumbled three times.
January, 28, 2015
Jan 28
2:59
PM ET
CLEVELAND -- Some news on the Browns' assistant coaching front courtesy of ESPN NFL Insider Adam Caplan:
The Cleveland Browns will hire former University of Kentucky head coach Joker Phillips as their wide receivers coach, a league source confirmed to ESPN. The Browns still need to hire a quarterbacks coach and an offensive quality control coach.
ESPN's Adam Schefter reported earlier on Wednesday that the Browns are interviewing former NFL QB Kevin O'Connell for the quarterbacks job. Others confirmed to have interviewed for the quarterbacks job were former Bills QB coach Todd Downing (now Raiders QBs coach) and Glenn Thomas (Falcons QBs coach). A league source told ESPN that former NFL QB Steve Walsh interviewed for a job on the Browns offensive staff.
My thoughts
: If the Browns are looking for experience, Phillips has it. Since 1991, Phillips has coached wide receivers at Kentucky (where he also was head coach), Cincinnati, Minnesota, Notre Dame, South Carolina and Florida. This is Phillips' first experience in the NFL but he should adapt just fine.
First thing Phillips should do on the job? Show Browns brass a list of free-agent wideouts, then pick out a few names. The free agency list is loaded --
Demaryius Thomas
,
Dez Bryant
,
Randall Cobb
,
Jeremy Maclin
,
Torrey Smith
,
Michael Crabtree
,
Kenny Britt
, Cecil Shorts,
Eddie Royal
. Some of those names will stay put via the franchise tag or otherwise, but plenty of impact players are worth exploring here.
The Browns' top-three returning receivers --
Andrew Hawkins
,
Taylor Gabriel
, Travis Benjamin -- combined for six touchdowns. No one from that group is taller than 5-foot-10.
The impact of Phillips will be felt, one way or another.
January, 28, 2015
Jan 28
2:40
PM ET
The
Baltimore Ravens
filled most of their openings on their coaching staff by promoting from within. The only addition was the hiring of
Andy Bischoff, who has worked with new offensive coordinator Marc Trestman in the past, as the team's offensive quality control coach.
Here are the announcements made by the Ravens on Wednesday:
Chris Hewitt
: Named defensive backs coach after serving as the team's assistant defensive backs coach
Matt Weiss
: Appointed cornerbacks coach after being the defensive quality control and linebackers assistant
Drew Wilkins
: Promoted to defensive coaching assistant after being a coaching staff assistant
Richard Angulo
: Named tight ends coach after spending last year as a coaching intern for offensive quality control
Mike Macdonald
: Appointed to defensive assistant after being a defensive coaching intern
Bischoff
: Hired as offensive quality control coach after spending the last seven seasons with Trestman (five in Montreal and two in Chicago)
January, 28, 2015
Jan 28
2:15
PM ET
CINCINNATI -- Paul Guenther made major waves at the start of the
Cincinnati Bengals
' offseason four weeks ago when he told reporters covering the team that defensive tackle
Geno Atkins
was "
just a guy out there
" at times this past season.
Hours before making the proclamation, the defensive coordinator shared a similar message in a closed-door meeting with his lineman, imploring him to take it with him into the rest of the offseason.
Atkins
Asked earlier this week if he believed Atkins could make his disappointing 2014 season a distant memory, Guenther told ESPN.com he expected the lineman to do exactly that.
"I'm confident that he'll come back next year and be the guy that we all know," Guenther said. "After going through the year of working through his injury, I feel confident he's going to come back with a vengeance."
Atkins missed the second half of the 2013 season after tearing his ACL and undergoing surgery to fix it. All last offseason, he rehabbed the injury and had hardly any time to build up the rest of his body for the grind of a full regular season. As a result, it appeared his explosion and lauded first-step pass-rush technique suffered. In turn, his production took a sharp dip.
Despite having just 34 tackles and three sacks, numbers that were among the lowest for a regular season in his career, Atkins still made this year's Pro Bowl. After playing in all of Cincinnati's games this year, he appeared in Sunday's game for winning Team Irvin, coached by Hall of Fame receiver Michael Irvin. He didn't record a statistic.
Two years ago, the last full season Atkins played, he recorded 12.5 sacks. He also led the NFL that year with a 12.7 pressure-percentage rating, a metric tracked by Pro Football Focus. According to PFF, he either hurried, hit or sacked quarterbacks on 12.7 percent of the snaps he was part of in 2012. This season, he did the same on 6.7 percent of his snaps, a figure that was mediocre this season, at best.
After Sunday's Pro Bowl, Atkins told Bengals.com in Arizona that he felt strong this season. He also said he hadn't given much thought yet to how his offseason conditioning will go this year. For now, there's only one item on the offseason to-do list: to relax.
"I'm looking forward to having an offseason and chill," the typically uncommunicative Atkins said. "Football season is over. It's a long season."
Still, the goal Guenther, other coaches and trainers have for Atkins these next six months involves training for football specifically.
That's the same process cornerback
Leon Hall
endured as he recovered from a second Achilles surgery in three years. It's the same process linebacker
Vontaze Burfict
will go through this spring and summer as he tries to get his left knee healthy again following microfracture surgery earlier this month. The Bengals hope he'll be ready by training camp.
"They're two of our marquee players," Guenther said of Atkins and Burfict. "They're a key fit and part of what we do here. As for Geno, we just have to get him back to full strength where he once had it. That would be huge."
For a pass rush that was arguably the league's worst in 2014, it certainly would be.
January, 28, 2015
Jan 28
1:20
PM ET
Adam Schefter broke the news Wednesday that the
Cleveland Browns
were interviewing Kevin O'Connell to be the team's quarterbacks coach.
Because he'd never coached in the NFL, the news sent me to Google to find out more about him.
Hoyer
Manziel
Here's what I learned:
O'Connell came out of San Diego State with good size (6-foot-6) and the ability to run.
Prior to the draft he was tutored by a group that included former Browns quarterback Charlie Frye.
He was drafted by New England in the third round in 2008.
He originally was the third quarterback but moved up to backup when Tom Brady tore a knee ligament in the season opener. Matt Cassel started that season and won 10 games.
O'Connell threw six passes and completed four, for 23 yards.
The next season, O'Connell was cut after he was beat out for the backup spot by Brian Hoyer, an undrafted rookie.
O'Connell bounced around the league but was only on an active roster again with the Jets, where Mike Pettine worked as defensive coordinator. Apparently the two have remained close since.
After 2011, O'Connell became a private quarterback tutor.
Last offseason, he worked extensively with Johnny Manziel to prepare him for the NFL. O'Connell was invited to George Whitfield's quarterback camp, where O'Connell spent a lot of time with Manziel.
At last year's NFL draft combine, O'Connell told ESPN's Field Yates that if he were Houston he'd take Manziel with the first pick, though he admitted he was biased because he worked with Manziel.
After the draft, O'Connell gave this honest assessment in a podcast with CBSSports.com: "I think the decision personally is this guy can win us games by being a playmaker, and when the throw is there to be made he's going to make that throw. And if he doesn't, either because he's not protected or he doesn't understand the protections, he's gonna then ... his creativity and natural ability will take over and he'll move on from there and make a play. With the NFL, what scares people is defenses are just too darn good. And the speed ... you saw it a little bit last year ... sideline to sideline closing on RGIII in his second year vs. the first year. I mean, you have to have a passing concept. You have to have the ability to read the entire field. Evaluate matchups. Understand the weakness of the defense."
O'Connell added that Manziel needed to combine his playmaking ability with the preparation of a Russell Wilson and improve his understanding of NFL defenses if he wanted to succeed. O'Connell stressed Manziel's success would depend on his work ethic but said Manziel would be "fantastic" if he dedicated himself.
During training camp, Pettine had O'Connell spend a few days with the team, both in the meeting rooms and on the field.
O'Connell was an analyst on CBS for Mountain West games last season.