March, 4, 2015
Mar 4
6:30
PM ET
CINCINNATI -- Let's say this one last time, and with feeling: the
Cincinnati Bengals
will not be signing
Ndamukong Suh
.
Randall Cobb
, for as much as he's reportedly seeking ($12 million per year), also will not be placing his name on a Bengals contract this year.
Neither would
DeMarco Murray
nor
Adrian Peterson
, if the Bengals had a serious need for a running back.
[+] Enlarge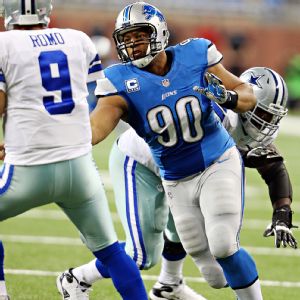 AP Photo/Tom DiPaceDon't expect Ndamukong Suh, or any of the NFL's high-end free agents, to be signing with the Bengals next week.
Why? Because Cincinnati simply doesn't have enough in its coffers this year to ink what are sure to be massive deals for each of the aforementioned free agents. They believe they have just enough to make moves with their current free agents who need extensions, and to sign a couple of other second- and third-tier players from outside.
While it is true the Bengals, at nearly $40 million, have
some of the league's largest salary-cap space
based on records from the NFL Players Association and ESPN Stats & Information, the team expects to actually operate this year at a significantly lower figure.
That's because of other costs that factor into the salary cap that occasionally get overlooked both here and elsewhere.
Money for draft picks, undrafted college free agents, injury protections and the practice squad roster are among other budgetary items that get included into the cap-space figure. Also included is the $8.7 million rollover the team likes to use during the summer months when it tries to re-sign players who are going into the final year of their current deals (a la
Andy Dalton
last August). That money could go fast this year with 17 players, including receiver
A.J. Green
, currently due to hit free agency next March.
All of that explains why, when it's all said and done, the $40 million looks a lot more like about $15-18 million to the Bengals.
Suh won't be signing for $15 million. And he certainly won't be signing for half that.
Maybe
Greg Hardy
-- a defensive end who had a $13.1 million franchise tag last year with Carolina, but who also hits free agency with off-field baggage that could force him into signing a discounted contract wherever he lands -- will. Hardy had domestic violence charges dismissed last month, and was in New York on Wednesday meeting with league officials as they investigate the off-field incident further. Their investigation is expected to determine whether or not he'll be punished for any games next season, after spending all but one in 2014 on the exempt list while the charges were pending.
Maybe the Bengals don't go with one $9 million-per-year splash free agent. Perhaps they'll stick to their normal routine when free agency starts next week and wait for the Day 1 and Day 2 smoke to clear before moving on multiple free agents who would be worth closer to $4 million or $5 million a year. Whichever of the methods they choose for adding external free agents, they also have to account for re-signing their own free agents like
Clint Boling
,
Rey Maualuga
and
Mike Nugent
, too. That $15-18 million also covers them. Expect all three to have new deals in the coming days.
Having Suh on their defensive line would be a dream for the Bengals. But the reality is, the dollars and cents just don't make sense.