AFC North:

Cincinnati Bearcats
June, 11, 2013
6/11/13
2:07
PM ET
CINCINNATI -- The
Cincinnati Bengals
will fine offensive tackle
Andre Smith
for skipping this week's mandatory minicamp. They're just not going to worry about him.
That's the stance of head coach Marvin Lewis when asked if there was any concern about Smith's conditioning. In the past, there were some issues with Smith's weight. Now, the Bengals haven't seen Smith at Paul Brown Stadium since he signed his three-year, $18 million contract.
[+] Enlarge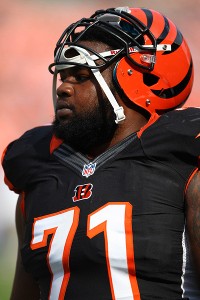 Raj Mehta/USA TODAY SportsAndre Smith missed this week's mandatory minicamp due to personal reasons.
"I don't worry about that anymore," Lewis said of Smith's conditioning. "That's the one thing that Andre has taken good steps and made huge strides in personally from his own part for wanting to be a good player. He knows that part of it. From what I can see distance-wise, we're in pretty good shape."
When Smith signed his contract on the second day of the draft, he said he weighed 335 pounds and reporters noted that the former first-round pick didn't appear to be out of shape. During the offseason, he has been training at Warehouse Performance Institute in Birmingham, Ala.
The Bengals, though, wanted and expected Smith to be at this week's three-day camp. Lewis explained that Smith is absent because of personal reasons, which will cost him up to $66,150 in fines and his $100,000 workout bonus.
Lewis called it a "minor distraction" and said it's not related to his January arrest for possessing a gun at the Atlanta airport.
"He's really dealing with something that he has to get through," Lewis said. "We'd hope he'd be here to pick up on some of the things that we felt like were good to work on this point of the year. But he's got some personal things he's dealing with. Obviously, there are certain things that come with not being here for three days. It's unfortunate for him but that's just the way it is. Once we get through a week of training camp, everything will be good."
Backup
Anthony Collins
will fill in for Smith at right tackle.
"He'll be prepared and he's hopefully doing the things he needs to do. When it's time to be with us, he'll be ready," offensive tackle
Andrew Whitworth
said. "We don't need to worry about that. We need to worry about what we have here and how we can go forward and get prepared and use these three days as an opportunity to take another step in the right direction."
The other issue the Bengals are dealing with is the arrest of cornerback Adam "Pacman" Jones. He pleaded not guilty to an assault charge after police say he tried to hurt a woman.
"The situation
Adam Jones
is in is not something you want to get involved in," Lewis said. "It's unfortunate that he's in this situation. That's really all I can add to it. Obviously, this has to work its way out, whichever way it does."
April, 8, 2013
4/08/13
11:48
AM ET
By
ESPN.com staff
| ESPN.com
Baltimore Ravens
Ravens quarterback Joe Flacco has agreed to portray the late Johnny Unitas in an upcoming film called "Unitas We Stand," according to Joe Unitas, Johnny Unitas' son. Joe Unitas told the Baltimore Sun that Flacco
will play his father playing football
in the final scenes depicting the Colts' 1958 championship game victory.
But not everyone in the Unitas family was thrilled with the selection of Flacco. A grandson of Johnny Unitas, J.C. Unitas,
called it an "embarrassing choice
" on his Facebook page (via the Clarion-Ledger).
Ravens offensive lineman Ramon Harewood hosted more than 100 children ages 11 to 18 during the weekend for his "Big Mon Elite Athlete Development Camp" in his home country of Barbados. "We had a great camp," Harewood
told the Baltimore Sun
. "We had a great turnout and the kids had a good attitude and put in some excellent work. My main message to the kids was about the recipe for success and the only way to get it done is through hard work with no shortcuts."
Speaking of hard work, Ravens defensive lineman Bryan Hall is shedding weight to
take on a new role
, reports The Baltimore Sun. Coach John Harbaugh has asked Hall to give inside linebacker a try, and Hall is all for it.
Cincinnati Bengals
Is right tackle Andre Smith about to be
done in Cincinnati
? Mike Florio of Pro Football Talk gives reasons why.
Cleveland Browns
Greg Little and Dan Gronkowski spent Friday night at "A Prom To Remember,"
an event for Northeast Ohio children battling cancer
, the team's website reported.
Many of the kids in attendance are going through chemotherapy or were too ill to attend their schools' proms. Through the generosity of local businesses, these kids had the opportunity to attend free of charge, including everything from dresses, tuxedos, salon services, prom photos, food and limousine transportation.
Pittsburgh Steelers
With limited salary-cap space this offseason, Gregg Rosenthal of NFL.com writes that the 2013 NFL draft is
vital for the Steelers
.
Inside linebacker Stevenson Sylvester
says he's appreciative
to have re-signed with the Steelers, per the team's website.
March, 23, 2013
3/23/13
2:05
PM ET
The
Cincinnati Bengals
went to their fallback option at returner and signed their first free agent from another team Saturday.

The Bengals re-signed receiver-returner
Brandon Tate
to a one-year contract, according to the
NFL Network
. Cincinnati decided to bring back Tate after
Ted Ginn
Jr., who received a contract offer from the Bengals, signed with the Panthers.
Tate is the franchise's leader in punt return average (10.1 yards), but he averaged 8.9 yards last season, which ranked 18th in the NFL last season. He also averaged 24.8 yards on kickoff returns, which was 13th in the league.
The Bengals announced the signing of backup quarterback
Josh Johnson
, their first agreement this offseason with a player who didn't suit up for Cincinnati last season.
Bruce Gradkowski
, the backup for the Bengals for the past two seasons, signed with the Steelers. The addition of Johnson doesn't preclude the Bengals from drafting a quarterback in the middle to late rounds.
Johnson, who hasn't thrown a pass in a regular-season game since December 2011, was in Tampa Bay along with Bengals offensive coordinator Jay Gruden.
"We'll be in a competitive situation for our backup quarterbacks," Bengals coach Marvin Lewis said. "We like Josh's ability and experience added to our mix."
The Bengals also added two backups, offensive tackle
Dennis Roland
and tight end
Richard Quinn
.
Cincinnati has now re-signed 11 of its own unrestricted free agents (which includes Tate, Roland and Quinn): linebacker
Rey Maualuga
; defensive ends
Michael Johnson
(franchise tag),
Robert Geathers
and
Wallace Gilberry
; cornerback
Adam Jones
; kicker
Mike Nugent
, punter
Kevin Huber
; long snapper
Clark Harris
.
February, 15, 2013
2/15/13
9:45
AM ET
By
ESPN.com staff
| ESPN.com
Baltimore Ravens
After getting a second opinion on his torn right biceps, linebacker Terrell Suggs
plans to rehab the injury
instead of having it surgically repaired, reports Jeff Zrebiec of The Baltimore Sun.
Running back Ray Rice
weighed in on the team's contract negotiations
with quarterback Joe Flacco, via The Sun's Aaron Wilson. Rice: "Joe is a great quarterback. He has his number, and the Ravens have their number. You get to something you can agree upon and you put it behind you. I've always said you let the business side take care of itself, and that's why you have agents."
Cincinnati Bengals
Next up in Joe Reedy's offseason position analysis series is the
Bengals' offensive line
.
Free agent-to-be Michael Johnson is taking 10 credits worth of courses at Georgia Tech this spring, and he's
developed a deeper appreciation for the school
than he had during his playing days in Atlanta. "I didn't value this place the way I should have when I was here," Johnson said in an interview with bengals.com's Geoff Hobson. "First, I didn't understand the magnitude of the school. I'm at the Georgia Institute of Technology. People come to school here from all over the world. I'm in class with people from Asia, Europe, Australia. I'm from Selma, Alabama. To come in contact with all that, that's something special. I didn't realize that the first time around. I hung out with my teammates. I went to class with them. I talked with them. That was it. I didn't really interact with everybody else. Now I'm doing those things and seeing how cool this place really is."
Cleveland Browns
The Browns have not anointed Brandon Weeden as the team's starting quarterback for next season, but considering the lack of potential franchise QBs in this year's draft,
the team should stick with Weeden
, argues Mike Krupka of Dawgs By Nature.
The Plain Dealer's Mary Kay Cabot says the Browns
do not need to worry about Jimmy Haslam
becoming Randy Lerner 2.0 after the Browns owner resumed being the CEO of Pilot Flying J. Vic Carucci of clevelandbrowns.com writes that it's
"silly" to assume
Haslam will be less involved with the team now.
The switch to a 3-4 defense
complicates the offseason
and "forces fundamental changes in scouting and player acquisitions," writes espncleveland.com's Tony Grossi.
Pittsburgh Steelers
The team has not asked linebacker James Harrison to
restructure the final two years of his contract or take a pay cut
for 2013, according to agent Bill Parise.
Meanwhile, Harrison has
decided to join another team
: the "Ball Busters" dodgeball squad, reports Kevin Patra of NFL.com.
January, 7, 2013
1/07/13
2:00
PM ET
Bengals offensive coordinator Jay Gruden is getting looks from the Eagles and Cardinals to be a head coach. Some may question this considering how the Bengals' offense flopped in the playoffs.
My biggest question: Why isn't anyone looking at Cincinnati's other coordinator? Defensive coordinator Mike Zimmer told Cincinnati reporters today that he has yet to hear from any teams. He should be a hot name this offseason, and the Browns should talk to him in their Coaching Search, Part II. The Browns not only would get stronger, but they would also make the Bengals weaker.
Zimmer has NFL experience. He's been a coordinator since 2000. Zimmer is known for having a sharp defensive mind. Three of his past four defenses in Cincinnati have ranked in the top 10 and his 2003 defense in Dallas was No. 1. And Zimmer gets the most out of his players. The strength of the Cincinnati defense this year was its front seven and only one player (linebacker
Manny Lawson
) was drafted in the first round.
Cleveland would prefer to hire an offensive coach to be its next head coach because defensive coordinator Dick Jauron has done such a solid job. But Zimmer's demanding, no-nonsense attitude is what the Browns need to get this young team on track. It's his sometimes abrasive style, which was featured on "Hard Knocks," that may have scared off teams.
Zimmer has been a head-coaching candidate in the past, including with Tampa Bay and Miami last season. There have been rumblings that he's too candid in interviews, which can turn off teams.
Zimmer deserves to be a head coach and wants his long-awaited shot at running a team. He has talked in the past about being frustrated for being continually passed over. And he has a right to be frustrated. Zimmer shouldn't be sitting home when coordinators like Gruden, Mike McCoy and Bruce Arians are getting interviews.
January, 5, 2013
1/05/13
7:41
PM ET
My thoughts on the
Cincinnati Bengals
'
19-13 loss
at the
Houston Texans
:
What it means
: The drought continues. The Bengals extended their streak to 22 seasons without a playoff win, the longest streak in the NFL. In order for the Bengals to get the respect they want, they're going to have to win in the postseason. Cincinnati coach Marvin Lewis is now 0-4 in the playoffs, which is the second-worst record in league history. This is the second straight season Cincinnati's season has ended with a playoff loss at Houston. This didn't look like the Bengals team that had won seven of its final eight regular-season games.


Coming up short
: The Bengals had a chance to win the game on their final drive, getting as far as the Texans' 36-yard line. But quarterback
Andy Dalton
couldn't hit wide receiver
A.J. Green
in the end zone on third down. (Green was open but it was a tight window.) And, on fourth-and-11, Dalton's pass to
Marvin Jones
was caught but he ended up 3 yards short.
Dalton was awful
: Dalton delivered one of his worst performances of the season. There were some drops (tight end
Jermaine Gresham
was terrible), but Dalton was severely off his game. He never got comfortable in the pocket because of the pass rush, and finished 14-of-30 for 127 yards and one interception. Dalton also failed to lead a touchdown drive. It was a disappointing effort because the Bengals' defense played well enough to win.
Bad play calling
: Not sure what offensive coordinator Jay Gruden was thinking with this game plan. The Bengals didn't get the ball to Green until 10 minutes remained in the third quarter. Green finished with 80 yards on five catches. The most effective part of the Bengals' offense was running back
BenJarvus Green-Ellis
. But he finished with 11 carries despite averaging 5.7 yards per carry. Gruden won't be taking this tape to any interviews for a head-coaching job.
Couldn't stop the run
: Just like in last season's playoff game, the Bengals failed to slow down running back
Arian Foster
, who gained more than 100 yards rushing again. Cincinnati was the 12th-ranked run defense in 2012 but didn't look like that in Houston. Foster finished with 140 yards on 32 carries.
Nose for the end zone
: The only touchdown in the first half was scored by the Bengals' defense, which isn't surprising.
Leon Hall
's 21-yard interception return for a touchdown marked the fourth straight game in which the Bengals' defense reached the end zone. Hall, who had one touchdown in his first four seasons, now has scored twice in the past three weeks. This was only the second interception brought back for a touchdown in Bengals playoff history.
Ugly first half
: The Bengals' offense struggled mightily in the first half. Cincinnati was outgained 250 yards to 53. The Bengals managed four first downs and crossed midfield just once in the first two quarters. With minus-6 passing yards in the first half, the Bengals became the first team since 2007 (the Chiefs) to have negative passing yards in the first half of a playoff game.
Disappearing act
: The Bengals didn't throw one pass in the direction of Green in the first half. This marked the first time Green went an entire first half without a target.
What's next
: The season is over but the future is bright for the Bengals. This is a young team that went to the playoffs in back-to-back seasons. Still, with this awful playoff performance, there are going to be questions about whether Dalton is really a franchise quarterback.
January, 5, 2013
1/05/13
2:00
PM ET
Unlike the ESPN experts, the Madden simulation predicts a different outcome for Saturday's AFC wild-card game between the Bengals and Texans. It has the Bengals losing 27-17.
Here's what happened in the simulation:
Matt Schaub
completes 21 of 31 passes for 289 yards and two touchdowns as the Texans jump out to an early 17-7 lead and play some tough D to hold on for the 27-17 win.
For a complete look at the projected stats,
click here
for the Madden simulation. You can click on the video above to see how AccuScore breaks down the game.
January, 5, 2013
1/05/13
12:00
PM ET

In ESPN's NFL picks for the wild-card playoffs, more experts picked the Bengals than the Texans. In the video, Tedy Bruschi and Darren Woodson also pick Cincinnati to win today at Houston.

Here's what the ESPN experts are predicting:

Eric Allen: Texans
Mike Golic: Bengals
Merril Hoge: Bengals
Ron Jaworski: Bengals
Chris Mortensen: Bengals
Adam Schefter: Texans
Mark Schlereth: Bengals
Seth Wickersham: Texans
Tom Jackson: Bengals
Keyshawn Johnson: Texans
Mike Ditka: Bengals
Cris Carter: Texans
January, 5, 2013
1/05/13
8:00
AM ET
The Bengals are a lower seed than the Ravens, but they are expected to make a stronger run in the playoffs. That's according to this week's
SportsNation Poll
.
When asked which team will go farther in the playoffs, the Bengals edged out the Ravens, getting 36 percent of the 7,777 votes. Baltimore received 34 percent. My prediction is both teams will lose in the divisional round, but only 10 percent agreed with me.
Here are some selected comments from the mailbag:
Michael from Myrtle Beach, S.C.
: The Bengals will go farther. Baltimore is playing an emotional Indianpolis team, struggles on defense, and has a very hit-or-miss offense. Cincinnati is playing a Houston team that is struggling to both score and stop the pass. Also,
Matt Schaub
lacks mobility, which plays right into the strength of the Bengals defense, their pass rush. The Bengals have won seven of eight and consistently find ways to win each week, hence they are the pick to advance farther.
Anderson from Los Angeles
: I believe that both the Ravens and the Bengals will move on to the divisional round. But, I also believe that the Ravens will lose to the Patriots, and that the Bengals will beat the Broncos. Skip Bayless put it best when he said that
Peyton Manning
is NOT a postseason quarterback, but he is the greatest regular season quarterback of all-time. The Bengals defense is playing better than any other defense, allowing 12 points over a long period of time.
Nick from Westminster, Md.
: The Ravens look like the more complete team to me. Our secondary has been playing well recently. Our weakness on deffense has been against the run. We now have
Dannell Ellerbe
and
Ray Lewis
back in the middle. On offense, as long as the offensive line can keep the preassure off of
Joe Flacco
, he will have decent games. Really, Denver is the greatest threat to the Ravens making a Super Bowl run because of their pass rush and ground game, and the Ravens may be able to avoid playing them (hopefully until the divisional round).
Leonard from New York
: I am a die-hard Ravens fan and I will be the first to admit that my opinion is likely biased--but I see the Ravens going farther in the playoffs for 3 reasons: The Ravens have better matchups,more offensive firepower and favorable intangibles. This weekend, the Ravens play at home against a rookie quarterback who has had turnover issues. The Ravens defense is as complete/healthy as it has been the entire season. The Ravens offense has been streaky, but it has generally been able to put up lots of points at home. The Colts defense will have a tough time stopping
Ray Rice
,
Anquan Boldin
and
Torrey Smith
. How much do you want to bet Ray Rice gets his 20 touches Sunday?
Steve from Port St. Lucie, Fla.
: The
Baltimore Ravens
are going to be the team to beat in the playoffs. With the announcement of Ray Lewis retiring those guys are going to put their necks on the line for him. No matter how far they go, hats off to his career and his family. He is the Michael Jordan of the Baltimore Ravens and deserves a statue in front of the stadium to say the least. I am a die-hard
New York Giants
fan, but if you ask me who my favorite player in the NFL is, I will say Ray Lewis without hesitation. He deserves a statue.
Dustin from Cincinnati:
I think both Cincy and the Ravens win their first games. As depleted as the Ravens defense might be, they are still solid and disciplined.
Andrew Luck
doesn't get flustered much, but I think the Ravens defense puts it to the rookie. They lose to
Tom Brady
Brady simply because of the injuries.I think Cincinnati's defense wins yet another game for them on Saturday, but the lack of a quick strike offense helps them lose to Denver.
January, 2, 2013
1/02/13
11:44
AM ET
The
Cincinnati Bengals
got some good news when they took the practice field Wednesday. Running back
BenJarvus Green-Ellis
returned to practice after missing Sunday's regular-season finale and sitting out Tuesday's workout, according to
The Cincinnati Enquirer
.
Offensive coordinator Jay Gruden expressed optimism Tuesday that Green-Ellis would be fine. Green-Ellis injured his hamstring in pregame warmups Sunday and didn't play.
Without Green-Ellis, Cincinnati managed 47 yards on 21 carries, a 2.2-yard average against the Ravens on Sunday. Green-Ellis has been key to the Bengals' offense in the second half of the season, gaining 100 yards in four of his past six games.
Durability was a concern when the Bengals signed Green-Ellis in the offseason. He never carried the ball more than 229 times in a season in four years with the Patriots. But Green-Ellis ran the ball 278 times and played in every game before sitting out Sunday.
The Bengals play at the Texans on Saturday in a wild-card game. My guess is Green-Ellis will have limited participation today, but we'll find out when the injury report is released later this afternoon.
December, 13, 2012
12/13/12
6:29
PM ET
By
ESPN.com staff
| ESPN.com
Join our ESPN.com NFL experts for Thursday night football between the Cincinnati Bengals and the Philadelphia Eagles.

Contribute your thoughts and questions beginning at 8:30 p.m. ET. See you there.


December, 13, 2012
12/13/12
4:30
PM ET
PHILADELPHIA -- Good afternoon from the City of Brotherly Love, or the Land of Cheesesteaks. I get confused which one is the official nickname for this place.
I will look to redeem myself after taking a shot to the chin in Week 14, when I missed on three of my four picks. I will reveal my picks for the rest of the AFC North in the Friday Forecast, but here's my prediction for the Thursday night game ...
Cincinnati Bengals 31, Philadelphia Eagles 20
: This comes down to which team needs this win the most. After losing to the
Dallas Cowboys
in the final seconds, the Bengals know they can't afford to let another one slip away from them if they want to get that final playoff spot in the AFC. The Eagles are in shambles defensively. Philadelphia has given up 30 pass plays of 20 yards or more since Week 5. This screams out that
A.J. Green
will have a big game. After his worst game in the NFL, Green will be determined to redeem himself. Unlike last Sunday, this game against an NFC East team won't be close.
---
Week 14 record
: 1-3.
Season record
: 25-15 (.625).
Chargers 34, Steelers 24 (my prediction: Steelers 30, Chargers 13)
Redskins 31, Ravens 28, OT (my prediction: Ravens 20, Redskins 16)
Browns 30, Chiefs 7 (my prediction: Browns 21, Chiefs 17)
Cowboys 20, Bengals 19 (my prediction: Bengals 34, Cowboys 28)
December, 12, 2012
12/12/12
8:00
AM ET
With the big game between division leaders Denver and Baltimore, there will be a special "Double Coverage" post at 11 a.m. It's a discussion between AFC West blogger Bill Williamson and myself on some of the storylines for Sunday. Also, the AFC North weekly chat will kick off at 2 p.m. today. Please
don't pull a Mendenhall
and fail to show up. Now let's start off with the wake-up call ...
RAVENS
: The
Baltimore Sun
's Peter Schmuck says all eyes are on quarterback
Joe Flacco
after the firing of offensive coordinator Cam Cameron. "Now, we're finally going to find out whether it was Cameron who was holding Flacco back or the other way around," Schmuck wrote. "The only thing that was obvious was that Flacco was no longer progressing under Cameron and the Ravens attack had become inconsistent and incoherent. The responsibility for all that logically falls on the offensive coordinator, because he's the guy running the show, but there are two sides to this story and one of them is still to be told."
STEELERS
: First-round pick
David DeCastro
could make his NFL debut with the Steelers looking to replace injured guard
Willie Colon
. DeCastro, who hasn't played in his rookie season after tearing his medial collateral ligament in the third preseason game, will be worked in at right guard during practice this week and could start Sunday at Dallas, coach Mike Tomlin said.
Ramon Foster
, the starting right guard, would then shift to the left side. "We're ready to take the next step," Tomlin said, via the
Associated Press
. "Potentially, this week -- depending on how that preparation looks."
BENGALS
: Starting defensive end
Michael Johnson
missed practice Tuesday with a toe injury and is now in a walking boot. That's not a good sign with the Bengals playing at the Eagles on Thursday night, although coach Marvin Lewis wasn't pessimistic when asked about Johnson. "We'll see how he is," Lewis said, via
The Cincinnati Enquirer
. "He felt pretty good." Maybe Lewis' outlook comes from the fact that Johnson has never missed a game. Johnson has recorded a career-high 8.5 sacks this season.
BROWNS
: Linebacker
Scott Fujita
, who maintained his innocence throughout the Saints' bounty scandal,
saw his name cleared
in the ruling of former commissioner Paul Tagliabue. Tagliabue concluded that Fujita only took part in a "non-injury" pay-for-performance pool. "I affirm Commissioner Goodell's factual findings as to the four players. I conclude that
[Anthony] Hargrove
,
[Will] Smith
and
[Jonathan] Vilma
-- but not Fujita -- engaged in 'conduct detrimental to the integrity of, and public confidence in, the game of professional football,' " the ruling said. Fujita is out for the season with a potentially career-threatening neck injury.