September, 29, 2014
Sep 29
6:45
PM ET
CINCINNATI -- Leah Still was just waking up after seven hours under anesthesia when her father and other family members tried to help her sit up in her bed at the Children's Hospital of Philadelphia.
The 4-year-old who had spent much of last Thursday under doctors' supervision following a near six-hour surgery to remove a tumor from inside her body, was defiant.
She didn't want any help sitting up in her bed. She wanted to do it on her own. She did. Not just once, but twice.
[+] Enlarge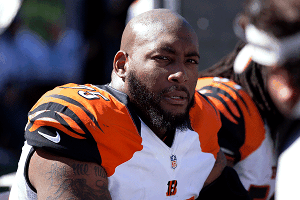 Aaron Doster/USA TODAY SportsDevon Still said his daughter, Leah, is in good spirits after she had a cancerous tumor removed from her body last week.
That's when the long-held suspicions of her dad,
Cincinnati Bengals
defensive tackle
Devon Still
, began ringing true. It was at that moment that he realized she was going to beat the stage 4 cancer that had been ravaging her body since June.
"She's going to bounce back from this fast because she's a trooper," Devon Still said in front of his Bengals locker Monday as he reflected upon what he saw from his daughter up close last week. "She's going to fight her way through this."
Still was back in the Bengals' locker room after spending the bulk of last week's bye in and around Philadelphia in order to watch his daughter as she underwent this latest round of treatments to eliminate the cancer that's called neuroblastoma.
A trip to a movie theater was the highlight of the week for Leah, who spent time the night before her surgery with friends and family in a packed viewing area while the movie "Dolphin Tale 2" played on the big screen. The same night as the movie viewing, Still began psyching Leah up for what she was about to endure.
He said he spoke to her about what surgery was. He tried to ease her uncertainty and answer any questions she had. To help illustrate his responses, Still asked her to look at his ankle, knee and back. In each of those places, the 25-year-old lineman has scars from his own series of surgeries.
The ploy helped, but she still was scared of what loomed the next morning.
So, in an effort to make his little girl smile, Still recorded a video that went
viral the instant he uploaded it to Instagram
.
"On the way to the hospital she was looking sad," Still said Monday. "You see in the beginning of the video that I said, 'I'm going to say it again.' The first time I asked her she was really down. She didn't really say anything. That's when I asked her again and that's when she started getting happy. So it was just to try to put a smile on her face and not to make her so nervous."
Still and the Bengals -- who originally cut him at the end of the preseason before adding him to their practice squad in part to help him retain health insurance to pay for Leah's treatments -- have put smiles on countless faces across the globe the past few weeks. On Sunday, the team announced it had sold close to 10,000 of the reserve lineman's jerseys, and that it was picking up the cost ($500,000 total) of making each one. That meant that full proceeds from the sales of Still's $100 jersey were going to the Cincinnati Children's Hospital Medical Center for pediatric cancer research efforts.
By Sunday, the Bengals reported they had
raised more than $1 million in nearly three weeks
.
Jerseys have been purchased by people in every state, as well as Canada, Australia, England and Finland. Rapper Nelly is among those who have reached out to Still since his story was made public.
"We thought it was vital to get out the [story of] everyday life of a family who is going through life with a child that has cancer," Still said, "just to let everybody know how much support families need financially and just emotionally."
Still was hopeful Leah would be leaving the hospital and going home Monday to Wilmington, Delaware, where her mother and other members of Still's family take care of her while he's in Cincinnati. After some weeks, she'll get back to chemotherapy and radiation therapy and will undergo stem-cell treatments to regenerate her bone marrow.
"For them to be able to remove all the tumor," Still said, "just puts a smile on her face and it gives us something to hope for."