December, 24, 2014
Dec 24
5:30
PM ET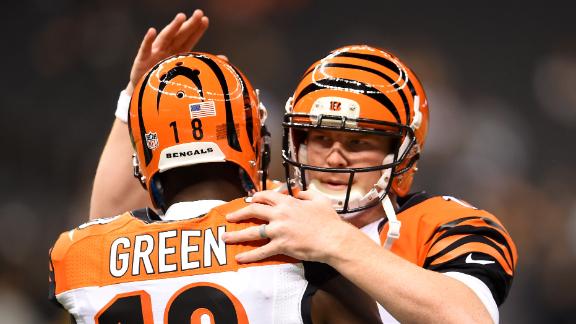 CINCINNATI -- Four
Cincinnati Bengals
missed practice Wednesday, being told to stay away because a flu has run amok throughout the team.
The virus has affected different position groups and different corners of the locker room.
Quarterback
Andy Dalton
was the biggest name player who was sidelined because of it, forced to head home about a half hour before his regularly-scheduled Wednesday news conference. Along with him, tight end
Jermaine Gresham
, safety
Reggie Nelson
and cornerback
Terence Newman
had illnesses, too.
It's the second time a contagious bug has hit the team, following the spread of a stomach bug four and five weeks ago. In all, seven Bengals were hit by that one, including Dalton who got it the night before the Bengals' Week 13 game at Tampa Bay. After taking three IVs before the game and throwing up in the locker room during pregame introductions, Dalton threw three first-half interceptions before tossing a touchdown pass and running for another in the second half.
Along with the sick quartet, the Bengals were unsurprisingly without receiver
A.J. Green
, too. Although he participated in the stretching period, he didn't go through any other part of the practice as he starts trying to recover from a right biceps bruise. Green suffered the injury Monday night when the helmet of a Broncos defensive back barreled hard into him as he leaped for a high pass.
When the ball deflected off Green's hand, it ricocheted into cornerback's
Aqib Talib
's hands. Untouched, he got off the ground and ran 33 yards for a touchdown on the Bengals' fifth offensive play.
Green told ESPN on Wednesday that he initially thought he had broken his arm on the hit.
During his news conference, coach Marvin Lewis said Green was "progressing." Lewis added that he thought Green had a shot to play Sunday at Pittsburgh in the unofficial AFC North title game. The winner of the matchup will win the division.
Along with the notes on Dalton and Green, the Bengals also are hopeful that receiver
James Wright
and linebacker
Emmanuel Lamur
will return this week. Both missed Monday night's game, and Wright missed the two before that. They both practiced Wednesday, going in limited capacity during the Christmas Eve session.
Unlike most teams the Bengals will practice on Christmas Day. Part of the reason they aren't taking the day off is because this keeps them in a daily rhythm ahead of the big Sunday game. It also made sense that they practice after being done no favors by the NFL schedule-makers.
The same week as Christmas, the Bengals had a Monday night game and a Sunday one immediately after it. Normally they'd have six days of practice between games. They would have had only four if they took Thursday off.
Here's the full Wednesday injury report:
DID NOT PRACTICE
QB Andy Dalton (illness)
TE Jermaine Gresham (illness)
CB Terence Newman (illness)
S Reggie Nelson (illness)
LB
Chris Carter
(knee)
DE
Wallace Gilberry
(hamstring)
LIMITED PRACTICE PARTICIPATION
CB
Darqueze Dennard
(shin)
LB Emmanuel Lamur (hamstring)
WR James Wright (knee)