March, 30, 2015
Mar 30
12:06
PM ET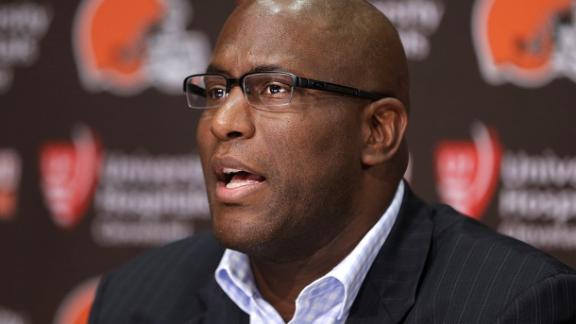 CLEVELAND -- The waiting -- and the embarrassment -- might have been the hardest part.
The Cleveland Browns can easily navigate the four-game suspension to general manager Ray Farmer, especially since the punishment involves no loss of draft picks.
Forget a hammer-drop. The league is using a chisel on the Browns, who have been under investigation since early January over Farmer's improper text messages during games. For nearly three months, the Browns have handled new assistant coaching hires, free-agency plans and NFL draft scouting under this cloud. These are not extraordinary tasks, but they can be complicated when sanctions loom.
With 10 draft picks still intact for 2015, the suspension for Farmer is far from crippling. Farmer's texts probably did not help the team gain a competitive advantage, but they clearly broke the rules.
Yet Atlanta lost a 2015 fifth-round draft pick over piping in artificial crowd noise.
The bigger internal challenge for the Browns is this: Will the ruling exacerbate an already brutal offseason or serve as a clean break?
The Browns clearly would prefer the latter.
An avalanche of issues, beginning with Kyle Shanahan's departure and fueled by Josh Gordon's suspension, among other concerns, gave power to the "same old Browns" crowd. The Browns seem desperate to change that storyline, but questions remain as to whether they really know how to do so.
They could prove they do by using the heavy load of picks to pump out a productive draft class: Not being duped into any bad trades; getting the players they want; staying relatively low-key. Then have Farmer sit out for a few plays.
Literally.
The NFL was served best by asking Farmer to take time off during the season. That way, the punishment hits Farmer where it hurts, but isn't so mean-spirited as to remove him from the draft room in April.
The Browns probably have some good stories to tell. They have players they like, especially on defense. Offseason workouts breed optimism. They'll soon welcome back quarterback Johnny Manziel.
It seemed like everything was on hold while the team waited for the NFL's ruling.
The Browns now have reasons to feel more relieved than handcuffed.