December, 25, 2014
Dec 25
8:00
AM ET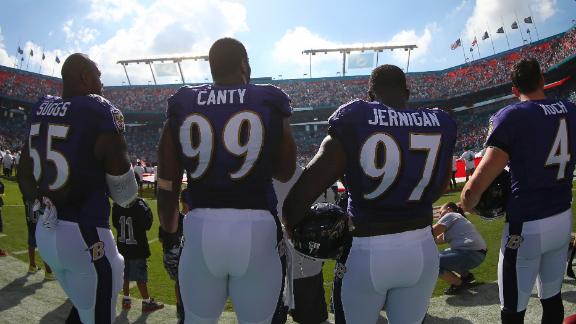 When:
1 p.m. ET Sunday
Where:
M&T Bank Stadium, Baltimore
TV:
CBS
There are different motivations and injury concerns in Sunday's season regular-season finale between the
Baltimore Ravens
(9-6) and
Cleveland Browns
(7-8).
The Browns are looking for their first non-losing season since 2007, which would be an even bigger accomplishment considering the state of Cleveland's quarterbacks. Undrafted rookie Connor Shaw may have to start after
Johnny Manziel
went down with a season-ending hamstring injury and
Brian Hoyer
injured his shoulder and biceps.
The Ravens are trying to make the playoffs for the sixth time in seven years. To do that, they have to beat the Browns and the
San Diego Chargers
have to lose at Kansas City. The Ravens are limping to the end of the regular season, especially at offensive tackle. Starting right tackle
Rick Wagner
was placed on injured reserve this week, and left tackle
Eugene Monroe
is dealing with a foot injury.
ESPN Browns reporter Pat McManamon and Ravens reporter Jamison Hensley take a closer look at Sunday's AFC North showdown.
Hensley
: The Browns have struggled mightily on offense. How much can be attributed to the play at quarterback?
McManamon
: Well, given the same struggles took place with both quarterbacks it's certainly not all them. The Brown have not run the ball consistently well since
Alex Mack
broke his leg, and that affects the offense because much of what Kyle Shanahan wants to do is based on play-action.
Josh Gordon
has been sleepwalking since he returned from a 10-game suspension. And losing
Miles Austin
took away the team's best third-down receiver. That being said, the quarterback also has a role to play. Manziel simply was not NFL-ready, so his play was just poor. He appeared completely overmatched -- though he does have an offseason to prove he's not. Hoyer won 10 games in 16 starts, but he too struggled. His struggles, though, seemed to reflect the offense's. When the entire offense struggled, Hoyer had his roughest games. So to answer your question, the issues are everyone's, but at quarterback more Manziel's than Hoyer's.
Houston put a big hurt on the Ravens. It's the same defense that made the Browns' offense look bad. Did
Joe Flacco
struggle and is he that inconsistent, or should some credit be given to Houston's defense?
Hensley
: If you're asking coach John Harbaugh and the players, all the credit has to go to the Houston's defense. Flacco and wide receiver
Steve Smith
both said that they got their butts kicked by the Texans. And while the Texans did physically dominate the Ravens, some of the blame has to go to the coaching staff for not making any adjustments. The Texans blitzed heavily up the middle, which collapsed the pocket and stopped the Ravens from double-teaming
J.J. Watt
. The Texans gave the blueprint to slowing down the Ravens' offense. If you stop the Ravens' running game, it forces predictable passing situations on second and third downs. When teams blitz, especially on those third-and-longs, the Ravens don't make teams pay by sending extra rushers. The Ravens' offense needs to find a way to get out of its December funk.
The Ravens are concerned about their pass protection after their struggles in Houston and their injury situation at both offensive tackle spots. How would you assess the Browns' ability to pressure the quarterback this season?
McManamon
: Fair but not great and not consistent.
Paul Kruger
has had a solid season with 10 sacks, but
Barkevious Mingo
has been playing with a harness on his shoulder that does not let him lift his arm above his shoulder.
Desmond Bryant
has had a strong season, but a 3-4 end doesn't get many sacks. Were I the Ravens, I'd concentrate on chipping Kruger and perhaps Mingo and taking my chances on holding the interior with the team's offensive line.
The Ravens seem like a playoff-quality team. If they don't make it, can you put your finger on one game or one area of the team that did not come through?
Hensley
: Even though the Ravens' defense has been a strength this month -- two touchdowns allowed in the past three games -- the secondary will be the reason the Ravens don't reach the postseason. In the season opener, cornerback
Chykie Brown
(since released) gave up a winning 77-yard touchdown to A.J. Green. In early November, the Ravens gave up six touchdown passes to
Pittsburgh Steelers
quarterback Ben Roethlisberger. In late November, the Ravens watched
Philip Rivers
throw a winning 1-yard touchdown pass to
Eddie Royal
with 38 seconds left. Even if the Ravens could have pulled out one of those games, they would control whether they make the playoffs.
The Browns have lost their last 11 regular-season games in December and January, the longest active streak in the NFL. Is there any chance of them pulling off an upset?
McManamon
: It's pretty slim. The Browns are out of it and going through the same old routine of playing hard because it's one of 16 and all that stuff. But with Manziel out with a hamstring injury and Hoyer questionable with a throwing-shoulder injury, Shaw may have to come off the practice squad to start. I know
Case Keenum
came off the street last Sunday to win in Houston, but Keenum at least had a decent idea of NFL game speed because he had played before. Shaw is an eminently nice guy and good talent, but we saw what happened to Manziel in his first start against a team with playoff aspirations. Shaw will be making his first start as an undrafted free agent. The Browns played well with Hoyer the first time the teams played, but his availability won't be known until probably Sunday.
Do people in Baltimore marvel at the Browns' inability to get it right? Or do they just think, "Better them than us"?
Hensley
: When the Browns first came back into the league, there were sympathetic feelings toward Cleveland. Baltimore football fans know what it feels like when a storied franchise gets ripped from a city. These days, there is a "shake my head" attitude toward the Browns after the countless changes at head coach, the front office and quarterback. Since 2008, the Ravens have had one starting quarterback (Flacco) while the Browns have gone through 13 (and Shaw would make it No. 14 on Sunday). I will say that the Ravens themselves didn't think the Browns would be pushovers this season. The Ravens have a strong respect for the defense that the Browns are building. And, after the Ravens struggled against Jacksonville and lost in Houston, they know they can't afford to take any team lightly.