AFC North:

Minnesota Vikings
November, 27, 2013
Nov 27
10:00
AM ET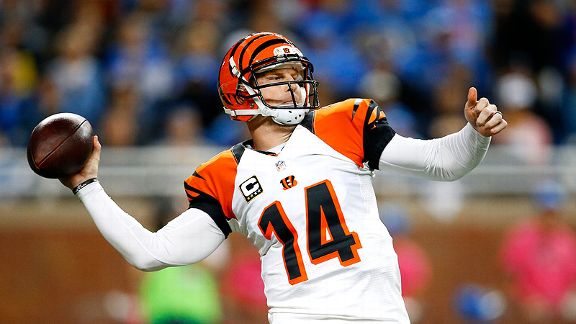 AP Photo/Rick OsentoskiThe Cincinnati Bengals are counting on Andy Dalton to return to the form that helped lead the team to a 4-1 record in October.
CINCINNATI -- Earlier this week,
Cincinnati Bengals
players like cornerback
Chris Crocker
were adamant in pointing out the urgency they need to play with throughout the
month of December
.
"It's all about winning in December," Crocker said. "Let's win out and see where the chips lay. Why can't we win out? I don't see why we can't."
If you ask some Bengals fans and most NFL analysts, they'll give you one big reason why they don't believe Cincinnati will be able to go 5-0 to close out the regular season: No. 14.
That's right. To some, the primary obstacle in the way of end-of-season perfection for the Bengals is
Andy Dalton
, the player who has quarterbacked the franchise into the playoffs each of the past two seasons, and who constantly is trying to prove himself to those who consider him just another member of a mostly failed 2011 quarterback draft class.
For that reason, as the Bengals gear up for a stretch run that could give them a first-round bye and home-field advantage in the playoffs, an important question has to be asked.
Can December Andy mimic October Andy?
As we've written countless times in the past month, October Andy was indeed a dandy. Through the first four games of that month, Dalton threw for 1,243 yards and 11 touchdowns. He also completed 67.9 percent of his passes, won four games, had a passer rating higher than 116.0 and a QBR above 83.0. He was, quite simply, brilliant. His play was so sharp back then that on the final day of the month, hours before the Bengals were set to take on the Dolphins in a road Thursday night game, he was named the AFC's Offensive Player of the Month.
And, yes, even though, comparatively speaking, he didn't look as good overall against the Dolphins and ended up taking the game-winning sack for a safety in overtime, Dalton still had a rather special performance in the 22-20 loss. Aside from not completing a touchdown pass and getting intercepted three times, he threw for 338 yards, marking the fourth straight game he had gone over the 300-yard passing mark.
Overall, October Andy was Good Andy.
But now here comes December with all of its postseason potency. If Cincinnati hopes to set itself up for the type of playoff seeding Crocker believes it deserves, then it will have to play its best ball across the next five weeks. That's especially the case for Dalton and a Bengals offense that has looked rather anemic in the past three games.
One look at Dalton's previous December stats and it doesn't appear the third-year star should have any problem showcasing even a sliver of the success that made him and his team so good about two months ago.
After a rocky December as a rookie in 2011, Dalton was among the difference-makers last season when the desperate Bengals were in need of a strong final month just to secure a playoff berth. One year after going 2-2 in the month, Dalton went 4-1 during December 2012. The lone loss came after the
Dallas Cowboys
made a field goal in the final seconds to win 20-19.
While the level of desperation may be different this December, the Bengals are looking for Dalton to thrive under similar pressure-packed moments during this one. This time around, the pressure on Dalton mainly stems from the fact that so many are fed up with his play from the past three games. In them, he's thrown eight interceptions and been sacked 10 times. Across the latter two of those games, he's completed fewer than 50 percent of his passes and hasn't posted a QBR higher than 18.0.
Weather factored heavily in Dalton's inability to move the ball in those two games. Windy conditions at Baltimore and windy and rainy conditions against the Browns sent some of his passes sailing and forced others into the hands of defensive backs.
Although weather shouldn't be a concern this weekend in San Diego (the forecast calls for partly cloudy skies and a delightful high of 71 degrees Sunday), it could be the rest of the season. Farmer's Almanac projects cold, damp conditions for all of December in the Ohio Valley. It should be noted that after Sunday's game, the Bengals are home three of the next four weeks. Their only remaining road game is at Pittsburgh.
Throughout his career, Dalton has performed better in warmer games. In games with temperatures 50 degrees or higher, he has a 20-14 record, an 85.1 passer rating and a 52.5 QBR. In games with temperatures at 49 and lower, he has a 5-5 record, a 75.4 passer rating and a 32.9 QBR. Dalton's last three sub-49-degree wins came last December, though; a sign that perhaps he's turning a corner in cold-weather contests.
Whatever the conditions and whomever their opponents are, when it comes to the next five weeks, the Bengals can only hope that Dalton turns into the same man who torched through this October.
December, 5, 2013
Dec 5
10:00
AM ET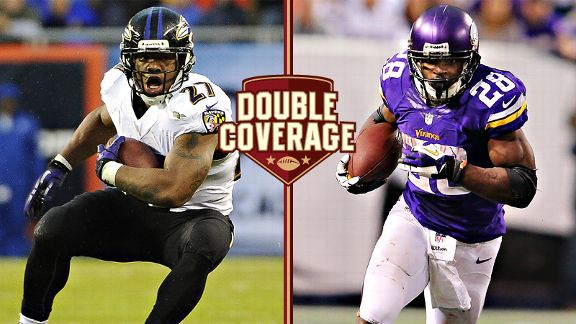 Getty ImagesRay Rice and the Ravens have struggled running the ball while Adrian Peterson leads the NFL.
The
Baltimore Ravens
are looking to continue their push for a sixth consecutive playoff berth Sunday when they play the
Minnesota Vikings
at M&T Bank Stadium.
The Ravens (6-6) have won two straight to take control of the last playoff spot in the AFC and are coming off an emotional victory over the rival
Pittsburgh Steelers
. What Baltimore can't afford is a letdown against the last-place Vikings (3-8-1).
The Vikings are quietly playing their best football of a disappointing season, rallying from a 10-point deficit in the fourth quarter to beat the
Chicago Bears
on Sunday. And while the Ravens are playing for their playoff lives, coach Leslie Frazier and the Vikings players are equally desperate because their jobs could be on the line in the final month of the regular season.
This is how ESPN.com Vikings reporter Ben Goessling and Ravens reporter Jamison Hensley see the fifth meeting between these teams unfolding:
Jamison Hensley
: The Vikings have only lost once in their past four games. What's been the biggest difference with the Vikings recently?
Ben Goessling
: The biggest constant in the two wins (and the tie against Green Bay) has been their quarterback play; it still hasn't been great, and probably won't be at any point this year, but
Christian Ponder
(or
Matt Cassel
last week) has been able to keep the offense moving without turning the ball over as frequently as the Vikings' QBs were earlier this season. In their three wins and one tie, the Vikings have a combined four turnovers. With
Adrian Peterson
coming off his two best games of the season, the rest of the offense doesn't have to be great. It merely has to hang on to the ball, keep drives moving and let Peterson do his work.
What's been the problem with the Ravens' running game?
Ray Rice
was never the most efficient back, in terms of yards per carry, but it's been stunning to see how limited he's been. What's going on there?
Jamison Hensley
: The Ravens' running game has been the biggest weakness on offense all season. Ray Rice doesn't have the same burst, and the offensive line isn't creating any space for him. Rice, who is averaging 2.9 yards per carry, can't shoulder all the blame. Backup
Bernard Pierce
is gaining 2.8 yards per carry. The Ravens haven't totally abandoned the running game, they're just not relying on it. Rice has only carried the ball more than 20 times once in the past seven games. Baltimore could test the Vikings' run defense, which ranks 23rd, just like it did against the Bears last month. But this has been a pass-heavy offense for most of the year.
It's a totally different story with the Vikings. Peterson is leading the NFL with 1,208 yards rushing, which is 235 more than the Ravens have totaled as a team. How does he continue to be effective when defenses are always focused on stopping him?
Goessling
: That's the remarkable thing about him -- he does all this when everybody knows he's getting the ball. And right now, he's doing it with a strained groin that has robbed him of some of his breakaway speed. He had 211 yards on Sunday, but probably could have pushed toward 250 if he'd been able to extend a couple of runs the way he normally does. Peterson is the best in the business at a lot of things, but chief among them might be his ability to find cutback lanes and isolate himself on one defender. Once he does that, your odds of bringing him down aren't very good; if he doesn't have his top speed, he'll just run you over.
It seems like the Ravens' defense is finally hitting its stride with all of its new pieces after a rough start to the season. What has led to that, and do you think the Vikings will be able to run effectively on the Ravens with Peterson?
Hensley
: The Ravens knew their defense was going to be a work-in-progress, especially in the first half of the season. Baltimore had to replace six players who started on defense in the Super Bowl. As expected,
Terrell Suggs
and
Elvis Dumervil
have provided pressure off the edge. The surprising part has been the play in the middle of the defense with defensive lineman
Art Jones
, middle linebacker
Daryl Smith
and safety
James Ihedigbo
. The run defense ranks No. 6 in the NFL, although I wouldn't describe the Ravens as dominant in this area. The Ravens can't expect to shut down Peterson. The key is containing him and keeping him under 120 yards.
While the focus is undoubtedly on Peterson, the other storyline is the Vikings' starting quarterback position, which has been in flux all season and remains up in the air for Sunday. Is there a drop-off if Matt Cassel has to replace Christian Ponder against the Ravens?
Goessling
: I really don't think so; the Vikings' passing game, in some ways, has functioned better with Cassel than it has with anyone else all season. He's still the only Vikings quarterback to throw for more than 240 yards in a game, and he just looks more assertive commanding the offense than Ponder does.
Greg Jennings
has his only three touchdown catches from Cassel, and part of that, I think, is that Cassel gets the ball out quickly and finds Jennings in stride better than Ponder can. Jennings needs a quarterback who will give him room to run after the catch, and Cassel has done that effectively. If he starts, there's no reason he can't be as productive or more productive than Ponder.
After winning a Super Bowl and getting his big contract,
Joe Flacco
doesn't look the part of an elite quarterback right now. Can he turn it around against a Minnesota pass defense that's been pretty inept all year?
Hensley
: Flacco has been slowly turning around his season lately, and he could be on the verge of a big game against the Vikings. One of the reasons why the Ravens have won their past two games is Flacco's ability to stretch the field again. Baltimore's offensive line has been giving Flacco a safer pocket, which has allowed him time to find the likes of
Torrey Smith
and
Jacoby Jones
deep downfield. Flacco has to like what he saw on tape from last Sunday's game, when
Josh McCown
threw for 355 yards and two touchdowns against Minnesota.
September, 29, 2013
Sep 29
12:41
PM ET
By
ESPN.com staff
| ESPN.com
Join our ESPN.com NFL experts as they break down the Pittsburgh Steelers' visit to the Minnesota Vikings. Contribute your thoughts and questions beginning at 1 p.m. ET. And, be sure to visit our
NFL Nation Blitz page
for commentary from every game, as well as fan photos and the latest buzz from Twitter. See you there.
September, 27, 2013
Sep 27
1:00
PM ET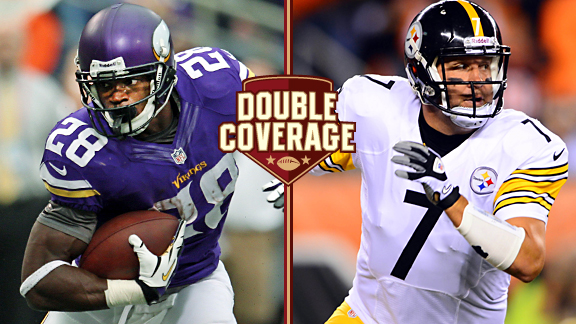 USA TODAY SportsEither Adrian Peterson's Vikings or Ben Roethlisberger's Steelers will leave London with a win.
As exports go, sending the
Minnesota Vikings
and
Pittsburgh Steelers
to London this weekend probably wasn't what the NFL had in mind.
Both teams are 0-3. The Vikings have the second-most turnovers in the NFL (10), and the Steelers are third with nine turnovers. Pittsburgh has yet to force a turnover on defense, and the Vikings gave up last-minute touchdowns the last two weeks in losses to the
Chicago Bears
and
Cleveland Browns
.
And yet, one of these teams will likely head back across the Atlantic Ocean with a win on Sunday. The other will probably have to say goodbye to their already-slim playoff hopes, so there's plenty on the line in London on Sunday. To set up the game, ESPN.com Vikings reporter Ben Goessling and Steelers reporter Scott Brown got together to break things down:
Ben Goessling:
Well, Scott, I don't think this is what either of us expected this game to be -- both of these teams, badly in need of a win, looking lost as they head over to London. For me, the most surprising thing with the Vikings has been how much trouble they've had getting
Adrian Peterson
going.
He's clearly missed fullback
Jerome Felton
(who's back this week) and he's admitted to trying to do too much on a number of runs. I think Peterson gets going this week as he follows Felton's lead, but I can't say I expected him to have only three runs longer than 10 yards through three games. What has surprised you most about how the Steelers have struggled?
Scott Brown:
Ben, to put the Steelers' running game into perspective, consider this: Their leading rusher,
Felix Jones
, has 71 yards, or seven yards fewer, than Peterson had on his first carry of the season. As bad as the running game, and the offense in general, has been, I am most surprised that the defense hasn't made more of what coach Mike Tomlin calls splash plays, especially since
Troy Polamalu
is healthy and has looked terrific. In addition to their lack of takeaways, the Steelers have yet to force a turnover.
Takeaways have been an issue since 2011, and the Steelers have to find a way to force turnovers if they want to have any chance of turning their season around. Speaking of defensive issues, the Vikings have been atrocious against the pass. Is this a get-well game for
Ben Roethlisberger
?
Goessling:
Yes, I think it could be, especially considering how many issues the Vikings appear to have in their secondary.
Chris Cook
,
Jamarca Sanford
and
A.J. Jefferson
are all in some danger of missing the game Sunday, which would likely leave
Josh Robinson
and
Marcus Sherels
as the starters, and
Xavier Rhodes
as the only other healthy corner on the roster.
I've always thought Roethlisberger is one of the league's best at exposing a suspect secondary, since he can extend plays and force defensive backs to stick on their receivers longer than they should need. As effortlessly as everyone has been able to throw on the Vikings so far, I don't see why Sunday's game should be much different.
Let's switch sides of the ball. If
Christian Ponder
plays -- and that appears to be in at least some doubt now that he has a rib injury -- he'll have to properly diagnose the Steelers in their 3-4 defense. As hesitant as Ponder can be sometimes, is this a chance for the Steelers to put some heat on a quarterback?
Brown:
Dick LeBeau will try to confuse Ponder, and the longtime defensive coordinator has traditionally tormented young quarterbacks who struggle to figure out where the Steelers are blitzing from and when they are sending an extra pass-rusher. The best thing the Vikings can do for Ponder, or whoever plays quarterback, is to win on first and second down.
They have just the player who can help them do that and keep them out of third and long in Peterson. He is the best running back on the planet and he is catching the Steelers at a time when their run defense looks vulnerable.
The Steelers are giving up 115.3 rushing yards per game, which is exceedingly high for a team that has finished among the NFL's top three rushing defenses 13 of the past 19 seasons. They yielded 5.4 yards per carry last Sunday night to Chicago's
Matt Forte
. Forte is a good back, but he is no Peterson. Ben, here is my final question for you: What has to happen for the Vikings to win?
Goessling
: Peterson has to have a big day. They haven't had a game yet this year where he's been able to take control of things, and if he can do that Sunday, that'd be a huge help to whomever the Vikings quarterback will be. My hunch is Ponder's injury will be just bad enough -- or it will at least be portrayed as such -- to make
Matt Cassel
the starter, but regardless of the quarterback, the Vikings need Peterson to do what he did last year.
They've also got to cut out the turnovers. Their own 10 turnovers have washed out their defensive productivity in that area, and on a couple occasions, the Vikings have given the ball back right after their defense took it away. That can't happen against a defense that hasn't forced one yet. What's the key for the Steelers to come away from London with their first victory?
Brown:
Contain Peterson. I don't think it is realistic to shut him down, but the Steelers need to put the Vikings in enough third-and-long situations where they can really go after Ponder or Cassel. They also need to generate a couple of takeaways.
The offense also has to build on the positives it produced last Sunday night against the Bears when it gained 459 total yards. Yes, the five turnovers were a killer but I also think the generosity displayed by Roethlisberger (two lost fumbles and two interceptions) was also an anomaly. If the Steelers protect the ball and take it away here and there from the Vikings, I think they win.
.
September, 22, 2013
Sep 22
4:24
PM ET
MINNEAPOLIS -- My thoughts on the
Cleveland Browns
'
31-27 win
over the
Minnesota Vikings
at Mall of America Field on Sunday.


What it means:
The Browns pulled out their first victory of the season days after trading running back
Trent Richardson
, with third-string quarterback
Brian Hoyer
shaking off three interceptions to lead a late-game scoring drive. The Vikings, meanwhile, blew a lead and gave up a last-minute touchdown for the second straight week. A team that went 10-6 last season is now 0-3, heading into a quasi-home game in London, and the loss to the Browns exposed serious issues on both sides of the ball.
Vikings stock watch:
Falling -- Vikings' secondary. Minnesota lost
Chris Cook
,
A.J. Jefferson
and
Jamarca Sanford
to injuries, and while it remains to be seen if any of them are long-term problems, the injuries left an already-thin secondary vulnerable to Hoyer, who recovered from a miserable second half to stun the Vikings at home.
Antoine Winfield
is sitting at home, and though the Vikings so far have been reluctant to talk their former Pro Bowl defensive back out of retirement, Sunday's events could change their minds.
Browns stock watch:
Rising -- Browns' run defense. Cleveland had given up an average of just 59.5 yards per game in its first two losses, and even though
Adrian Peterson
ran for 88 on Sunday, the Browns made sure they didn't come easy. Peterson's longest gain of the day was 9 yards, and the Vikings had to rely on
Christian Ponder
and their passing game more than they would have liked to.
Hoyer Watch:
In the first half, Hoyer looked capable of pulling out a surprising victory, making a number of effective throws on rollouts to keep him away from the Vikings' defensive line and burning cornerback A.J. Jefferson on a stop-and-go route to
Josh Gordon
for a 47-yard touchdown. He threw a pair of interceptions in the second half, when the Vikings turned up the heat with blitzing linebackers, but he rebounded to lead an 11-play, 55-yard drive for Cleveland's final touchdown, finding
Jordan Cameron
in the corner of the end zone.
Ponder Watch:
In a game that exposed plenty of issues for the Vikings, Ponder's play was what got fans the most riled up. He crumbled after leading a couple of drives early in the game, throwing for just 7 yards in the third quarter, and was unable to direct a late-game drive to put the game away after the Vikings took a 27-24 lead on a
Blair Walsh
field goal. The Vikings' play calling will come into question after the team handed Peterson the ball just five times in the fourth quarter, and the team's offensive line again left Ponder running for his life. But a quarterback the Vikings drafted 12th overall still has not shown any signs of being a fixture at the position, and on Sunday, a quarterback making his second career start got the last laugh on Ponder.
What's next:
The Vikings (0-3) head to London to take on the
Pittsburgh Steelers
at Wembley Stadium, while the Browns return home for their first division home game of the season, playing host to the
Cincinnati Bengals
next Sunday afternoon.
September, 22, 2013
Sep 22
10:00
AM ET
By
ESPN.com staff
| ESPN.com
Join our ESPN.com NFL experts as they break down the Cleveland Browns' visit to the Minnesota Vikings. Contribute your thoughts and questions beginning at 1 p.m. ET. And, be sure to visit our
NFL Nation Blitz page
for commentary from every game, as well as fan photos and the latest buzz from Twitter. See you there.
September, 19, 2013
Sep 19
12:00
PM ET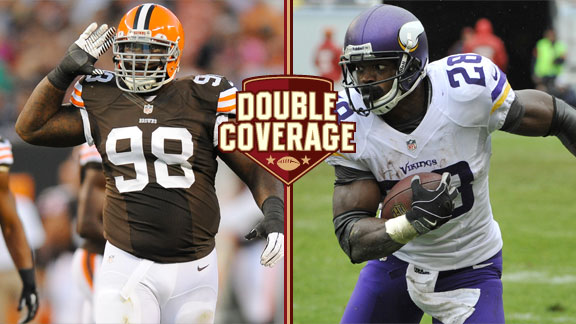 Getty ImagesPhil Taylor and the thus-far stout Browns run defense gets a major test in Adrian Peterson.
A pair of teams desperate for their first victory square off in Minneapolis this weekend when the
Minnesota Vikings
host the
Cleveland Browns
.
The Vikings are coming off a last-second loss in Chicago, after which players were venting about the defensive call that led to the Bears' touchdown with 10 seconds left. Minnesota goes from Minneapolis to London for a date with the
Pittsburgh Steelers
, and the Vikings are in dire need of some positive momentum.
The Browns, meanwhile, have scored just 16 points in a pair of losses, and already have made major changes. They will start
Brian Hoyer
at quarterback this weekend with starter
Brandon Weeden
out because of a thumb injury. Meanwhile, the Browns traded running back
Trent Richardson
on Wednesday, parting with their top playmaker in exchange for the
Indianapolis Colts
' 2014 first-round draft pick.
As the teams meet for the first time since 2009, ESPN.com Vikings reporter Ben Goessling and ESPN NFL Insider Matt Williamson break down the game:
Goessling:
Matt, the last time these two teams faced each other, it was on opening day in 2009,
Brady Quinn
was under center for the Browns and Brett Favre was playing his first regular-season game in a Vikings uniform. How things have changed since then. The Vikings have their own quarterback issues --
Christian Ponder
probably keeps his job for now after a solid second half in Chicago last week, though he's in serious need of some consistency. With Hoyer at quarterback, Richardson gone to Indianapolis and
Josh Gordon
coming back from a suspension, what can we expect from the Browns' offense?
Williamson:
I was feeling optimistic about Cleveland's offense going into Week 3 with Gordon returning and the disaster at the right guard position seemingly resolved. But now Weeden is out and Hoyer is in. That doesn't bother me nearly as much as the loss of Richardson, who should be the foundation of this offense as a runner and underrated receiver. I truly think the Colts got themselves a great young back. But that leaves the Browns in a very precarious situation in the backfield. It is going to be a long year on this side of the ball.
The Vikings had an outstanding rookie class in 2012 and made three picks in the first round of this latest draft. Although there are obvious concerns at the quarterback position, Minnesota has quietly established a fine young nucleus. What roles do you see for its three first-round picks for this game, as well as going forward in 2013?
Goessling:
It's interesting you bring that up, because
Cordarrelle Patterson
's role -- or perhaps his absence -- has been a big topic of conversation this week. He got only five snaps in the Vikings' first game, and had just six as a receiver last Sunday, even after he ran the opening kickoff back 105 yards for a touchdown. He's young, and raw, but he might also be one of the most dangerous players the Vikings can put on the field, aside from
Adrian Peterson
. Coach Leslie Frazier all but called for Patterson to be on the field more during his news conference Monday. The challenge for the Vikings is to either work him into their base offense or go to enough multiple-receiver sets that they can use him, but I don't doubt we'll see him more going forward.
That could be especially important considering how good the Browns have been against the run in their first two games. They've allowed just 59.5 yards per game -- how will they fare against Peterson this weekend?
Williamson:
Well, facing Peterson is obviously the ultimate challenge, and his run blocking, including the tight ends and fullbacks, is quite good as well. But I am very impressed with the Browns' run defense -- and it starts up front. I believe that
Phil Taylor
is on the verge of stardom; his battle with
John Sullivan
, an excellent center in his own right, in the middle of the formation, will be crucial for the success of Cleveland's interior run defense. But the Browns also have very good size at outside linebacker and do a nice job containing the outside run; their second- and third-level defenders get to the ball carrier well.
I mentioned before that the right guard position has been a nightmare, but the Browns' excellent set of offensive tackles,
Joe Thomas
and
Mitchell Schwartz
, also has struggled much more than would be expected against two formidable defenses. As you know,
Jared Allen
is still playing at a very high level. But as some might not know,
Brian Robison
is also excelling this year and
Everson Griffen
is a highly athletic and intriguing end, too. Could Minnesota's defensive ends rule the day?
Goessling:
They certainly could. They struggled in Week 1 in Detroit, as
Matthew Stafford
found
Reggie Bush
on a number of early screen passes before the rush could get home. But the Vikings put consistent pressure on
Jay Cutler
last week, and Allen caused a Cutler fumble that Robison returned 61 yards for a touchdown. The Vikings also have not played at home yet, which means they will have the advantage of the crowd disrupting the opposing offense's snap count for the first time this year. Minnesota has enough issues on the back end of its defense that it needs a strong pass rush to cover up for some of those deficiencies, and if the defensive line can get to Hoyer, the Vikings should be able to slow the Browns down and win the game.
To close this up, what's the biggest thing you think the Browns need to do to win the game? What kind of a shot will they have without Weeden and Richardson?
Williamson:
I really don't like Cleveland's chances at all, but its defense could keep this game close and limit Peterson's production. Of course, Ponder could have a very poor game, or the Browns could score on defense or special teams. But I can't see their offense this week moving the football with any sort of consistency. As Cleveland's front office is doing, it is time to start looking toward next year.