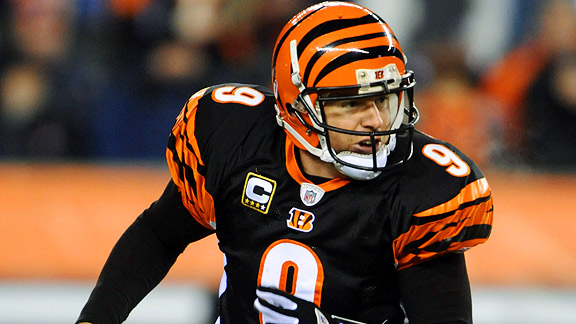 Kirby Lee/US Presswire
Quarterback Carson Palmer is confident the Bengals can post their first back-to-back winning seasons in 28 years.CINCINNATI -- The last time the Bengals posted back-to-back winning seasons, Ronald Reagan was President, the television show "Cheers" made its debut, and quarterback Carson Palmer was only 3 years old.
The year was 1982, when a strike-shortened NFL season left Cincinnati with a 7-2 record coming off a 12-4 campaign and a Super Bowl run the previous year.
Twenty-eight years have passed, and the Bengals haven't been able to duplicate the feat. But this year presents a golden opportunity for one of the NFL's most inconsistent franchises to end its infamous streak.
Coming off a playoff appearance and an AFC North division title, Cincinnati began offseason workouts this week with high aspirations for 2010.
"We still feel like the rest of the teams in the league thought last year was a fluke," Bengals starting safety Chris Crocker said. "I think if you ask everybody [in the locker room], we still don't feel like we've earned everybody's respect.
"So we'll see. It's really about coming back, doing it all over again, and proving a lot of those naysayers wrong."
The Bengals have lost the luxury of sneaking up on teams this season.
Last year's sleeper is no longer the hunter, particularly after sweeping the AFC North in 2009. Cincinnati is officially the team that everyone in the division is coming after this season.
The Baltimore Ravens, coming off an appearance in the divisional round, look hungry after acquiring three-time Pro Bowl receiver Anquan Boldin. Despite off-the-field troubles, the Pittsburgh Steelers are just one year removed from a Super Bowl title. And the Cleveland Browns finally appear to be headed in the right direction under the leadership of new president Mike Holmgren.
That leaves the Bengals as the defending champions of an extremely competitive division.
"The teams within the division know what they're going to get from us," Palmer said. "We're not going to be overlooked. We're not going to be the underdog in a lot of those games, and our division I still think is the best."
The Bengals have been in this position before, and four years ago there was a sense of entitlement.
Cincinnati was a young, brash group coming off an 11-5 season and a division crown. The sense around the league and in the locker room was the Bengals could be the team of the future. They had a budding, hotshot quarterback in Palmer, two young receivers in Chad Ochocinco and T.J. Houshmandzadeh, and a stud offensive line in its prime.
But 2006 was the beginning of the end for that group, which lost its edge. Cincinnati couldn't maintain its focus on or off the field and went 8-8 and 7-9 the next two years before an awful four-win season in 2008 forced management to make significant changes.
The Bengals are trying to draw from that experience to help their current situation.
"I believe there was some valuable lessons and insight for everyone in that situation," Bengals head coach Marvin Lewis said. "We don't look to [just] have a winning season. We want to go back into the playoffs, repeat as division champs and so forth."
Cornerback Leon Hall arrived in Cincinnati in 2007 while things were going downhill. The Bengals won only 11 games in his first two seasons before he helped them turn things around last year.
Hall believes this year's group has what it takes to keep the momentum going.
"The people in this locker room are real mature," Hall said. "I don't think it's going to be a situation where people think we're just going to go out there and the same thing that happened last year is going to happen this year."
Cincinnati is fighting a lot of negative history. But the team appeared to be grounded and focused on the task at hand during the start of this week's offseason workout program.
After 28 years of inconsistency, is this the year the Bengals finally end their streak and post back-to-back winning seasons?
"If there's a group that can take the next step, it's this group," a confident Palmer said. "We've got guys that's been around the league for a little while, played in big games, played in electric atmospheres and playoff-type games. We understand what's at stake. We understand what's ahead of us."