Confirmed: Ravens AFC North favorites
September, 11, 2011
9/11/11
7:55
PM ET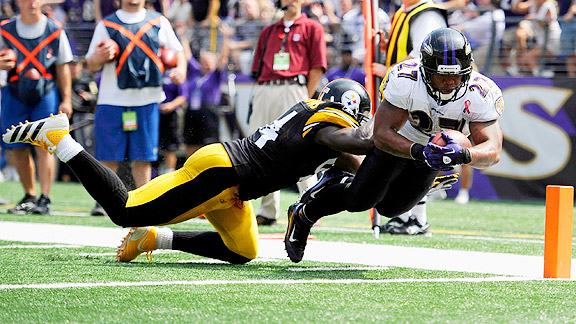 AP Photo/Nick WassBaltimore running back Ray Rice rushed for 107 yards and a touchdown on 19 carries in a convincing win over the rival Steelers.
BALTIMORE -- It may go down as
the most unpopular prediction
in AFC North blog history. But after Sunday's game, it's also the most accurate.
The
Baltimore Ravens
are the new favorites in the AFC North. I wrote it in July -- to the
shock and chagrin of many
-- and I'm saying it again. After Baltimore's
35-7
blowout win over the
Pittsburgh Steelers
, it's especially true.
I didn't have a good feeling about the Steelers this offseason. I trust my gut on these things. Pittsburgh struggles after Super Bowls (trend alert) and had too much bad news outside of football (focus alert). The Steelers also are a year older and a year slower. Father Time is undefeated in athletics.
Meanwhile, the Ravens quietly closed the small gap on their biggest rival in the offseason, getting better, younger and faster. All those facets were on display during one of the most lopsided games in this rivalry.
The victory was a measure of revenge for the Ravens, who were knocked out of the playoffs by Pittsburgh last season. Baltimore finally -- and convincingly -- cleared the Steelers' hurdle.
"It's a new year," Ravens middle linebacker
Ray Lewis
said. "2010 and all the other years are way behind us. ... New pieces, new faces."
Ravens tailback
Ray Rice
described the win as a "physical, executed beatdown."
"It was domination," Ravens Pro Bowl linebacker-defensive end
Terrell Suggs
said.
Both statements are accurate.
With the exception of a fake extra point, the Ravens didn't trick their way to victory. They lined up and pounded Pittsburgh. By midway through the third quarter, the Steelers had no answers other than a lot of pushing and shoving.
[+] Enlarge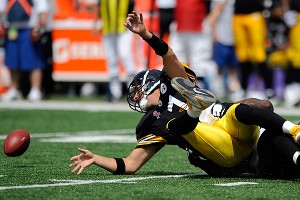 AP Photo/Nick WassPittsburgh quarterback Ben Roethlisberger tossed three interceptions in a loss to the Ravens.
Pittsburgh committed seven turnovers. Quarterback
Ben Roethlisberger
had one of his worst games. He threw for 280 yards and a touchdown but also had three interceptions and two lost fumbles. The Ravens also dominated in the trenches.
Rice (107 yards) ran wild. Baltimore quarterback
Joe Flacco
(224 yards, three touchdowns) had good pass protection and was masterful. The Steelers were two steps behind the Ravens the entire game.
"That's pretty easy to assess, ladies and gentlemen. We got handled in all three phases today," Steelers coach Mike Tomlin said. "We accept responsibility for the plays that we made and didn't make."
The Ravens will go as far as Flacco takes them. The early signs are positive, as Flacco played his best game (117.6 passer rating) against the Steelers.
Flacco was poised and made several of the best throws of his career. A 27-yard touchdown pass to receiver
Anquan Boldin
against tight coverage in the first quarter displayed Flacco's natural ability. He has seen enough of the Steelers' coverages that he should be more familiar with them than most quarterbacks.
In his fourth season, Flacco was criticized heavily this offseason by media and opposing players, including Steelers linebacker
LaMarr Woodley
. The monkey is off Flacco's back for now. He turned the Steelers into believers while staying even-keeled about his performance.
"There's always going to be critics," Flacco said. "Turn around, 10 weeks down the road and something might happen. Then, OK, [the criticism] is back again."
Pittsburgh looked slow on defense. That's probably the Steelers' biggest concern.
There were signs of cracks in the defense late last season when the
Green Bay Packers
ripped the Steelers for 288 yards passing in Super Bowl XLV. Pittsburgh brought back the same group this year, and the unit didn't get any younger or faster. Eight of Pittsburgh's 11 starters on defense are 30 or older. At some point age will catch up to the Steelers. Perhaps we are seeing the start of it in Week 1.
"I'm not ready to judge it from a speed standpoint," Tomlin said when asked about the defense. "We didn't turn around enough ball carriers. We didn't get off well enough on third down. We didn't create turnovers. Usually speed is a part of that equation, but I'm not ready to say that at this juncture."
Pittsburgh need not push the panic button yet. Yes, the Ravens are division favorites, but that doesn't mean the Steelers are out of the hunt. Barring injuries, both teams will make the playoffs, but the teams' roles have clearly reversed. Pittsburgh must catch up to the Ravens in the division for the first time in a long time.
The Steelers, who play host to the Ravens on Nov. 6, will try to avoid an 0-2 start next week at home against the
Seattle Seahawks
. Pittsburgh is too tough and too talented to go away.
"One game doesn't knock anybody out of the playoffs," said Ravens safety
Ed Reed
, who had two interceptions. "We've seen that year in and year out. Those guys improve at the latter part of the season always. We know for a fact Pittsburgh will bounce back."