Roethlisberger, offense are breaking down
December, 20, 2011
12/20/11
2:56
AM ET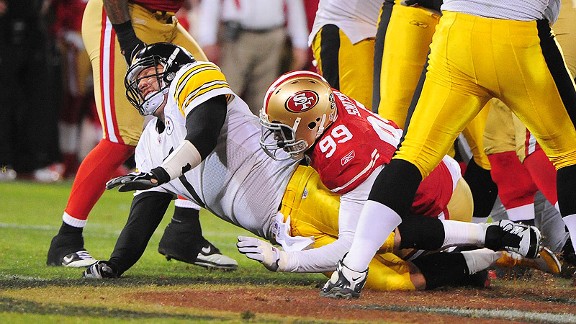 Kyle Terada/US PresswireThe 49ers pressured Ben Roethlisberger all night and sacked Pittsburgh's quarterback three times.
SAN FRANCISCO -- As
Ben Roethlisberger
limped to the sideline after each of his four turnovers, the face of the
Pittsburgh Steelers
franchise suddenly became the picture of the team's offense.
Like Roethlisberger, the Steelers' attack is showing signs of breaking down. It goes beyond scoring a season low in points in Monday night's
20-3
debacle to the
San Francisco 49ers
. The Steelers have been held to 14 points or fewer in three of the past four games, a rut that can be traced back to Roethlisberger's broken right thumb and has continued through his high-ankle sprain. In a game in which the lights went out in Candlestick Park twice, the bigger story was the Pittsburgh power outage.
The initial reaction in the Steelers' locker room is one of frustration. Pittsburgh (10-4) had a chance to seize control of the AFC North and the AFC's top seed after the
Baltimore Ravens
(10-4) got routed in San Diego one night earlier. Instead, the Steelers left the Bay Area as a wild-card team with the biggest concern an NFL team can have -- the health of its quarterback.
That's the biggest worry in Steeler Nation right now. It's disappointing to realize you might have missed out on home-field advantage throughout the playoffs, but Pittsburgh has proven before it can win on the road during the postseason. The injury to Roethlisberger isn't as easy to overcome.
As long as Roethlisberger is hurting, so is the Steelers' offense. Roethlisberger is the MVP of the AFC North this season. He has carried this offense, and the Steelers need an effective Roethlisberger to win in the playoffs. The problem is, this offense won't be better with
Charlie Batch
or
Dennis Dixon
. It needs a healthy Roethlisberger. He's the one player that the Steelers couldn't afford to get hurt.
And, judging by his performance against the 49ers, a hurt Roethlisberger will have trouble getting the job done against playoff teams and the best defenses in the NFL. Roethlisberger committed four turnovers (three interceptions and one fumble) and never got the Steelers within a sniff of the end zone (the closest was the 19-yard line). The 49ers scored 13 of their 20 points off Roethlisberger's turnovers.
"I was probably the best 49er tonight," Roethlisberger said. "It's very frustrating. You feel like you let down your team, your fans and your coaches. It's tough."
How Roethlisberger can play in pain -- without any numbing injections ("There were two Tylenol and two Advils," he said) -- is nothing short of astonishing. To watch him hobble across the locker room with that massive ice wrap around his left ankle was amazing by itself. It should no longer surprise anybody that Roethlisberger plays. Everyone should just be impressed.
His ability to play through this injury was the reason the Steelers beat the
Cleveland Browns
11 days ago. But the limitations of that ankle injury was the reason the Steelers lost to the 49ers.
Roethlisberger couldn't effectively throw deep, which is a big part of the Steelers' attack, because he couldn't follow through on his passes. The injured ankle, even with the protective brace, wouldn't allow him to put weight on that left leg.
According to ESPN Stats & Information, Roethlisberger completed only 28.6 percent (4 of 14) of passes going more than 14 yards downfield. All three of his interceptions came on passes from that distance. An argument could be made that none of those interceptions would have happened if Roethlisberger was healthy enough to step into his passes.
"I'm not going to make excuses," Roethlisberger said when asked about how the injury affected him. "I played a bad football game. I turned the ball over, and that one is on me."
Pittsburgh had one of the most consistent offenses over the first 10 games of the season, averaging 22 points per game. Over the past four games, when Roethlisberger has dealt with thumb and ankle injuries, the Steelers have averaged 13 points.
During that decrease in offensive production, Roethlisberger has thrown five touchdowns and five interceptions. Is it simple enough to say that the Steelers have been ineffective on offense because Roethlisberger has been hurt?
"I'm not in the business of analyzing multiple performances as I stand here tonight," Steelers coach Mike Tomlin said. "I'm more interested in what we did or didn't do tonight. Obviously, we didn't score enough points tonight."
Roethlisberger was considered a game-time decision after practicing on a limited basis Friday and Saturday. When asked about the decision to start Roethlisberger, Tomlin said there really wasn't much of a decision.
"He was deemed healthy enough to play," Tomlin said. "We always like what Ben provides us, not only from his quality of play but his leadership. This guy is a tremendous competitor. We appreciate his efforts. Obviously, we fell short tonight."
Of course, the Steelers offense will play better if Roethlisberger's ankle gets better. But it probably won't because he doesn't want to rest.
"I'll go out and play at 5 percent," he said. "I don't care. I'm going to give you all I got no matter what that is."
Playing at less than full strength was good enough to beat the likes of the Browns and will probably be good enough to beat the two-win
St. Louis Rams
on Saturday. But playing with the limitations of this injury will hurt the Steelers when it comes to playing the top defenses such as the 49ers', Ravens' and Texans'.
Under these conditions, it's difficult to envision a long playoff run when your quarterback is limping.