Five questions with new Browns owner
October, 17, 2012
10/17/12
10:30
AM ET
Here are some excerpts from Tuesday's press conference with Jimmy Haslam, who was unanimously approved as Browns owner:
End of Haslam's opening statement
: "We're a young team, we've played six games, we're 1-5, but if you've followed us we could easily be 3-3. We have a lot of football left to play. We played our best game the other day and we're going to do everything we can to support Pat [Shurmur] and his coaches and his team for the balance of the season. At the end of the year we'll evaluate everybody in the organization just like we will at the end of every year, whether we win the Super Bowl or we win two games. That's our philosophy and that's what we'll do."
[+] Enlarge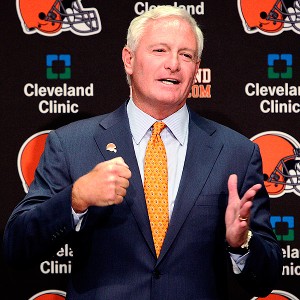 AP Photo/Jay LaPrete, File"We'll look at everything except the helmet," new Browns owner Jimmy Haslam promised.
Was there was any discussion with Mike Holmgren to modify his role so he could stay with the team:
"I think Mike was brought in to do a certain role and that's the kind of guy Mike is and I don't think he wanted to do a different role. I can't stress enough what a good relationship we have. Mike will not be in Cleveland every day like he is now at the end of the season, but I think he's a guy that a year, two years or three years from now if I have a question about football or a question about how to do something, I'll feel very comfortable and hopefully he'll do the same."
Will new chief executive officer Joe Banner will have a role on the football side:
"Football will report to Joe. We haven't worked out all of the final details, but football will report to Joe as the CEO. We will, as I mentioned earlier, be heavily involved."
How he assures the present coaching staff and front office that they're not lame ducks:
"I just looked them in the eye and told them that. I told Pat that. I said, no decisions have been made. I'm very comfortable saying that. These men are big boys. They understand the profession they're in. They've been through it before. They understand it. I had a great talk with Pat in his suite Saturday night for about an hour and a half. I think Pat and I have good relationship. He knows what he has to do. The timing of us coming in the day of training camp was not the best in the world, but it is what it is. I've said all along, we don't want to be a distraction. I've told Pat, that if there's anything we can do let us know, otherwise you go out and coach the football team, get the guys ready to play hard. Let's win as many games as we can."
Will there be any other noticeable changes to the Cleveland Browns:
"We have 10 games left. We're not going to change anything now. I think we've been very public in Cleveland that we'll look at everything except the helmet. We're going to look at the uniforms, we're going to look at the stadium, but listen, it's all about putting a really good team on the field. If you have a really good team, I don't think people care too much about your uniforms. We do want to enhance the stadium and make a great experience for the fans. What that looks like, I don't know, I'm not a stadium guy. I do know we're going to look at it because it's all about the fans."