Browns have to wonder: Now what?
December, 1, 2013
12/01/13
8:33
PM ET
The quarterback who would have started missed the loss because of a concussion.
The quarterback who did start was diagnosed after the loss with a concussion.
The wide receiver who became the first player in NFL history with more than 200 yards receiving in consecutive games lost both games.
[+] Enlarge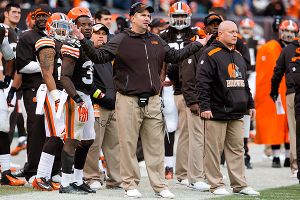 Jason Miller/Getty ImagesRob Chudzinski's Browns are left looking for answers after their sixth loss in seven games.
And the cornerback who has been the team's standout and stalwart was a bundle of emotions after the game.
Even coach Rob Chudzinski broke from his usual flat-lining self to show some emotion.
This is what happens when a team loses at home to a team ranked 32nd in the league in a large handful of offensive categories.
This is the
Cleveland Browns
, who have to wonder where they go next.
And the first place to wonder is at quarterback, where
Brandon Weeden
threw for 370 yards and then missed postgame interviews after being diagnosed with a concussion. Weeden was briefly at his locker after the game, but reported concussion symptoms to the trainers.
Jason Campbell
already is sidelined after a hit to the head (which wasn't flagged), and his prognosis is unknown. If Weeden is out, the Browns could well go to New England and face
Tom Brady
with
Alex Tanney
at quarterback. And if Weeden and Campbell can't play, they'll have to face the Patriots with two quarterbacks who have been on the team less than two weeks (assuming they sign another).
Good luck.
But just as big a concern is the Browns' emotional state after such a staggering defeat. The Browns got nearly 400 yards from their quarterback, a 261-yard game from receiver
Josh Gordon
and four times held the lead over the
Jacksonville Jaguars
.
Yet, they lost.
To a quarterback who before the game had four touchdown passes, but threw two in beating Cleveland.
Emotions were raw. Safety
Tashaun Gipson
called the loss a 10 on a 1-to-10 scale, and safety
T.J. Ward
said folks could blame anyone they wanted for this one. Indeed, there were so many gaffes.
Weeden accounted for three turnovers in the final 2:47 of the first half. Center
Alex Mack
had the first bad snap anyone could remember, giving the Jaguars a safety. The defense made
Chad Henne
look like Tom Brady. And
Joe Haden
, who has been so good and so responsible, got beat for the game-winning touchdown. The defense allowed 137 yards in the fourth quarter, and the offense's turnovers and a safety led to 15 Jacksonville points.
It's nearly incomprehensible to think that three weeks ago people actually considered the Browns a playoff contender. Now they resemble an old jalopy lurching down a rutted dirt road.
Three of their final four games are on the road.
Three of the four opponents have their playoff hopes alive.
The Browns built their playoff "hopes" on one win in the past seven games.
It borders on the incredulous.
After this loss, the Browns are an emotional wreck, and they're heading the wrong way in that beat-up old jalopy.