AFC North:

041110 Santonio Holmes
April, 12, 2010
4/12/10
12:54
PM ET

Steelers safety Ryan Clark reacts to the Santonio Holmes and Ben Roethlisberger news.
April, 12, 2010
4/12/10
11:50
AM ET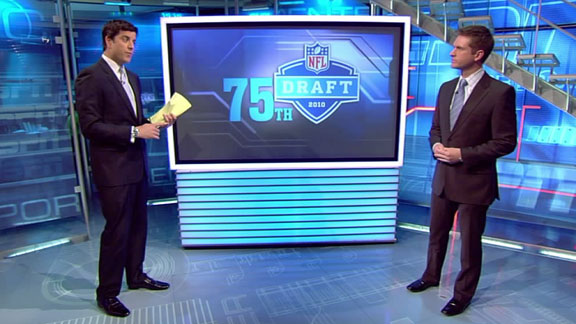 Todd McShay talks about how the Santonio Holmes trade impacts the NFL draft for the Steelers and Jets.
Also,
Mel Kiper writes

that while the trade might seem like a big deal to Steelers and Jets fans, it really shouldn't alter the early-round priorities for either team. As for the draft, the Steelers should have some solid options in Round 3 and the Jets are probably further dissuaded from reaching for a wide receiver in Round 1.
April, 12, 2010
4/12/10
11:21
AM ET
ESPN NFL insider Adam Schefter breaks down the Santonio Holmes trade

from the Steelers to the Jets. Schefter says this changes the outlook of the draft a bit now that the Jets don't need to look for a WR and the Steelers are in the market for one.
April, 12, 2010
4/12/10
11:00
AM ET
The
Pittsburgh Steelers
sent
shockwaves throughout the AFC by trading
former Super Bowl MVP
Santonio Holmes
to the
New York Jets
for a fifth-round pick.
Holmes was in Pittsburgh's doghouse after various off-the-field incidents, so much so that Steelers assisted another AFC contender.
So where does this leave Pittsburgh's receiver corps? The AFC North blog checked in with Scouts Inc.'s Matt Williamson for answers.
[+] Enlarge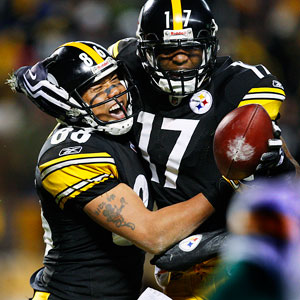 AP Photo/Gene PuskarWith Santonio Holmes out of the picture, Hines Ward (86) and Mike Wallace (17) look to be the top two receivers in Pittsburgh.
For starters, what did Pittsburgh's offense lose when it traded Holmes?
Williamson:
They lose a potentially great player -- I don't know how else you can say it. He was especially great when
Ben Roethlisberger
was buying time and extending the play. Holmes would get you deep and Ben would find him often, and I think Roethlisberger trusted him. Holmes was effective off play-action, and I don't see a massive weakness with him. He had to share a lot of catches with [Hines] Ward, and earlier in his career Pittsburgh was a run-heavy team. So his numbers aren't quite where you think they would be. I don't know if that will ever be the case with the Jets, either, but that doesn't mean Holmes isn't incredibly effective.
Where do you feel Mike Wallace is in his development, and is he ready to be a starter in Year 2?
Williamson:
I think Wallace is very ready to be a starter. He's only getting better and his ability to take the top off a defense [get deep] is tremendous. He's very fast and he plays very fast. Wallace is going to abuse single coverage, and I do like him as a starter.
Hines Ward isn't getting any younger. Can Pittsburgh still be successful with Ward, 34, as the team's No. 1 receiver?
Williamson:
I worry more about Ward now. If I'm defending the Steelers last year, I'm more afraid of Holmes than Ward. The thing is Ward is still playing very well, but he's only going to get slower. He's never been the fastest guy around. So when coverage is rolled in his direction or Ward's facing the No. 1 corner on the opposing team, is he able to be as productive? I don't know that he is, so that worries me.
How do you evaluate the Steelers' depth at WR with backups Antwaan Randle El, Arnaz Battle and Limas Sweed?
Williamson:
I think the Steelers really need to add a guy. They need a big body. They have Sweed. But I don't think they can trust him at all, although it would be great if he could live up to that second-round billing and plays like he did at Texas with more of an opportunity now. Randle El could be a competent slot guy. I wouldn't want him starting, and I think Battle might be a No. 4. He could play some and get his jersey dirty on special teams, but the Steelers don't want him out there an awful lot.
Any good options in the draft?
Williamson:
They have a ton of picks (11), and they can't get that many guys on the roster. They're going to really be primed to move up once or twice in this draft. I don't think the Steelers can use a first-round pick on a receiver. But there are some receivers out there who are interesting. A guy like
Eric Decker
comes to mind from Minnesota in the second or third round. But it would also be nice for them to use a second- or third-round pick right now on a running back or a guard or a cornerback.
April, 12, 2010
4/12/10
9:45
AM ET
Here is more clarity on the
Santonio Holmes
trade: A
pending four-game suspension
factored into the decision for the
Pittsburgh Steelers
.
ProFootballTalk.com recently reported Holmes violated the NFL's substance abuse policy, and ESPN's Adam Schefter also confirmed the report Monday. With Holmes only able to contribute a maximum of 12 games next season, the Steelers settled for a fifth-round pick from the
New York Jets
.
The upcoming suspension would have been another blemish for the Steelers in what's already been a poor offseason for off-the-field conduct. Now the Jets have to deal with Holmes' pending suspension, albeit at a very cheap price.
Holmes is in the final year of his contract, and after a rash of incidents it was clear the Steelers were not going to re-sign him to a long-term extension.
April, 12, 2010
4/12/10
8:30
AM ET
How much did the
Pittsburgh Steelers
want to get rid of
Santonio Holmes
?


Not only did the Steelers trade their starting receiver within the AFC, but they also shipped him to a team Pittsburgh will face in 2010.
Holmes and the
New York Jets
will travel to Heinz Field to
play the Steelers this upcoming season
. The date of that game likely will be announced by the league within the next week.
Pittsburgh's
trade of Holmes for just a fifth-round pick
sent a message that the Steelers are trying to restore their public image. Holmes and quarterback
Ben Roethlisberger
have kept the team in the news this offseason for all of the wrong reasons, and the Steelers made a choice between two of their best players.
But expect Holmes to be highly motivated to face his former team. That will be one of many interesting storylines for Pittsburgh this season.