AFC North:

2010 Midseason Report AFC
November, 10, 2010
11/10/10
2:06
PM ET
Power Rankings:
Preseason: No. 12.
This week: No. 26
.
2010 schedule/results
[+] Enlarge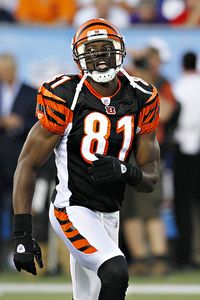 AP Photo/Ron SchwaneTerrell Owens has been the lone bright spot for the Bengals this season.
Where they stand:
In addition to the
Dallas Cowboys
and
Minnesota Vikings
, the
Cincinnati Bengals
are among the NFL's biggest underachievers this season. Coming off a division sweep and playoff appearance in 2009, many expected Cincinnati to build on that success with another playoff push. But sloppy play, poor coaching and lack of continuity have unraveled this team, and as we mentioned last week, it's time to
blow it up
and start over. At 2-6, it will be a long eight games in Cincinnati.
Falling:
It's been a team-wide failure for the Bengals, so there are a lot of people to place in this category. Quarterback
Carson Palmer
has been a disappointment this season. Despite increased talent around him, Palmer has been too inconsistent and has a penchant for turnovers. Star receiver
Chad Ochocinco
also has been shut out in too many games
and is getting frustrated
by his lack of opportunities. The defense hasn't played anywhere near last year's level and has major issues rushing the passer. Bengals coach Marvin Lewis also deserves blame, because the team rarely looks ready to play for four quarters and fails to correct the same errors week after week.
Rising:
Receiver
Terrell Owens
, who was signed late in free agency, has been one of the few bright spots in an otherwise abysmal season for Cincinnati. He leads the team in receptions (55) yards (770) and touchdowns (seven). Owens signed a one-year deal full of incentives, and he's on pace to hit all of them.
Midseason MVP:
Owens is the easy choice. He doesn't look anything like a 36-year-old receiver and will enter free agency next year with very good numbers. The Bengals have an interesting decision to make if they want to try to sign Owens to a long-term deal.
Outlook:
The Bengals are done. The
Pittsburgh Steelers
ended
any small chance
Cincinnati had of a second-half push on Monday night. The question now is will the Bengals, at 2-6, quit or keep fighting? As last year proved, there is some character and toughness on this team. But this is a different kind of challenge when there's nothing to play for. The Bengals certainly have enough talent to be a dangerous spoiler in the second half of the season. But I have doubts if they're a strong enough team to keep it together.
November, 10, 2010
11/10/10
2:05
PM ET
Power Rankings:
Preseason: No. 29.
This week: No. 23
.
[+] Enlarge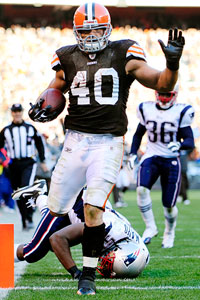 Jason Miller/US PresswirePeyton Hillis has rushed for 644 yards and seven touchdowns in the Browns' first eight games.
2010 schedule/results
Where they stand:
Although not in great shape at 3-5, the Browns feel much better about themselves after back-to-back quality wins over the
New Orleans Saints
(6-3) and
New England Patriots
(6-2). Cleveland must be kicking itself for blowing fourth-quarter leads in early losses to the
Tampa Bay Buccaneers
,
Kansas City Chiefs
and
Baltimore Ravens
. Winning those games would have put the Browns in much better position. Cleveland is a tough team, but it lacks game-breaking talent. But when the Browns play smart and efficient football, they are hard to beat.
Falling:
Veteran quarterbacks
Jake Delhomme
and
Seneca Wallace
could find themselves on the bench for the remainder of the season. Rookie quarterback
Colt McCoy
has accounted for two of the Browns' three wins this year. Ankle injuries to Delhomme and Wallace opened the door for McCoy, who has taken advantage. Delhomme is making $7 million, but he has thrown four interceptions and just one touchdown pass in limited playing time. Wallace is just 1-3 as the starter. Cleveland's receivers haven't made many big plays and must step up in the second half.
Rising:
Running back
Peyton Hillis
arrived in Cleveland with little fanfare in an offseason trade with the
Denver Broncos
for quarterback
Brady Quinn
. It was new president Mike Holmgren's best move as Hillis has rushed for 644 yards and seven touchdowns. McCoy's stock is obviously rising with consecutive wins over
Drew Brees
and
Tom Brady
. Head coach Eric Mangini also is making a case to continue coaching the Browns beyond the 2010 season. Mangini's entire body of work will be judged by Holmgren at the end of the season.
Midseason MVP:
Hillis is the clear choice. He makes Cleveland's offense go and has three 100-yard games this season. Hillis wears down defenses, moves the chains and protects McCoy from having to do too much.
Outlook:
It's doubtful the Browns can make a late playoff surge, especially in the tough AFC North where they trail the Ravens and
Pittsburgh Steelers
. But the Browns appear to relish their role as spoiler and can be a tough out for playoff contenders in the second half . If Cleveland can remain hot and finish 8-8, that would be considered a successful year. In the offseason, the Browns could add several more pieces via the draft and free agency to make a major push in 2011.
November, 10, 2010
11/10/10
2:01
PM ET
Power Rankings:
Preseason: No. 18.
This week: No. 2
.
2010 schedule/results
[+] Enlarge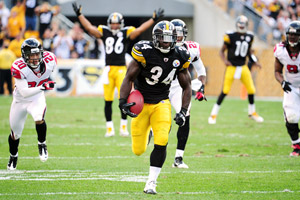 Scott Cunningham/Getty ImagesRashard Mendenhall has been the key to Pittsburgh's offense and is seventh in the NFL in rushing with 702 yards.
Where they stand:
The Steelers made it look easy by exceeding preseason expectations and now are a strong Super Bowl contender. The four-game suspension of franchise quarterback
Ben Roethlisberger
didn't hurt Pittsburgh, as the team went 3-1 without him. The Steelers are also 3-1 with Roethlisberger and tied for the NFL's best record at 6-2. Pittsburgh will be in a tight, two-team race with the
Baltimore Ravens
(6-2) to determine the AFC North champion. Both teams also have a shot at home-field advantage in the playoffs.
Falling:
Pittsburgh's pass defense hasn't played up to expectations despite the healthy return of safety
Troy Polamalu
. The Steelers are No. 4 in total defense but have allowed big days to opposing receivers and, therefore, rank No. 24 against the pass. Pittsburgh's run defense is so stout that opponents are opting for short and intermediate passes on first and second down to gain yards. The Steelers' defense will have to make that adjustment in the second half of the season. Pittsburgh's offensive line also is banged up, particularly at left tackle where longtime starter
Max Starks
(neck) was
put on injured reserve Wednesday.
Rising:
Tailback
Rashard Mendenhall
is seventh in the NFL in rushing with 702 yards and on pace for his second consecutive 1,000-yard season. He carried the offense during Roethlisberger's suspension and also has a nose for the end zone with seven touchdowns. Pittsburgh's rookie class also has been productive. First-round pick
Maurkice Pouncey
has been a starter from Day 1 and third-round pick
Emmanuel Sanders
provided a boost on special teams.
Midseason MVP:
The offense would not have gone anywhere this season without Mendenhall. Despite opponents knowing Pittsburgh would run the football without Roethlisberger, Mendenhall kept the offense afloat by grinding out tough games and making big runs.
Outlook:
The Steelers aren't perfect, but they have as good a chance as anyone to win their second Super Bowl in three seasons. This team still hasn't played its best football. If the defense can tighten up against the pass and Roethlisberger rounds into Pro Bowl form, the Steelers are going to be tough to beat. This team is built to win late in the season and in the playoffs. Look for Pittsburgh to be a threat to make a deep postseason run.
November, 10, 2010
11/10/10
2:00
PM ET
Power Rankings:
Preseason: No. 6.
This week: No. 1
.
2010 schedule/results
[+] Enlarge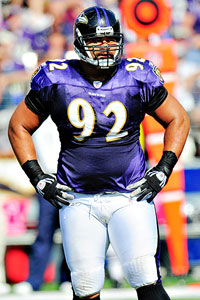 AP Photo/Jim MahoneyHaloti Ngata has been a force for the Baltimore defense during the first half of the season.
Where they stand:
The Ravens are tied for the NFL's best record at 6-2 and looked
strong coming off the bye
in Sunday's 26-10 victory over the
Miami Dolphins
. A major factor this year is Baltimore has remained relatively healthy. Star safety
Ed Reed
(hip) and veteran receiver
Donte' Stallworth
(foot) recently came off the physically unable to perform list to put the Ravens at full strength.
Many picked Baltimore to win the Super Bowl this year
, and this team didn't disappoint in the first half.
Falling:
Cornerback
Fabian Washington
, who had major knee surgery last year, has been inconsistent. He has allowed too many big plays,
including three touchdowns
in a Week 7 overtime win over the
Buffalo Bills
.
Josh Wilson
, acquired in a trade with the
Seattle Seahawks
, has played more at cornerback recently. Baltimore's pass rush (14 sacks) also could improve.
Rising:
For years, defensive lineman
Haloti Ngata
was one of the NFL's best-kept secrets. No longer. Ngata, coming off his first Pro Bowl, is having a dominant year, recording 43 tackles and a team-high five sacks. Quarterback
Joe Flacco
also is having a solid third season, throwing for 1,917 yards, 12 touchdowns and six interceptions. He has a passer rating of 88.9. Reed has three interceptions in two games back from major hip surgery, continuing his knack for creating turnovers and making big plays.
Midseason MVP:
Ngata has been impossible to block some weeks. It's not his primary job to rush the passer, but Ngata has been so difficult to contain that he's also getting to the quarterback more than any Ravens defender. Flacco is a close second.
Outlook:
The second half looks bright for Baltimore. With big offseason acquisitions such as receiver
Anquan Boldin
(40 catches, 546 yards, five touchdowns), it's clear Baltimore is aiming for nothing less than a championship. The Ravens have as good a chance as anyone if they remain healthy. They are one of the NFL's most balanced teams offensively and defensively and have a roster full of Pro Bowl-caliber players. Baltimore will make the playoffs, but can the Ravens hold off the
Pittsburgh Steelers
to win the AFC North and play at home in the postseason? Home-field advantage will be key for Baltimore's title hopes.