AFC North:

2010 Season Wrap AFC North
January, 5, 2011
1/05/11
1:03
PM ET
»
NFC Wrap-ups
:
East
|
West
|
North
|
South
»
AFC
:
East
|
West
|
North
|
South
Arrow indicates direction team is trending.

Final Power Ranking:
No. 31
Preseason Power Ranking:
No. 12
[+] Enlarge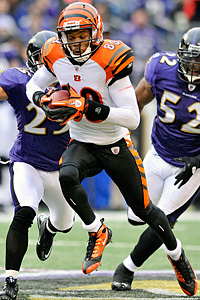 AP Photo/Gail BurtonJerome Simpson finished the season strong with a 12-catch performance against Baltimore.
Biggest surprise:
It happened late in the season, but the light finally came on for receiver
Jerome Simpson
. The former second-round pick had been written off as a bust after nearly three years of not earning playing time. But after injuries to
Chad Ochocinco
and
Terrell Owens
, Simpson took advantage of his chance to finally crack the starting lineup. Simpson recorded back-to-back 100-yard games in the last two weeks of the regular season and earned the right to be part of Cincinnati's rebuilding efforts in 2011.
Biggest disappointment:
Coming off an extremely disappointing year for the Bengals, it's hard to narrow this category to one player or coach. But considering the type of money that was invested in relation to production, the free-agent signing of receiver
Antonio Bryant
was the most disappointing move for the Bengals. Cincinnati gave Bryant a four-year, $28 million contract despite the fact that he was coming off a knee injury. Bryant's knee never healed properly, and the Bengals cut him before the start of the regular season. Cincinnati paid Bryant approximately $7 million and he never played a down for the team. The move forced the Bengals to spend an additional $2 million plus incentives on Owens, making it a $9 million mistake by the front office.
Biggest need:
There will be a lot of changes in Cincinnati, and much depends on how the Bengals choose to rebuild the team. The way the roster is currently set up, I think the biggest need for Cincinnati is to get an elite pass-rusher. Rookie defensive end
Carlos Dunlap
(9.5 sacks) helped fill that void in the second half of the season. But he will need help next season getting to the quarterback. If the Bengals do not re-sign tailback
Cedric Benson
or go in another direction at quarterback, those needs will take higher priority.
Team MVP:
It's hard to pick an MVP on a four-win team, and if I didn't have to, I wouldn't. But since that's not the case, I'd go with Owens. Although he wasn't perfect, he led the team in receiving with 72 catches for 983 yards and nine touchdowns. He was really the only player who consistently produced for Cincinnati this year. Quarterback
Carson Palmer
, Benson and others had their moments, but they had a lot of bad games as well.
Free-agent watch:
Cincinnati took care of its first free agent this week in head coach Marvin Lewis. He will return for his ninth season after signing an extension on Tuesday. Owens, Benson and cornerback
Johnathan Joseph
are some of the big free agents for Cincinnati. The Bengals also have to decide what to do with Ochocinco, who turns 33 this month and had his second bad season in three years.
January, 5, 2011
1/05/11
1:02
PM ET
»
NFC Wrap-ups
:
East
|
West
|
North
|
South
»
AFC
:
East
|
West
|
North
|
South
Arrow indicates direction team is trending.

Final Power Ranking:
No. 27
Preseason Power Ranking:
No. 29
[+] Enlarge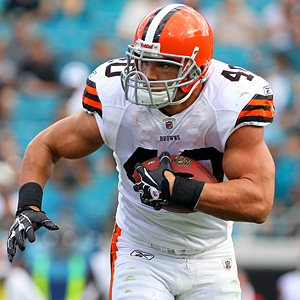 Kim Klement/US PresswirePeyton Hillis rushed for 1,177 yards and 11 touchdowns for the Browns this season.
Biggest surprise:
The Browns produced arguably the biggest surprise in the NFL this season in tailback
Peyton Hillis
, who came out of nowhere to produce a career high 1,177 rushing yards and 13 total touchdowns. Cleveland acquired Hillis from the
Denver Broncos
in exchange for quarterback
Brady Quinn
. The Browns obviously got the better end of that deal and found a building block for the future. Now Cleveland needs to find depth at the tailback position to help take some of the pressure off Hillis, who wore down toward the end of the season.
Biggest disappointment:
Veteran
Jake Delhomme
was paid $7 million this year to bring stability to the quarterback position. But poor play and injuries made Delhomme the team's No. 3 quarterback by season's end. Delhomme threw for 872 yards, two touchdowns and seven interceptions in five games. He also suffered two ankle injuries during the course of the season. Delhomme's struggles opened the door for rookie quarterback
Colt McCoy
to take over the starting job much earlier than expected. The third-round draft pick was projected to sit the entire 2010 season and learn from the sideline, but McCoy started eight games with mixed results.
Biggest need:
The Browns have several needs, but an elite wide receiver would greatly improve the offense. A major part of Cleveland's offseason should be dedicated to developing and putting the right pieces around McCoy, who showed promise. Browns president Mike Holmgren seems to have confidence that McCoy is the quarterback going forward. The Browns' offensive system also needs a major overhaul, and that was one reason Eric Mangini was fired this week. There is a good chance Cleveland implements a West Coast offense next season.
Team MVP:
Hillis. The Browns would probably be a two- or three-win team without Hillis' production this year. He was Cleveland's leading rusher and second-leading receiver, and the team fell apart when Hillis was banged-up late in the season. The Browns ended the season with four straight losses.
Draft Watch:
The Browns hold the No. 6 overall pick, which is a good spot to land an impact player. I'm usually against drafting receivers in the top 10, but that's clearly Cleveland's biggest need. Receiver prospects A.J. Green and Julio Jones could be some early names to consider this offseason. The Browns also could use another pass-rushing linebacker or defensive end. Last season, Cleveland got cornerback
Joe Haden
, safety
T.J. Ward
and McCoy in the draft, and securing three rookie starters is tremendous. Another solid draft class would be a great step in the right direction for Cleveland, which also has to find its next head coach.
January, 5, 2011
1/05/11
1:01
PM ET
»
NFC Wrap-ups
:
East
|
West
|
North
|
South
»
AFC
:
East
|
West
|
North
|
South
Arrow indicates direction team is trending.

Final Power Ranking:
No. 4
Preseason Power Ranking:
No. 6
[+] Enlarge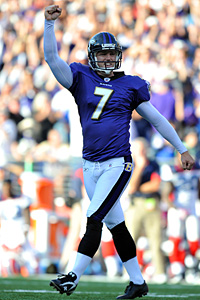 Larry French/Getty ImagesBilly Cundiff had an outstanding season, making almost 90 percent of his FG attempts and tying an NFL record for touchbacks.
Biggest surprise:
Kicker
Billy Cundiff
entered training camp battling for his job after the Ravens signed
Shayne Graham
. But after a competitive battle, Baltimore chose Cundiff, who had a career year and earned his first trip to the Pro Bowl. Cundiff was solid on field goals, making 26 of 29. But he really excelled on kickoffs, where he tied an NFL record with 40 touchbacks. Cundiff's performance on kickoffs essentially became Baltimore's 12th man on defense.
Biggest disappointment:
Last year Baltimore had one of the best offensive tackle combinations in the NFL in
Jared Gaither
and
Michael Oher
. But that tandem was split up this season -- Gaither never saw the field. Gaither had a poor season that probably will be his last with the Ravens. He was unhappy with his contract, then showed up well under his playing weight, which upset the organization. Then Gaither never got on track and injured his back, which eventually landed him on injured reserve. Baltimore's pass protection has been inconsistent this year -- the team has had trouble replacing Gaither at right tackle.
Biggest need:
The Ravens have one of the most stacked rosters in the NFL. So there are not a lot of glaring needs. Depth on the offense line could be a place to start. Gaither is not expected to return to Baltimore, so right tackle could be a top priority in the offseason. Center
Matt Birk
, 34, also is getting long in the tooth and it's unknown how much longer he wants to play. Another pass-rushing linebacker to help Pro Bowler
Terrell Suggs
(11 sacks) would be nice. But that's more of a luxury than a major hole in Baltimore's defense.
Team MVP:
This race is very close, because there are probably three or four viable candidates for team MVP. But this year we give the slight nod to quarterback
Joe Flacco
, who made strides in his third year and threw for 3,622 yards, 25 touchdowns and 10 interceptions. Suggs, safety
Ed Reed
and defensive lineman
Haloti Ngata
also received strong consideration.
Free-agent watch:
First and foremost, the Ravens need to take care of Ngata's contract quickly this offseason and make sure he does not get away. Baltimore is expected to make Ngata, a two-time Pro Bowler, one of the NFL's highest-paid defensive linemen, and he will be worth every penny. Fullback
Le'Ron McClain
is another important free agent, and the Ravens also have to decide on re-signing players such as
Josh Wilson
,
Marshal Yanda
and
T.J. Houshmandzadeh
for 2011.
January, 5, 2011
1/05/11
1:00
PM ET
»
NFC Wrap-ups
:
East
|
West
|
North
|
South
»
AFC
:
East
|
West
|
North
|
South
Arrow indicates direction team is trending.

Final Power Ranking:
No. 3
Preseason Power Ranking:
No. 18
[+] Enlarge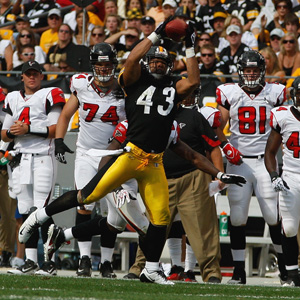 Jared Wickerham/Getty ImagesTroy Polamalu had an MVP-caliber season, with 7 interceptions, 63 tackles, a sack and a forced fumble.
Biggest surprise:
The first surprise was Pittsburgh's going 3-1 to start the season without suspended quarterback
Ben Roethlisberger
. That set the tone for the rest of the year and eventually led the Steelers to a No. 2 seed and a first-round bye in the playoffs. In terms of players, not much was expected this year of rookie third-round pick
Emmanuel Sanders
. He showed some flashes in training camp, gradually kept working and eventually became the Steelers' No. 3 receiver. That's an important role in Pittsburgh's offense, and Sanders finished the regular season with 28 receptions for 376 yards and two touchdowns. He joins 2009 draft pick
Mike Wallace
as a pair of great finds at receiver in the third round.
Biggest disappointment:
The Steelers thought highly enough of kicker
Jeff Reed
to give him the franchise tag this season. But Reed's year in Pittsburgh was so tumultuous that the Steelers cut ties with their kicker in midseason. Reed had some off-the-field troubles and also complained publicly about his contract. After getting off to a poor start, missing seven field goals, Reed was released and replaced by
Shaun Suisham
, who has done very well, making 14 of 15 field goals in seven games.
Biggest need:
The Steelers fixed their center position by using their 2010 first-round pick on
Maurkice Pouncey
, who was a Pro Bowler in his first year. Now Pittsburgh needs to work on the guard and tackle positions. Roethlisberger took another pounding this year, despite missing four games. He was sacked 32 times in 12 games, which is an average of 2.7 sacks per game. Roethlisberger also had his nose broken this year and suffered a significant foot injury. Adding a blue-chip offensive tackle or guard would help.
Team MVP:
Troy Polamalu
. The dynamic Pro Bowl safety made game-changing plays all season for the Steelers and is the only defensive player in the conversation for Player of the Year in the NFL. Polamalu (Achilles) looked good in the final game of the regular season against the
Cleveland Browns
, and his health will play a major role in Pittsburgh's chances to win its second Super Bowl in three years.
Draft Watch:
The Steelers do not have a lot of holes, but look for them to try to add depth to their offensive line and secondary. As we mentioned earlier, Pittsburgh could use an upgrade at the guard and tackle positions on offense. No. 1 cornerback
Ike Taylor
is solid, but he will be a free agent, and Pittsburgh has to decide whether to bring back the 30-year-old or go younger at the position. The Steelers have tried drafting younger corners recently and missed on players like
Joe Burnett
and
Keenan Lewis
. Pittsburgh already has the NFL's best defense. But if it ever lands a couple of shutdown corners, the Steelers will be extremely difficult to score against.

AFC NORTH SCOREBOARD
Thursday, 8/21
Saturday, 8/23
Sunday, 8/24